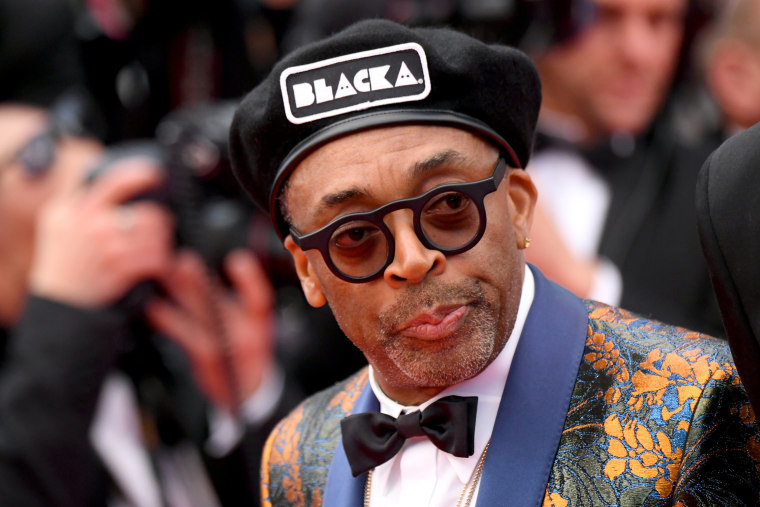 Spike Lee premiered his new movie BlacKkKlansman at Cannes on Monday night. The film follows the true story of a black police officer who infiltrated the Ku Klux Klan in the early 1970s, and reportedly ends with a documentary montage of the events in Charlottesville in August 2017, culminating with a tribute to Heather Heyer, who was murdered while protesting the white nationalist rally in the college town. Vulture reports that Lee gave an emotionally charged speech following the premiere, calling the events of the day "an ugly, ugly, ugly blemish on the United States of America."
"Right away, I knew that this had to be the coda for the film, but I had to do something first," he told the crowd. "I was given Susan Bro's phone number. She is the mother of Heather Heyer, who got murdered when that car came crashing down the street. I was not gonna put that murder scene in the film without her blessing. Mrs. Bro said, 'Spike, I give you permission to put that in.' Once I got permission, I said, 'Fuck everybody else, that motherfucking scene is staying in the motherfucking movie.' Cuz that was a murder."
While never naming the president, he noted that Trump has never denounced the Klan, particularly after the events in Charlottesville.
"We look to our leaders," he said. "They give us direction to make moral decisions. And I like to say this is not just something that pertains to the United States of America, this bullshit has gone over the world. This right-wing bullshit is not just America, it is all over the world, and we have to wake up."
Lee will premiere the film for general audiences on the anniversary of Charlottesville, which began on August 11. Heyer was killed on August 12. Read his full speech on Vulture.