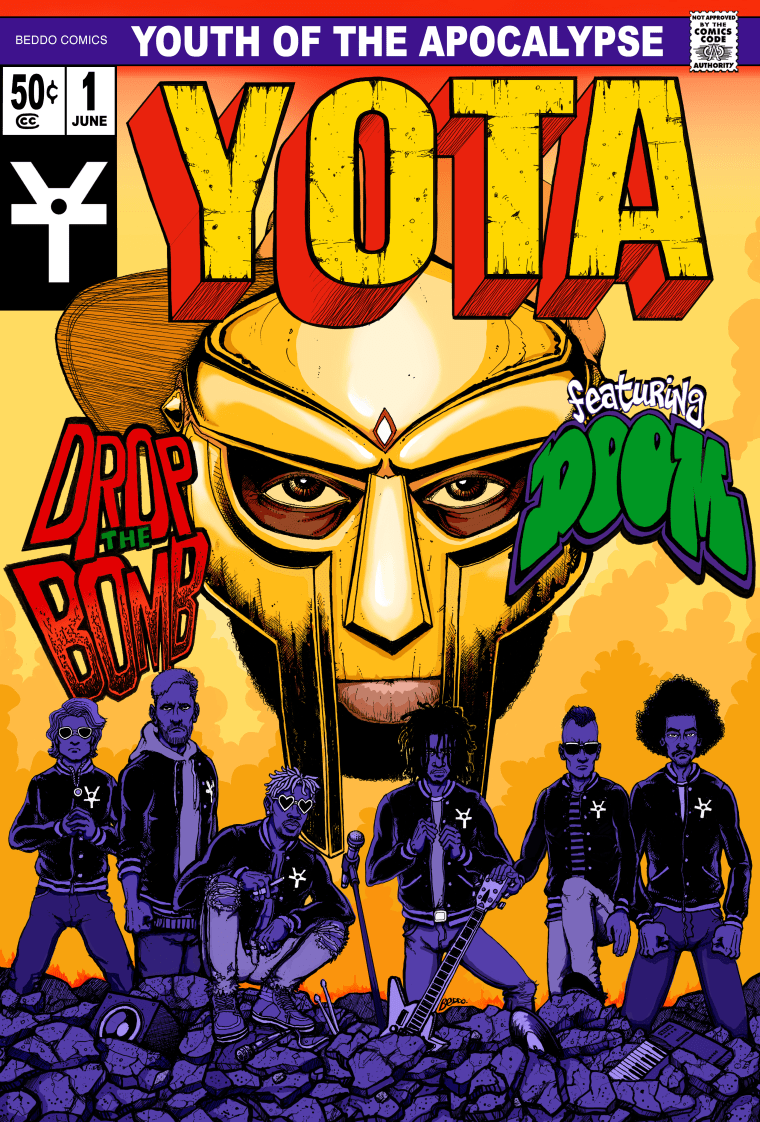 Jeff Wootton from Gorillaz and Jamie Reynolds of Klaxons have teamed up for a new six-person, genre-spanning supergroup. Their debut single, "Drop the Bomb" featuring MF DOOM and produced by Simian Mobile Disco's James Ford, is out today on FADER Label. Read an interview with Jeff and Jamie below and check out three headlining shows in the U.K. this month.
How did y'all come together?
Jamie Reynolds: Having had respect for each others musical histories, Jeff and I properly met at a friend's birthday party a few years ago. While everyone else was partying we stood on the edge of the dance floor making a plan. We got round to spending three days in a home studio where we worked nonstop. By the end of the three days, we had the name, the concept for the group, a handful of hard beats, and a heavy hangover.
We were excited by what we'd created and were so hungry to make more music that we booked a trip to Los Angeles to work with a bunch of producers. During one of those early sessions we were introduced to the artist Joshua Lazarus, and he was immediately the guy we'd been looking for to join the band. After more sessions and a load of new music, we had the potential to make the live show. So in May last year we brought in longtime friends of Jeff's, Jay Sharrock and Seye Adelekan, and after meeting him at a party and then seeing him playing the piano on Instagram completed the band with the addition of Twiggy Garcia. Our intention is to take things as far as we can in both music and fashion so that we can turn the group into its own youth movement.
How'd you link w/ MF DOOM? Why him for first collaborator?
Jeff Wootton: Madvillainy is a killa record. I worked with him before with Damon Albarn and we kept in touch. He liked what Jamie and me were doing, and so when we wrote this track and it had a David Axelrod kind of feel I could just hear MF Doom all over it!
Jamie: The man is nothing short of a true legend in the real sense of the word. He's a mystery and a master lyricist. What more could we ask for? It's an honor to have him on our first track, and it sets out our intentions to work with the best as we go forward.
Any other fave parts about this track?
Jamie: For me, the song feels special. My favorite thing about it is that it's found the magical place within music where you can make a song that contains heavy subject matter but the content of the song can largely go unnoticed due to the fact that you find yourself singing along with the happy melody.
Jeff: I think it's one of the best raps MF Doom has ever written.