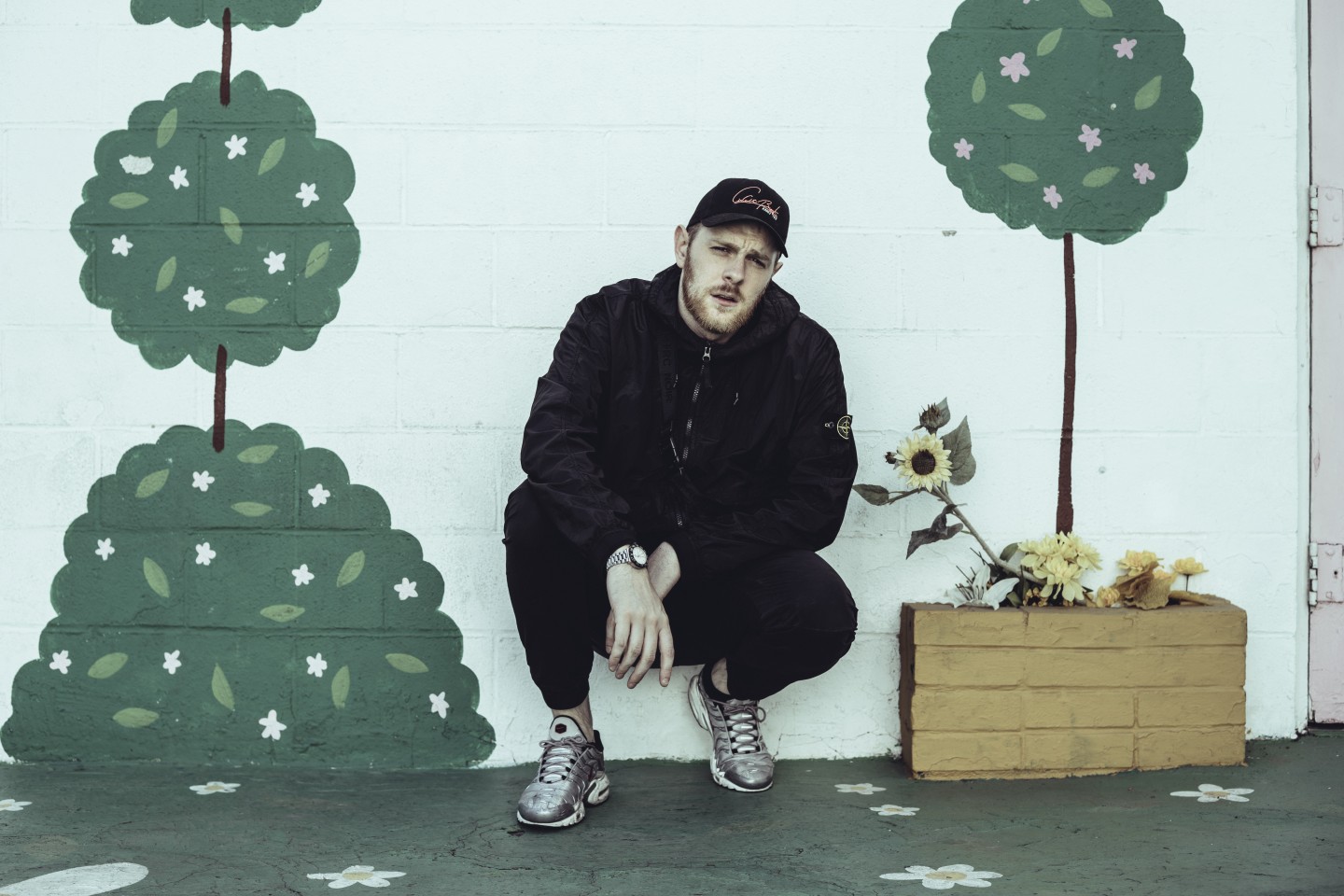 Kenny Beats is getting his second wind. After leaving the rap world to become the touring EDM DJ known as LOUDPVCK, the 27-year-old has returned with a vengeance. A year ago, he started renting out Ron Artest's old recording studio in Burbank and committed himself to a rigid plan: he would keep his head down and make rap beats all day, every day until he re-emerged making the kind of music that made him proud.
To him, that didn't mean honing the specific rap sound of the moment, but rather mastering an ability to serve the artists he works with in the most meaningful capacity. He considers himself to be a producer, not a beatmaker, so being able to make the beats themselves was only a small part of the process. And because of this, he has forced himself to be sonically versatile, so that, in any situation he can provide an appropriate track and follow a song idea all the way through to its conclusion. In fact, if it weren't for his beat tags attached to the front of his songs, it would be difficult to pin down an actual Kenny beat. There is no such thing as a "Kenny Beats type beat" yet because he keeps switching it up based on whoever is in the booth. What remains consistent, though, is how often he gives these artists their most compelling songs.
Kenny was instrumental to Rico Nasty's more recent thrash-worthy direction, having worked on standouts "Trust Issues" and "Smack A Bitch." His collaborative tape with Key! is one of the most cohesive, refreshing rap projects of the year, and sounds like nothing else out right now. He also has a whole catalog of unreleased 03 Greedo songs waiting to be put out. According to Kenny, his goal is to throw himself into his work with such intensity that he loses himself in it. All he wants to do is continue making this music that, for the first time in years, he and his friends truly care about.

How'd you get into making music?
I played guitar since I was 9 years old, drums since I was 11. Started making beats in high school because there was a class where you could learn how to use Logic and GarageBand. Started bringing in every local rapper within a couple towns [in Connecticut] of my dad's one-bedroom apartment. And they would record in my dad's closet on a Blue Snowball, which was like the $99 microphone you get at the Apple Store. And then I'd send these songs on AIM to every single friend I had. I would have like 500 people all playing my MP3s throughout the school.
My senior year I had a Kenny Beats Myspace. Every one of my friends was going D2 for lacrosse or playing football and I'm 6'7". Kids were like, "What the fuck are you doing? You're supposed to be playing basketball, you're out of your fucking mind." But I was literally the only one of my friends who was like, "No, I wanna make beats." Rap music's the only thing that ever mattered.
What was your first real entry into making music professionally?
By the end of high school, I was interning for no school credit, no money, no nothing, for Jonny Shipes. He was my first entry into going to XXL, being around rappers, meeting Yams and A$AP. Started getting some of my beats off to people who were on Nah Right and 2DopeBoyz, Fake Shore Drive, and all the blogs I was reading. I was going into the city every single fucking night to intern for Jonny [record executive Jonny Shipes]. Go deposit bank slips. Go help out Big K.R.I.T. Go pick up his dry cleaning. Whatever I had to do.
So by the time I was 19, I'd interned at RCA records, J Records, and Cinematic Music Group for Jonny Shipes — and I was going to Berklee School of Music for guitar. And I was a music business major. Pretty much the whole time I was at Berklee I was selling weed, trying to meet with rappers who were coming through Boston by selling them weed, and then getting my beats off in that interaction without being too thirsty. I worked with Twelvvy a bunch. Yams cleared a bunch of our records through RCA that didn't come out, sadly enough. I worked with Kendrick Lamar on a song called "Ball Game" which was on a Smoke DZA mixtape. I produced for Dom Kennedy on that same mixtape. Bunch of Smoke DZA shit. I did Schoolboy Q's single "Party."
Why did you decide to make the move into live DJing and the EDM world?
Right around the time that came out, my homie who was a year older than me at Berklee was like, "Yo, there's this new like trap shit going on with all these EDM DJs. If you took the kind of shit you're making for these rappers, and just put up the instrumentals basically, we can get this paper." So right when I was starting to do a bunch of TDE shit. I did an Ab-soul, Schoolboy Q, Mac Miller song called "100 Stacks." I was just starting to get like little thousand dollars, two thousand dollars, here and there. And then I found out about the DJ shit. And within six months of doing the DJ shit as the name Loudpvck, I had an agent and a manager. I was making more money doing shows and traveling the country than I was selling weed or doing rap beats.
So right when the culmination of my rap shit was starting to happen, I veered away to do this DJ shit for about three years. Traveled the entire world, played almost every big festival you can name. Then went into a deep hole of depression. Because I realized I was making a bunch of music, and I was successful doing it, but it wasn't what I really cared about, or the legacy I wanted to leave. So I kind of stopped the whole ship about a year ago, got myself a different studio, learned how to vocal produce. I just took six fucking months and just sat there 12 to 14 hours every single fucking day.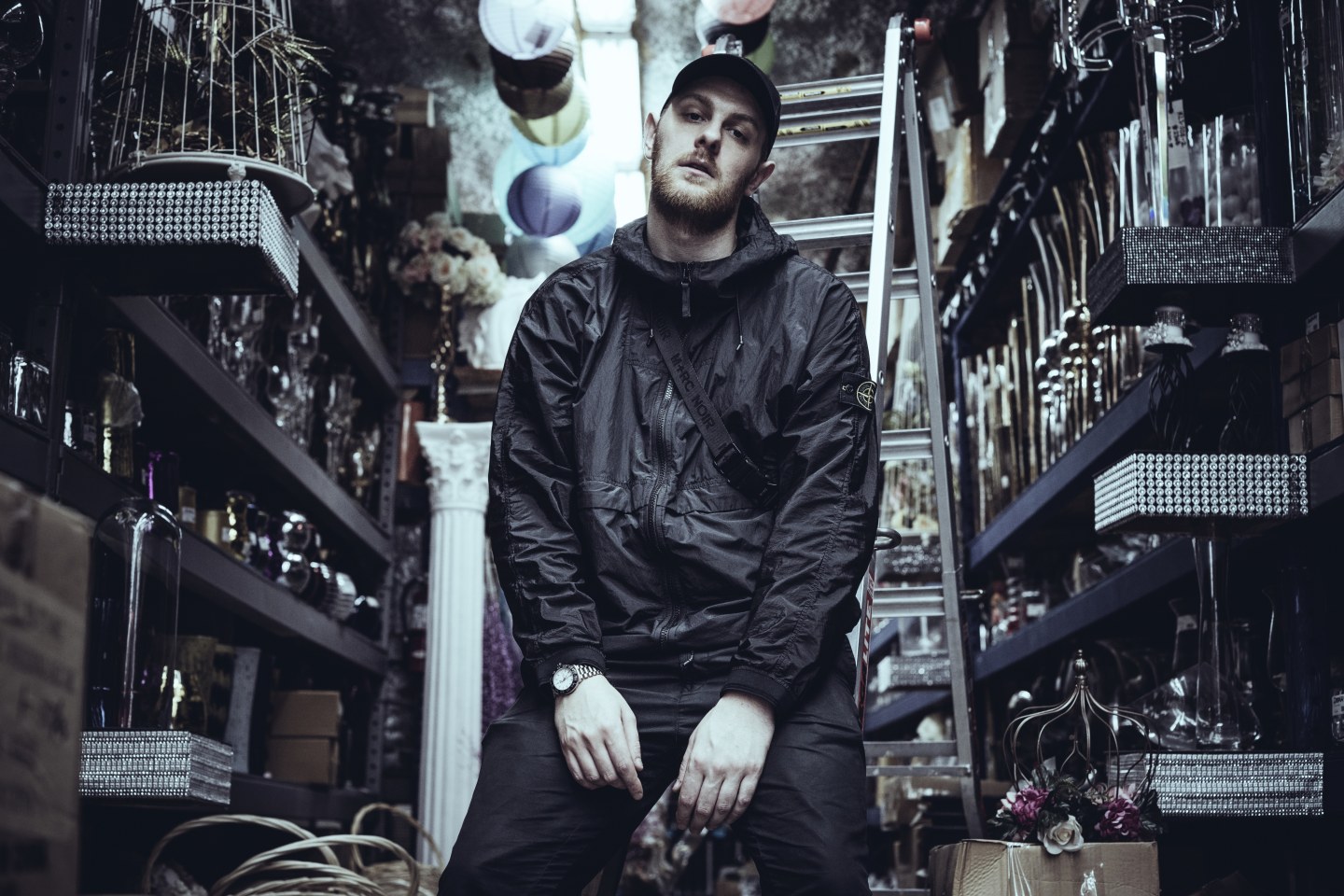 You had to make a triumphant return.
Yeah bro, because I knew what it took this time around. When I was younger, say you get a beat to Kendrick or Schoolboy Q and you're some no-name kid at your computer. All your friends are gassing you up cause all the blogs have your name on it. But you're sitting there, posting the shit on your Facebook, like, "Yeah, all my dreams are coming true." But in reality you're like, "I don't know where to get my money. I don't know who to contact. I don't know how to reach this rapper. I have no idea how to move forward. I'm 19 years old, I sell weed."
Fast forward. You've done your time as a well-paid EDM DJ and you're trying to make your comeback in the rap world. But it's years later and the current sound is completely different.
I had no fucking idea what's going right now with rap shit. And I needed to pay really careful attention. The subtleties, the sound choice, the vibe, the bounce, everything. I knew even though I'd done all these songs with big people in the past, that doesn't mean I understand the wave right now. And that's where a lot of people fuck up. They don't give all the kids today enough credit for really creating a wave or honing a specific sound. Because everyone just thinks, "Oh, just do some simple ass beats with big 808s and four notes. I got those sounds, I got those drums." But what you don't understand is the way these kids are mixing it, how behind the beat the sounds are, how sloppy the mix is, all that shit is a part of it. And as soon as you think, "Oh, I'm a really good producer, I'm gonna show these young rap kids how to make a really clean, hot rap beat"...You just missed the fucking point. You're getting old if you think these kids need to learn how to mix and master from you.
I realized I needed to pay attention to what these kids are doing to a T. I needed to get my fucking speed up, because there's no room in 2018 for spending 6 hours on a beat. And I was going so hard on myself because when I was younger I never had enough beats. So before I sent one beat out in 2017, I had 300 on my computer. I legitimately sat there and said, "Okay, if I'm gonna come back to this rap shit, I need to be fully prepared. I need to walk into any room, whether it's an L.A. rapper, a Chicago rapper, a Southern rapper, or a New York rapper, and I can't get stumped." Which means I need every fucking tempo, every single fucking vibe, every tiny niche market that's going on in rap right now, I need to pay attention and make sure — on the spot — I can make something of that caliber.
So how important is it to you to stay up on the sounds of the moment?
I'm listening to Mason Ramsey as much as I'm listening to Valee, and that's not a joke. I think not being aware is doing a disservice to yourself. "Being aware" doesn't mean you have to make Pi'erre Bourne type beats. But at least know if an artist comes in, how to serve them. It's like any other job. Like if an artist comes in and says "I'm feeling 160 [BPM] right now. I've been listening to this song that's really popular, I just got that type of energy." That doesn't mean do that drum pattern and use that 808, but it means there's something about that music that's giving off a certain vibe, and you need to be able to match that energy. It's not always a tempo or a sound choice. Sometimes it just has to do with a certain feeling.
So an artist can just come to you with a thought fragment, like "purple hair" or "Death Grips." And then you have to try to interpret that?
I'll say 9 times out of 10, artists like to test you. And most producers don't have everything. If you get into a session with a producer, you want to be able to say, "I want a heavy metal beat," or, "I want something really cute and poppy," or, "I want "Sweet Dreams" by The Eurythmics." Which, by the way, are all things Rico Nasty has said to me. You need to be able to have any one of those three things or be able to make it immediately. And it's not always because they have a specific song idea for that beat, it's because they wanna see if they can experiment with you. I really believe that. I don't take sessions 'cause my clout is gonna get up or 'cause they have a budget. I take sessions cause I'm a fan of their music. So I know all sides of their shit.
Certain things happen with Key! or with Rico or with Greedo, where they're just so creative and they just come in and say something like Key! does: "I want 160, pink hair shit, Bjork samples only. In 15 minutes I'll be back from the store. Have it ready." And then you're sitting there like "Is he even serious?" And then two hours later you have "Ice Scream Hello." That's why 777 is what it is. Because Key! came in and rattled off whatever the fuck he wanted: "I want choirs, I want this to feel like a graduation ceremony and a funeral." And then he'd walk out. I take everything they say verbatim and try to illustrate it and show them a mirror of what they're talking about. Sometimes I do it and they'll say, "Nah fuck that, let's do what we were gonna do anyway." And sometimes they go, "You just gave me exactly what I wanted." And you just unleashed a new part of them. And those are the moments I do it for.
Is it more important to serve the artist than to have a specific sound for yourself?
I think your job is to serve the artist, period. You're a producer. You are there to produce the artist. The truest sense of the word. The real producers back in the day didn't sit there and play every single instrument. They made sure the record had the best performance out of everyone involved possible. And I get DMs weekly from big ass artists, and I tell every single one of them, "Bro, I could send you some shit, but any of the songs you like from me happened because I was in the room."
And that's something that has really become apparent in the last month, with like Rico's whole switch into the hard shit, with Key!'s big comeback, especially with all the singing shit he's been doing. With me and Greedo being able to do the most street shit ever and some of his emotional, insanely deep songs about going to jail for life. Like, people are starting to see that my only goal is to get the best performance out of the artist. And in focusing on that, the beats are harder, the songs are better, everything seems more effortless. These songs are about the artists. I'm here to bring the best out of them. If I get some recognition from that, amazing. If I just get to listen to those songs in my car from my favorite artists and hear the best version of them, I'm just as happy.
Is there anything you'd say to aspiring young producers?
I really wanna get across that there's a difference between producers and beatmakers. And if you wanna be a producer in 2018 that means even more than it meant in 1970. Cause you have to play every single fucking instrument. Make the whole thing yourself, a lot of the time. Then on top of that be a mix engineer, be a vocal producer. Then on top of that be a vocal coach, then on top of that be a songwriter. You gotta be good at all of those fucking things if you wanna be a producer today.
My goal ten years from now isn't a big house, a number in my bank account, a number of platinum hits, none of that shit. I want to walk into a room like fucking Rick Rubin. Or fucking Mark Ronson. Or Salaam Remi. Or someone of that caliber, and I walk into a room and hear a record, and I say "Move that hi-hat 1/128th off the grid and take the reverb off the ad libs and then I wanna hear the main vocal auto-panned during the pre-chorus." And then I walk out of the room, they do what I just said, and go, "Oh my god, that just shifted the whole record. That's what this was missing." That's my goal, I wanna be a wizard. I wanna change how people hear shit.