AJ Tracey is ready for business
The quick-witted, quick-rapping London MC makes his return, armed with "superbangers" and a sharp philosophy on U.K. music culture.
It's a gray, humid day in West London and the windows in AJ Tracey's flashy one-bedroom apartment are flung wide open. He is reclining — shoes off, feet up, long legs stretched out on an ivory leather sofa and flanked by a pair of matching green cushions from the Baltimore streetwear brand Marino Infantry — and playing Goat Simulator on his Xbox One. Over the course of our conversation at his flat in West London, he will also play Fortnite, FIFA 18, and Tumblestone. "It's intelligent – a puzzle game," he says of the latter. To his credit, Tracey doesn't zone out once. Man knows how to multitask.
The 24 year-old MC has a quick mind and a quicker mouth. The flow that catapulted him to fame over the past couple of years is distinctively, dexterously fast, bars rammed with strings of syllables spat at motormouth speed over sparse, trap-influenced beats. In just the last year, Tracey has collaborated with Jme, starred in an election campaign video for Jeremy Corbyn's Labour party ("Left-winger with a long stick like a granddad" he winked on "Thiago Silva," his track with south London MC Dave), and been longlisted for BBC Music's Sound of 2017. He's also moved out of his mum's house. Not bad for a college dropout, he'd likely tell you himself.


Tracey came up through the pirate radio scene, earning sets on stations including Deja Vu, Rinse, and Radar in 2014. But it wasn't really until his first Fire in the Booth freestyle, on Charlie Sloth's BBC 1Xtra show, in 2016 that a wider audience really started to pay attention. Later that year, the one-two punch of the aforementioned "Thiago Silva" and the Dragon Ball Z-referencing playboy anthem "Buster Cannon," containing the brilliantly interminable hook "Buster cannon blow up the room/ Backstage, couple drinks, I'm loose/ All I see is bums and boobs," felt like a breakout moment.

In the apartment, I recognize a pair of cream-colored Christmas stockings from Tracey's frequently updated Instagram stories, hanging above the makeshift studio in the corner of the living room. A stuffed Snoopy from Uniqlo's Kaws x Peanuts collection, a teddy bear gifted by a girl, and a sea turtle from Barbados given to him by his mum peek out. Lined up against the wall behind us are boxes of trainers, stacked high. "That's not even a tenth," he tells me. "These are just literally the rare ones. At my mum's house I've got 75 pairs of trainers." Tracey doesn't keep an inventory but insists he knows exactly what he has.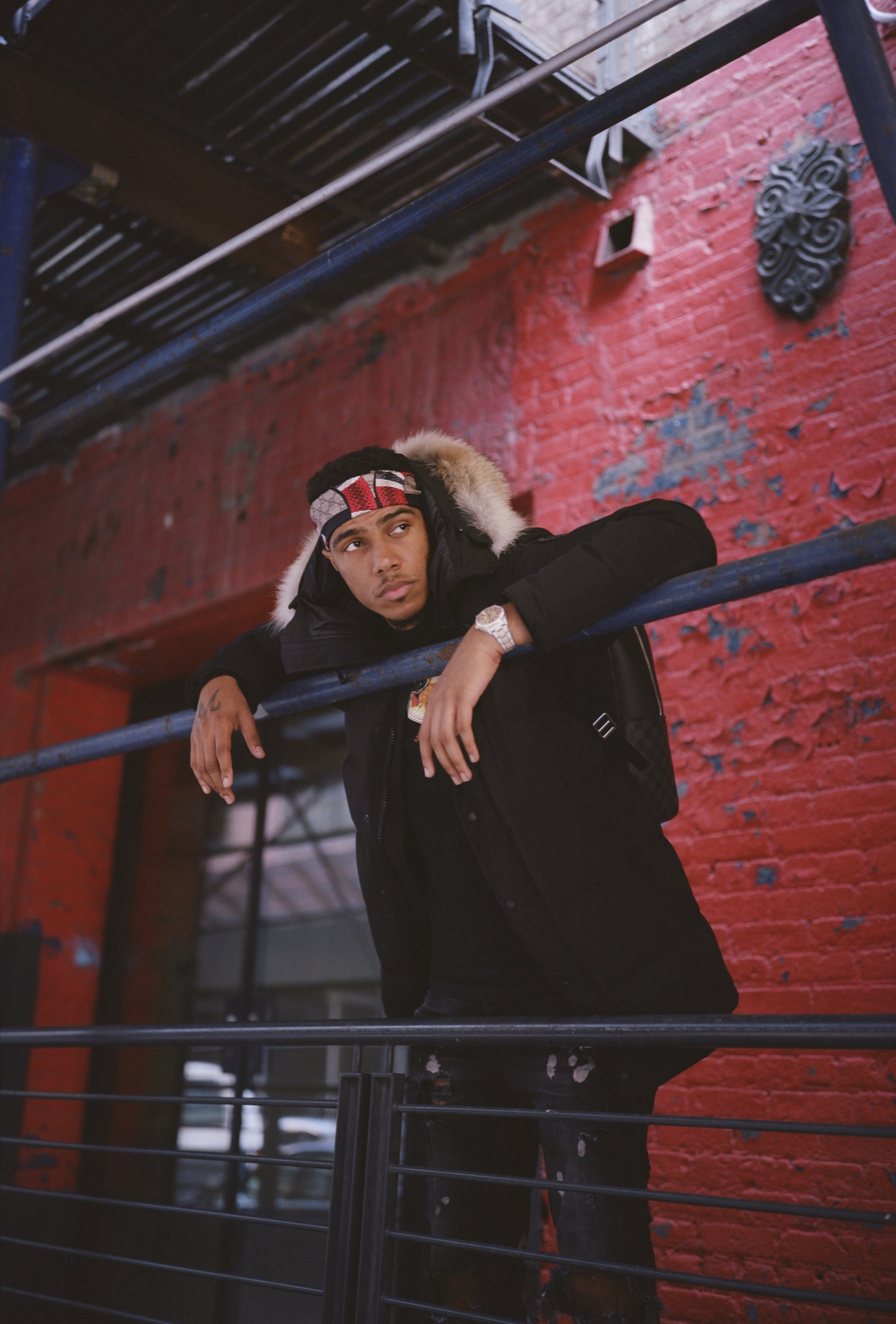 You said this year you're only making straight bangers.
Bangers only. [Laughs] I feel like last year and the year before, I was super lax. If I enjoyed the song, I'd just put it up. But now, I'm not putting it out unless I personally feel like this is a superbanger. I'm doing super quality control. I'll have five tunes that I think are all good — before I would've put out all five tunes but now I'm just putting out that one out of the five that I think is the banger.

Can we talk about your new song "Butterflies"? It's a banger.
It's a little bit catchy, isn't it? Caribbean music in the U.K. used to be proper booming but now I feel like there's not anyone of my age —

Who's the voice of the diaspora?
Exactly. I'm from Trinidad. I wanna be at least one of the people who's like, "I love the Caribbean, this is a little bit of our culture." Africa's really well represented now, so hold tight with my African friends but my culture isn't represented. It's all cool listening to the afrobeats and afroswing, whatever you want to call it, but where is the dancehall, the soca, you know what I'm saying? There's none of this [in U.K. music]. I just wanted to showcase it a bit. I flew to Trinidad and shot the video as well.

You've recently spent time in L.A. and Toronto. What do North Americans make of your music? Do they get it?
A lot of U.K. rappers are kind of seen as novelties there. Skepta's the only one who's seen as having some validity to him because he does hang out with [A$AP] Rocky and he's got tunes with [Lil] Uzi [Vert] and everyone, he's really there.

I think it's the way you hear it. You have to hear it relaxed, not have it forced on you, like "Listen to this British kid, what do you think of British rap, you need to hear it." You need to hear it in a vibe and see if you fuck with it or not.


What's big and what crosses over here – like the kind of music that might get played on Radio 1 – is not the same thing as what is getting airplay in the U.S.
People need to realize that because black people have been established in the U.S. for a lot longer than in the U.K., the culture's a lot more embedded. We will get there with how comfortable they are with rap in the mainstream, but we're way behind them. Radio 1 doesn't wanna play like, aggressive rap music, but in America the number one song, not even just in Urban or Rap, was "Bad and Boujee" and they're talking about cooking up crack on a stove. We would never have that as the U.K. number one on the chart.

The critic Dan Hancox wrote an article comparing the golden age of U.S. hip-hop in the '90s to the breakthrough moment that's been happening in grime over the past few years. Do you think we're in a golden age for grime?
Me personally, I would say the golden age is done. We had a little golden age period recently, year before last and last year.

So the bubble's already burst?
In my opinion, honestly, in U.K. music now, if it doesn't sound like "afroswing" – definitely in quotations because I know a lot of artists don't like it being called that – it's not gonna get a certain level of success, which is quite sad. The golden age was when no matter what genre of music you were doing and it was good, it was popping.

Do you think everything sounds the same?
A lot of people criticize the U.S., like "All trap music sounds the same." OK, cool, but you lot are only listening to the same type of music over here. People love to be U.K. music advocates but they don't wanna give other types of music a chance so it can be as popular as this one sound. Before this afroswing ting was poppin', it was grime. Grime was the sound. Everyone wanted to make grime.

I just think it's cool when people have their own lane. Like J Hus – if everything sounds like what J Hus makes, that's because J Hus is the leader in his market. It's feel-good music, so everyone's like, "Hey, this music makes everyone vibe, he's still talking his gangster shit, and it's accessible." That formula means you don't have to sacrifice being the mandem from the hood, people can dance to it, and it can get played on daytime radio, which means – would you know – everyone wants to make that music. I understand the logic, but to me it's boring to just copy his pattern.

Then you've got Mist and Fredo, with electronic sounding instrumentals, Steel Banglez, Sevaqk – producers that make a certain type of beat that everybody wants now because people are getting success from them. So the combination of like, J Hus's sound and the Steel Banglez kind of riddims means that a lot of people are trying to make one type of sound.

Then you've got like Stormzy, he makes what would be an accessible version of grime. People can fully understand what he's saying, he's not saying anything that's super alien to the masses. His pronunciation, his clarity, and what he's saying as well. With me, I use loads of slang, and obviously slang's changing all the time, so sometimes I'll just say things that no one has any clue what I'm saying, unless you're really in the ends. Obviously Stormzy is very popular but I feel like unless I make my music more accessible and compromise a little bit, it's not gonna achieve what it's got the potential to achieve. Follow me?
In 2017, Tracey released Secure the Bag!, an eight-track project that charted in the U.K. Top 20. That's when his newfound celebrity started to sink in, with the occasional fan following him to his house, for example. "Once you become an artist, you're accepting that you're public property," he says warily. Tracey has been living alone in a luxury apartment complex for the best part of a year, and says the distancing effect of success has made him want to draw closer to his family.
"I wanna be closer to my mum; my older brothers and all my friends are over there. I have friends here but it's not my area," he says. Tracey grew up in Ladbroke Grove, between Notting Hill's Portobello Road and the Grenfell Tower — geographically close but demographically different from his new place, where he is surrounded by artists and oligarchs. Still, he's too famous move back to the neighborhood he lived in as a teenager. "I don't have a car yet, but I'm gonna get a car, and I'm gonna go to a gated community with an underground car park, and hopefully no one will ever see me. Hikikomori – stay inside my house all day," he says dryly, referencing the animé term for grown-up hermit.
Tracey grew up with music around him, his Trinidadian father a former rapper and his mother once a drum and bass DJ from Wales. As a teenager he made music in his bedroom, putting tracks on SoundCloud and getting "bare attention" — upwards of 100,000 plays without any followers or videos and certainly without a manager. "The mystique was quite high," he says.
That life seems a long way from the glossy, alpine music video for the Sevaqk-produced "Mimi," a frosty, danceable rags-to-riches parable released this March. On the track, Tracey raps about music as "money campaign." The fact that he's now making money — real money, from shows and sponsorship deals – feels like levelling up, he says. " I paid my mum's rent – I paid a whole year's rent like bang, and next year I'll be doing the same. Not that it's all about money but it's nice to give people freedom, 'cause now my mum feels free, she can go do whatever she wants. It's just nice to be able to free people of financial restraints."

This desire to level up is reflected in the commerciality of Tracey's latest single "Butterflies," released in early June. A collaboration with Nigerian-British singer-rapper Not3s, it's an infectiously flirty party track and the closest thing Tracey has done to a pop song. You might even call its hybrid island feel OVO-influenced. Drake, he says, is the kind of artist he'd like to be – something that strikes me as more revealing of Tracey's ambitious designs for his career than it is an attempt to recreate the Canadian's crossover sound.

"Drake's the King, man. He's too smart," says Tracey, praising Drake's ability to respond to the culture as it's happening. (It's worth noting, though, that our conversation was a few weeks before Drake and Pusha T's rapidly escalating beef made headlines.) "Drake will put out 'God's Plan,' a proper serious, thoughtful song to go and drop something with BlocBoy JB, like bare gangsters. But the thing is, his timing is always immaculate. He picks the right time to drop everything."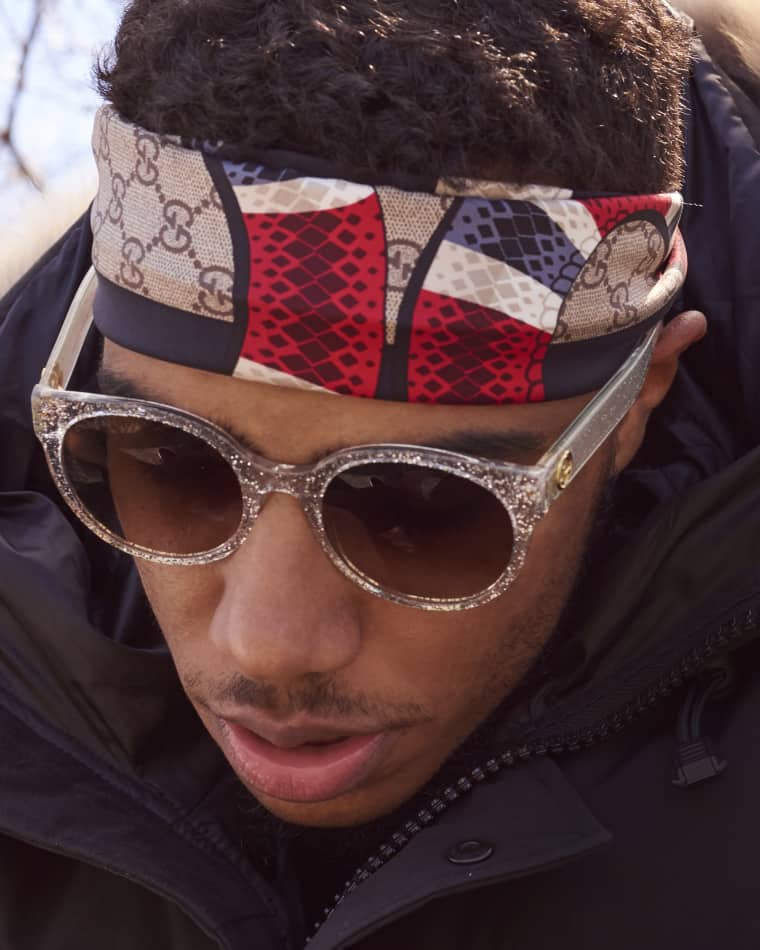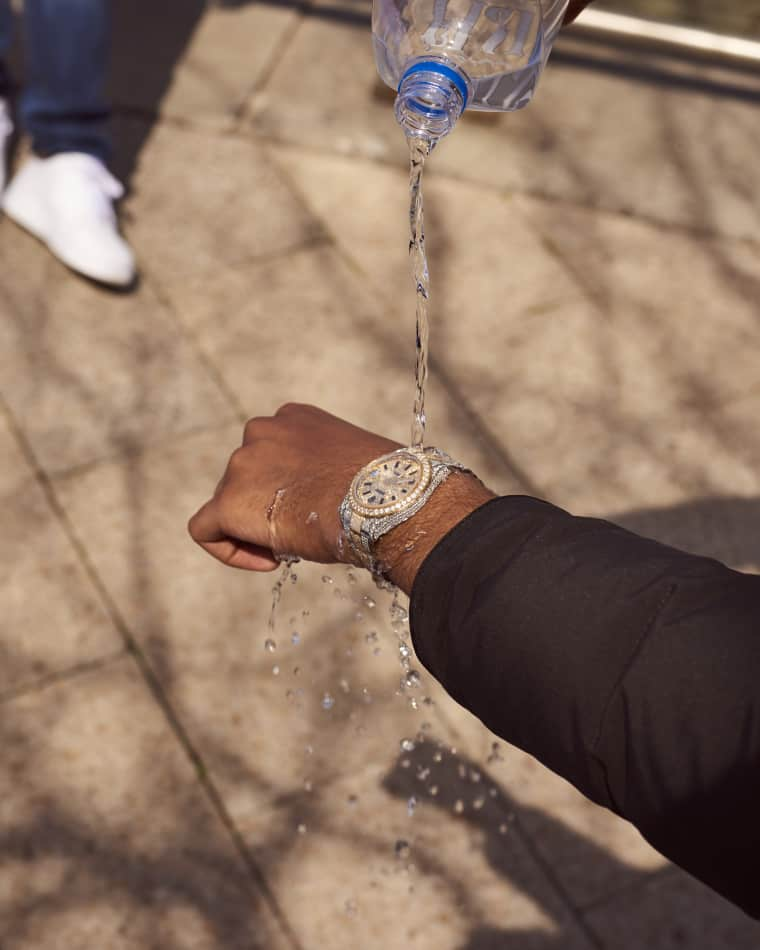 Earlier you said you think Drake's the smartest person in music. What have you learned from watching what he's doing?
American artists, Americans in general, don't take the U.K. rap scene too seriously, yeah, but thing is though, they wasn't taking Canadian artists that seriously either. And now we have Bieber, The Weeknd, Tory Lanez, Drake – massive, massive Canadian artists. It's just a matter of time, they just need to get adjusted to it. I know it'll happen, I just don't know how long it'll take. It might not be during my career.

That's kind of cynical!
I was on the Grenfell March the other day and this rapper called Lowkey — he's from Ladbroke Grove — said to me, "It's good to plant seeds, even if you won't sit in the shade of the trees," which makes a lot of sense. It's good to go to America and put the graft in and make people acknowledge us and take us seriously as artists because even if we aren't taken as seriously, maybe the people and the generation [after] us will.


What are your thoughts on Grenfell, given that it's almost a year since it happened?
My friend passed in the fire – I had to speak out about it. I was heartbroken, my mum was heartbroken, everyone was devastated, and obviously I don't want anything like that to ever happen again.

I try and go every month. We always try to have someone from the family there. We march to keep it in people's thoughts because we don't want anyone to forget that it happened. I feel like the job is not done with this Grenfell campaign until someone goes to jail, that's my opinion. It's the same as if I go and kill someone – I'd go to jail. So why is it that if you're working for the council or working for the government or maybe because you're white, you have immunity? There are still buildings around the U.K. with the same cladding and they haven't removed it. So they clearly do not give an F about people's lives. It's on schools, it's on hospitals, it's on private buildings, and council buildings. Stuff needs to be done about that for sure.

Last year you were in a Labour campaign video. To what extent do you feel like it's your responsibility to be vocal about politics?
If it's something that I feel that I should be speaking out on, I'll speak out. But people can never tell me, "You have a platform, you have to speak on this," 'cause I don't have to do anything, at all. Thing is, anything you say can be spun in some sort of way to be rude or wrong, so a lot of artists don't wanna speak on anything simply 'cause of that. I've always been opinionated and my real name's Che, after Che Guevara, so if I didn't have an opinion and I wasn't slightly left wing, my mum would probably be disappointed. [Laughs]

Re: Labour and stuff, I chose to speak out about that because I genuinely wanted my area to be red. I thought it would help our family, my mum, my neighbors, my community, so that's why I starred in the campaign for it. It made a difference – that's an achievement for me, youths were coming up to me in the street and saying "I told mum that one of my favorite artists [is voting Labour], she's gonna go vote Labour."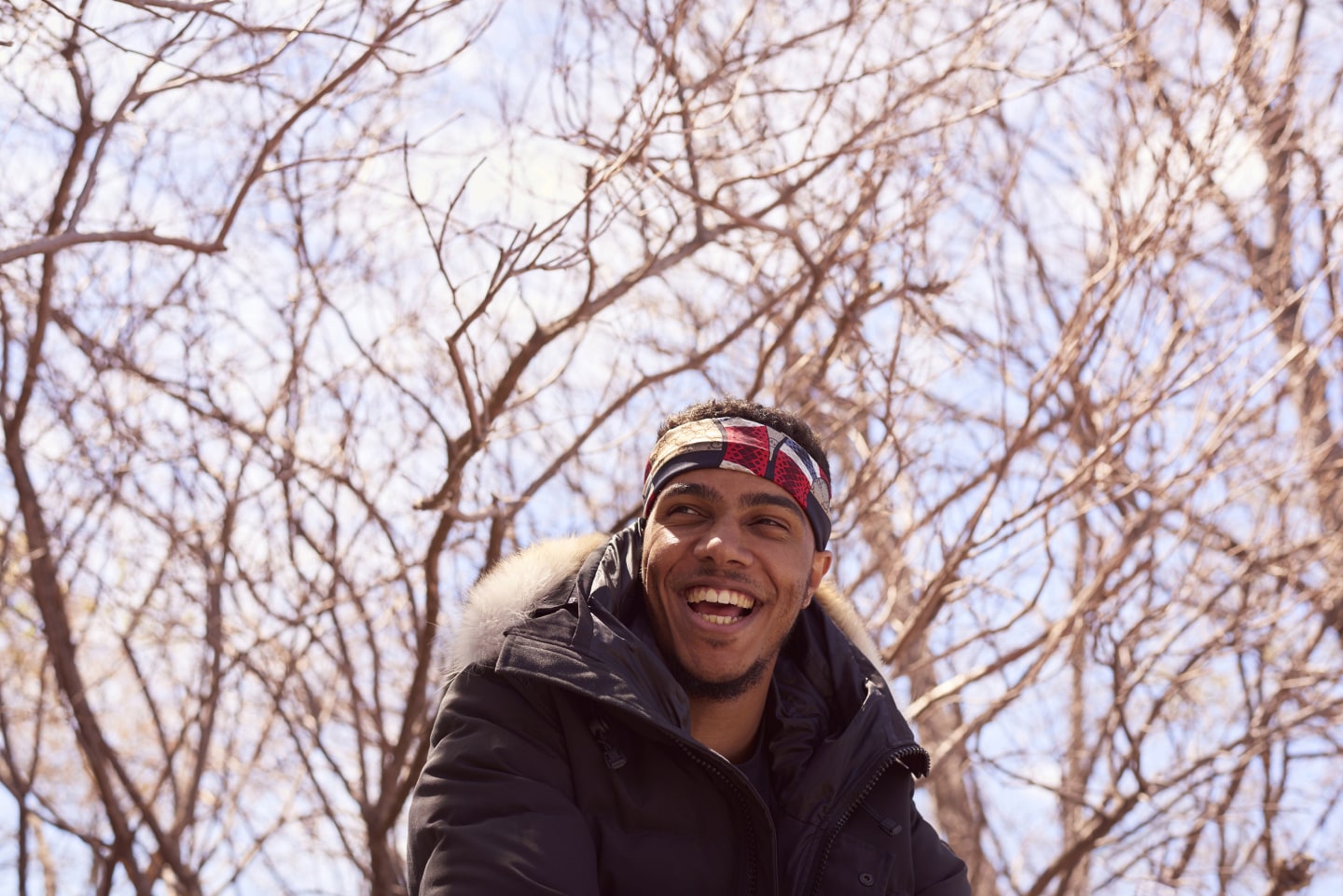 He is right that his endorsement of the Labour party, along with similar shows of support from fellow rappers Akala, Jme, and Novelist, made a difference: last year's #grime4corbyn campaign resulted in nearly a million people under the age of 25 registering to vote within a matter of weeks. It might not have swung the election, but it mobilized a generation of underrepresented first-time voters who have grown up with a Tory government — a hopeful inkling of change to come.
Tracey's more immediate plans are a little smaller. He is desperate for a dog, specifically, a Shiba Inu. He pulls up a photo saved to his camera roll to demonstrate the breed's cuteness. Cornelius, he'll call it: "I think the more complicated and sophisticated a dog's name is, the funnier. I don't want to have a gangster dog." That, he says, would be way too expected of him.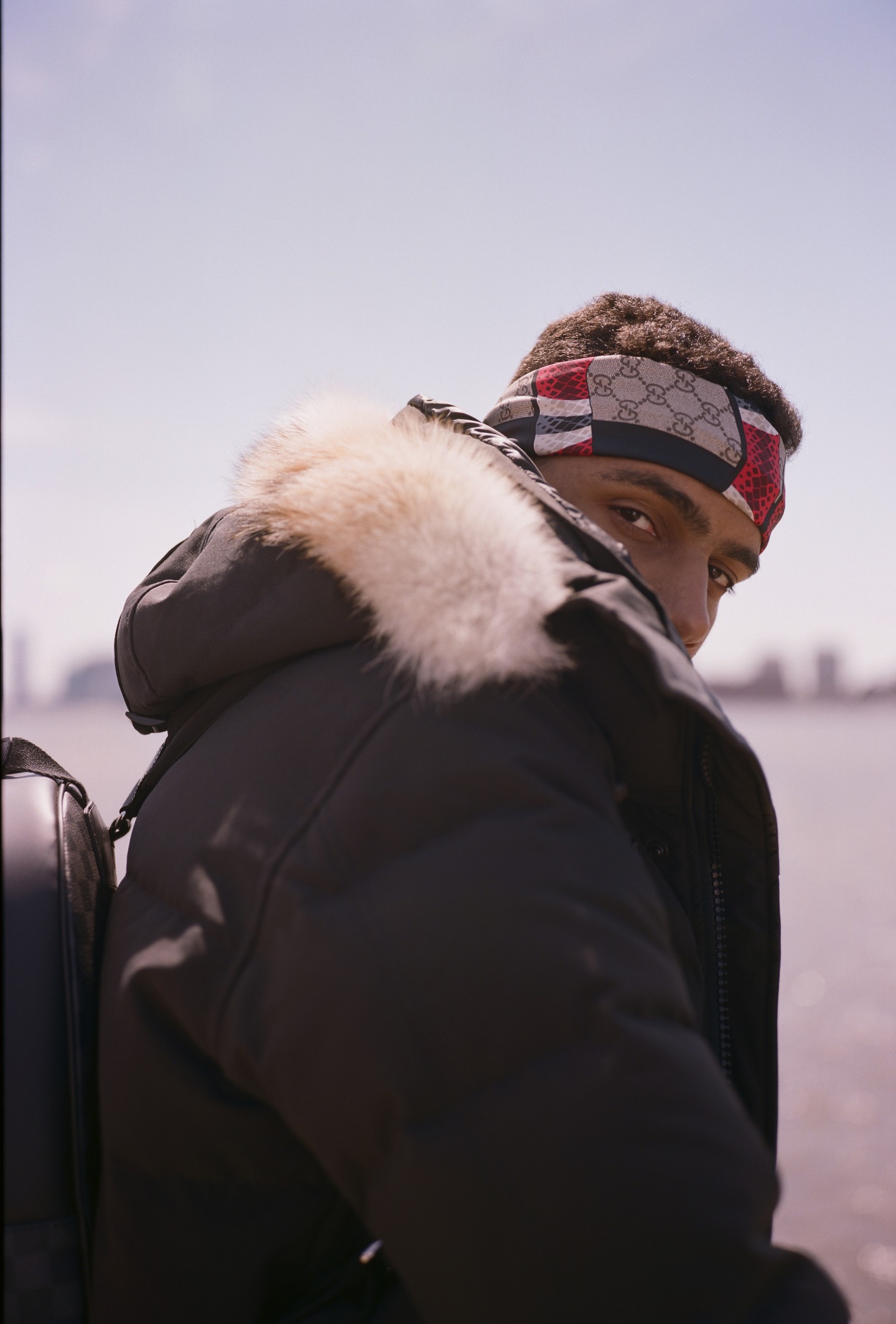 You tweeted that despite being a confident person, sometimes you get anxious and feel down, but that it's not a bad thing to talk about it. I thought it was interesting that you shared that; a lot of men aren't comfortable articulating their feelings.
100%. It's a mad one because not only just men – Caribbean men as well, it's in our culture, we do not speak about it. My dad – I've seen my dad cry once in my whole life, and it wasn't even a full cry – he was holding it back and one tear, it just about crept out of his eye and he evaporated it instantly. Caribbean men don't wanna show their vulnerability, they don't wanna be seen as vulnerable. I thought it was important for me to say that because a lot of kids, they look up to me and I thought, If the person they're looking up to says "It's okay to not be okay," then they're gonna feel like "I'm not alone, I can get through this." Hopefully there will be a conversation, they'll go and talk to people about it and find ways they can deal with it.

If it's not too personal a question, what things make you feel vulnerable?
To be honest, same as everyone else, normal stuff innit, like not succeeding, people being upset with me, or people not understanding what I'm trying to get across sometimes, or bruv, relationships with girls, everything. Maybe if my friends aren't checking up on me, 'cause me in my friend circle, I consider myself the backbone. So if I'm the backbone making sure they're OK, then who's making sure that I'm OK? Obviously my friends love me to bits, I just get emotional sometimes.

Which artists do you still geek out about?
I discovered bare artists off SoundCloud, like Uzi before he was famous, Carti as well, it's crazy – it's mad yeah because I'm actually like a massive Uzi fan. This is gonna sound super bromancey, but I'm just being real, yeah, I proper like Not3s' music. I'll be banging that tune regardless, whether he's my friend or not. I separate it from him, that's a hard piece of music. Same with Dave. I'm still a fan of a lot of my friends.
The people you grew up listening to are now your peers.
Literally. I grew up listening to Wiley, Skepta, Jme, and now I've got a tune with Jme, a video with him, I chat to him all the time, he drives me around in his Tesla. I'm a massive fan of Skepta, and we talk now innit. Last time I did a FADER interview, I didn't even know any of these guys. I didn't have my peers, as you say.

Can you tell me a little bit about, as you once put it, "pissing off the olders"?
I'm 24 – some people who are like 34, who have been doing this a lot longer than me, may not get as much as I get for bookings, for example, so obviously it's gonna annoy them. I get it, I would be annoyed if it was the reverse, but subsequently, they just dislike me as a person. A lot of olders have tried to blackball me, block me, talk bad about me, talk down on me, just because I'm doing well, basically.

Do you ever feel nostalgic for a scene that happened before your time?
I did originally. Back when I wasn't venturing out of the genre, I was just doing straight grime, I did. But I've come to realize that nostalgia isn't healthy, 'cause bruv, when you live life, life goes forward, it doesn't stay still and it doesn't go backwards. I think that's why a lot of olders have a problem with me, 'cause I'm not here for just trying to emulate what they did and just trying to keep their nostalgia alive. I'm trying to bring in the next. I'm trying to usher in the next era.