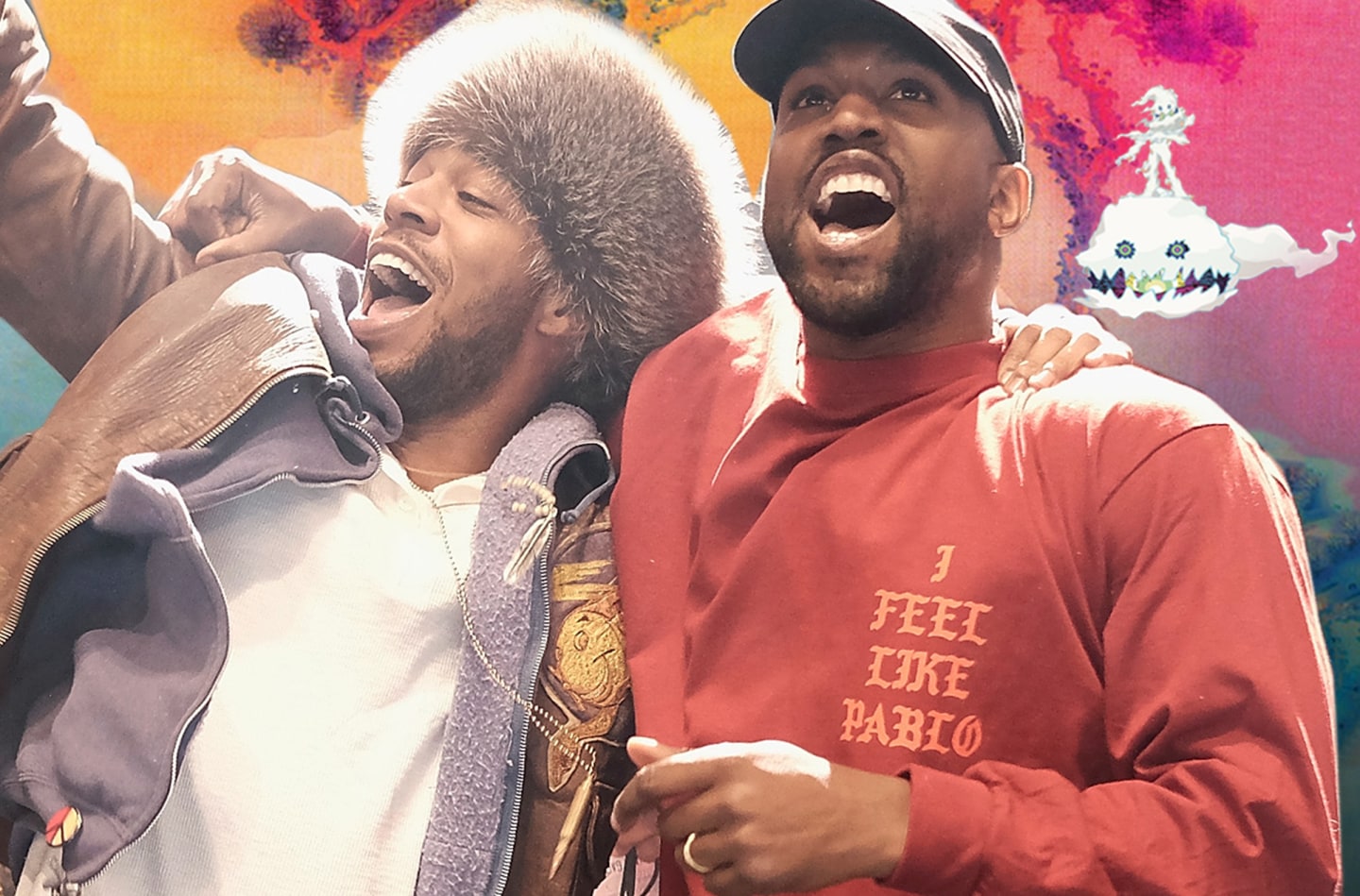 It never really happened for the Young Gunz. The duo got a Roc-A-Fella deal when it seemed like the label was going to pivot fully into Philly rap, but by the time their first album came out in February 2004 — two weeks after the debut from a producer-rapper named Kanye West — the moment was all but over. What's left, other than "Can't Stop Won't Stop" and its Chingy-aided remix occasionally popping up in mix shows, are the traces of Young Chris's hushed flow in Jay-Z's repertoire. Some time around 2002, the label boss started lapsing into a whisper; when Jay raps about people getting "tied up for product" or being in "London, Japan, and I'm straight off the block," he's channeling Chris. It isn't outright theft; it's the kind of half-conscious transfer that happens between any two artists who work in close proximity.
For as long as there have been veteran rap stars, there have also been younger artists getting swept up in their currents, their styles and sounds being absorbed into the elder's. The stars don't necessarily seek out that new blood because they've become lazy or simply lost it (although that's certainly the case in some instances). Sometimes you simply need to osmose a new energy. Some of these in-studio proteges — Lupe Fiasco, Eminem, The Weeknd — wait their turn and become stars in their own right. Others fizzle (paging Lamont, Bishop). And then there are a few who land somewhere in between.
Kids See Ghosts pairs Kanye West, the star, with Kid Cudi, his one-time protege who seemed, briefly at the beginning of this decade, like he was poised to rule mainstream rap, but who has since been resigned to a sizable and passionate cult following. It's the third of five planned albums, released every Friday from late May through the end of this month and each totaling seven songs, that Kanye has been touting as statements of purpose from G.O.O.D. Music. While it doesn't live up to the cool focus of Pusha-T's Daytona, Ghosts is a marked step up from Kanye's fraught, fumbled ye. It's a deeply felt record that lands most of its biggest tricks. It's also a case study on what happens to a creative partnership that sees celebrity and catastrophe and mental anguish and power struggles refracted over the span of a decade.
"At its best, Ghosts is knowing and playful in a way that neither artist's own records have been for some time."
In the fall of 2008, Cudi was plucked out of relative obscurity to help in the sessions for 808s & Heartbreak. That album proved one of the most influential records of the 2000s, and Cudi's sound and ethos — rap infused with freeform, brooding singing and a radical openness about his often shaky emotional state — has become one of the genre's dominant modes. On 808s, he helped pull Kanye into a creative space the Chicagoan never before occupied. Beyond the pair's collaborations, it's difficult to imagine later Kanye works like "Blood on the Leaves" or even "Runaway" without Cudi's influence.
But on ye, as on 2016's The Life of Pablo, Kanye's vocals skew closer to conventional rapping. That's coincided with Kanye's music as a whole yielding slightly — as was the case on Pablo or, exaggeratedly, ye — diminished returns. Kids See Ghosts is a welcome corrective to that, in ideology if not always in style for Kanye as a vocalist. While many of his verses are relatively straightforward raps (the obvious exception being "Freeee"), they hear him reinvigorated where ye was clumsy and obligatory. Kanye's both rapped and given interviews about his desire to tap into a childlike creativity that's dulled by adulthood. At its best, Ghosts is knowing and playful in a way that neither artist's own records have been for some time.
It achieves this in part by inverting the expected roles. Cudi's solo work often mistakes the sloppy and formless for the avant-garde. One of the smartest aspects of Ghosts is that his vocals are often used to give songs a structural framework, with Kanye — who is, comparatively, the more conservative vocalist — hopping in and out as he sees fit. It gives the songs a lush, pop quality. That formal arrangement is mirrored in the songwriting: Kanye is a celebrity whose mental health issues will materialize in and then disappear from his verses, giving them a sincere, yet tabloidish quality. But Cudi's music has long been nearly consumed by his own "issues that nobody can see." Cudi is the constant, Kanye the variable.
Due to either the brevity of Ghosts, or the presence of Kanye as an editor, this is the most consistent Cudi has sounded in years. He's never been a remarkable lyricist, but he's one of the few artists working today who can make lines like "peace is something that starts with me" feel earned, even tortured. The song that uses that line, "Reborn," is among the record's strongest, a moment of sober resolve — one that's slyly sequenced after the manic "Freeee" (Kanye: "You should quit your job to this"). Cudi's track record of transparency is what lets him say he's "died and came back twice" on a song that opens with a Marcus Garvey speech without clearing the room.
Kanye is less consistent. His raps are, on the whole, considerably stronger here than on his solo album, but still stiffer than they were at his once-endless creative peak. There's less bend and give to his voice, and most verses sound as if they could use another pass on the page. But he seems interested in explaining himself or, at least, in something close to it. "Got a Bible by my bed — oh yes, I'm very Christian / Constantly repentin' 'cause, yes, I never listen" is the sort of line Kanye's made a career on: wit, regret, defiance, pop morality condensed into a couplet. There are missteps — like when he ends what's supposed to be a gut punch of a verse with "All of you Mario, it's all a game" — but at least Kanye's probing again.
The production is uniformly strong, at times daring. The title track is small and pulsing; the intro, "Feel the Love," is thunderous. There are death marches ("Fire") and repurposed Nirvana rarities (closer "Cudi Montage"). The tones are rich and warm, the edges frayed. It's easy to imagine these as the musical instincts the duo would have had in 2010 — and, somehow, that's an endorsement.
Ghosts also benefits from an absolutely stellar supporting cast. Pusha-T opens the album with a characteristically cold-blooded verse (that for some reason remains uncredited). While both Kanye and Cudi acquit themselves well on "Freeee," Ty Dolla $ign steals the song, his gruffer voice adding some much-needed texture. And speaking of voices, Mos Def, one of the most distinctive presences in the genre's history, furnishes an excellent hook on the title song. There's another key guest spot, and it expands on a once-annoying trend: When Kanye and Jay put out Watch the Throne in 2011, they were crediting people like Otis Redding and Curtis Mayfield as featured artists, which felt macabre, or, at the very, least kind of obnoxious. But tagging a song "featuring Louis Prima" is a pretty hilarious endpoint.
ye seems to have already been expelled from our bloodstreams. But Kids See Ghosts will probably linger for the rest of the summer, as it deserves to. It's a testament to Kanye and Cudi's chemistry; it seems unlikely that, left to their own impulses, Cudi would make something this focused, or Kanye this bright. It alludes to pain and anguish but is more concerned with uplifting, or at least powering through. It's a good, slight record that could only come out of a well-worn creative relationship — one that's finally a give-and-take in equal measure.