Jorja Smith in Gemini season
The pop-spiked soul singer talks Lost & Found, insane collabs, and sugar waxing.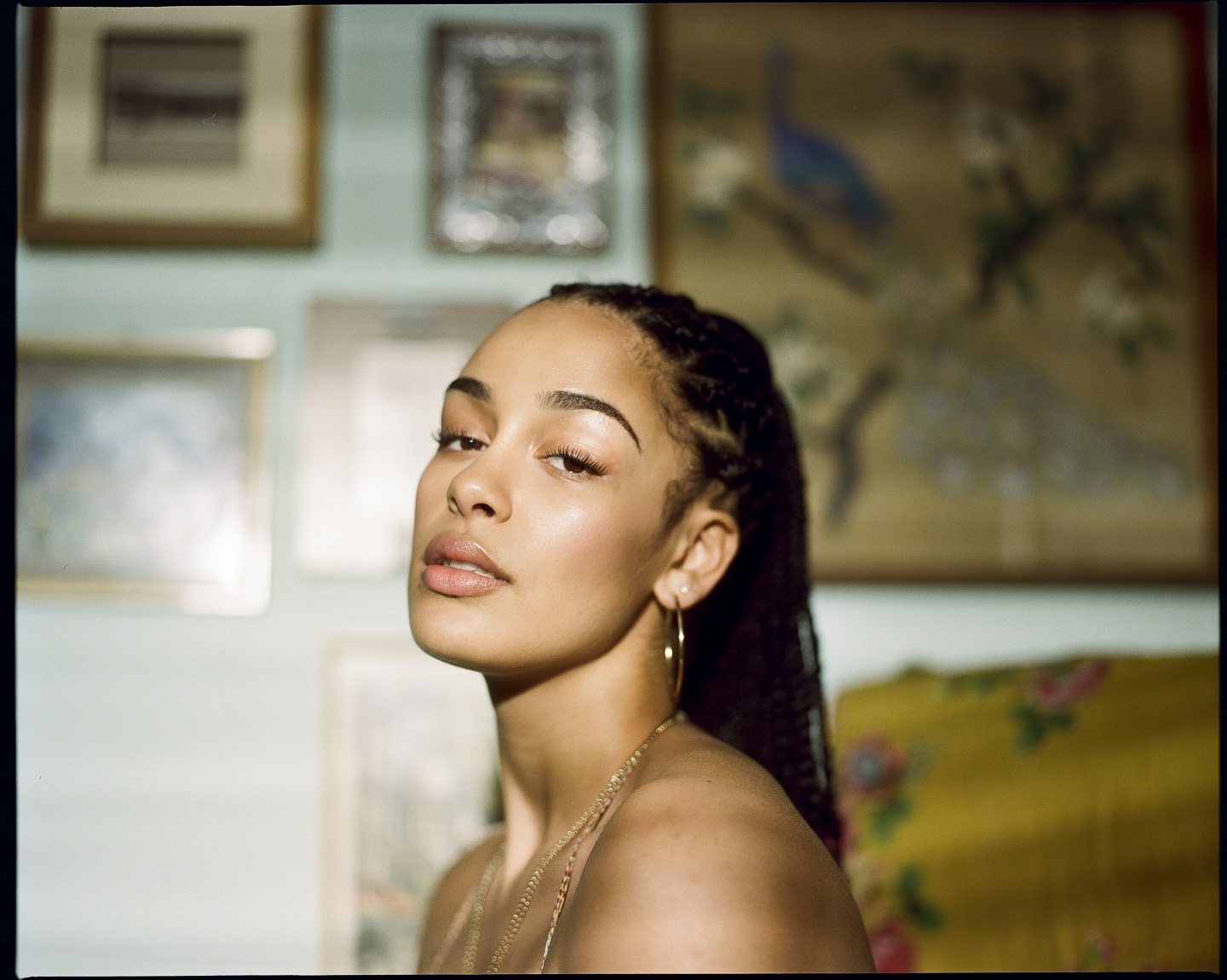 About 20 minutes into our hour-long interview, Jorja Smith gets an attack of the yawns. Curled up on a couch in Nike high top Blazers and a basketball jersey stitched at the sides to create a body-con dress, Jorja politely covers mouth with an acrylic-tipped hand (her favorite number 11 inked on her middle finger) and apologizes. "I went to bed at 4 a.m. last night," she says, blinking her glossy lids wide.

It's understandable, she's at the tail-end of a three week long mini-tour. A few days previous she performed on Jimmy Kimmel and headlined Brooklyn Steel to 1,800 rapt fans, and the night after we meet she has some swanky fashion dinner to attend. She's a 20-year-old Londoner in New York City — so of course she's out making the most of the night.

"Nooo," she laughs, "I was in urgent care with my boyfriend from 10 till 4 because he thought he had a blood clot in the back of his leg. It's OK, though, he's fine." She smiles shyly, as if lit up at the very thought of him. The boyfriend in question is Joel Compass, a singer/songwriter/producer who worked with Jorja — alongside behind the scenes luminaries including Michael Uzowuru (Frank Ocean), Amanda Ghost (Beyoncé), and Jeff Kleinman (Kevin Abstract) — on her debut Lost & Found. An album set to slot seamlessly alongside her heroes (early Amy Winehouse, Lauryn Hill) and peers (SZA, Kali Uchis), Lost & Found balances sparse torch tunes with pop-spiked soul, all made distinct by Jorja's dusky tones that can slickly slide into a higher register.

Born in Walsall, an industrial enclave on the outskirts of Birmingham, Jorja has been plotting her way to the spotlight since she was 14, when she started covers on YouTube still dressed in her school uniform. Her father is a neo-soul musician-turned-U.K. benefits officer, and at 16, she announced to her McDonald's co-workers that she had her sights set on singing. Jorja moved in with her aunt and uncle down in South East London, juggling recording sessions with her job at Starbucks, until at the top of 2016 when she dropped "Blue Lights" and the internet went bonkers. Hinged on a Dizzee Rascal sample from "Sirens," the inspiration initially came from a high school media studies project about postcolonialism and grime, which naturally segued into an exploration of the innate distrust between black youth and the police. "I just wrote it from what I was learning about with my friends," she says, "but the song has become so much bigger than that because of what's going on everywhere. It was played at a Black Lives Matter protest in Birmingham."

Since "Blue Lights," she's amassed an impressive array of releases: two tunes on Drake's More Life, collaborations with Kali Uchis, Stormzy, Preditah, and Kendrick on the Black Panther soundtrack, a track on Insecure. While most of her music is concerned with Jorja's interior world — heartbreak, low self-worth, loss — on "Lifeboats (Freestyle)," the 20-year-old makes an unexpected swerve. Inspired by a conversation with her dad, Jorja makes like Mike Skinner, rapping over a rain-spattered beat, addressing the ever-widening disparity between haves and the have-nots. This past January she scooped the coveted Brit Awards Critics' Choice Award, all while remaining defiantly unsigned.
Some of the songs on your album are about love, but they were written when you were 16 before you'd experienced a serious relationship. Has being in love affected your writing?

Definitely. When I write now it's just like I'm talking. I don't have to think too much. I've matured, but I was pretty sick when I was writing songs when I was 16! [Laughs]

"The One" is a song I strongly identified with — that total terror of being vulnerable with someone you're really into and resisting it with all your might.

That's so funny — that was written and produced with my boyfriend and Amanda Ghost and Ed Thomas. We weren't going out at the time. I'd had a boyfriend before and it just wasn't the best relationship. I'd had bad experiences, I didn't want a boyfriend, but I really liked [Joel]. I'd worked with him in the studio [three years] before and when we eventually got back into the studio, I was just like man, he's really, really cool, he's beautiful and we had a really good connection. But I was just giving off all the wrong signals. To be honest I fucked myself up by saying — do your thing — that's not what I meant or what I wanted, I was just trying to not seem needy.

Then we get into this session and Amanda and Ed had already written this chorus, and Amanda was like, "It's about when you meet someone, but you don't want to be with them right now." Me and Joel exchanged looks: this was what we just talked about last night! So for the whole session we were just talking to each other through writing this song. It's very personal and so honest. Each line is so true. I actually got upset during part of the session, because I really liked this guy, but I'm talking about how I don't want to be with him. I'm with him now so it's all OK!

How long before you got together?

I wrote the song last August. That was the day before I went away for three weeks, then I came back and I guess we picked up where we left off. Honestly I do love that song.

It was a pretty ballsy to move down to London at such a young age.

Walsall is not the best place for opportunity. A lot of my friends are really creative — photographers, artists, producers — but to really get somewhere you need to move out. It's quite slow moving and I'm fast paced. I felt very lonely when I first moved. I was working at Starbucks in Angel, but I lived in South East London so if I was opening [the store] I'd have to get up at half four and get on the bus over Waterloo Bridge. I used to listen to LP1 by FKA Twigs all the time. It's mad because Joel helped produce "Kicks," which is one of my favorite songs. The sun would be rising and I'd see Big Ben in the background and Somerset House is there, and I'd just think, no one's awake, it's so still. I had so much time to think and write.

What's the most surreal situation you've been in since you started your career?

I met Sade! I performed "Blue Lights" at one of Drake's shows in London and I met her backstage. She told me her son is a big fan. That was a moment when I was like, wow. She's so beautiful, she looks the same! But do you know what? I'm not really the type of person who gets starstruck. I get so many people coming up to me being like, Aahhh! And I'm like what the hell, I'm just me!

Are you ambitious?

Yeah, but I don't like setting goals because I don't want to disappoint myself. I'm really hard on myself. It's kind of good thing and a bad thing. I need to find the right balance. I'm working on it.

Who do you go to when you're feeling low?

No one really. I just talk to myself.

Like in the mirror?

Sometimes. When I first moved to London I used to pretend to be on the phone. I used to talk about stuff that was going on out loud. To my phone! I don't do that anymore! [Laughs]

How did working with Kendrick on the Black Panther soundtrack come about?

When I was performing at Tyler The Creator's festival Camp Flog Gnaw I got hit up by Tunji (Balogun — EVP of A&R at RCA, Founder of Keep Cool Records) asking if I wanna work with Kendrick. I got there at 7:30 and left around 12:30 AM. Kendrick is so cool! So down to earth. He's a Gemini too.

What are the traits of a Gemini?

Two-faced. No! But we have two personalities. Michael Jackson was a Gemini, Kanye, Lauryn Hill, a lot of people that are amazing artists are Geminis. Maybe I'll join them! I don't know! But Kendrick, we just really clicked. He said he'd been wanting to work with me for a bit, but he was waiting for the right time. He left me in the room to sing over a beat he'd made with [producer] Sounwave and then he came in and was like that's it. We wrote it together in four hours.

Do you have fun with the fashion aspect being a singer?

Yeah, but some days I'm like, I don't know what the fuck to wear, so I just wear the same tracksuit. I like wearing cute dresses onstage. It's mad though because before I moved to London I had no idea what London Fashion Week was. I used to think, what is LFW? This is where all the cool kids are at, when I would see it on Instagram. And then when I moved I went to London Fashion Week and Paris Fashion Week and experienced it. I'm learning more about fashion as I get older, the brands I like — Chanel and Nike, and vintage — I like the '90s. I like Clueless. That's why I wanna get some Chanel tweed suits.

When did you last time have some time off?

I haven't had any yet! I'm having some on my birthday, on the 11th of June. I'm joining the club where we can all drink legally! So I'm going to Sri Lanka! I've never been before. I'm just going to chill and not talk to anyone apart from my boyfriend. I feel like I've had a really good year, but at the same time as doing really good, I worry a lot about other people. I wrote something down the other day: I'm only in the moment if I'm with you. Because if things are going on, my head's somewhere else a lot of the time. I'm slowly learning to appreciate everything I'm doing. I think too much, but that's what makes me, me.

Let's talk about Kali Uchis. I'm obsessed with that record, her visuals, everything.

I love her! We watched Beyoncé together at Coachella and she's just so funny. I didn't know what to expect, but she's so honest and real and her music is sick. And she's worked so hard. I love her album because you can listen to it all the way through and that's what I want for mine. We wanna work together again and then direct our own video. When she was in London we took her to The Box. We had the best time, but we got so fucked up.

What was the show?

I think someone shat in a bucket! [Laughs]

Ha! I feel a kinship with you because we both have mustaches.

I had my first sugar wax the other day — it's so good!

No kidding. I just bleach mine.

No wax it! If I bleached mine I would look like I had a bleached mustache because it gets long! You can't even see yours. People used to call me 'Tache, but do you know what, as I'm becoming more known and people say more negative things, nothing's really got me down. I bring myself down, not anyone else.

What do you beat yourself up about?

Insecurities. No one else can make me feel shit about myself other than myself. You have to grow up quicker than everyone else if you're in the media. As long as I know what I'm working on is good, it's cool. Self-love is so difficult. It's difficult when you're in a relationship if you're still learning to love yourself, but it's also beautiful finding yourself with someone who is finding themselves too. Growing with somebody.

Have you always been confident with regards to your body?

Oh my God no! At school I used to wanna be really skinny. When I was at school most of my friends were white, slim; I didn't want a bum, I didn't want lips. One of my friends said to me, "You look better pale," and I was like, "But you tan!" And she was like, "It's not the same." Stuff like that seems like a throwaway comment, but it's not. It hurt. So I take that back: some things have hurt in the past. If people are like, "Oh you have a 'tache." I just have to get on with it, "Yeah I have a 'tache! Moving on!" Don't compare yourself to anyone else. You're you for a reason, they can't ever be you and you can't be them. That's what I taught myself at school. I work out loads and I try and keep on top of what I eat, but touring is hard. Sometimes I'm confident and sometimes I'm not. It just depends where my head is at. My head's a crazy place. It's great though, but I don't think I'd want to put anybody in it!