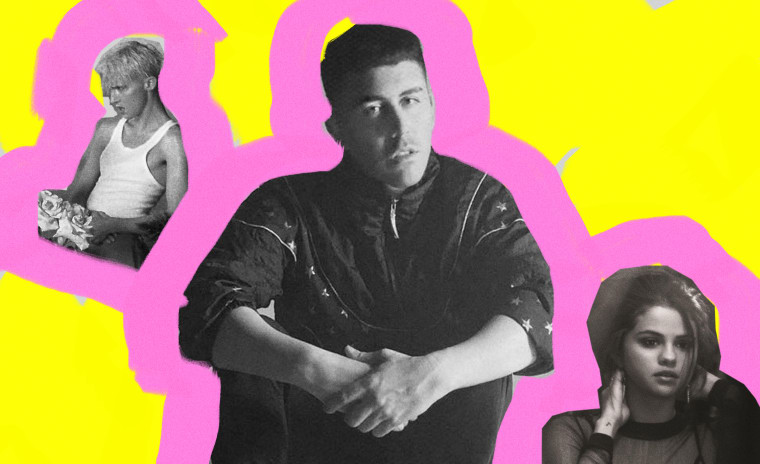 The FADER's monthly column Pop Factory interviews the songwriters, producers, and other visionaries behind pop's biggest songs.
When Leland, the moniker for songwriter Brett McLaughlin, had his first Top 40 Billboard hit with Daya's "Hide Away," he was still teaching singing lessons for $30 an hour. "Things didn't change as quickly as I had anticipated that they would," he says. "It just takes so long to get paid; it takes eight to 12 months for domestic radio royalties and 18 months for international royalties to come in. But it did open up a lot of opportunities."
That's the thing about McLaughlin, he's an eternal optimist. Growing up in South Mississippi, he studied music at Belmont University in Nashville before venturing to L.A. in 2010 after signing a publishing deal with EMI. There, for five years, he struggled to get into sessions and worked two or three other jobs, including working as a songwriting teacher or as a cater waiter. He even served drinks at Kim Kardashian's wedding to Kris Humphries (you can apparently see him in their TV special holding glasses of Champagne). He calls these years "stepping stones" to the ultimate goal of becoming a songwriter.
And he's succeeded, with a songwriting discography that now boasts hits for Daya, Selena Gomez, Sabrina Carpenter, Martin Garrix, Kelsea Ballerini, and Troye Sivan, with whom he's also sparked a close friendship. In fact, his work with Sivan has been noted for helping bridge queerness with mainstream pop, the pair exploring their sexuality through the music they write together with candour and jubilation (see recent bops "My My My!" and "Bloom"). Talking to McLaughlin, though, you realise that he's just doing what comes naturally to him, even if, at times, his approach to getting their is unconventional. But then that's the best thing about being queer: You don't have to play by the rules.
What pop music did you grow up on?
So, I didn't really grow up on pop music. I grew up in a really conservative home in South Mississippi going to church three times a week, so we listened to Christian pop. In middle school I was exposed to pop; I remember when Britney Spears was opening for NSYNC. So it was when the Oops! I Did It Again album came out and I was just in love with that album. I went and waited at midnight when Christina Aguilera's Back To Basics album came out. I loved Jessica Simpson. I was full pop.
Were you doing music in high school?
I was. I had a band called The Brett McLaughlin Band. We did the most that you could do in South Mississippi. I opened up for Jesse McCartney one time at the local mall. That was pretty much me peaking in Middle School.
That's a pretty good peak, to be honest.
Yeah, and I think there were probably 30 to 40 people there. It was really exciting. I also used to perform at the Mrs Mississippi pageant. That was probably the most that you could do.
After you moved to L.A. and spent five years working multiple jobs, how did you maintain your creativity?
Mentally it was really hard. You just have to have this blind drive about you where you don't know how it's going to work out. I would think to myself, I wish I could see two years into the future and see that I wouldn't have to be stressing about paying rent, and see that I would have a song on the radio, and that I would be writing with people that I love and having fun. But you can't, because you're in the moment of working 40 hours a week and then going to a job at night to cater while trying to make the best out of your crumbling, termite-infested apartment. Looking back, it really was an amazing time. I had so many great experiences being broke, dating, and having such an incredible group of friends where we'd have the best experiences for little to no money. It was just such a fun time. But it was also stressful. Mentally it's so hard to be creative when you're stressed about how you're going to pay $1000 a month in student loans. I just worked my ass off.
You write often with [fellow songwriter and popstar] Allie X. How did you two meet?
I'm such a fan of hers. We were were introduced by this guy Nick Jarjour, who manages [producers] Starrah and Cirkut. Nick has always been a champion of mine and would always give me pep talks. He was managing Allie and running the company that she was signed to as a songwriter. He was like, "Brett, I need you to meet this girl Allie. She's really incredible and I think that you two would work really well together." I was so excited when we met, because I had wanted to connect with a female writer and I didn't feel like I had a go-to female writer at the time. I love writing for pop queens, so it was such a relief to meet Allie and connect with her as a person and be a fan of how weird she is as an artist. Shortly after I met Allie I was introduced to Troye. He was a fan and so I got us all in a session together.
Had you heard of Troye before you met him?
Not really. I had seen him on [close friend] Tyler Oakley's Twitter and YouTube. But I didn't really know who he was and did not know how good he was. He hadn't announced that he'd signed a record deal and he didn't have management at the time. When I met him in person, I immediately felt that it was real. I knew that this wasn't just some YouTube singer where I would be doing everything and that he wasn't just doing it for a quick buck. He already knew who he was at 18.
When you were working on Blue Neighbourhood, how clear was it that it was going to be an overtly gay album?
He was never shy about who he was. I think, because I come from a different time and upbringing, my queerness, unlike Troye's, wasn't celebrated in my home. There were a lot of initial internal reservations for me. That's very real for a lot of songwriters that come from a similar background as me. You're scared to death that your parents are going to hear these songs, especially if they're the biggest ones you've done. But it was pretty apparent from when he said that he was doing a trilogy — "Wild," "Fools," and "Talk Me Down" —and that it was a gay love story. It was exciting for me but I was terrified about my parents. But then I got to the point where I was like, "I don't give a fuck what they see. I am so excited to be a part of this. This is obviously meant to be."
Is Troye's song "Bloom" really about bottoming?
It's about flowers [laughs].
A special type of flower.
A very special type of flower. We had the best time writing that song. We were giggling so much in the session just thinking that the song would never come out. I love the song so much. And then Troye let me know that he loved it and that he was naming the album after it.
"As a songwriter, it's my job to help people express their experiences in the truest way for them." — Leland
There's a conversation that's been reignited about performative queerness in pop, which resulted in an artist sort of being forced out of the closet. How important is it for queer artists to be explicit in their queerness?
I think it should be whatever that artist is comfortable with. I am obsessed with Hayley Kiyoko's album. I think the way that she relays and communicates her experiences. I also think the way that MUNA does it is beautiful. I love how Janelle Monae does it. When writing with Troye, we were just writing about his experiences. We weren't saying, "We need to be explicit this time around." We were just writing as he is growing and developing the different chapters of his queer experience. I don't think that there should be a standard that if you're queer you should be saying something. It's important to remember that every artist and songwriter is going through their own experiences and it's up to them to say or not say what they want to at the time.
Why is pop such a good conduit for these discussion and expression of sexuality and gender identity?
I think because there are so many artists who are willing to say what is happening and to talk about experiences that relate to a smaller demographic. That's what I think is so great about "Bloom." We just wanted to write about queer sex in a pop song. And I think pop artists are able to do it right now because there are people who are experiencing every facet of sexuality and where they fall on the spectrum. And as a songwriter, it's my job to help people express their experiences in the truest way for them.
So when you're writing a song like "Fetish," did you get into Selena Gomez's mind?
Well I tried to [laughs].
How did that song come about?
Even though I'd had hits with Daya and worked with Troye on Blue Neighbourhood, I knew it would be next to impossible to get into a room with people who had written songs for her. I was also determined to do it on my own. I didn't want to think that the only way I could get Selena a song was to get in the room with people who were already working with her. So I went off with Chloe Angelides, Gino Barletta, and Jonas Jeberg for two weeks in our own little songwriting camp and we just cranked out song ideas every single day. I felt like at the beginning of the camp we were all circling something really good. And I think we hit the bullseye, at least for me and for what I was hoping to contribute to her discography, on the second to last day when "Fetish" came about.
Selena obviously has a really interesting tone and her pronunciation is unique. How much of that did you consider when writing the song?
All of it. We were completely conscious of how her tone would change on different words. Where we thought she would push in different sections of the song. We just wanted to craft this song specifically for her. No other artist heard the song, no other artist was sent the song, and then she finished it and made her own. In my opinion she brought it to life.
How did you start writing songs for RuPaul's Drag Race?
I was brought in through my friend who had been working on the show and doing all the music since Season 1. I would watch him do it and I'd sing background vocals on some of the challenges. Then one season he asked me if I'd jump in and help. I think the first one I worked on was "Bad Girls Of Herstory," and we had so much fun. It was such a challenge because of the pace. It also had to be historically accurate, funny, and fair for each queen.
You've just released a new single "Run Into You." How do you make space for your own solo material?
You just have to work 18 hours a day [laughs]. It's a lot to balance. I just have to carve out days to focus on certain things. I feel like the drive to be an artist, to share my perspective, and to play shows has never gone away. But I just wanted to be patient and to wait for the right time. Last year when I put out "Mattress," I had no expectations. Even after signing a record deal, I still have no expectations. So anything that happens with the Leland project is all bonus to me. I'm also 30, so I'm like, fuck it, let's go for it. It's now or never.