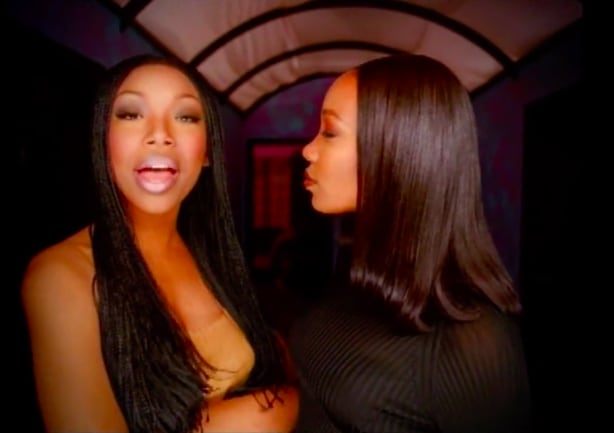 In 1998, R&B dynamos Brandy and Monica teamed up and released "The Boy Is Mine," an iconic duet that completely took over the summer. It spent a staggering 13 weeks at the top of the Billboard Hot 100, sold almost 3 million copies, and netted them both a Grammy Award. In short, this was a monster record and for the third episode of our podcast FADER Explains, we went deep with the song, analyzing its importance, and finding out how it got made.
We spoke with legendary songwriter LaShawn Daniels, who was part of the team who worked on the song alongside hitmakers Darkchild, Dallas Austin, and Brandy herself. He revealed how the song shares a bloodline with a Michael Jackson classic and what it felt like to make one of the most known Songs of the Summer ever.
Subscribe, rate, and review FADER Explains on Apple Podcasts and listen below. Stay tuned for more throughout the summer.
You've worked on so many hits throughout your career with Darkchild, how does the construction of "The Boy is Mine" stand out in your mind?
LASHAWN DANIELS: What's incredible about this whole "Boy Is Mine" experience, I remember at those times, we were at Rodney's childhood home with his parents Rodney would work in the basement of that home. We had previously met Brandy for the first time in Los Angeles, California in a restaurant called Georgia. After that we went to another restaurant and we started talking and we were just so excited to meet each other and to possibly have the opportunity to work together, at that time it wasn't in stone yet. We had to deal with the labels and all of that type of stuff, they had to set everything up. I remember when it finally came down that we were going to work together, we just started brainstorming like crazy. At the time, she had an A&R, his name was Paris Davis, he had flown to New Jersey, to Rodney's childhood home, he flew in and we discovered we knew we had to make a record that could be considered an event.
At the time, the comparison between Brandy and Monica and them being similar in age and releasing music around the same time, people would always compare them. And of course it was a great thought to do a duet, but we didn't want to do a regular duet as if they were best buds or in high school or something. We should do something that makes them kind of competitive and of course, being huge Michael Jackson fans, we looked at the Paul McCartney duet ["The Girl Is Mine"]. I remember as a child what that artwork looked like, and what that song was like — they were rivals on one song. We wanted to match that perfectly. We said hey, instead of "The Girl Is Mine," let's do "The Girl Is Mine." That's how that concept actually started. From that point, we just started walking everything down.
"We knew it was going to be a audio-cinematic moment for the audience"
Is there a moment from the studio during the making of the song that still resonates as a memory for you?
With the structure of "Girl," there were spaces in the song. The moment that sticks out to me was when we decided that we would have them going back and forth, that there wouldn't be a complete verse with just Brandy or with just Monica. When we actually broke down the lines per bar, we gave them two bars a piece and we were giving a call and response. That was a moment in the studio when we started constructing the lyrics first. "Think it's time we got this straight / Sit and talk face to face" when we knew the answer were coming back and forth that was a real moment. At the time we didn't have Monica's vocals, Brandy recorded the whole thing, but we knew it was going to be a audio-cinematic moment for the audience and we thought that was going to be extremely special.
You mentioned before how there was competition between Brandy and Monica in the media. Was there any fear that Monica wouldn't do the song at the time?
At the time, we knew Clive Davis was extremely protective of Monica. We knew that she was one of his priority artists. We weren't sure he would go for it. Like I said, after we constructed the song, I think he saw the vision. The most fearful thing was, was Clive going to release Monica to do the song? Once we beat that we felt that it was going to be historic.
And it was! It was a crazy popular song that top the charts, do you remember what that was like?
It's the craziest thing because we were kids, I like to say that we were kids. We had no idea, no recollection of what charts were. All we knew was that we were kids, we loved to do music, we had this opportunity to work with a great artist and we did not take it for granted. We weren't as savvy when it came to charts, and a number one record, and airplay. We had no idea what that was. All we knew is that we wanted to work, we worked, we feel like we did a great song.
I remember landing in Newark, New Jersey and oddly enough we were finishing up the entire project and everybody said "The Boy Is Mine" was going to be the first single, but we actually got tricked. There's a two part story to this. Craig Kallman, who I consider one of the greatest executives of all time, came back and said "The Boy Is Mine" wasn't going to be the single. He was like "Ehh, 'The Boy Is Mine' is good, I just think you know, you guys could do better." He knew how passionate we were about working, and we were like, "What are you talking about, this song is crazy!" But he knew in his reverse psychology that we would go back and try and beat it. That's when we came up with "Sitting On Top Of The World," so his plan worked. Anyways, I just landed in New Jersey, and we just had tried to beat "The Boy Is Mine" and I still can't believe Craig didn't like it and blah, blah, blah. I got into the car and it was 97.1, HOT97, and they said "we've got a new single from Brandy coming up" and I was like what. Then I remember hearing the intro on the radio with the harps and I was like, "Oh...my god they're playing the record." I called Craig's office, we had a great relationship, I said they're playing it! And he told me that we did a great job and now we had two records.
Every artist or anyone who has anything to do with a record gets extremely excited when they hear their record on the radio but it was like the perfect timing. It set the atmosphere, it seemed like everything I looked at outisde the window of that car, "The Boy Is Mine" was the soundtrack to it. It fit the culture and it fit so well in the timeframe that we were living, especially in the timeframe of us being kids and what we were trying to do to music. I was on Chancellor and Stuyvesant and I could have absolutely gotten out of the car and ran up the street.