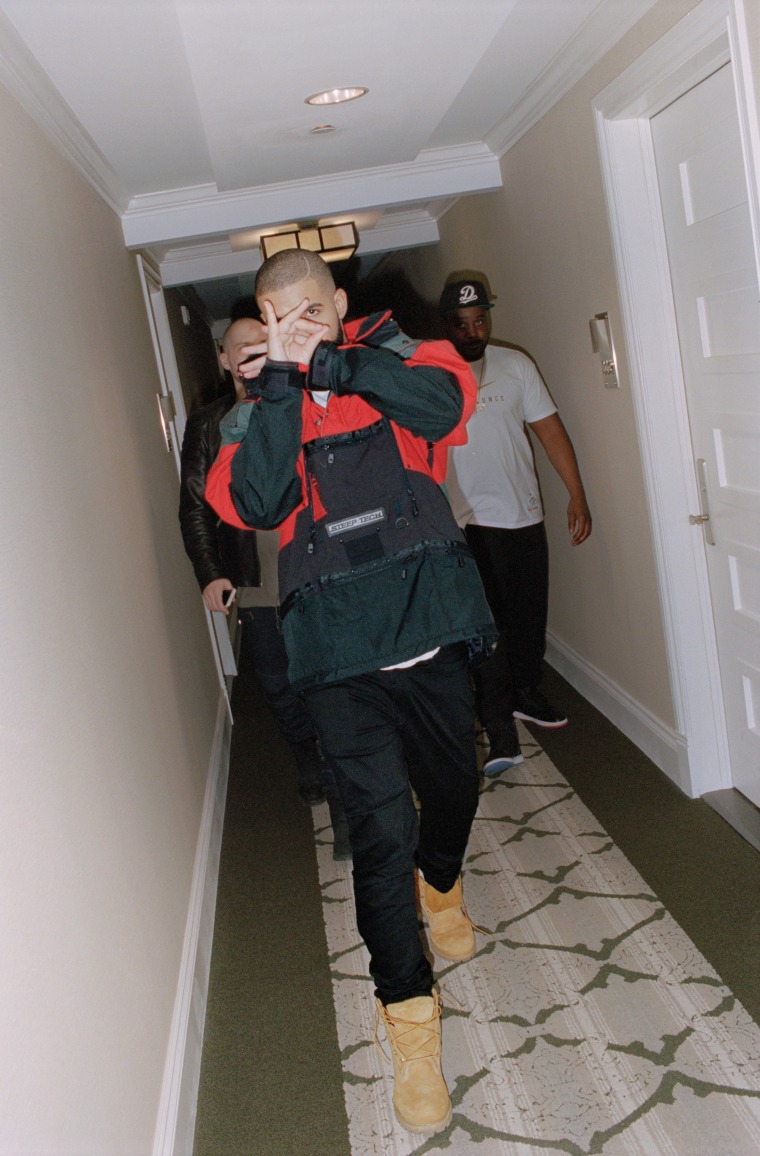 Noah "40" Shebib
When Drake breaks from Nothing Was the Same's long-winded intro to declare "40 is on Martin Scorsese," he's referring of course to Noah Shebib, the small, bald and bearded guy, always in the studio or hiding behind his laptop, who has been Drake's primary producer, engineer and other-half since his career began. Shebib is as instrumental to Drake's sound as Drake — by his own calculation, he's had a part in "100 percent" of the music Drake's put out: "Everything goes through my hands," he told FADER in 2011. As if that weren't work enough, he also takes it upon himself to "to protect Drake from his niceness." He and Drake have more than music in common: 40 was also a child actor, making appearances in Wind at My Back, Goosebumps and The Virgin Suicides.
40 was diagnosed with multiple sclerosis in 2005. In Pusha-T's diss. "The Story of Adidon," he rapped, "OVO 40, hunched over like he 80— tick, tick, tick/ How much time he got? That man is sick, sick, sick." 40 responded on Twitter with a link to information about World MS Day.
Oliver El-Khatib
El-Khatib is a sometimes long-haired Lebanese-Scandinavian guy who seems to hang back in the shadows when Drake and crew are out and about. As Drake's creative director and brand manger, he's charged with making sure all things Drake stay Drake-y. Back in 2008, he shared favorite menswear on the OVO blog, before he was officially tasked with OVO's clothing line, which has given us this $900, duck-down stuffed and silk-lined Canada Goose jacket and the embroidered OVO owl sweatshirt that Rihanna keeps in her suitcase, according to "5AM in Toronto." Oliver's name was dropped on Drake's "Stay Scheming" verse, and he earned a production credit for "The Resistance" off Thank Me Later. Drake calls him the "ear of all ears," and credits Oliver with identifying The Weeknd's "it" factor. "The joy of my life is making music with those two guys," he told The FADER of Drake and 40 in 2015. "I don't physically play an instrument or produce records. The charm of what I bring to the table is that sometimes it's just ideas." It's his taste that largely makes up the program for OVO Sound Radio and drives the creative direction behind the OVO clothing line.
Dennis Graham
The OG with a signature mustache and suit, Graham is a constant presence by Drake's side and in his Instagram pictures. The Memphis native reignited his own musical career in 2016 with his single "Kinda Crazy" and promised a forthcoming album. Here's what Graham told The FADER in 2016 about the lessons Drake has learned from him: "I think he learned how to be humble, down to earth, to be real, or 100%. To just stay focused and do his music. To not let all the hype and the media get to him or to make him react to some of the stupidity of what goes on in the music business."

Baka
On "Know Yourself," Drake shouted out the Scarborough native: "I might declare it a holiday as soon as Baka get back on the road." The reason Baka wasn't out on the road is because he was charged with six human trafficking offenses in 2014. "According to police, a 22-year-old woman was forced into prostitution after being threatened," a news report from the time of his arrest reads. "She was then forced to give the man the money she made." He was released from prison in 2015 and signed with Drake's OVO Sound label in 2017. He's released three singles.

Mellany Sanchez
Formerly the creative director for Kith, Mellany Sanchez joined the OVO squad in August 2017, after Oliver noticed her knack for aesthetics on Instagram. She serves as Drake's image director and helped curate the wardrobe and album cover that went into Scorpion.

OB O'Brien
The star of Drake's "HYFR" video, OB O'Brien also raps and produces; he's listed as a co-producer on "Energy" from If You're Reading This It's Too Late.Toronto producer Boi-1da says Drake, OB and Ryan are "straight comedy" when they get together, and we would believe it: he's the life of the party at Drake's music video bar mitzvah, and the guy cracking all the jokes in the "Started From The Bottom" video.
Niko
It seems that Niko's primary Drake duty to be a good friend. Niko recommended a good barber to Drake when he was still just Jimmy on Degrassi. and the two have been BFFs ever since. In his lengthy Thank Me Later thank you's, Drake calls Niko his "closest confidant." He continued, "our friendship is what keeps me alive and focused, I always thought I was an only child buy my mother lied!! Haaa." Aww. And when he's not with Drake? He's the father to a very cute daughter and apparently a decent fly fisherman.
Chubbs
Chubbs is Drake's muscle. As he put it to Complex in 2011: "Everybody wants to poke and jab at Drake because they don't feel like he will throw back. But nobody around here is going to let something happen to him at any time, especially me. I'm not ever going to let nothing happen to him. If it's going to happen it's going to happen to me first." Maybe that's why he's the only OVO member to stay by Drake's side during the Miami Vice style shoot-out at the end of the "Hold On We're Going Home" video. He's also Drake's regular basketball buddy.

Ryan Silverstein
Ryan "The Cute One" Silverstien is not just OVO family, but literal family. He's Drake's cousin, the son of Hal (not Steve, the uncle who let Drake borrow the keys to his Lexus). Sometime's he's tasked with calling in the room service orders, but most often it seems like his job is to just look good next to Drake, on nights out or in the "HYFR" and "5AM in Toronto" videos. When he's not busy with Drake, he spends a lot of time (and even more hashtags) repping for Topszn, a "regime" of dubious purpose that he runs with his partner in crime, OB.

Others
🦉Gelo was Drake's favorite waiter at Sotto Sotto and is now his business partner at his restaurant Pick 6ix.
🦉Theo Skudra is the photographer who makes @champagnepapi pop.
🦉 According to "Miss Me," CJ, Drake's road manager, keeps the credit cards and lots of ones organized.
🦉 Hush has got the gun.
🦉Boi-1da produced "Best I Ever Had," Drake's first big hit, and has been a regular on Drake's production roster since.
🦉 Mike Zombie has been a regular on Drake's production team.
🦉 Majid Jordan and PARTYNEXTDOOR were the first artists signed to OVO Sound.
🦉 Roy Wood$ signed to OVO in 2015.
🦉Future The Prince has been Drake's official DJ from the jump.
🦉OVO trainer Jonny Roxx helped Drake literally get his weight up.
🦉Habibiz, Drake's hookah man.