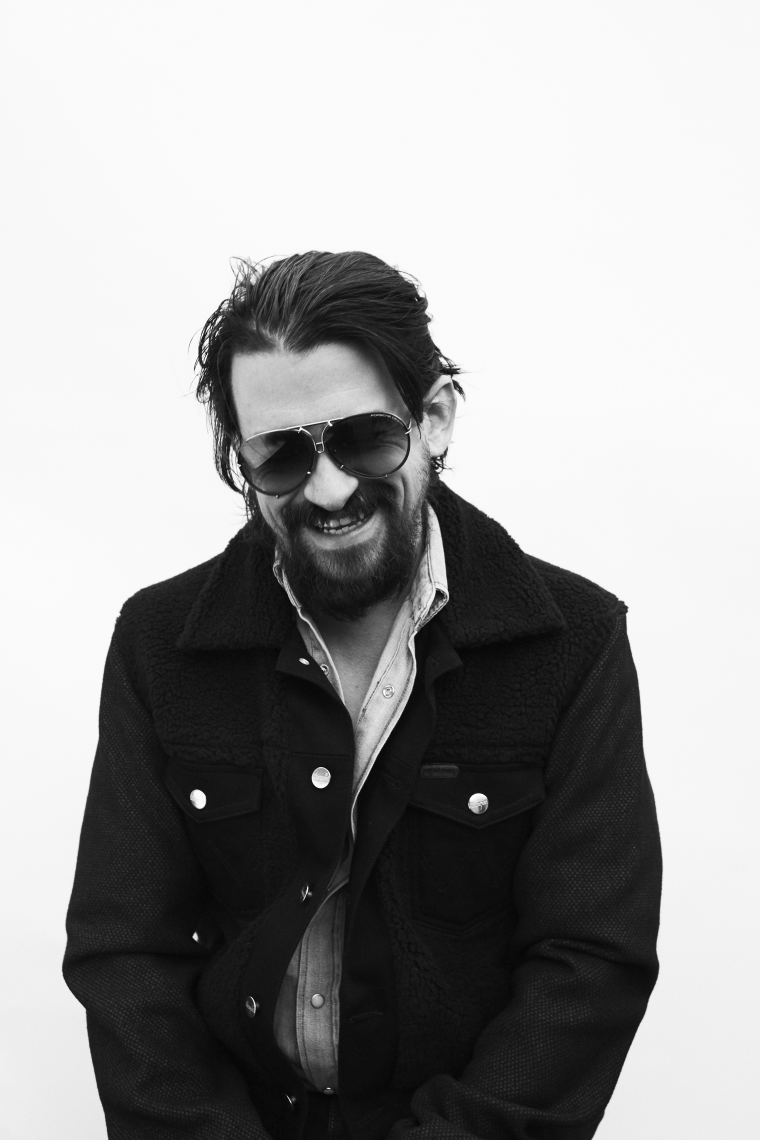 Shooter Jennings — the unpredictable, always-entertaining son of country icons Waylon Jennings and Jessi Colter — will release his eighth album, Shooter, on August 10 on the great Dave Cobb's Low Country Sound imprint. (The two are longtime collaborators, most recently on Brandi Carlile's big By the Way, I Forgive You.) It's a Shooter album that's unabashedly straight-up country, and you can't fault him for that.
"Denim and Diamonds" is the latest single, debuting today on FADER with a deranged video inspired by Hee Haw ("Knock knock," "Who's there," "I fucked your mother," "I fucked yours too!") Below, he explains the sweet story behind it, which involves a little Garth Brooks and Waffle House — this is the kind of song you don't just roll out of bed and write, but have to kick around life for decades to figure out. I'm all the way for it.
SHOOTER JENNINGS: A lot of times when I write a song it is a musical personification of someone I know. Sometimes it is a fictional person or story that I'm singing to or about. But in the best of cases it is often about a real person that I know. Denim and Diamonds is one of those songs. It's about kind of a melting pot of people that I observed over a period of time. But there is one person that comes to mind. Her name was Rain Beach and she used to go dancing at Denim and Diamonds on Saturday nights.
(The line dancing culture of the late 80s and early 90s country scene was a craze that centered around the musical movement started by Garth Brooks and George Strait. Cowboys and cowgirls dressed in western wear would flock to places like Denim and Diamonds and Silverados to drink beer, listen to music and line dance. It was the social scene built around the explosive new rodeo country that was taking the nation by storm.)
I didn't really like the Garth Brooks era of country when it was being released. To be honest I kind of detested it. I was into MTV and rock and roll music at the time dreaming of a life of debauchery in Hollywood.
In high school, Rain and I became unlikely friends. She would often come over after she'd been out dancing all night and play "The Dance" on my cassette deck and dance around. She was into cowboys and she loved dancing.
I used to give her a hard time about listening to all that. Of course, now I like a lot of that old country. I've become a huge George Strait fan over the years. But back then I'd call her a redneck and tease her about her dancehall nights.
When I was writing the lyrics to the song, Rain Beach popped into my head. I wondered how she was doing and what her life was like now. I liked to imagine she still got to get out and go dancing. I look back on those time with fondness for the simplicity and carefree attitude of young life.
I myself have had my share of hard times and find often reflecting back to those times brings a smile to my face. When I was working on Brandi Carlile's record, there was a Waffle House I would stop at on the way to the studio every morning for breakfast. There were these ladies who worked behind the counter ranging from early 20s to 60s in age. At one point a Shania Twain song came on in there and they all started dancing, slinging their spatulas around singing along loud to the song.
Somewhere between these kind-hearted southern ladies and Rain Beach, the woman in Denim and Diamonds was born and I could see her and feel her plight in my mind when I went to start writing the song.
I know everybody out there knows a strong, good timing woman like that. And this song is for them!

Here's just the official audio: