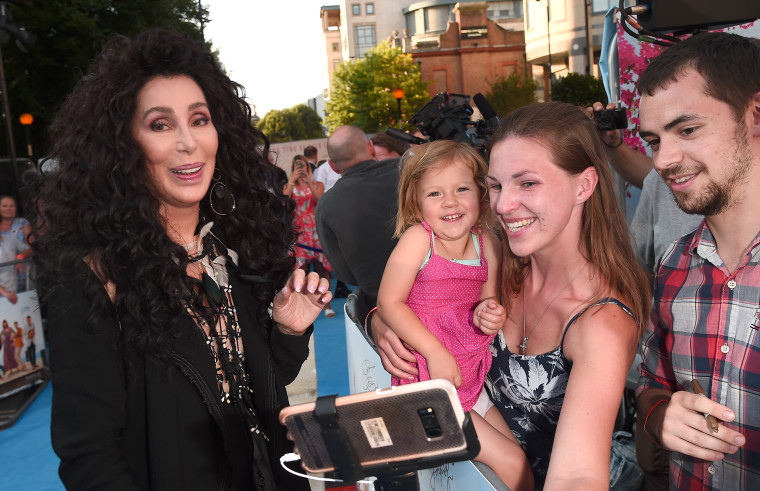 Earlier this month it was reported that Cher's appearance in the summer box office smash Mamma Mia! Here We Go Again had inspired her to get back into the studio. Notably, it seemed Abba had entered her soul and that she was planning a whole covers album featuring songs by the Swedish pop group.
On Wednesday night Cher updated fans on the status of the album, revealing a tracklist and saying that, even though she's not normally a fan of her own music, she thinks it's good.
ALMOST FINISHED WITH ALBUM🎉
THINK ITS GOOD,& (as we all know) I'M NOT A BIG CHER FAN

— Cher (@cher) July 25, 2018
Cher covered "Fernando" for the Mama Mia 2 soundtrack and that song will appear on the covers album (even if she had to correct the spelling from "Momma Mia.") The album will also include covers of "Waterloo," "Dancing Queen," and one more mystery track.
SONGS
1.WATERLOO
2.GIMME,GIMME
3.DANCING👑
4.CHIQUITITTA
5. NAME OF THE GAME
6.MOMMA MIA
7. ONE OF US
8.WINNER TAKES IT ALL
9.SOS
10.⁉️

— Cher (@cher) July 25, 2018
Speaking about the album in a recent interview, Cher promised to deliver a twist on the original versions of these songs. "After I did 'Fernando,' I thought it would really be fun to do an album of ABBA songs, so I did!" she said at the time, adding "it's not what you think of when you think ABBA, 'cause I did it in a different way."
Check out Cher's take on "Fernando" below.