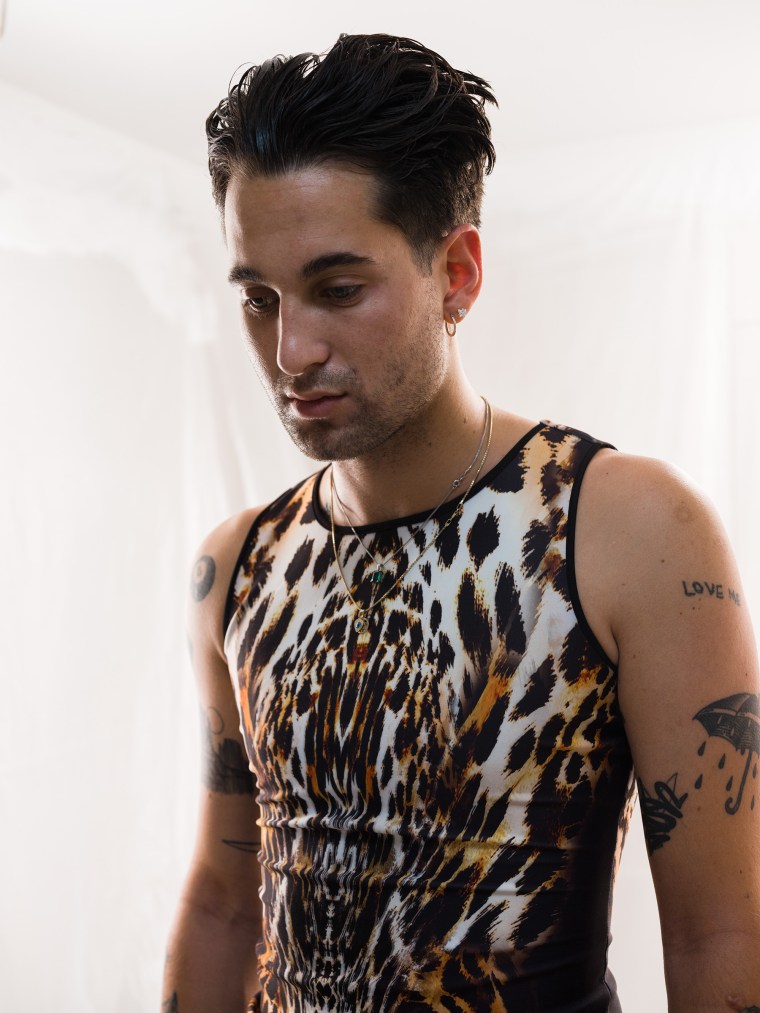 A lot of things happen to Jordan Raf in his new video for "Scales of St. Michael." He gets beaten up, bloodied, pissed on, and has his limbs contorted. It is difficult to watch at times, and unfortunately the comfort of telling yourself "this didn't actually happen in real life" doesn't apply in this case. The Los Angeles singer and songwriter writes to me in an email that everything that happens to him in the video is real. Though my instinctive follow-up was to wonder how real everything was, I can't deny the visual's raw display of humanity — a terrifying and effective reminder of just how fragile our bodies are. Coupled with Raf's syrup-slurred vocals on the Best Picture co-produced track, this latest audiovisual is as effective as a punch in the gut.
"Scales of St. Michael" and the accompanying Kristoffer Borgli-directed video is our first look at Raf's upcoming sophomore LP, Heaven, due out this fall. Borgli, writing to The FADER via email about the concept behind the shoot, named Jackass, BDSM, and Japanese filmmaker Takashi Miike as inspirations. Watch below, and read on for what Raf and Borgli had to say about the arduous process of making the video, which apparently resulted in a lifetime ban from the San Diego County Fair.
Jordan Raf: This song is the first real single off my next album heaven (co-produced by John War) and thematically matches the tone of it more than a lot of the other tracks. A lot of what I was trying to explore in my second real album is the concept of an objective moral truth to the world as far as what is good or bad, what my true values are, and what the people around me consider general acceptable behavior from a basic humanistic standpoint. One of the main ways we have done this historically is through the proxy of religion. St. Michael in Catholicism, from what little my dumbass knows, is the general of God's army, the figure that weighs your heart on his scales to see whether you get into heaven or hell. Although it may be hard to decipher my lyrics sometimes, the content I wrote is basically questioning what the people around me truly fight for and, especially being in Los Angeles for as long as I have, coming up disappointed.
This video is kind of the fucking opposite. It's truly a sensationalist cluster fuck of my body actually getting destroyed so that I could somehow get on the Instagram explore page, disregarding any respect for myself. The wonderful Frank Yang being the main antagonist showing true malice in his character and also during the filming of the whole thing. The pool guy where we shot [was] literally staring, crying when he watched me getting pissed on. The housekeeper on location quit. We are banned from the San Diego County Fair for the rest of our lives. Scariest of all we had to do that Russian roulette take multiple times. Kris, the real genius behind all of this, who I have developed a beautiful friendship with this past year, explains the complexities of his world building and true intent behind this film better than I ever could below. But enjoy! I sacrificed my body for you all much like all the martyrs that came before me.
Kristoffer Borgli: To me, what's interesting with Jordan is the sincerity of his music combined with his idiosyncratic personality. That part of him doesn't come through the music so I thought the video could embrace that and take the absurdity and comedy just as serious as the fervent music. I thought of the video existing somewhere between Jackass, Takashi Miike, and BDSM — my main interests of my late teens.
Shooting it on film in a style that feels constructed and manipulated places your head in the world of fiction, but pretty much everything we did was real. Jordan really took a beating and I think that's beautiful. This is a sort of companion piece to the film I did, A Place We Call Reality, where Frank Yang — who plays a torturer here — guides me to find enlightenment. I guess I've finally found a muse.
Jordan kept asking to be pantsed, but when it finally happened Frank unexpectedly got his underwear too, which almost got us arrested as we did that shot without a permit right outside Bob's Big Boy in Burbank, a place where David Lynch used to sit and write.