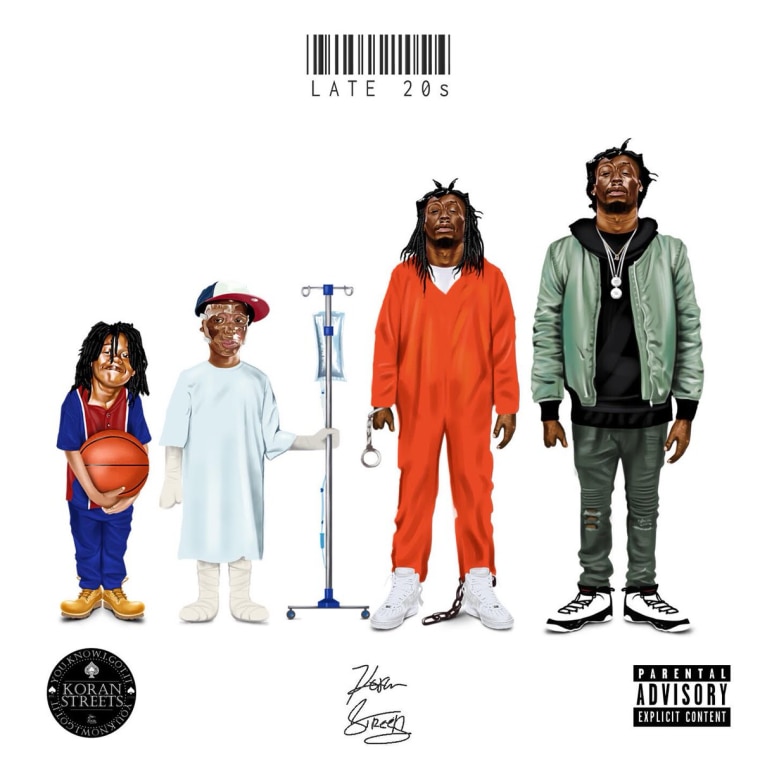 Koran Streets is intensely autobiographical in his music. Though the emotions conveyed through his storytelling might resonate with listeners, his songs are filled with vivid, real-life details that bring an extremely visceral quality to each verse and confirm that his stories are uniquely his. On his 2016 debut album, You.Know.I.Got.It, the Berkeley rapper addressed past traumas that he's still living with: At 13, he spent six months in a coma after a fire burned much of his body and, more recently, he lost his brother and collaborator, J.B. The Legend.
The pain of these experiences still haunts Streets's words on his new album Late 20s but, as the title suggests, the actions that he describes and his delivery of each word feel much more urgent. At times, he shares exactly what's at stake for him beyond the music: "They say I'm dope but they don't know I sleep on the floor/ I put out three mixtapes, they slept on 'em all/ Bitch, I ain't got no money, I gotta break the law," he raps on "Sincerely Yours." Later, on the same song, he sounds weary and ready to snap: "They say I never talk about these burns, like what you want me say? You see my face."
Some of the album's cathartic moments are followed by lighter breaks, and Streets's narration is such that each shift in mood and tone feels like a carefully constructed progression. On "Fallin' & Ballin'," a clear highlight, Streets switches flows over a smooth loop and a drum pattern made for a car ride. But still, the album is best taken as a whole, a necessary release for an artist who's documented his most private thoughts for his listeners and for himself.