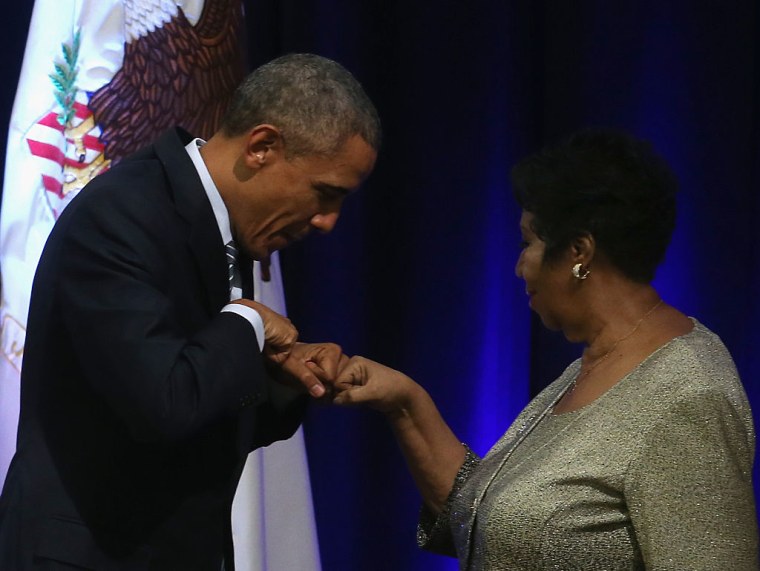 People across the world mourned Aretha Franklin's passing on Thursday, including President Donald Trump, who called the 76-year-old diva his "friend" who "worked for me on numerous occasions." However, a new report in The Daily Beast claims Franklin was no fan of Trump, and turned down at least one very significant Trump gig: his 2017 presidential inauguration.
Tom Barrack, then-chairman of Trump's Presidential Inaugural Committee, reportedly reached out to Franklin after Trump's election victory. Though Trump had reportedly "long considered Franklin a friend," the singer apparently did not feel the same. The Beast's sources say she was "repelled by the Republican standard-bearer, his policy prescriptions, and his rhetoric," and that she would never consider singing, no matter how much money Trump was willing to spend. Franklin reportedly supported Trump's election rival Hillary Clinton, and attended the 2016 Democratic National Convention.
When asked by The Hill in December 2016 if she would consider singing at the inauguration, Franklin replied, smiling, "That's a very good question. We'll see." Trump's inauguration was headlined by 3 Doors Down.
Check out The FADER's favorite 10 Aretha Franklin deep cuts, eight iconic live performances, and her stand-out style moments.