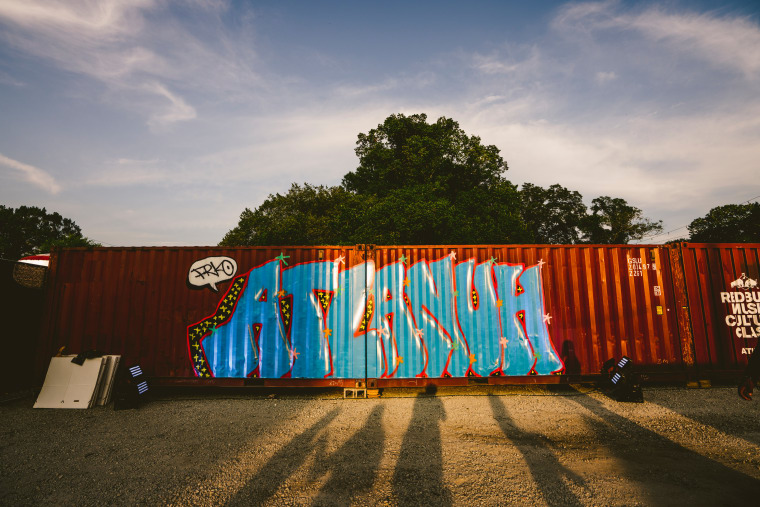 If you saw any of the artwork from this year's Red Bull Music Culture Clash, then you've seen FRKO's work, as he took the reigns on the event's official artwork, merch and custom can design. Beyond that, the Atlanta-based artist has worked extensively with rappers like Action Bronson, Ugly God, EarthGang and even created artwork for Gucci Mane. He's no stranger to bringing Atlanta authenticity to the forefront in his work, with his colorful, lively illustrations calling back to Black art of the 80s and 90s in ways that feel fresh and innovative at the same time.
Most recently, FRKO brought his work to life in 3D, alongside wife and fellow artist Biyunka, with a mini corner store modeled after the ones he grew up with.
The desire to reclaim space in a rapidly gentrifying Atlanta shines through FRKO's work, even when he may not intend it to. "When I put something on the streets, the streets own it," he told The FADER of his work. "But [Atlanta] puts all this money into this stuff and not really realizing who's actually on the street."
Despite its changes, FRKO's love for the city and its history is apparent in his work and words.

"I think that Atlanta is one of those places that people treat like this new place but we've been here for a long time. I found out the area that has the Marriott downtown used to be called Buttermilk Bottom, that was the nickname of it," he explained. "This 70-year-old Black man told my wife that. That's not printed on a plaque somewhere down there, or pushed by a brand that came to Atlanta."
He went on to explain the ways gentrification has affected the creation of art in public spaces, acknowledging the difference in the fringes that more local artists are pushed to in comparison to commissioned work from more well-known artists in more open and visible spaces. "They make all this art for people who drive by, not who's walking by," he said of the infamous Krog street tunnel, which features larger murals on its outer edges. "The only reason I do that mural series there is that I cannot let that series not have someone originally from the city in it."
More than an artist, FRKO considers himself an advocate for the "old Atlanta" above all else.
"I feel like for Black culture - the soul is really a hidden thing that I think that I'm a part of because I never changed," he said. "I just want things to be soulful and funky again."

Images via Greg Noire for Red Bull Music Culture Clash and Instagram.