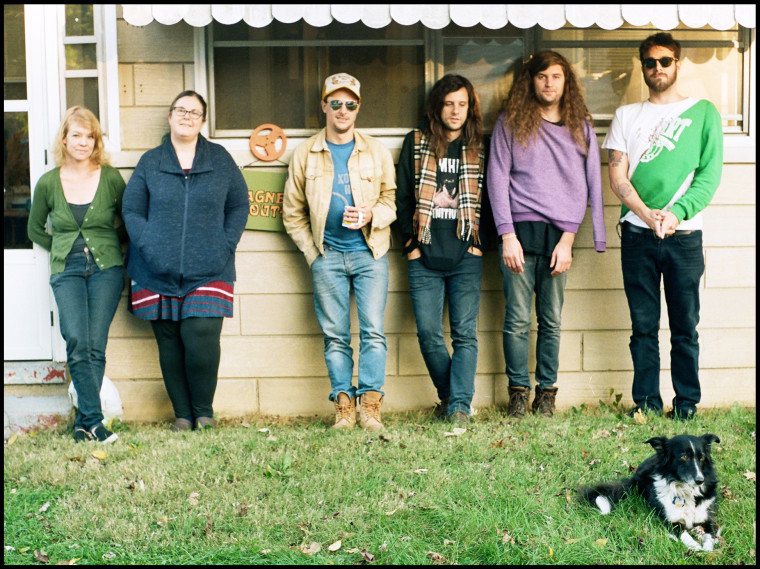 The craziest couplet I've heard this year gives me a debilitating shiver every time I hear it: "To be the cock-rock band criticized by the art-house superintendent / To see your room for the first time, to see a picture of me in it." It's two contrasting images consolidating in a very specific identity: sloppy underdogs reassured by thriving love.
That's how I think of State Champion, the 10-year-old country-rock band led by Ryan Davis, so highly regarded by their fans and peers. Look at what David Berman of the Silver Jews said: "If Bob Dylan was funny, if Tom Waits was relevant, Ryan might not be peerless at what he does best, which is writing large gregarious circles around his pitiful colleagues in the field." It's the deadassed truth.
Davis's songwriting is abstract to a sometimes jarring degree, while the band's instrumentation can sprawl wildly over the Great Americana Plains — slammed guitars, cutting strings, yelps, long-drawn pedal steel. For their fourth album, Send Flowers, which features noteworthy guest contributions from Edith Frost and Chris May, Davis told me they tried to temper their bar-band instincts by not playing anything out before they recorded it. "I had been listening to a lot of Ernie Graham, Bill Fay, Richard & Linda, Leonard Cohen, Fleetwood Mac, and always-Dylan during the time these songs were written, and it was important for me to actively protect them from the fate of becoming punk songs."
And here it all comes riiiiiight together — "Death Preferences" is so sharp, unforgettable in unexpected ways. Lately I've been yelling its line "Another screwball comedy afterlife" and I don't really know what it means. Take a listen and pre-order the album on Feeding Tube and from the band direct.