State Champion are the big-hearted country punks singing in all caps
After years of loud rock sessions, State Champion is putting more emphasis on their words.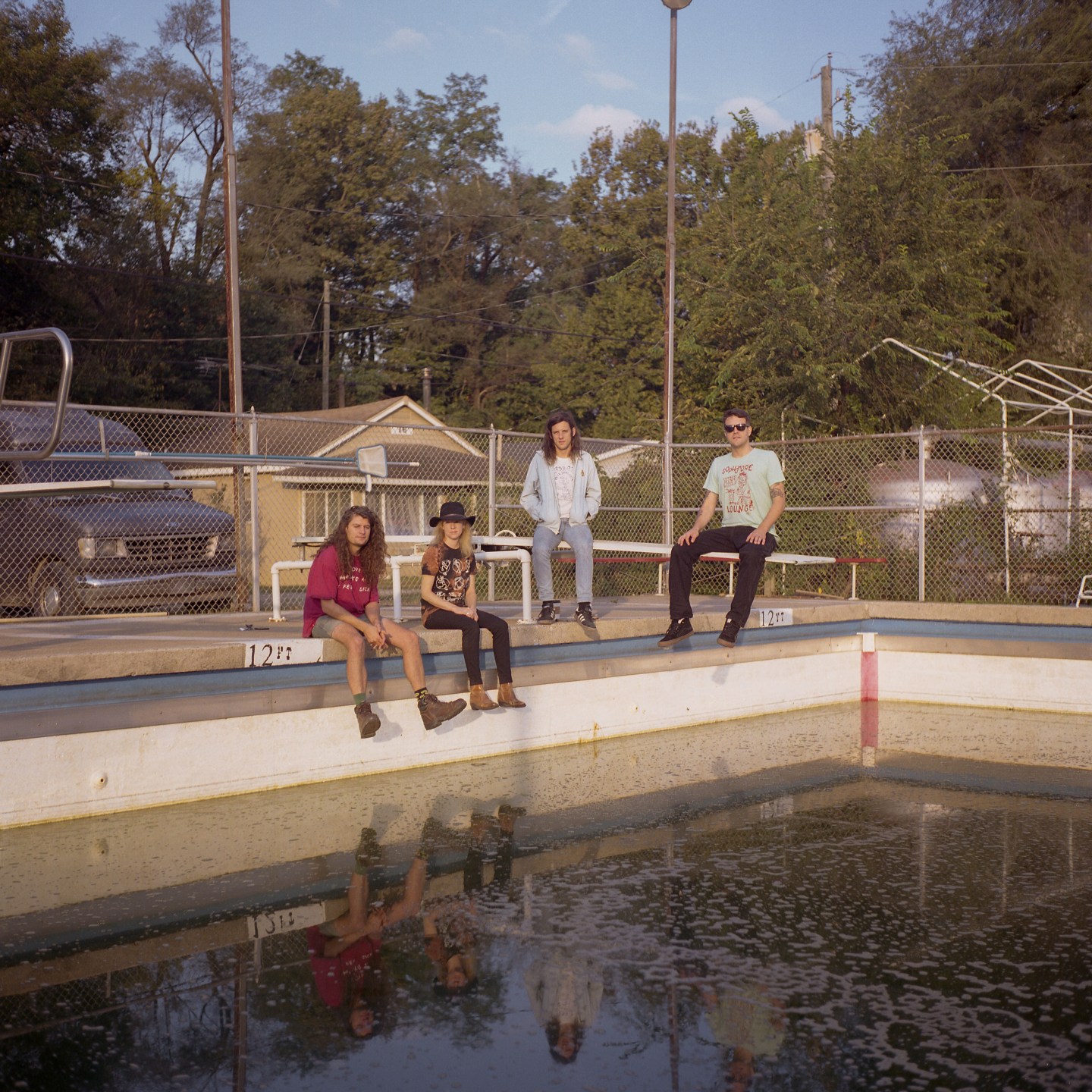 The person who told me about State Champion a few years ago always writes the band's lyrics in all caps, a sign of the words being definitive, like a Jenny Holzer art piece or a tombstone. "THANKS FOR THE BODY, MOM / I'M GOING TO GO OUTSIDE AND DESTROY IT NOW." Sometimes they can be imagistic one-liners: "JEFF FOXWORTHY IN A SERIOUS ROLE." Or rambling and bizarre and clearly very personal: "I STILL SMELL HER HAIR ON THE HORIZON SOMETIMES / I'VE BEEN LIVING IN THE BASEMENT OF THE WORLD / SLEEPING UNDER A TABLE AND WORSHIPING SATAN 'CAUSE OF A GIRL."
Often, State Champion songs are sung in all caps too. They make deranged country math rock of the Good Will Hunting variety, played loud by necessity. The band began in the mid-2000s when its four members were Chicago art school kids, but now, a decade after graduation, everybody lives in different states; since they can't just meet up for a casual afternoon jam, their past few albums have come together using DIY tours as a way to get together and learn new songs.
"We're playing in dive bars and art spaces where there's a shitty P.A. with no monitors," says songwriter Ryan Davis, who is the band's heart in Louisville, Kentucky. "We kinda say, 'Well, fuck it, let's be a basement rock band.' I turn up my amp, then Sabrina [Rush] can't hear her violin so she turns up her amp, and the next thing you know, people are like, 'That was great, I picked up one line that was kinda cool.' I'm like, 'Wait, that's the whole point of this band.'"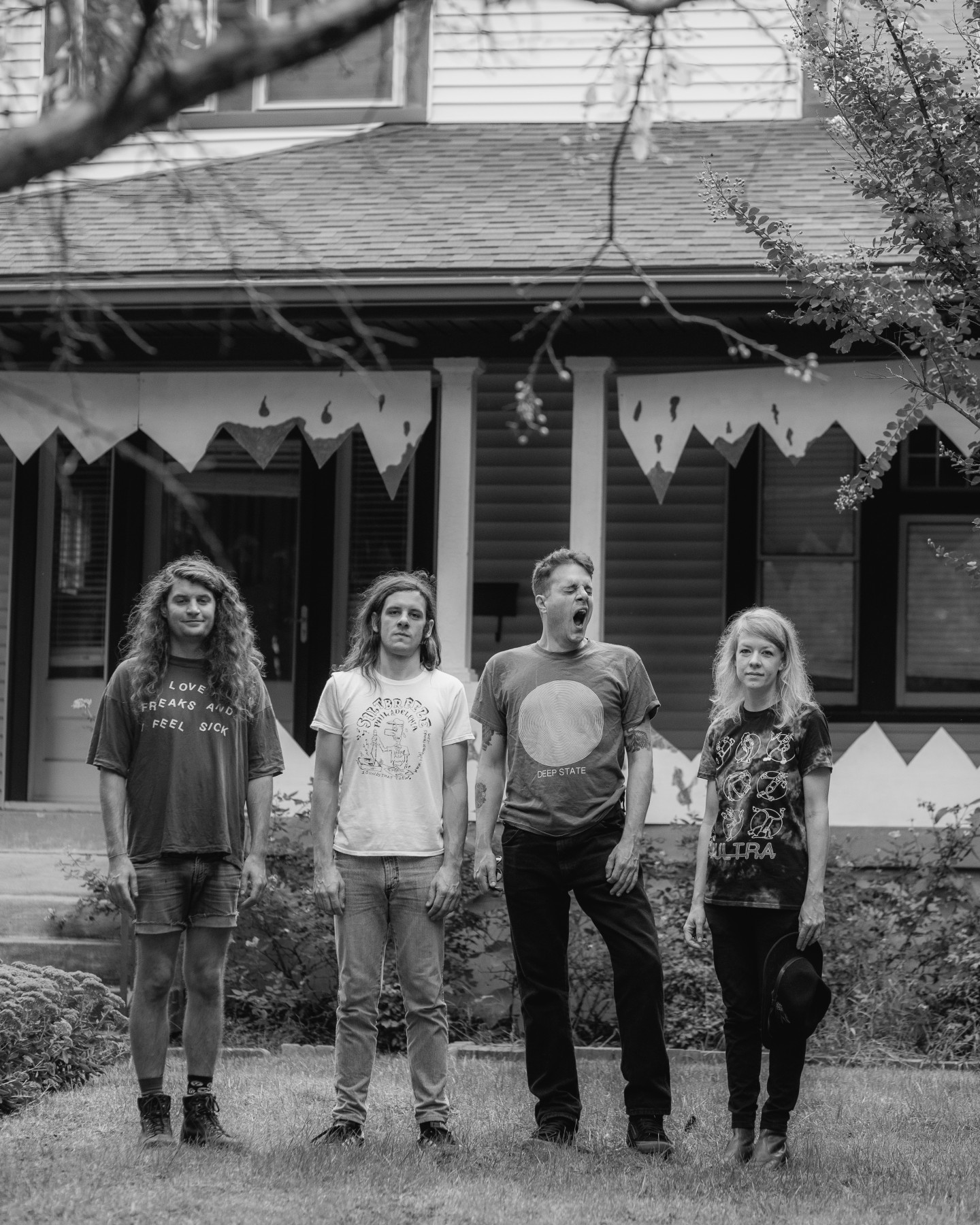 Send Flowers, State Champion's acoustic-leaning fourth album, out this November, is a conscious attempt to make the words a little more clear, which is good because they're further out than most artists ever go. "WHAT HAPPENED TO ALL THOSE COUNTRY BOYS," Ryan sings early in the record, as if to survey his (few) peers. "THE HONKY TONKS ARE FILLED WITH BONEHEADS / THE ART MUSEUMS ARE ALL FILLED WITH NOISE."
With tidy script in a marble composition book, Ryan wrote the lyrics to Send Flowers over the course of years. "I've never been the kind of songwriter who sits down and says, 'Man, I've had a hard day, I'm gonna write a song about it.' Or, 'I'm in love with this person, I'm gonna express my feelings.' I can't process stuff that way. It's more I get these flashes driving down the highway where I'll see a billboard that I misunderstand to say one thing, and I'll just make a note. Or I'll be walking down the street and hear bits and pieces of a conversation between strangers, out of context, and as I keep walking I sort of finish the conversation in my mind." The final product is like a ransom note, cut up and reassembled into the stories of a midwest music lifer, with pieces of more directly personal memories, too, which he calls "little warm waves of blood."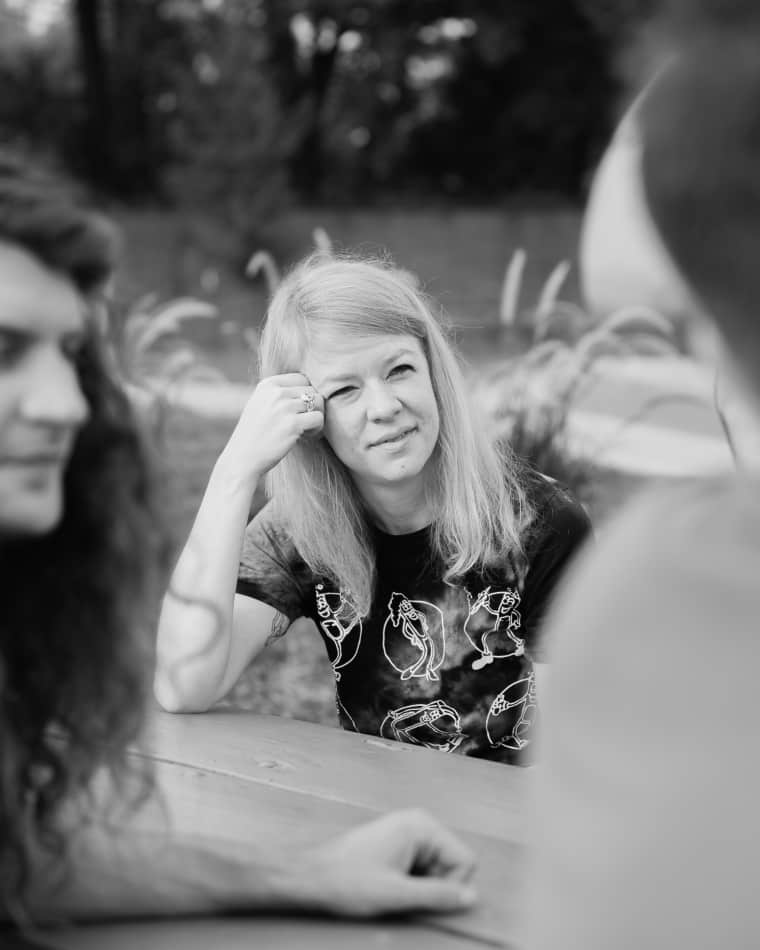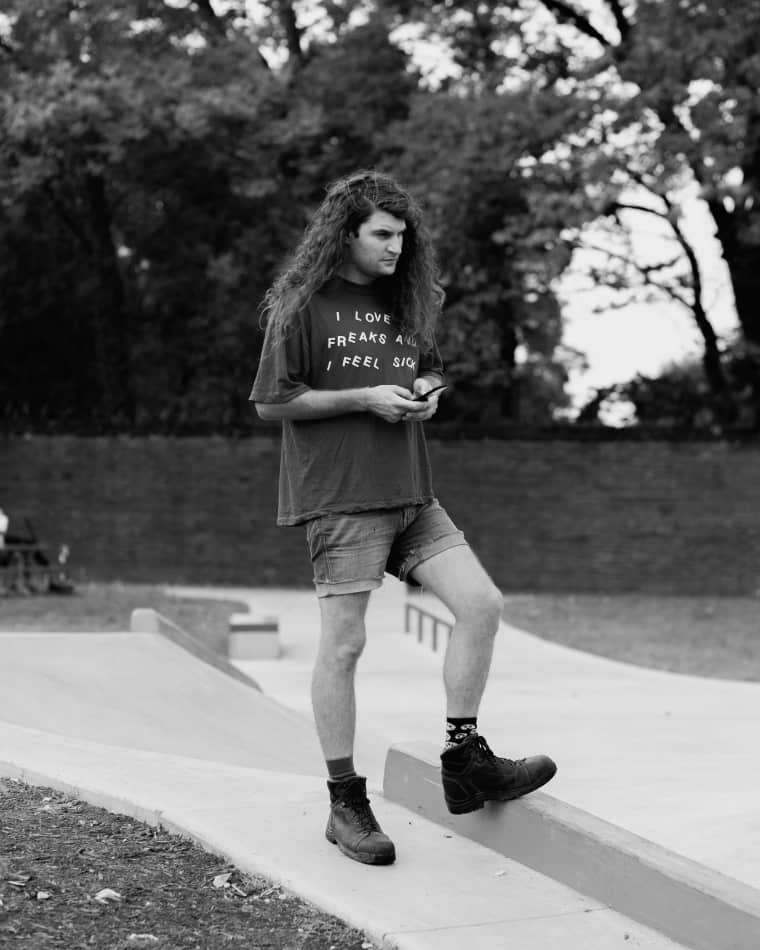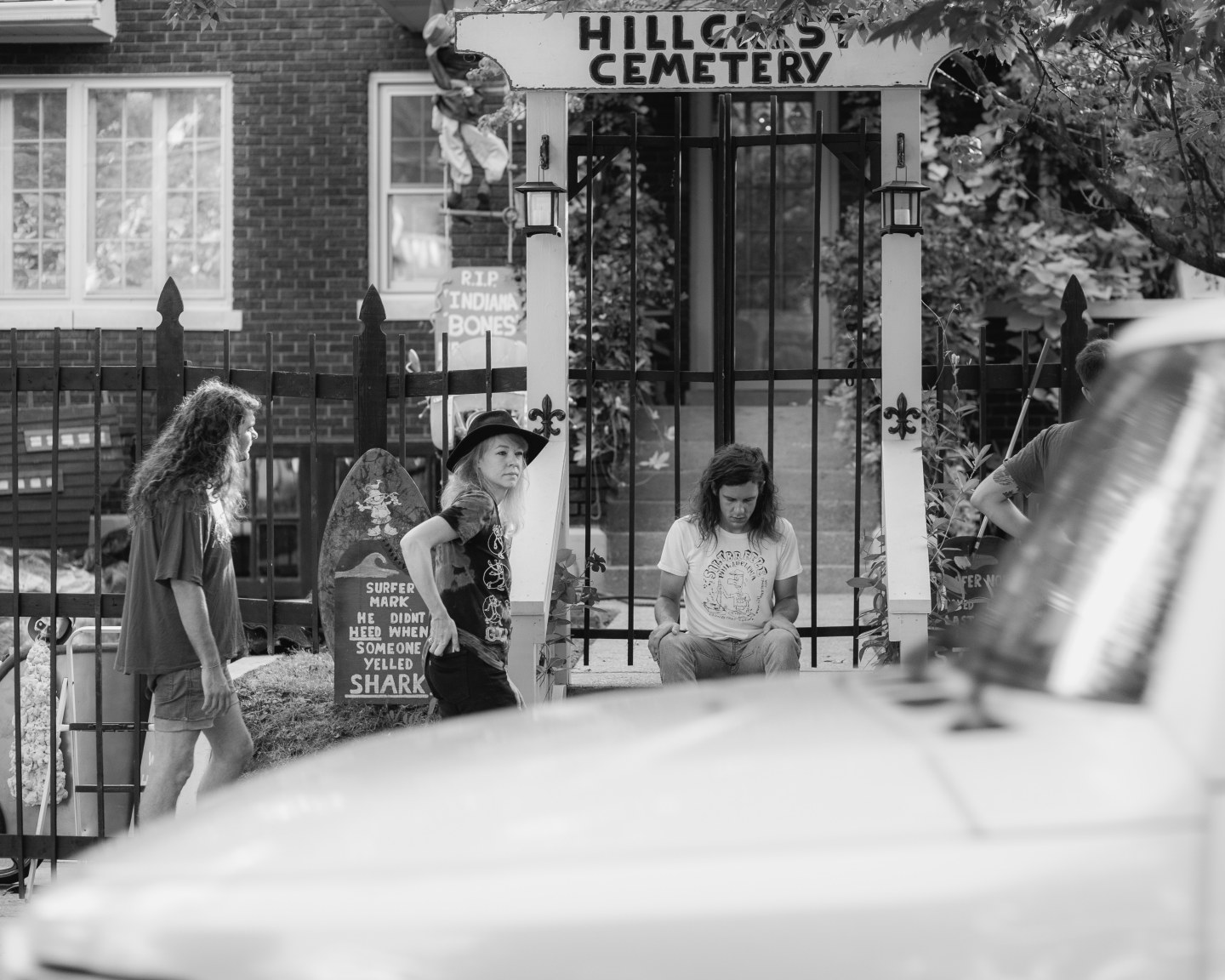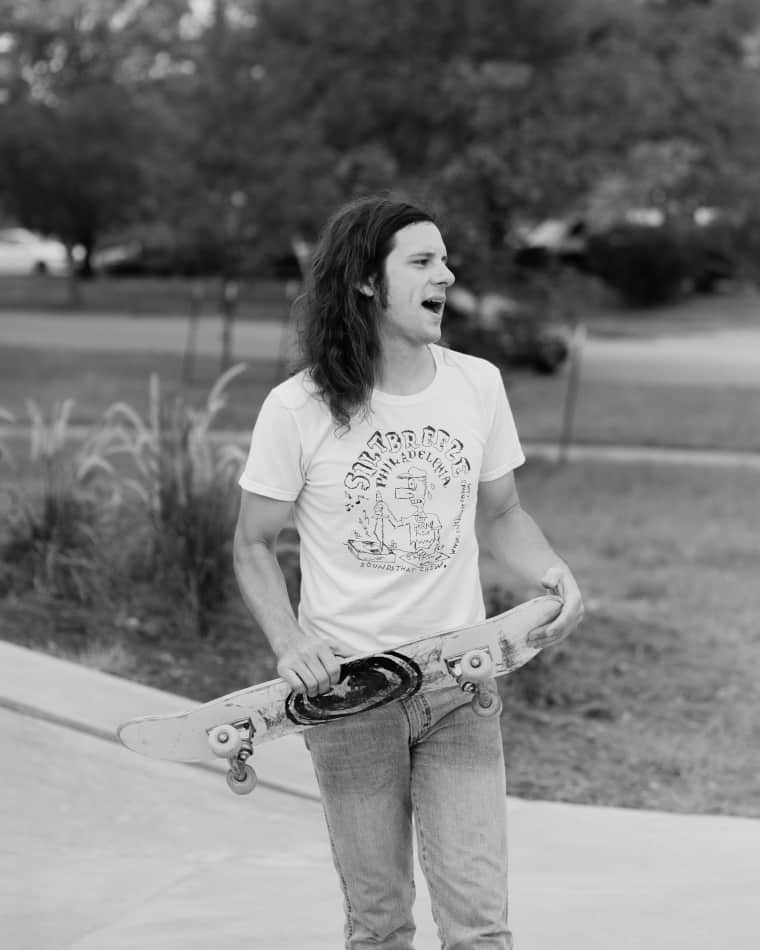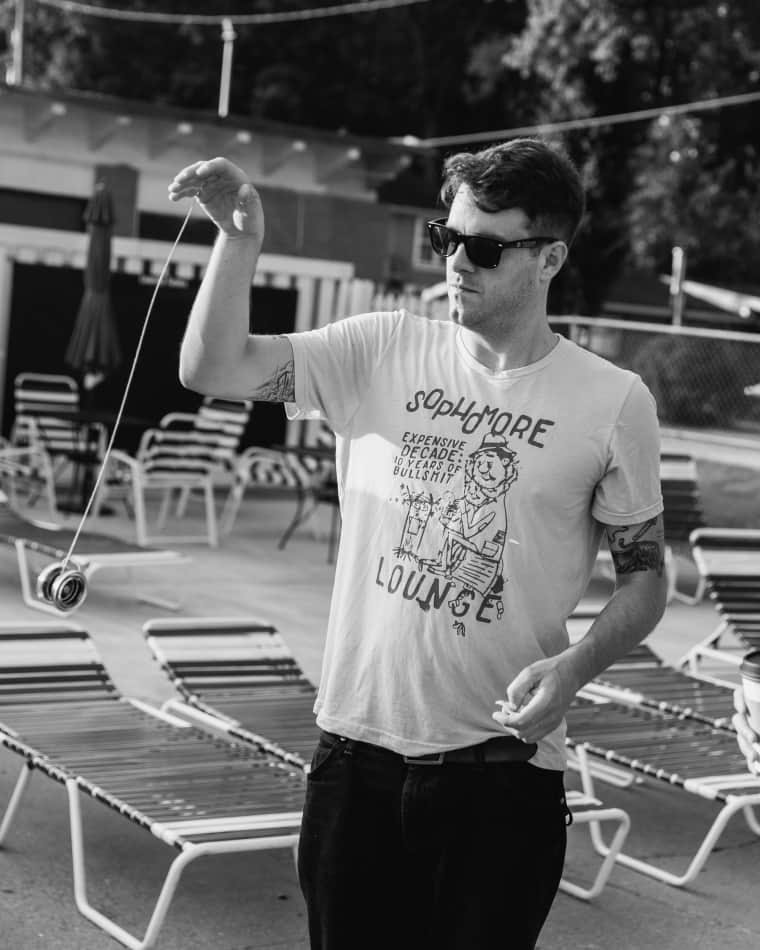 State Champion recording sessions are just as wild and sweet. Fantasy Error, their 2015 album, was made in a farmhouse studio in Shelbyville, Kentucky, with lots of tracks recorded outdoors. "Any time that you hear crickets, you can tell that the lap steel is about to start," Ryan told Impose. "Because we didn't isolate the amp, it was just outside sitting in dirt somewhere." Their fun setup has attracted people who, like the band, operate on the fringes of Americana. Angel Olsen played on their second album, Catherine Irwin from Freakwater played on their third, and the great Edith Frost traveled from Austin without even meeting the band to appear on Send Flowers.
Ryan started State Champion's label, Sophomore Lounge, as a way to release the band's first demos, and it, too, has knit together an enigmatic roster across nearly 100 releases, with projects from Bonnie "Prince" Billy and Hype Williams alongside midwest punk bands most of the world has never heard. Since 2010, Ryan has also run Louisville's Cropped Out festival, which attracts offbeat artists from Jandek to Lil B. "It just boils down to being a fanboy, admittedly," he says. "If there's anything I've learned, it's that it can't hurt to ask. The person might say yes. Not always, but then you're back to your roots, and that's fine too."
While we're talking on the phone, I aimlessly click my way through Louisville in Street View on Google Maps, down unlined streets, past small houses with big lawns. Ryan tells me he's by the falls, walking around an old fossil bed with a bridge over the Ohio River, a haunt he used to visit in high school. He clearly loves the place. "Louisville is weird," he says, "but it's just cheap enough to kind of float around and not have to break your back working an office job to be able to afford to put out records and tour. I'm still getting stuff out of it, I can still milk it for creative thoughts. I feel like I can just go to the mall at 9 a.m., get a coffee and walk around, and leave with an idea for a song."