Alpacas, that formidable mixture of terrier and giraffe, are a hugely underrated animal. Whatever you're doing right now probably isn't as enjoyable as hanging out at an alpaca sanctuary, but fortunately we can live vicariously through Bernice in their new video for "Passenger Plane." The experimental jazz-pop band's song is a personal favorite from their recently released Puff LP, but despite my familiarity with the tune, I'm still taken off-guard by how compatible it is with Ayisha Gariba's visuals. The song used to give me melancholy vibes, but now I can't hear it without picturing one of those adorable hairy mutants taking a messy slurp of water as a group of friends enjoy a picnic.
Gariba walked us through their video in an email: "We didn't really have much planned before we started shooting, and although that is usually the recipe for a chaotic shoot, this was the exact opposite. I think everyone wanted the shoot to have a relaxing vibe and it did. In terms of the vision, all that I really wanted to achieve was a video that was a little weird and so pretty that people would kind of forget how weird it was. I wanted to make sure that no one (including me) was ever taking anything too seriously during the process of making it, and I hope that no one takes it too seriously while watching it either. I just want people to get lost in this magical place with alpacas and bubbles for a few minutes."
Bernice bandleader Robin Dann shared her appreciation for the visuals, too. "What could be better than a day with Shelley and her alpacas? She and her love for her long necked and deeply dopey herd were very very sweet to behold and a perfect setting for a song about the city at night, old heartache resurfacing, and feeling like a speck in the universe. Ayisha brought bubbles and that helped too."
Check out Bernice's upcoming tour dates below, and read The FADER's interview with Robin Dann here.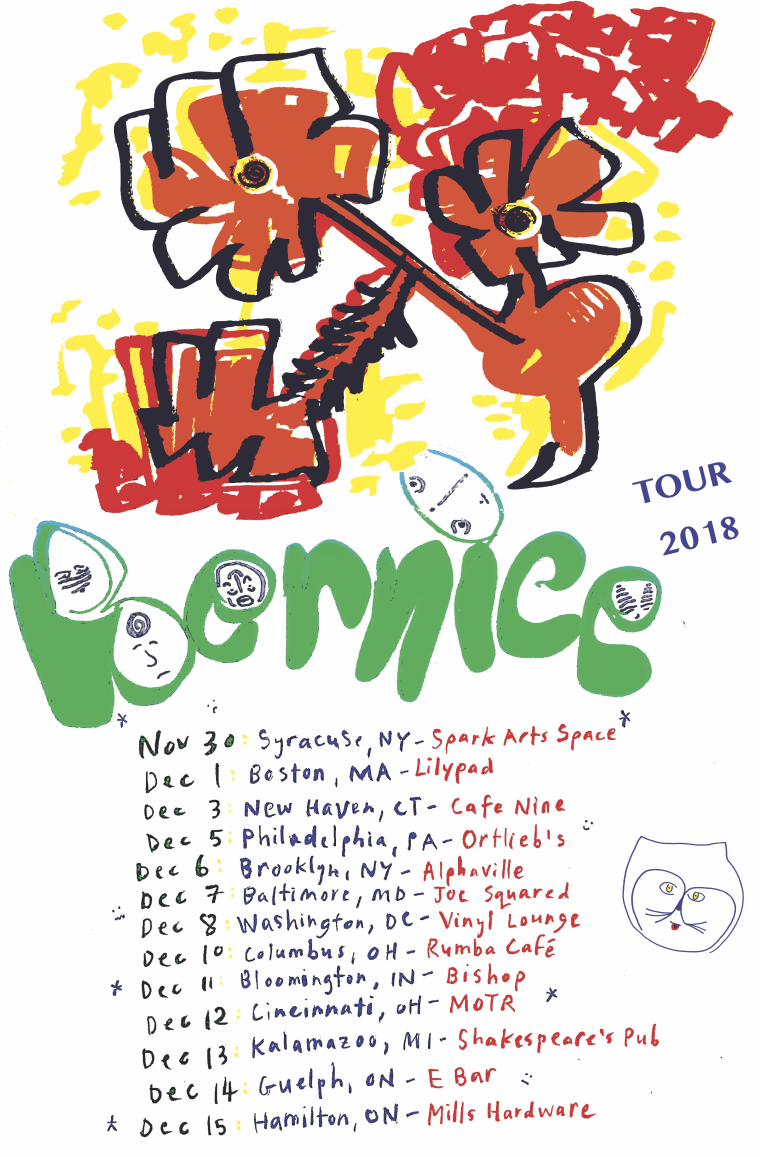 Bernice tour dates
11/30 - Syracuse, NY - Spark Arts Space
12/1 - Boston, MA - Lilypad Artificial
12/3 - New Haven, CT - Cafe Nine
12/5 - Philadelphia, PA - Ortlieb's
12/6 - Brooklyn, NY - Alphaville
12/7 - Baltimore, MD - Joe Squared
12/8 - Washington DC - Vinyl Lounge
12/10 - Columbus, OH - Rumba Cafe
12/11 - Bloomington, IN - Bishop
12/12 - Cincinnati, OH - MOTR
12/13 - Kalamazoo, MI - Shakespeare's Pub
12/14 - Guelph, ON - E Bar
12/15 - Hamilton, ON - Mills Hardware