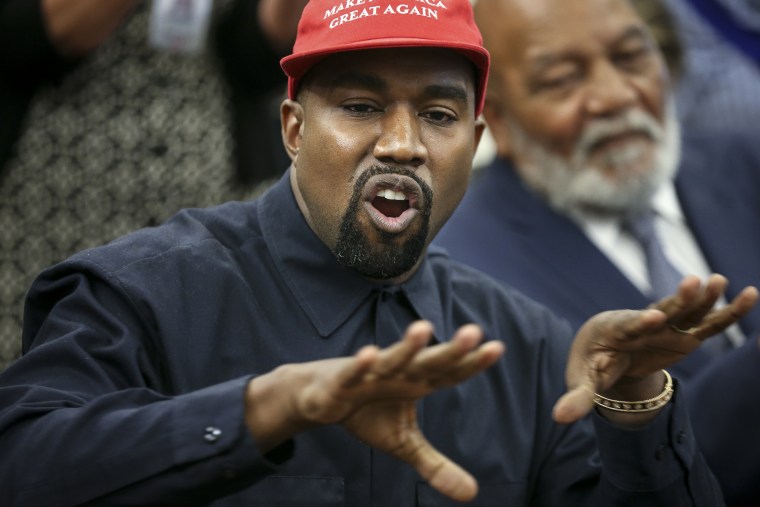 Ugandan reggae star-turned-political leader Bobi Wine has spoken out against Kanye West's recent meeting with Uganda president Yoweri Museveni, The Guardian reports.
West's meeting with Museveni took place on Monday at the State House. They exchanged gifts – West gave the president a pair of Yeezy Boosts – and discussed the country's tourism and arts sectors, according to a statement released by the president. Their discussion comes after Wine was arrested in August during a campaign stop and beaten while held by authorities – 100 artists like Damon Albarn and Chris Martin signed a statement condemning Wine's treatment. He was flown to America for treatment and returned to Uganda in September.
Calling the meeting "immoral," Wine said "[West] is hobnobbing with a president who has been in power now for 32 years and restricts any freedom, a country where opposition activists are tortured and imprisoned."
Wine continued: "It would have been great if he had used his voice for the good of people in Africa. I'm a musician but I am not allowed to stage a show in my own country because I disagree with the president. It is very disappointing."
West is currently in Uganda recording his delayed album YANDHI. In a recent Periscope video, he called himself "the best living recording artist" and claimed "the spirit of [afrobeat Legend] Fela [Kuti]" is inside of him. Fela's son Seun Kuti rejected this in a statement: "On behalf of the Kuti family, I want to state that the spirit of Olufela Anikulapo Kuti isn't anywhere near Kanye West."
West, a Trump supporter, may have chosen the country to record due to Museveni's stance on the U.S. president – as The Guardian notes, after Trump's remarks calling Africa a collection of "shithole countries," Museveni said "America has got one of the best presidents ever... I love Trump because he tells the Africans frankly... the Africans need to solve their problems, they need to be strong. It is the fault of the Africans that they are weak."