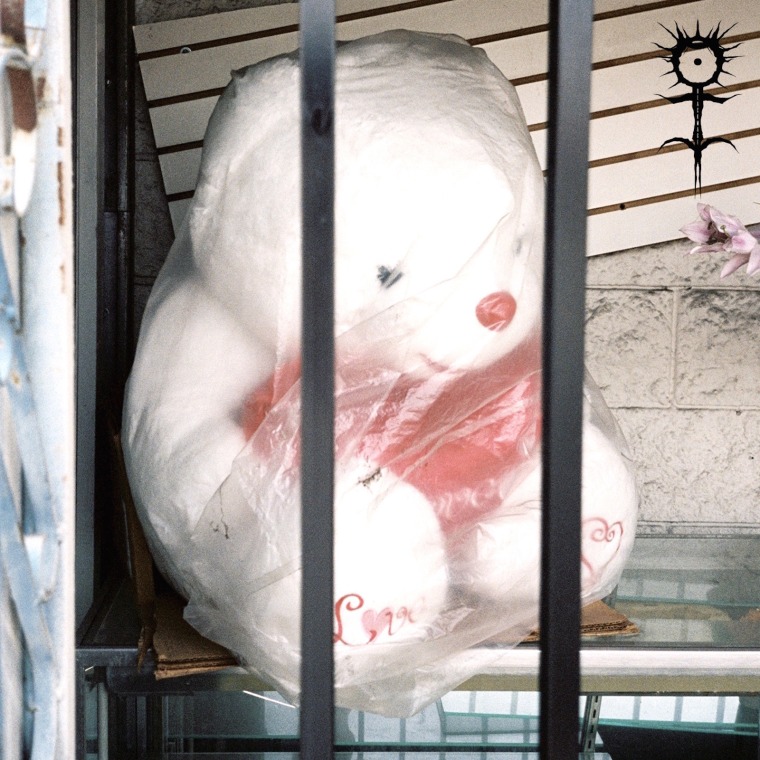 DIY veteran Ghostemane is fresh off the release of N/O/I/S/E, a self-produced 30-minute album that blends the darkest corners of metal, trap, and industrial noise. With an upcoming nationwide tour to accompany the album, it was a bit of a pleasant surprise when Zubin, who's best known for his gentle tenor voice, was announced as support. The two stand at almost polar opposites of hip-hop, so it was difficult to imagine how they'd work together during the same concert, let alone sound together on the same track — yet that's exactly what we get to hear today, on "Broken," from Parv0's S.W.I.M. EP.
Zubin's vibrato leads over an ominous melody until Ghostemane jumps in with a typically fiery cadence, before the South Florida native surprises with some unexpectedly soft vocals of his own. Parv0, the producer of the track and also Ghostemane's DJ, tells The FADER, "I'm all about trying to mix things that wouldn't seem to pair well, but when done right the result is amazing. I figured if I could get them on the right beat we could make it work, but it honestly all came together more organically than even I hoped."
Zubin explains that, "Ghoste set the mood perfectly with his hook. It sort of just fell into place, and came out beautiful. That's the best type of songs to me, effortless ones that you just feel and know what to do." Ghostemane, well, he prefers to let the music speak for itself.
Tour Dates
10.19 | THE KELSEY THEATER | LAKE PARK, FL
10.20 | CELINE | ORLANDO, FL
10.21 | MASQUERADE | ATLANTA, GA
10.23 | ELSEWHERE | BROOKLYN, NY
10.25 | CORONA THEATRE | MONTREAL, QC, CANADA
10.26 | VELVET UNDERGROUND | TORONTO, ON, CANADA
10.27 | SHELTER | DETROIT, MI
10.28 | LINCOLN HALL | CHICAGO, IL
10.29 | FINE LINE MUSIC CAFE | MINNEAPOLIS, MN
10.31 | CERVANTES MASTERPEICE BALLROOM | DENVER, CO
11.1 | GRANADA | LAWRENCE, KS
11.2 | TREES | DALLAS, TX
11.3 | BARRACUDA | AUSTIN, TX
11.5 | MEOW WOLF | SANTA FE, NM
11.7 | GRAND AT THE COMPLEX | SALT LAKE CITY, UT
11.9 | HAWTHORNE THEATER | PORTLAND, OR
11.10 | FORTUNE SOUND CLUB | VANCOUVER, BC, CANADA
11.11 | THE CROCODILE | SEATTLE, WA
11.13 | GREAT AMERICAN MUSIC HALL | SAN FRANCISCO, CA
11.15 | THE ECHO | LOS ANGELES, CA
11.16 | THE ROXY THEATRE | WEST HOLLYWOOD, CA
11.23 | CLUB RED | MEZA, AZ
11.24 | THE OBSERVATORY | SANTA ANA, CA
11.25 | THE IRENIC | SAN DIEGO, CA