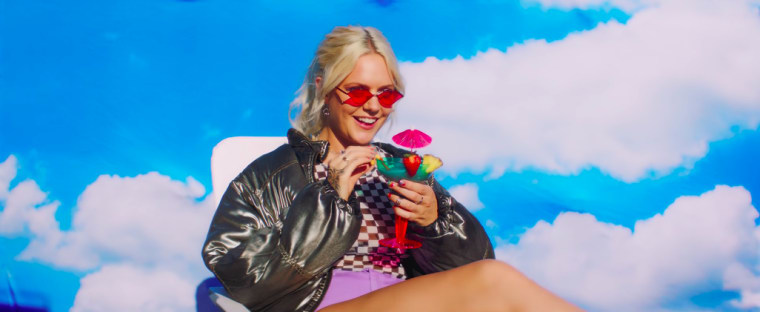 Tove Lo's Blue Lips — freaky and crazy as hell — was one of my favorite albums of 2017. Today, The FADER is happily premiering a short film of the same name that offers a cinematic take on all the album's best moments. Blue Lips stars Tove Lo and Ana Coto as best friend on an escape from boredom and heartbreak that celebrates friendship between two strong women. It's 25 minutes long and was directed by artist Malia James.
In an email interview with The FADER, below, Tove says that this is the final puzzle piece to her Lady Wood series and she's very excited to share the project. Director Malia James shared her delight in an email and explained why working with Tove is such a blessing. "Tove has always been a dream artist for me to work with because she's so fearlessly unapologetic about who she is and I'm honored to show that not only will she tell you to get your fucking tits out, she'll also open up and share her heart with you."
Watch the video and read a quick chat with Tove below.
Your last two projects have been really exciting and different. What was the most exciting part about making this movie?
This is the last chapter of the Lady Wood Era, and it couldn't have been completed in a better way than making this film with Malia. All our late nights at her house where we watched movie after movie about love, friendships and all the drama that comes with it, sharing our own stories and feeling our very first film take shape.
I was nervous about the acting, I'm very comfortable in front of the camera performing, but acting is a different thing. Malia really gave me confidence through out and I felt completely safe in her super woman hands. I love being involved in the visual expression of my music, and working this closely with a director that really knows how to capture the beautiful mess of it all was such a magic experience. This is just the start of a new journey!
Why did you decide to shoot this mini-movie?
We wanted to do something different than a visual album. Using the music as soundtrack while telling this story about friendship and love. Also we both have had big dreams about making movies!!
What was your favorite scene to film?
Mine was probably the heart to heart tub scene with Ana. Felt like we captured real raw friendship and feelings you go through getting older but still feeling young.
Any advice for people who want to have a crazy road trip adventure?
Say yes to random things! Keep an open mind!