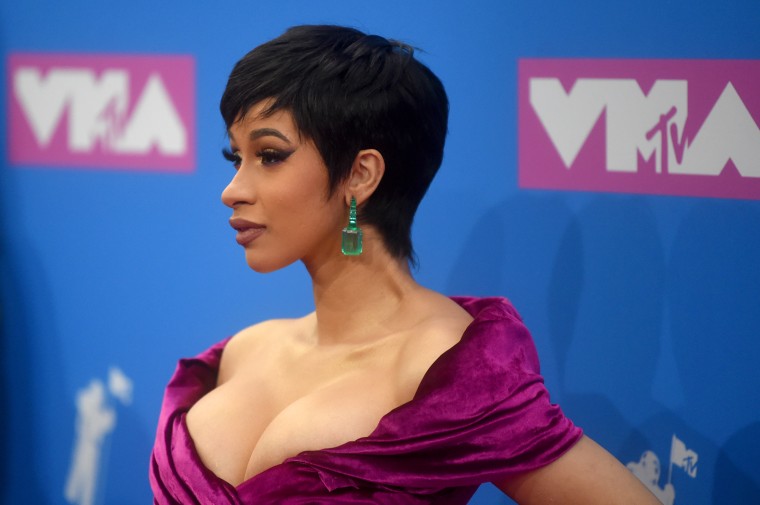 On Monday's episode of Queen Radio, Nicki Minaj returned to her ongoing feud with Cardi B, offering $100,000 for footage of television personality Rah Ali allegedly punching Cardi B at the Harper's Bazaar ICONS party and addressing a host of other perceived grievances. Hours later, Cardi B issued a series of responses through now-deleted videos posted to her Instagram page.
In her first video, Cardi claims there's no footage of her getting punched by Rah Ali because it didn't happen. "Do you wanna be the victim, or do you wanna be the gangsta? You lie so much you can't even keep up with your fucking lies." Cardi's phone number was leaked soon after her physical confrontation with Minaj at the ICONS party, and in one video Cardi implies Rah Ali is responsible. She goes on to reveal allegedly threatening text messages sent to her phone from Nicki Minaj's fans as well as Minaj's likes of tweets from fans responding positively to Cardi's sister, Hennessy, sharing threatening messages from Nicki's fans.. "[You're] endorsing that kind of nasty ass fucking behavior," Cardi says in a video.
Subsequent clips include statements on the controversy of Nicki Minaj's "MotorSport" verse, Minaj's claim that Cardi wanted to be on Bad Bunny's "Krippy Kush" remix, and that Cardi instructed 21 Savage not to work with Minaj (Cardi denies both claims). In another clip, Cardi considers a lawsuit against Minaj for defamation over her continued implications that payola, or underhanded financial contributions to media outlets and platforms from record labels, is behind Cardi B's popularity.
In the final video, Cardi says she was a fan of Nicki Minaj in high school and was always respectful. "I show you respect, but the difference between me and a lot of these bitches is I don't suck your dick," Cardi says. "You're out here fucking up your legacy looking like a fucking hater."
Nicki later responded to Cardi's videos via Twitter. "I'll pay you to take a lie detector test about every claim I made on #QueenRadio," she tweeted. "You won't. I must admit you're a convincing liar." The series of tweets also included Nicki inviting Cardi to be a guest on the next episode of her radio show.
I'll pay you to take a lie detector test about every claim I made on #QueenRadio. You won't. I must admit you're a convincing liar. You looked me dead in my face & said you told ya man not to do the "no flags" video cuz I was dissing you. London on da Track got the same call.

— QUEEN (@NICKIMINAJ) October 30, 2018
We can...

Get on live & have the convo for the world to see.

Do a lie detector test TOGETHER

Do an interview on #QueenRadio 😅

*** ORRR we can both sit in a room together, hear a beat for the first time, and have ourselves FILMED WRITING TO IT!!!!!! #DipVIDEO OUT NOW 👅

— QUEEN (@NICKIMINAJ) October 30, 2018
Nicki ended her run of tweets by stating that she wanted to focus on positivity. "I know this stuff is entertaining & funny to a lot of people but I won't be discussing this nonsense anymore," she wrote. Cardi screenshotted the tweet and added, "Alright then! Let's keep it positive and keep it pushing!"
Thumbnail photo by Jamie McCarthy/Getty Images