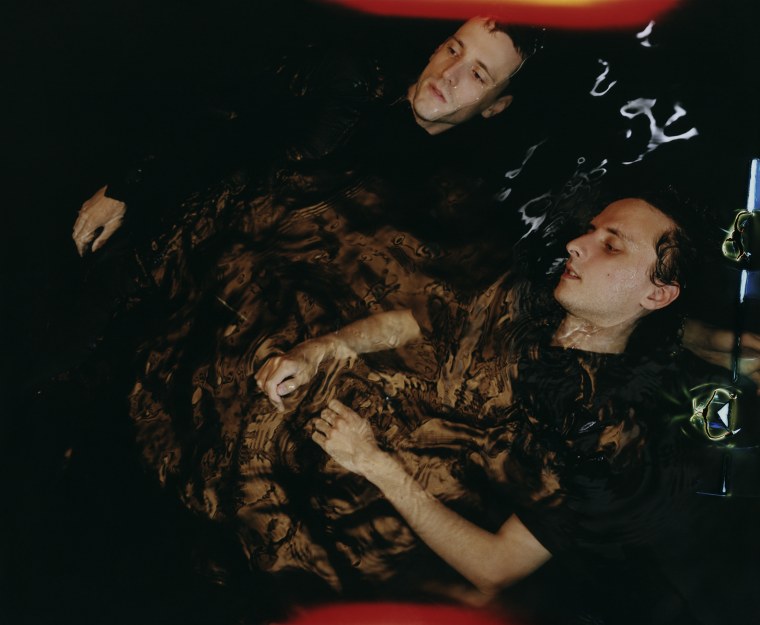 Over the past 10 years These New Puritans have developed a reputation for pushing boundaries and delivering the unexpected. Today the British group, now operating as a duo of brothers Jack and George Barnett, return with their first new music in five years. "Into The Fire" is premiering below alongside a short interview with the Barnett brothers.
The song, which features David Tibet of experimental 1980s U.K. group Current 93, opens with transcendent chords that soon gives way to a punishing beat and off-kilter piano. "Into the sky, into the sun," Jack sings over richly textured and dramatic electronic rhtythms, "open it out, open it up." It's a stark contrast to the neo-classical music the group were making on 2013's Field Of Reeds and lands somewhere closer to the jagged soundscapes of 2008 debut Beat Pyramid.
Writing for the song began in the brothers' native Essex, England in 2015 and were completed in a former Soviet broadcasting studio in Berlin, where Jack now lives. Speaking about the song, Jack told The FADER: "It's about letting someone or something completely consume you. About searching for things beyond your normality. When we programmed the drum part, it seemed like it would be impossible to play. But we worked on it for a few days and gradually the impossible became possible."
Read on for more from Jack and George Barnett.
---
What have These New Puritans been up to since the release of Field Of Reeds?
George: "Making music. Getting back to working together, just the two of us. [In the past] Jack did the job of 20, that's why it took a while. I'm overseeing and it's been a case of him saying 'This will be done in five days,' only for it to take a month. But his perfectionism gives the record a singularity that is visionary, and also so lacking these days. We live in an age of saccharine, beige, sentimental, made-for-algorithms music, and we're standing against all that."
What does this "Into The Fire" tell people about the new music you've been making?
Jack: "We're thinking about releasing it in syringe form, straight into the blood stream."
George: "It's diverse. Direct but diverse. 'Into The Fire' is the first motion, twisting the door handle."
What does the new music tell us about TNPs as a group in 2018?
George: "The next album is a banger. Both brutal and beautiful, a record of extremes. It's back to just me and Jack again, it's more pure. I've already put a bet on us winning the Turner Prize."
Jack, you moved to Berlin after touring the last album. Have you felt the change of location inspiring you in any specific ways?
Jack: "In some ways it could have been anywhere. Moving somewhere new shakes you up and eliminates your habits, it changes your sensations and your input. But Berlin is also a good place to follow your instincts.
"The rooms we recorded 'Into The Fire' in used to produce radio plays and Foley work. I'd ride past through a sea of broken glass with chemicals from the cement works blowing in my face to get there, inhaling all the coal dust."
I suspect you're keen to avoid the cliché of a "Berlin album." How do you go about that?
Jack: "The strange thing about Berlin, a city with so much history, is its inhabitants' complete lack of preoccupation with the past. They're more concerned with 'now'. It's something I like. In some other cities people think too much about the musical past, which is boring. So, in fact, it's a really great place to not have to think about the past, which fits with how we like to think."
2018 marked 10 years since the release of Beat Pyramid. How do you feel about that album a decade on?
George: "It's a start, playing at all, being teenagers and wanting to be Einstürzende Neubauten. We were 17 when we did the demos and 18 when it was recorded. The J.Dilla references were out of control."
Jack: "I feel proud, actually, which is not an emotion I'm very familiar with, to be honest. I hadn't listened to it since just after we finished it, but I did quite recently. It was released in an age of conservatism, especially in London, where it was all about guitar music. We had a relentless disdain for a lot of the stuff going on around us. We were being influenced by Missy Elliot; hip-hop; rhythms from dancehall; writing songs about numerology and the apocalypse, and Michael Barrymore having a wank! We were pursuing our own channel.
"It took a lot of energy and commitment to do that, which was in some ways destructive and made our lives more difficult, we probably earned a lot less money, but we felt it was worth it, to fight your surroundings to do what you believe in."