Japanese Breakfast
The prolific Philly rock musician talks work, death, dogs, anime, and wanting it all.
Buy a print copy of the Japanese Breakfast and Tierra Whack issue of The FADER, and order a poster of Japanese Breakfast's cover here.
---
Michelle Zauner is in the middle of reading one of my stories when I meet her backstage at San Francisco's Great American Music Hall. She's there for the first of two sold-out shows, but she immediately starts asking about me. What do I like to write about? What do I want to write about but haven't tried? After sound check, what would I like to eat? Would Korean food work?
The 29-year-old frontwoman of the deceptively upbeat audio/visual/performance tour de force Japanese Breakfast zeroes in on a nearby spot: Lucky Pig, a joint a block away, where the lighting is disorientingly split between incandescent on one side and fluorescent on the other. Dressed in all-black basics and a pair of slides my grandmother might've worn in her lifetime, Michelle chats with the staff in Korean and English. The restaurant is so new that it doesn't have its liquor license yet, so the wait staff directs us to the nearest corner store for alcohol.
Michelle pops out to acquire a large can of Sapporo, from which she pours my glass first. She's been antsy since an incident with a sound guy during sound check, and surrounded by other diners' conversations and dizzyingly fragrant food, she gets into it.
"I have so many friends in this industry, so many women who play music, who are gonna play these same rooms and work with these same kinds of people. They need to know who is not good. I know it'll ruin their experience just as much as it ruins mine." She chatters, in the half-laughing throwaway manner of someone who's dealt with much worse but knows she shouldn't be used to it, "I'm so sick of people making me feel like I don't know what I'm doing when I have done this pretty much every other day for two and a half years."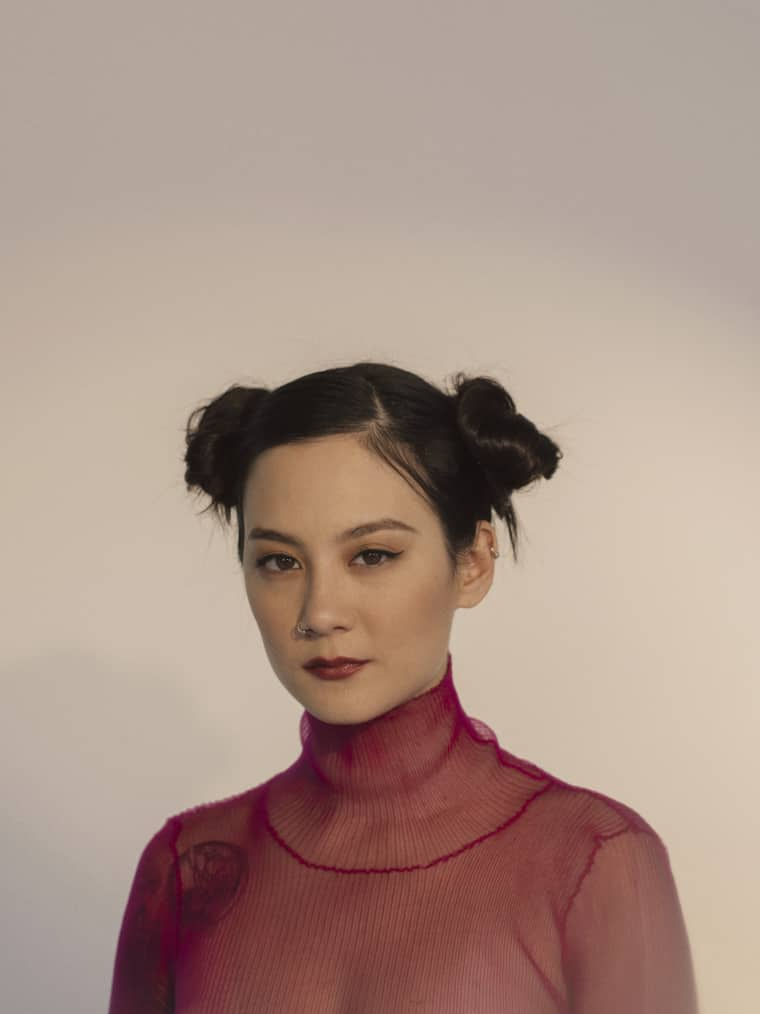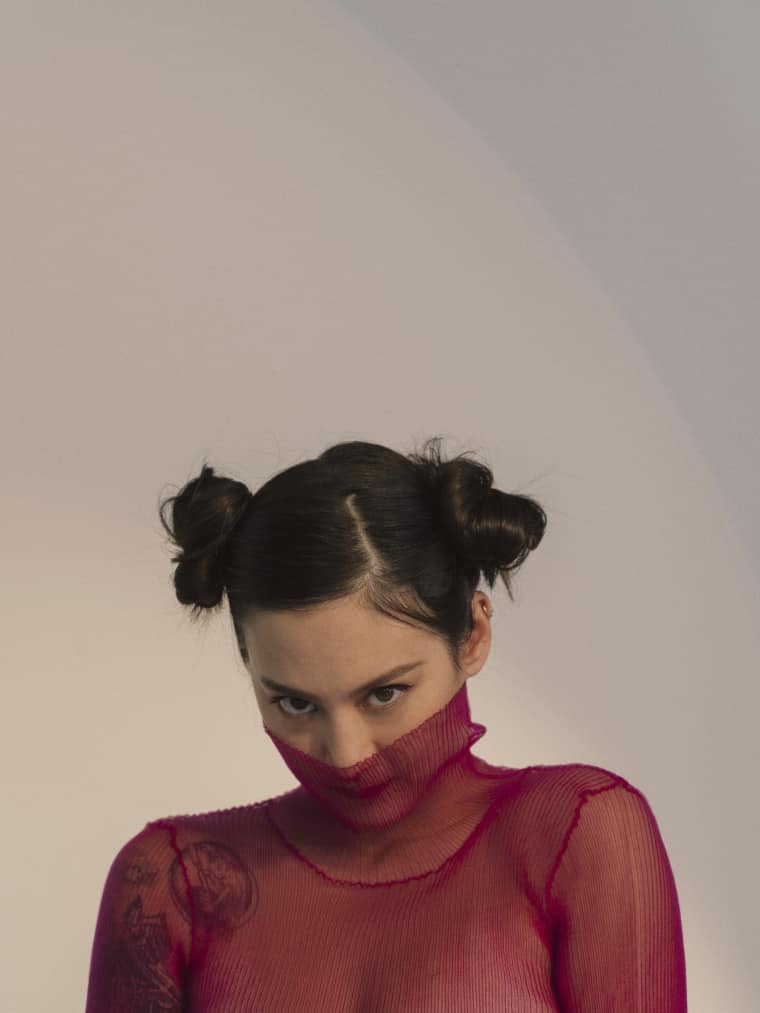 And Michelle is only poised to expand the range of her expertise. Already this fall, she has found herself in an enviable, busy position:
• At the closing of the breakneck, almost nonstop two-and-a-half year touring cycle for her double gut punch records, Psychopomp and Soft Sounds from Another Planet, which were created in the rippling wake of her mother's diagnosis and then death from cancer in 2014.
• Fresh off of a searing, heart-rending essay debut in The New Yorker about reconciling her half-Korean, half-white heritage once her closest familiar tether to the former passed. (Her very first attempt at writing non-fiction won a Glamour essay contest in 2016.)
• Springboarding off of that essay into a book she's writing about her relationship with her mother and Korean culture through the conduit of food and familial cultural rituals. (The working title is the same as the essay: Crying in H Mart.)
• Working on at least two new directing projects for other artists after helming a series of increasingly ambitious videos for Japanese Breakfast. (The most recent, "Boyish," is a masterpiece of bisexual lighting and teen romcom subversion.)
• Continuing work on a mostly instrumental score for a widely hyped video game, Sable, her second time working in that particular medium. (The first was her very own game, Japanese BreakQuest.)

Which is to say, yeah, she knows what she's doing. You'd be defensive too if you'd fastidiously built an arsenal of technical knowledge and skills in just about every modern creative medium.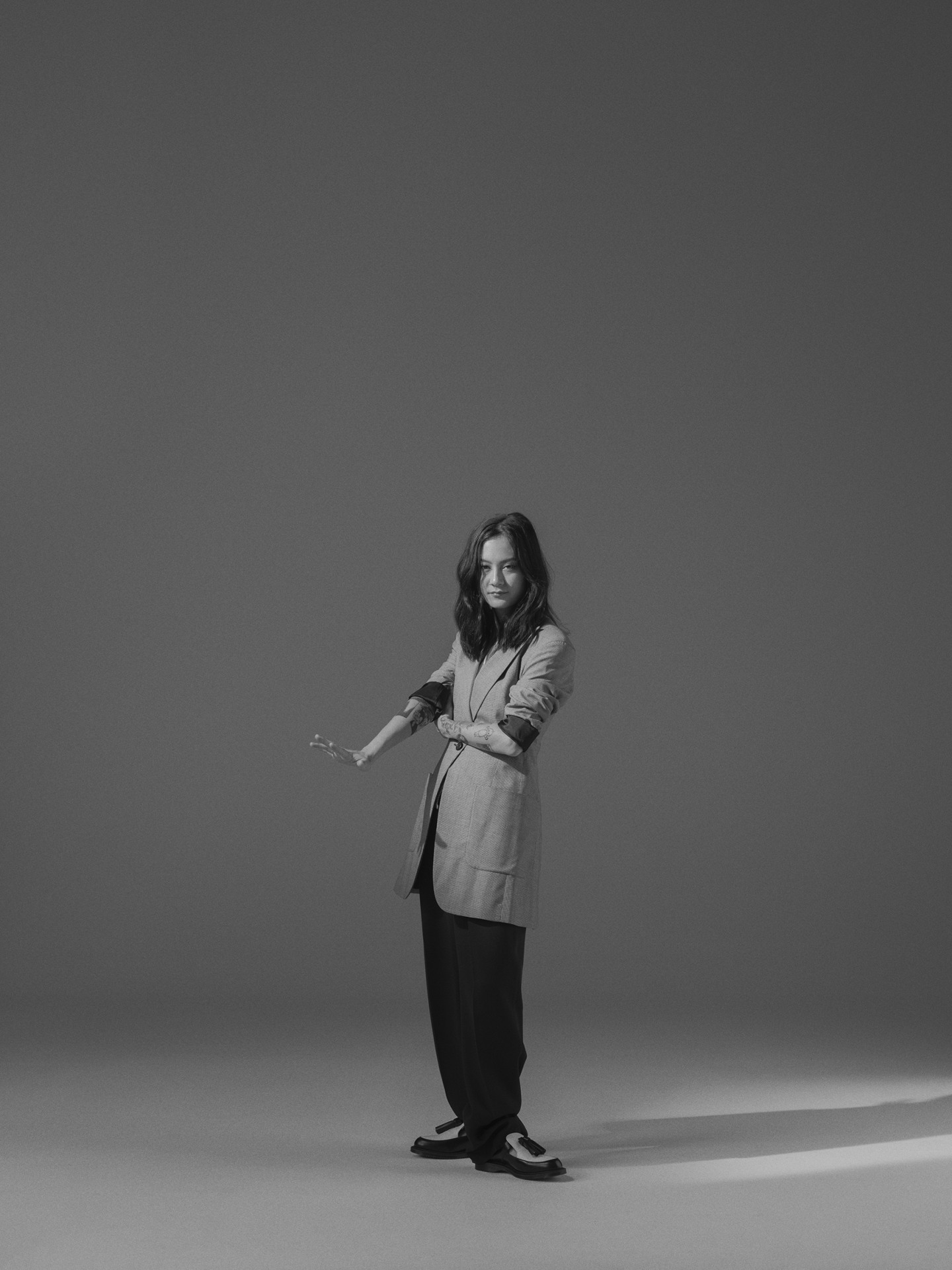 Part of what makes Michelle such a prolific and proficient artist is that she's been practicing for this spotlight for almost half of her life. Born in Seoul and raised in Eugene, Oregon, she was 15 when she got her first guitar and 16 when she first started working on her own music, initially under the name Little Girl, Big Spoon. As a student studying creative writing and film at Bryn Mawr College, she worked so closely and well with nearby Haverford College's Federation United Concert Series (FUCS) organization that she became the first Bryn Mawr student to join its booking team. Around that time, she and some college friends started performing as the four-piece Post Post. After school, she built a following in the DIY scene with the Philadelphia-based emo band Little Big League, where she sharpened her non-music-related band skills through sheer necessity.
For much of her run helming Japanese Breakfast, Michelle wore extra hats as the manager of the band and the point person for audience interactions, as well as organizing tours and merch. It's only recently that the band's been able to tour with their own front-of-house audio engineer, a luxury to someone who still remembers budgeting and splitting $200 show fees between her bandmates.
The other part — and this both is and isn't a joke — is that Michelle is a fire sign, and an Aries in particular. During the time I spend with her, she exerts and expects a certain kind of attention, whether she's entertaining high school friends in the green room or ordering cold brew at a coffee shop staffed by chicly tattooed girls, who admire her goldenrod nails. Michelle is self-aware about the magnetism she can't quite control: "Sometimes it's a quality that I really enjoy about myself. And sometimes I'm, like, extremely embarrassed by it. I have a group of girl friends who called me out on that. A lot of water and air signs that are just like, trying to have a lowkey conversation. Fire sign enters the room with no chill. I just have no chill."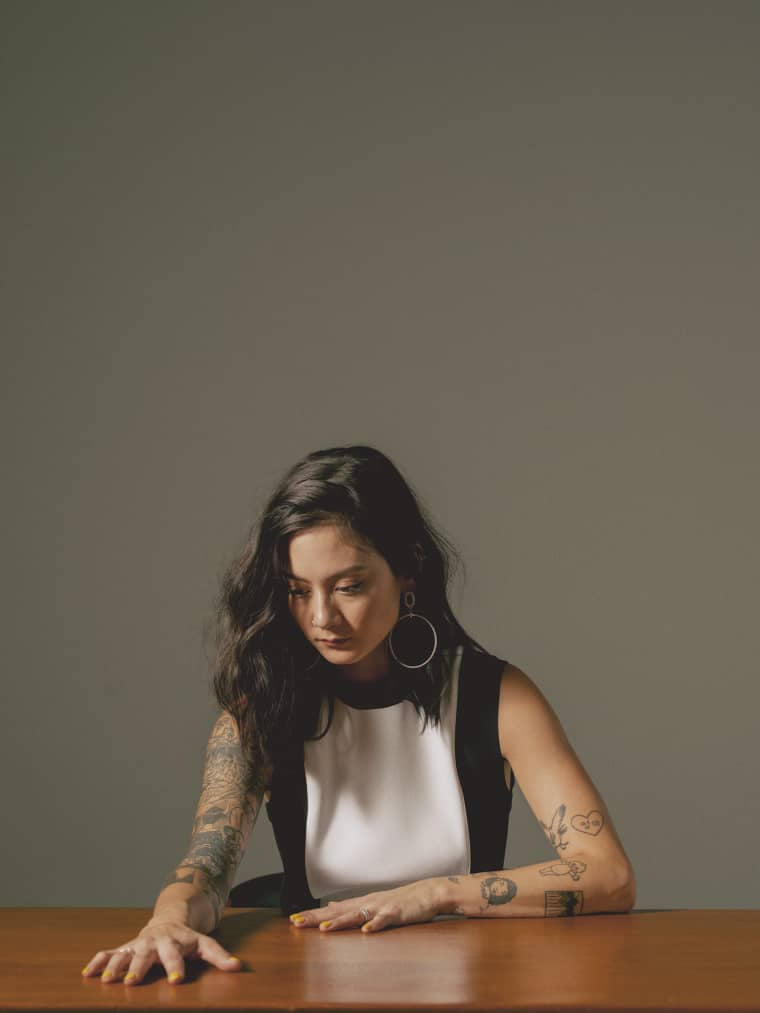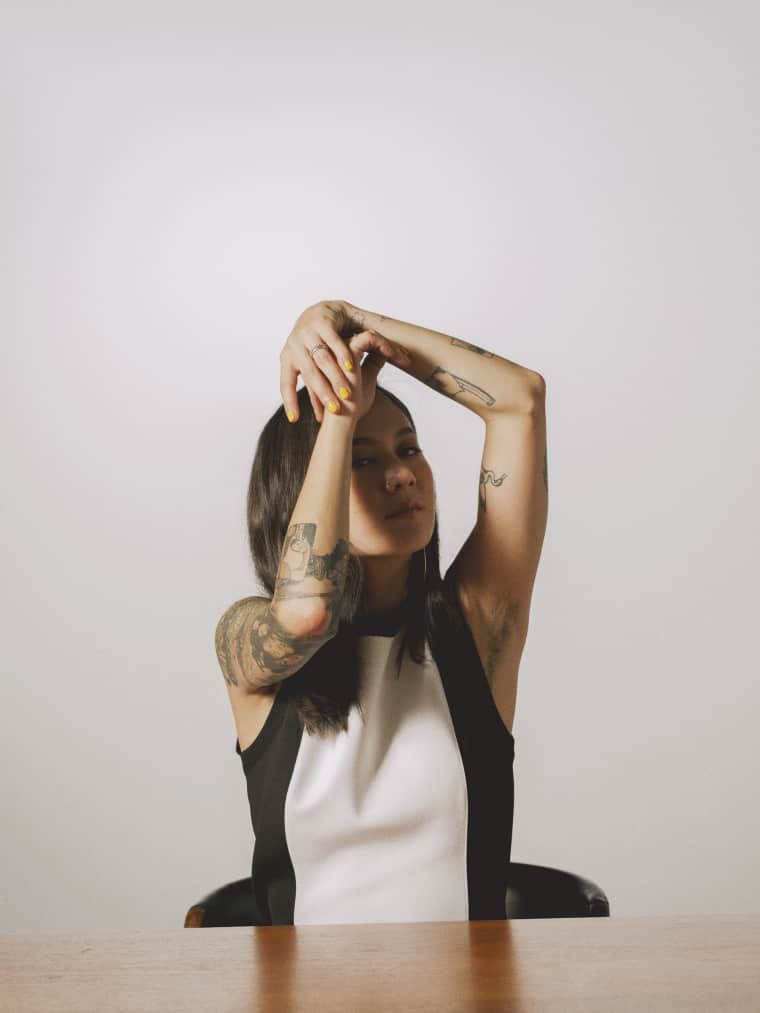 This "no chill" attitude is great for her work ethic. Michelle hadn't even finished touring Psychopomp, which came out in the spring of 2016, when she put out Soft Sounds in the summer of 2017. Both records in part borrow and repurpose from the Little Big League and earlier Japanese Breakfast catalogues, but Psychopomp in particular had its genesis in the fugue state of coping: "I'd always struggled with being a very depressed and anxious person in high school. If I had let that kind of dark moment consume me, I wouldn't be able to climb out of it. So I became a bit of a shark."
Her schedule morphed into a holding pattern of obligations. "I'd go to work from 8:30 and leave at 7, and then drive to Crown Heights in rush hour to work on the record, and then go to bed. and then go back to work the next day and work on the [Glamour] essay in my free time." She later passingly mentions that when she got members of the band Pokémon figurines to celebrate a touring cycle ending, she got herself the lava slug, Slugma; you get the sense that she thinks she could be working faster.
Michelle has a similarly voracious attitude toward her collaborators, exclaiming, "If I really love [something], my first thought isn't just, 'Oh, I love that,' and let it go. 'I love that; I have to work with this person again. I need to know more about them. How do I create a connection and how do we do more stuff together?'" For her second record, she turned to former Little Big League collaborator Craig Hendrix to co-produce it with her, and he plays with the band as its drummer and secondary vocalist. She filled the rest of the group with similarly familiar faces: Deven Craige, the bass player who'd originally left Little Big League to chase full-time work with a band he'd hoped would become "Jimmy Fallon big" (an anecdote that was the seed for the Soft Sounds song "Jimmy Fallon Big!"), and Peter Bradley, a guitarist who also happens to be her husband.
Craig and Deven say they're drawn to Michelle not just because of her incredible musical and songwriting instincts — her lyrics are precise and searing in the poetic mode — but because she is so uncannily adept at finding and delegating responsibility to people like them, who work well on their own and then supernaturally well together. Craig calls her the captain of "the Japanese Breakfast enterprise," whereas Deven notes, "There was a good chunk of time before I joined the band where she was doing all the tour manager stuff, all the merch stuff, sending out mail orders when she's at home. I've worked with a lot of bands, either playing with them or tour managing or whatever. She's absolutely the most hands-on."
"I'm so sick of people making me feel like I don't know what I'm doing." —Japanese Breakfast
This approach doesn't just cover the band's music-related releases. Michelle refers to her videos with longtime collaborator Adam Kolodny, of the NYC-based production company House of Nod, as "our canon," and compliments, "I've never felt so physically and emotionally and mentally drained than I have on our shoots. I've also never met someone who works harder than me besides Adam." She claims that Adam, who'd directed or co-directed Japanese Breakfast's pre-Soft Sounds videos with her, "really pushed me into this [solo directing] role." Over email, Adam, who's still her go-to director of photography and workshops ideas with her at their nascent stages, stresses that she "[comes] to me with a fully fleshed out concept and a moodboard to pair visuals to her thoughts. [Michelle] approaches every video, and seemingly everything she does, with as much commitment as she puts towards her music and live performances."
One of Michelle's long-running relationships is different from the others. Peter — who receives this dedication in Michelle's notes for her first stab at a Japanese Breakfast release, 2013's June tape: "my bestest friend who makes me so brave and so powerful" — defers to her and Craig and Deven over the recording and touring side of the project, and to her and Adam over the video translation side. He tries to speak with measured detachment even about the excruciatingly personal: "I know a bunch of songs are about me, but when I'm on stage, I'm just playing the set."
After the show that night, he and I chat about marriage and working in the DIY scene while Michelle does her second-ever DJ set. (She toys with the idea of adopting the moniker DJ Bibimbopz.) She primarily plays power '80s staples, punctuated liberally with air horns, while the backdrop behind her shows the Kevin Costner film Waterworld. It's within this almost cartoonishly upbeat atmosphere that Peter pauses, both bemused and reflecting on feelings too private to share to a stranger, before sharing, "Normally, we have a break before 'Till Death,' and she'll talk about the meaning of the song." (In short, matrimony in the face of suffering and, eventually, mortality.) "Last night, we were in Eugene, so she wanted to really speak about that. And her mom's grave is right there."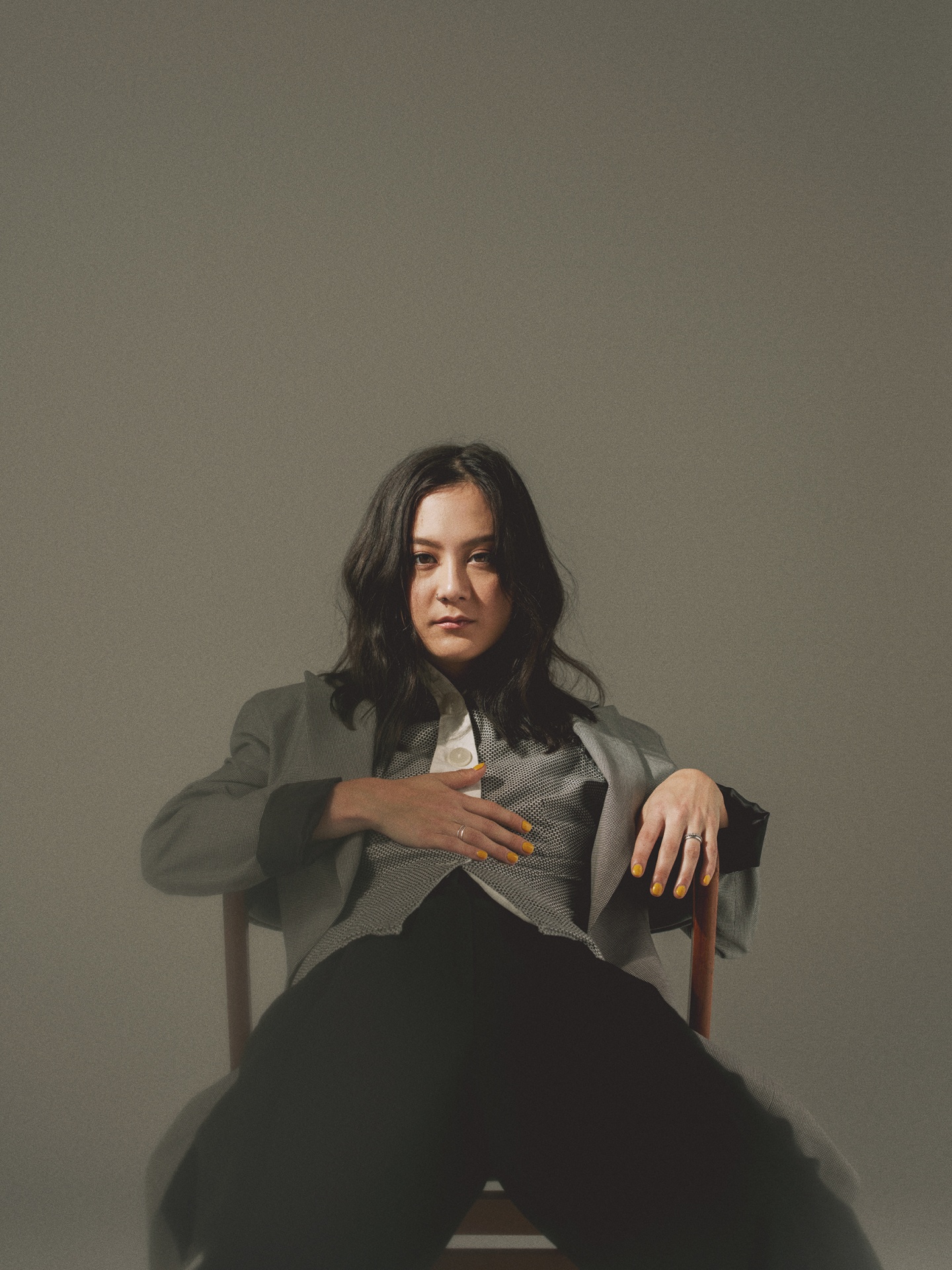 The night of the show, Michelle had worn celadon blue chinoiserie cargo pants from the French fashion house Kenzo, which she pairs with a baby blue latex top. (The outfit is the work of Philly-based stylist Cece Liu; Deven compares it to something out of the cult 1999 raver film Go.) But when we meet up the next day for lunch at Pyeong Chang Tofu House in Oakland's Temescal neighborhood, she's wearing all black basics again. A coat, in high 70-degree weather. Those same slides, now paired with novelty Spirited Away socks graced by tiny No Face spirits.
Before performing, she'd dabbed hot pink eyeshadow onto her lids over perfectly flicked eyeliner. For lunch, Michelle's bare-faced and somehow not evaporating as she slurps through an aju maeun order of bright red tofu soup, with full shrimp heads and, of course, a freshly cracked raw egg that gleams like a cyber yellow pearl.
Like many Asian-Americans, Michelle contextualizes her cultural history and attachment through the lens of food. As she eats her soup and rice and banchan, she says, "Every time I do this, I feel like that scene in Spirited Away where [Chihiro's] disappearing. I'm hungover and floating, and I'm eating this Korean food and slowly becoming solid."
It's only through Japanese Breakfast — a moniker cribbed from one of Asian-America's more prominent diasporas, but not her own — that Michelle's found an audience that not only receives, but understands the particularities of her upbringing: "I felt like such an outsider my whole life and didn't have a way to communicate with anyone about it, or relate to anyone about it until the last three years." But with this link comes a backlash familiar to Asian-Americans, and particularly Asian-American women, working through their identity in a public outlet.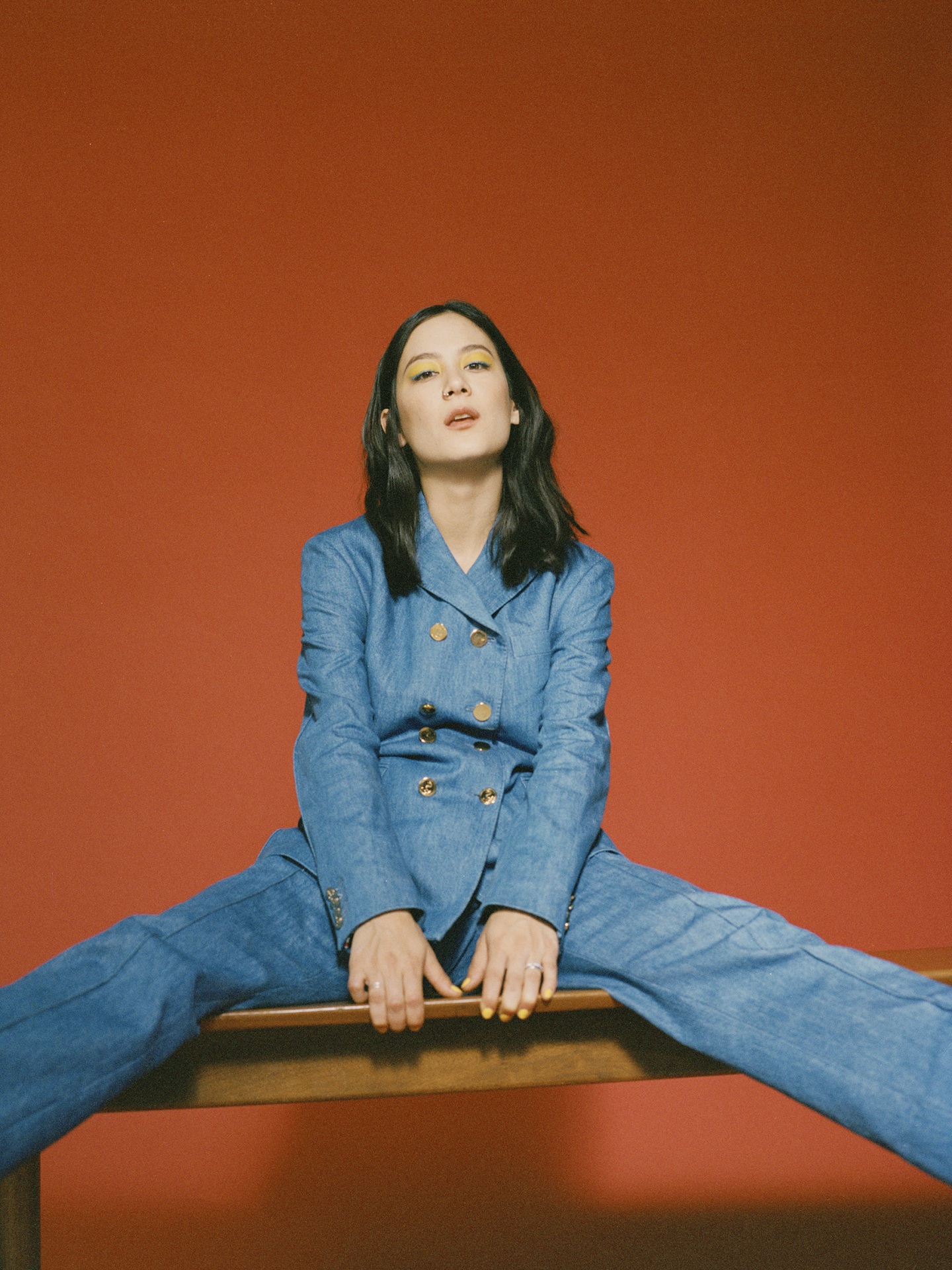 For Michelle, her first brush with harassment from fellow Asians and Asian-Americans came in the aftermath of her New Yorker essay. Where some, myself included, recognized a relatable narrative about maternal identity passed through tacitly loving food rituals, a portion of the "Azn pride" internet came after Michelle, accusing her of not being an authentic authority on Korean food or Korean-ness, as she's the child of a white-man-Asian-woman union, and then again because she herself is married to a white man. To Michelle, "To have that side come after me hurts so bad. I get treated the same way that you do in this country. I've still been called a fucking chink."
This questioning and dismissal of her Asian heritage is a specific kind of intra-racial betrayal. Michelle is already wary of being pigeonholed as a figurehead of "diversity," a word that sometimes feels meaningless in our current political reality. But she wears her heritage in her face and quite literally on her sleeve; among her beautiful tattoos are the baby mascot for Kewpie Mayo (a staple in Asian cooking, including a dish her mother would make for new year celebrations) and hwatu cards. In the video for her Psychopomp single "Everybody Wants To Love You," she wears her mother's own hanbok, a traditional Korean dress, on a night of debauchery.
It matters, to her but also to the telling of her story, that her direct lineage to Korean culture came from a woman. During her show, Michelle introduces the song "This House" with a searing preface: "I wanna thank women for existing and surviving every day… I hope that we continue to fight together and scream in the faces of all these fuckers." Within her capacity as a representative, willing or unwilling, for Asian-American women in the arts, she remarks, "Me having this platform that I have has given me a career and financial stability. It's cool that we're creating a financial ecosystem for that.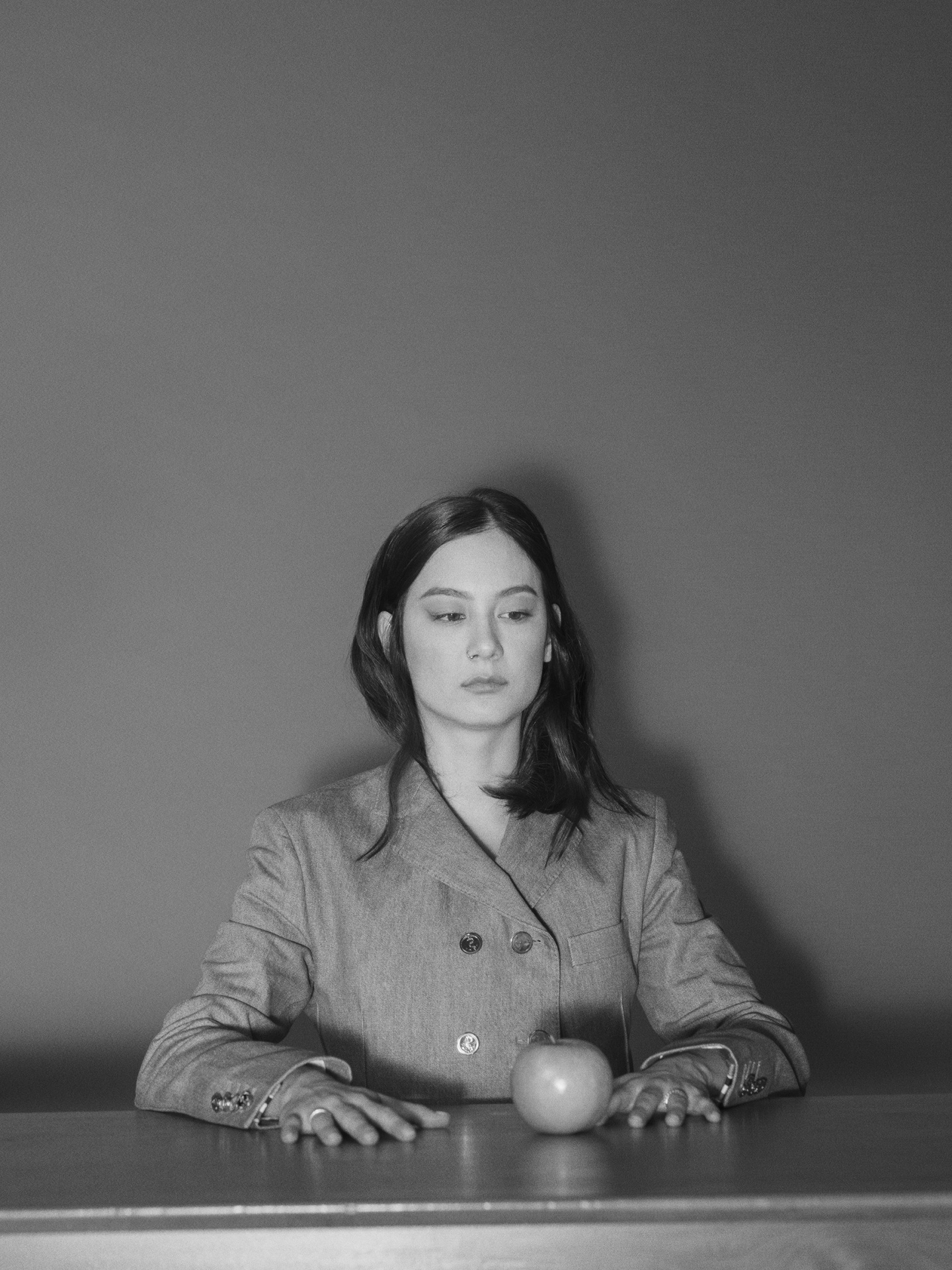 To that point, most of Japanese Breakfast's merch is designed by Asian and Asian-American designers of her choosing. Atlanta-based Dianna Settles is behind many of the designs, in particular the fan-favorite chopsticks. The Korean artist Hwang Rowoo, FKA Minusigue, provides the bubbly designs featured on T-shirts, totes, and mugs. French game developer Elora Pautrat's work was the backdrop for Japanese Breakfast's latest tour poster, as her work evokes the pastel backdrops of Michelle's favored '90s anime touchstones like the original Sailor Moon and Cardcaptor Sakura series.
Michelle always shouts out her designers and pays attention to the Japanese Breakfast fan art ecosystem: "My favorite thing is when really pixelated art gets reimagined as an anime. I remember playing Final Fantasy games, Chrono Cross, with 'shitty' graphics. Then you look at the strategy guide and there are these beautiful illustrations." So when the Japanese artist OKAKI did just that kind of reinterpretation with her Japanese BreakQuest game designs, she reached out and commissioned him for long-sleeve shirt and hoodie designs. (Other anime aesthetics that have inspired Japanese Breakfast include the techno-philosophic Serial Experiments Lain, which was a big influence on the "Machinist" video, neo-Space Western Cowboy Bebop, and terror-mecha trip Neon Genesis Evangelion. Her fandom isn't just limited to the visual: she confides that she sneaks anime audio samples into her records.)
And of course, Michelle has observed the composition of her crowds, both at shows and online. She says tentatively, "When you see the demographic of our fans, especially in SF, it's gonna be a lot of young Asian girls. There are so many people in Indonesia and the Philippines and Singapore that really want us to come over, and we haven't had the chance to. I'm always like, Let's tour Asia!"

"I felt like such an outsider my whole life and didn't have a way to communicate with anyone about it." —Japanese Breakfast
To Michelle, her success as an artist is a bittersweet, double-edged sword, sprouting (in her mind) from the shadow of her mother's passing, a feeling that's since morphed into a kind of ever-present vigil: "I don't wanna believe that she doesn't exist in the ether somewhere. I'm buying a $20 bouquet to put on my mom's grave. I have to suspend my disbelief a little bit, otherwise I'll just be a nightmare, cold-ass person. It helps me to be like, 'She knows, somehow, that I put this here.'"
Michelle doesn't gloss over the complicated parts of their relationship. During our meal, as she scrapes pieces of burnt rice out of a heated stone bowl, she says, "I feel like Asian parents can be so mean, and they're always picking on you. My mom wanted me to be 'the best I could be. If I ever furrowed my brow, she'd be like, 'You'll make it wrinkle!' I was 10 years old, and she'd be prepping me for that. Or when I walked, she'd push me to put my shoulders up."
But everything changes when someone you loves becomes sick. That burnt rice, when combined with hot water, becomes a dish called nurungji; along with jatjuk (pine nut soup) and kongguksu (soy milk noodle soup), it was one of the only things Michelle's mother could stomach as she grew sicker and sicker. Other constants slipped away: "She was so beautiful and obsessed with skincare and nice things, and very fashionable. So to be slowly robbed of all of that. Watching her lose her hair and body mass and not have the energy to dress up outside of pajamas."
Over two days of impassioned conversation, this is the one time Michelle visibly fights for control of her emotions. Water collects at her lash line as she recounts, voice steady, "When my mom found out her cancer was terminal, we decided to take a trip to Korea. The doctors were like, 'I don't know if that's a good idea,' and we were like, 'She wants to say goodbye to her country.' We were gonna go to Jeju Island and have this nice time. But we flew there and she got really, really sick, and she went straight into the hospital. It was looking like she was gonna die there, and it was really sad because she wanted to die at home in Eugene. At one point, she went on a ventilator. You tried to do this kind of brave thing, like, 'Maybe we can have one nice happy thing before you die,' and this is what happens."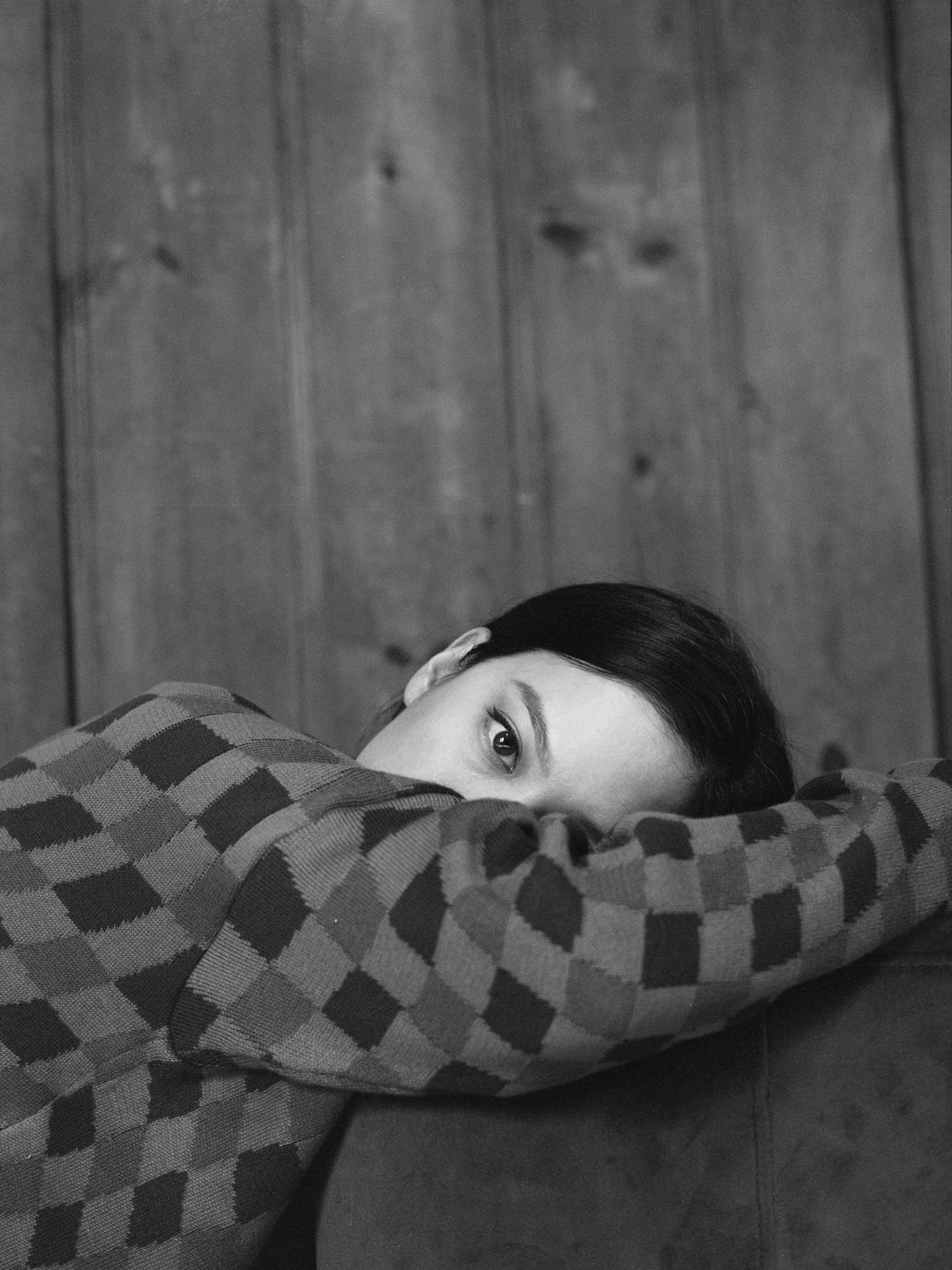 It's in this moment that her and Peter's relationship changed. "I called him and was like, 'If you think this is something that's gonna happen in the next five years, we have to do it now. I don't ever wanna get married unless my mom is there. I'll always be wondering, what would she have thought of my dress? What would she have thought of these flowers? What would she have thought of these tables or whatever?'"
"I came back into the room, and I was like, 'Mom, I'm getting married. You have to pick yourself up. You have to fly back to Eugene. You have to be strong for this.' We waited for her health to improve for a couple weeks. I got a $600 dress from a Korean tailor. I tried it on in the hospital for her to see. We did an emergency medical evacuation back to the States. Every time she got really depressed, I could be like, 'What are we gonna have in the buffet? What kind of chairs are we gonna get? These are the colors of the...' It gave her something to do, some sense of purpose."
Michelle's eyes never spill over, but when she excuses herself to use the bathroom, mine do, and I press my napkin to my face to discreetly soak them up.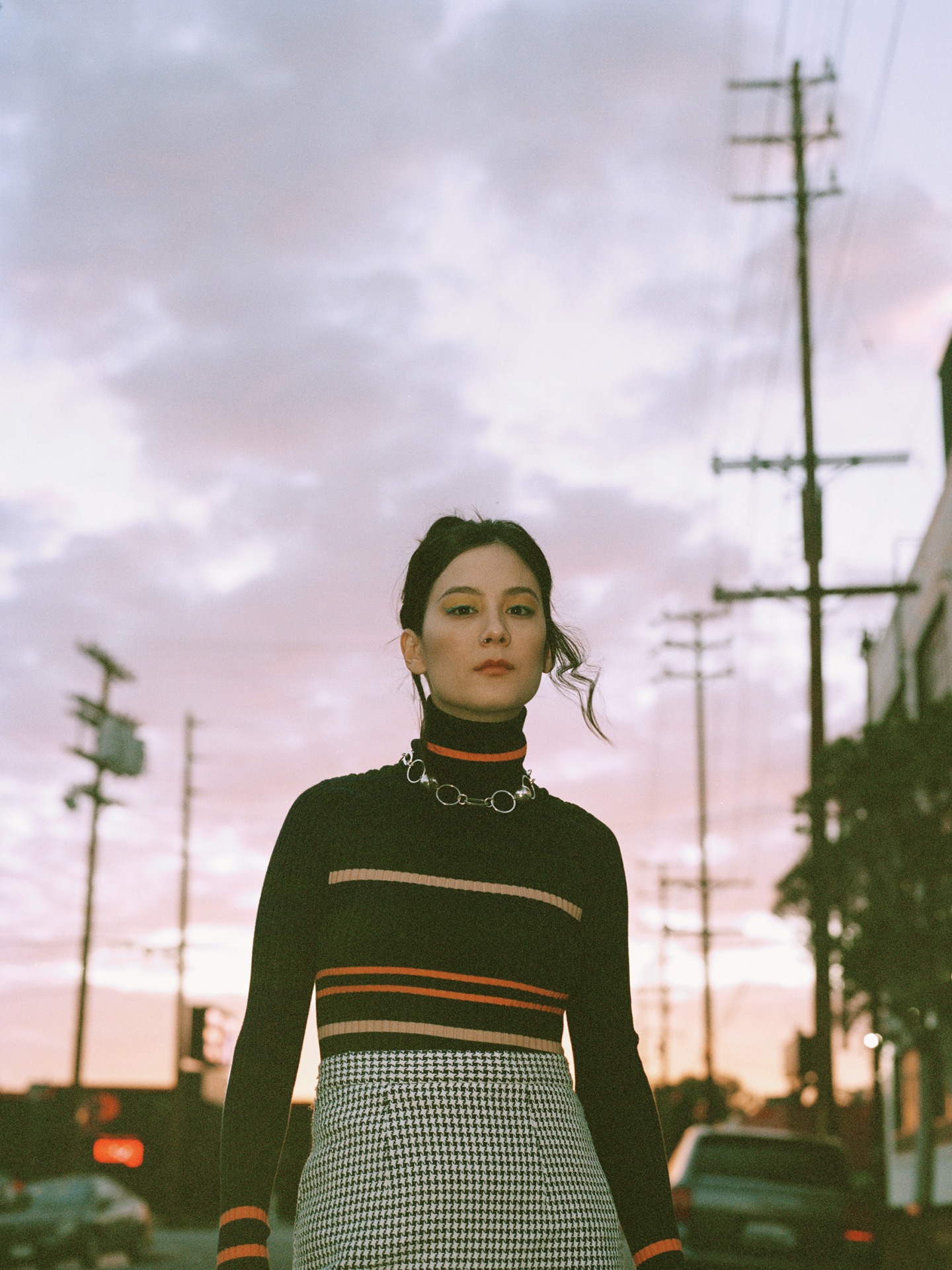 Several times in conversation, Michelle misremembers her age. Over the course of her touring cycle, she's evolved from her mid to her late twenties. I point out that she's going through her Saturn return, the astrological concept that signals a "leveling up" into more settled adult responsibilities and reflections. It resonates with her, not the least because she's been revisiting her youth, exploring what her relationship with her mother was like before she got sick, dusting off the details to "help unlock this kind of trauma barrier that was created."
"It's not gonna be fulfilling for me to just explore the grotesque. I actually have a great time remembering what it was like to grow up going to Korea every year with my mom in the summertime. Weird anecdotes about… Like, in Korean culture, if you have a dream about poop, it's a good luck dream, especially if you touch it. So every time my mom had a dream about shit, she would buy a scratch card. We'd go to the 7-Eleven and I'd be like, 'What're you doing?' And she'd be like, 'I'll tell you about it later.'"
The book is the most immediate focus, but of course Michelle's already thinking about album number three: "I'd written two albums about my mom's illness and death, and with the next record, I almost can't write about that again. I'm sure it'll make its way on in some way, but I also don't want all three of my records to be grief records." She claims she's ready to "make a bop," as though "Machinist" or "Everybody Wants to Love You" haven't already, decidedly, fulfilled that criterium. That doesn't mean she can, or would want to, excise her work of its running melancholy.
Julia, the golden retriever whose sniffing opens Psychopomp, has to be put down a day into Michelle's filming for the "Machinist" video. So she wrote "the fucking saddest song," an unreleased track called "In Hell" that "compares euthanizing my dog to what it was like to fog my mom up on drugs. The most depressing thing, turned into a pop song." (Surprise: she really enjoyed Paramore's latest record.)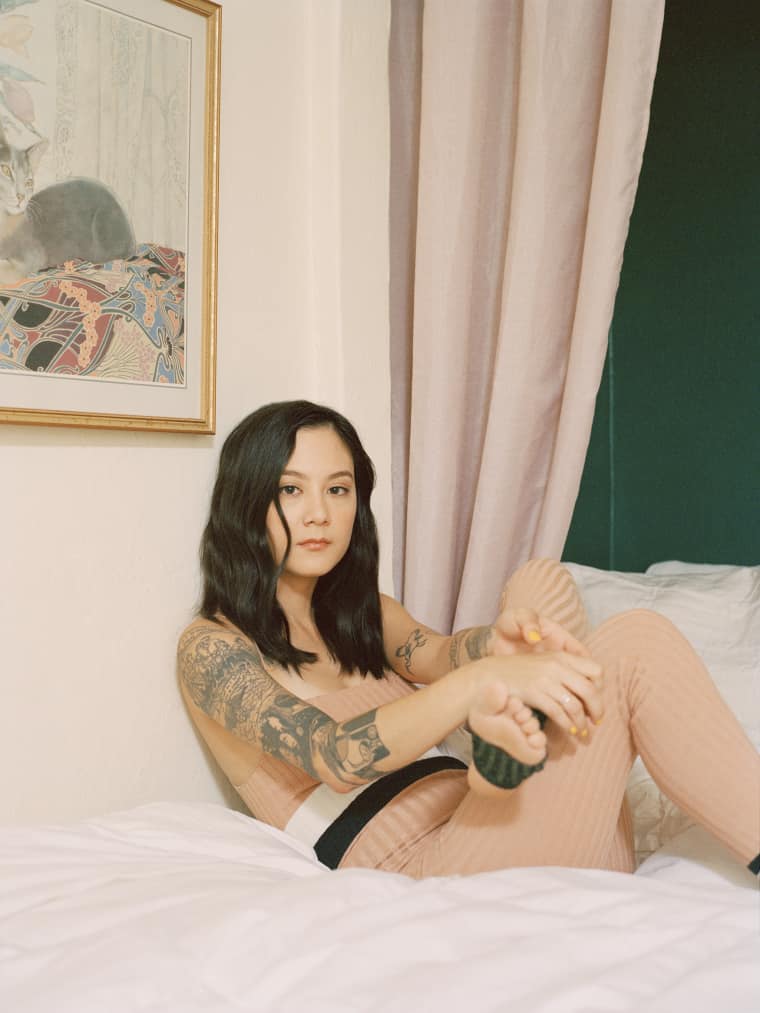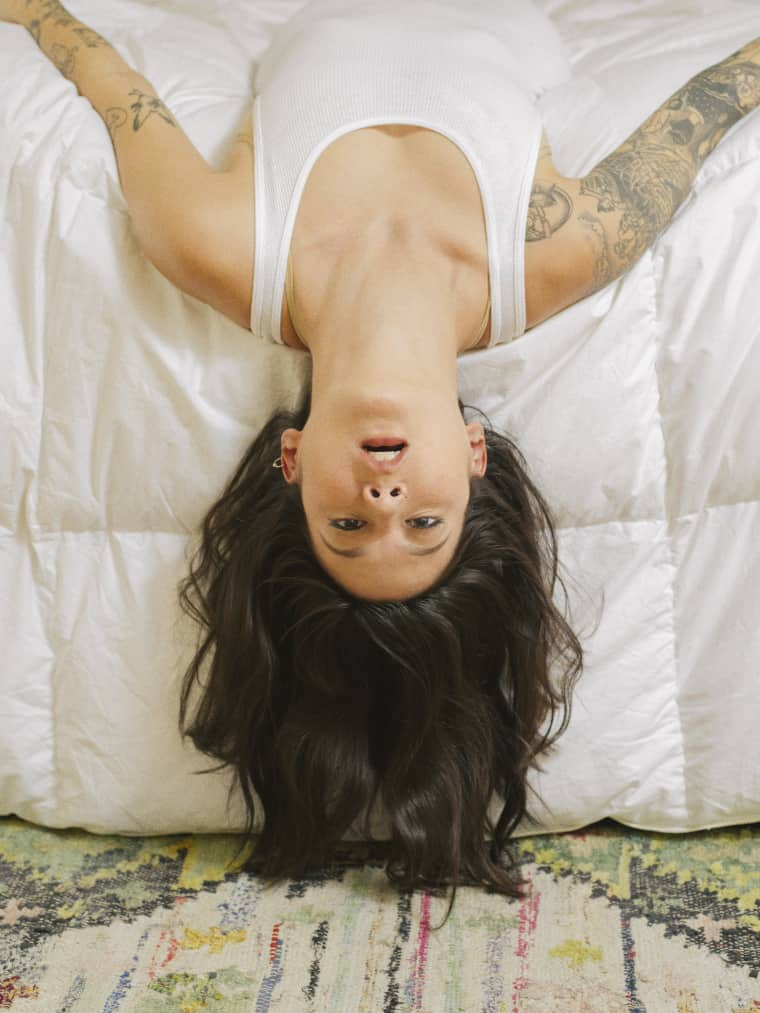 Japanese Breakfast's most recent releases, "2042" and "Posing in Bondage" (from the Polyvinyl 4-Track Singles Series) and the Sable trailer song "Glider," point toward several different sonic directions ranging from slightly psychedelic to a finer grain of glittery pop. She's testing her own production mettle, building playlist libraries of sounds and moods she'd like to cultivate for both her own work and for Sable. (The former is currently just Blonde Redhead and Future Islands, while the latter leans on game and film scores by Ryuichi Sakamoto, Haruomi Hosono, and Joe Hisaishi.)
Even with all this on her plate, Michelle can't stop herself from listing all the projects she would love to take on in her not-so-distant future. One is a longer film, a chance to further develop her and Adam's creative ambitions; another, directing a music video with an anime component. (She's actually already put together a treatment as part of a since-abandoned project with IHEARTCOMIX, but despite having the vision — think Kill Bill: Volume 1 meets Okja — she "just" doesn't have a song for it.) She even jokes about her far-off retirement dream: to open a Korean fusion restaurant replete with culture mashup concoctions like Long Island bubble teas.
Our conversation trails off, and we spend some time in an alleyway marketplace that feels almost too charming to be real. Watching dogs; parents and children; parents and children with dogs. It's the year of the dog in the lunar calendar, and Michelle uses Instagram Superzoom's hearts filter on a couple of choice canines. She later tweets, "I... just.. need a dog in my life." Her yearning is palpable, but Michelle's all too aware of the tradeoff between this kind of settled life, its salient needs, and her own itinerant journeys.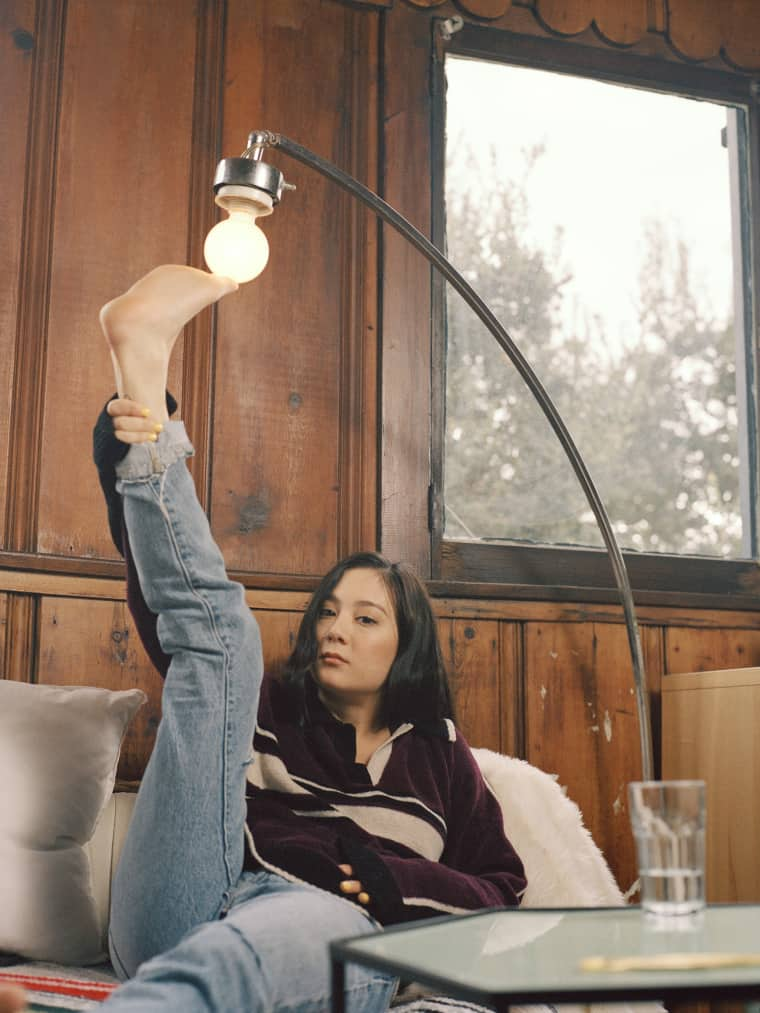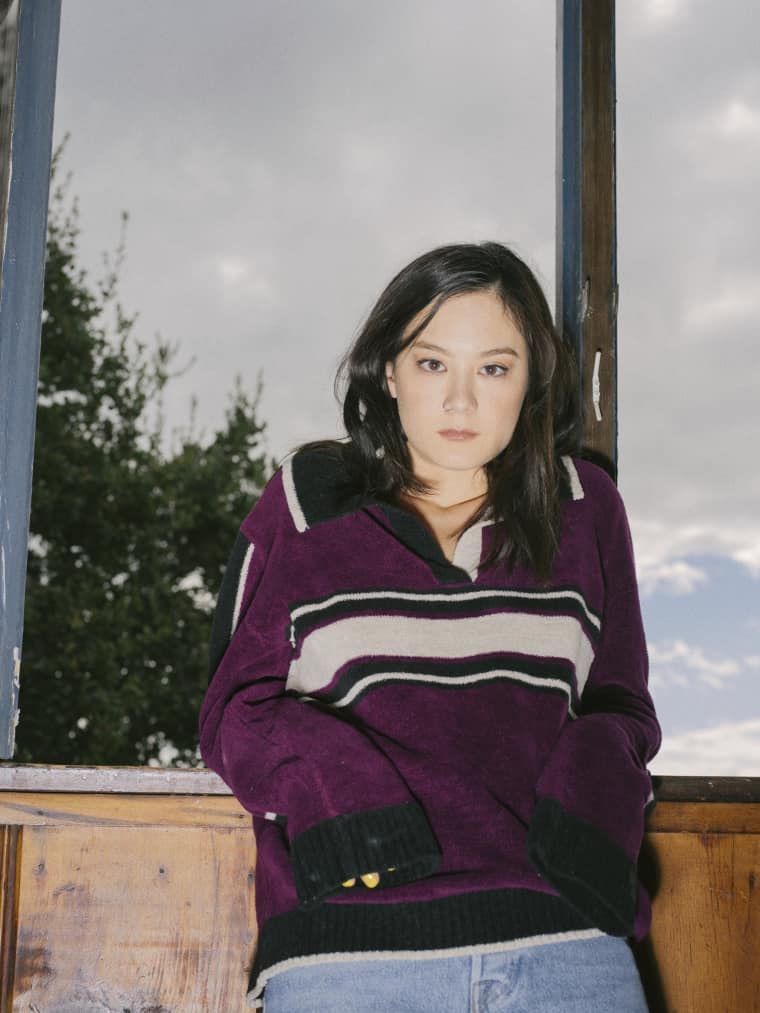 I point out a woman laughing as she poses with a giant elephant ear plant, its prodigious foliage as tall as she is, and Michelle quips, "I can't be into plants. I'm never at home. It's so fucking pointless. It's just one of those things that I can't have with the life that I chose." She feels the same way about tchotchkes and souvenirs, even gifts from fans and friends alike; a focussed minimalism.
She fixates on one mother with a beautiful, curious child, and even as we coo over them, I can't help but think of the family members I've lost over the years; the friends and acquaintances who've struggled with decisions to start families of their own; my own mother's young pregnancy and the children I could've had by now. Modern notions of family and homemaking and generational growing pains. The kinds of deeply personal and invisible losses that, in her case, she's alchemized into cathartic creative energy, tilling the fields of her miseries but also her joys in the hope that something new will bloom.
It's tempting to look at someone like Michelle and think, Gee, just take it easy. You have given so much of yourself already. But as soon as you open your mouth to say it, she's already out of earshot, striding on with eyes fixed on something visible only in her frequency.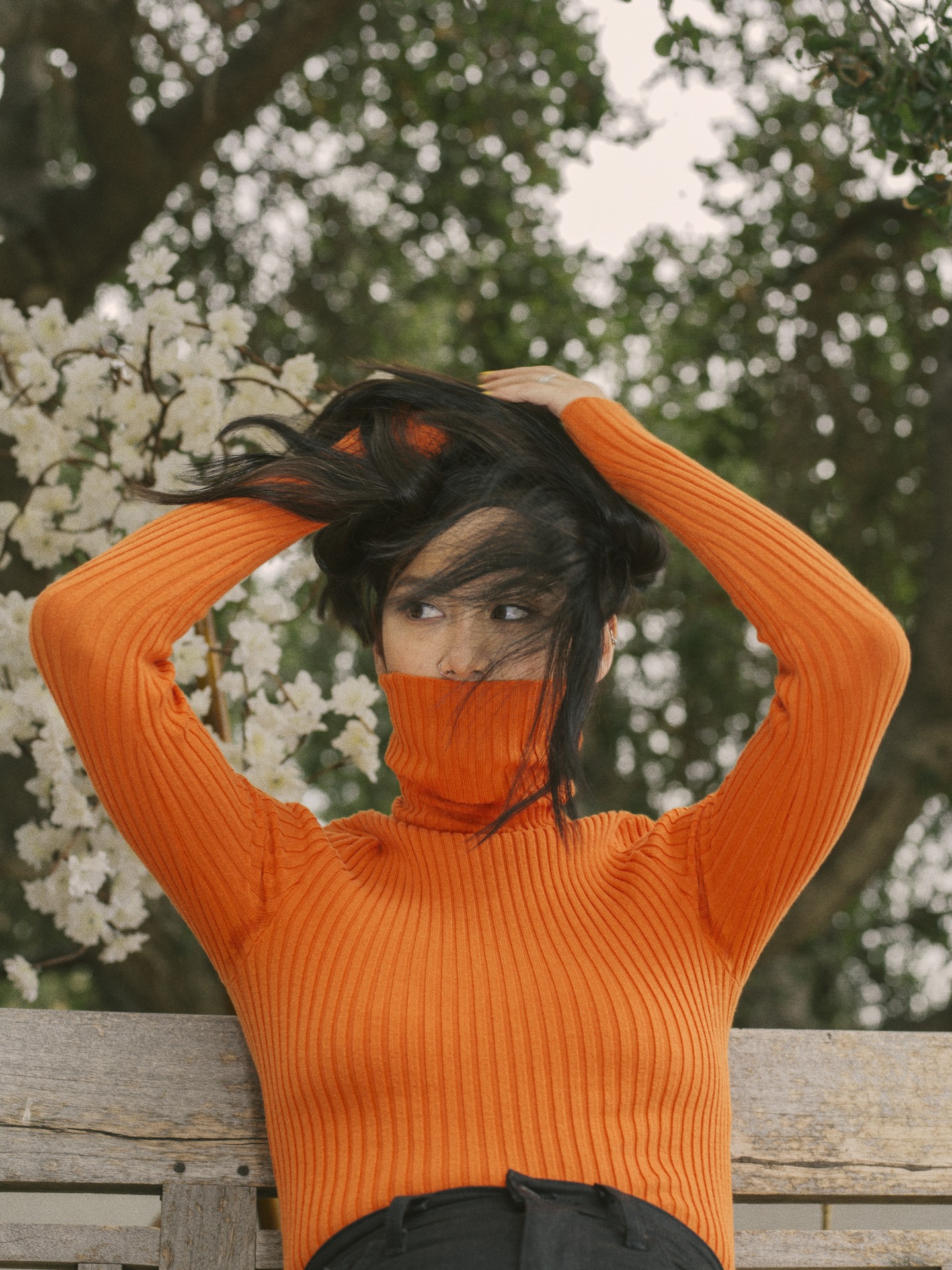 Hair by Brian Fisher, make up by Hinako.
---