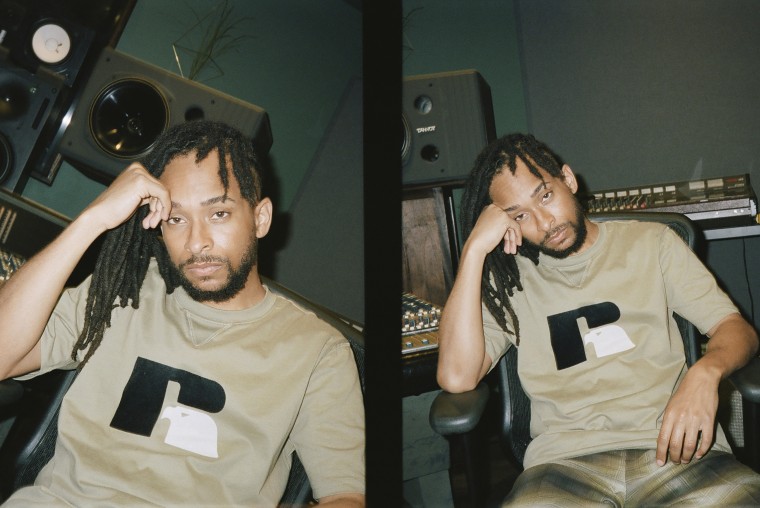 Khary is weird. Ask him and he'll tell you himself, a thousand times maybe. Whether he's describing his music — a blend of '90s-era rap and internet-age experimentation — or his childhood, the word comes up more than once during our conversation.
Born Khary Durgans, the aspiring rapper dropped his last name and set out for New York City at age 21 in hopes of pursuing a musical career. After a number of unpaid interning gigs in the music industry — including a stint at FADER — Khary found himself detailing these experiences in his 2016 mixtape Intern Aquarium. The project would eventually propel the wordsmith's career forward, throwing him head-first into his dreams. As we sit together in the Rhode Island native's quaint Bushwick apartment, I notice a sort of organized chaos about his dwelling. Amid piles of Khary merchandise and clothes — including a number of bright yellow raincoats — there's a bunch of whiteboards filled with ideas, thoughts, and goals plastered on every wall in the room.
Khary just spent the day shooting for Russell Athletic's new Heritage Collection, an earthy batch of classic cotton sweatshirts, tees, and hoodies inspired by the sportswear brand's unprecedented 115-year history. The collection has a strong retro feel, like something that could've been dug out of a crate filled with stuff from your dad's sporty high school days. But the Heritage Collection also takes a triumphant step into the future, with a vibrant color palette and lush chenille fabric mixed with traditional cotton. To Khary — it's a perfect blend of color, and could easily be an everyday staple during the rigid New York fall and wintertime. "The designs are pretty simple and clean and that's how I like to dress — by putting colors over simple shit."
While I hurl questions at Khary about anime and his newly released Captain album, I can almost see his brain searching through the confines of his mind — somewhere underneath the half-shaven, shoulder length dreads resting atop his head —for the answer, speaking in a slow, precise manner. "I was just going through a little dark time, man," Khary says of the album's contents after a pensive silence. "It was kind of lit ,but kind of dark — like, Wow, this is not me. That's why I created the persona of Captain — this false bravado. I was just living a different life."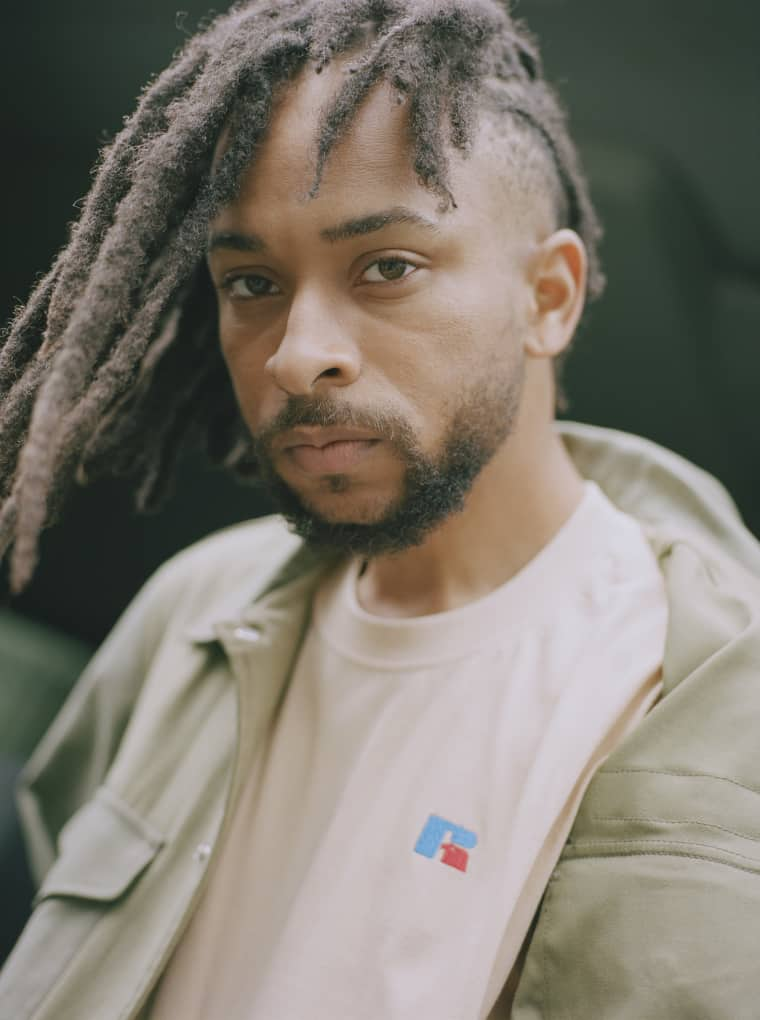 Much like the Heritage Collection, Khary's story centers around a hard understanding of heritage coupled with a relentless drive to push it into the future. "Heritage is like a guide, but not the answer. I like to look at and draw information from the past, but I never treat it as though that's how now should be. The second you're living too far in the past, you're missing what's going on right now. You're not creating new heritage for the next people that are gonna follow it in the future."
With his eyes set on creating a heritage of his own, Khary continues attempting to leave his mark on music and life. Read on for our conversation about his humble beginnings, learning how to pair old and new elements in his music, and his thoughts on heritage.
Tell me about growing up in Providence.
I was technically born in Kalamazoo, Michigan — most of my family lives in Ohio. My mom moved [to Providence] when I was three, and I moved around a lot. I lived in all the areas — the hood, the nice areas. Rhode Island is a weird little place, man. A lot of our culture is from New York and Boston because we're sandwiched between the two. Growing up there was dope. I always felt like an outsider because I was from the Midwest. I'd spend all my summers in Cleveland. That's where my grandma used to live. She used to live on the same street as Bone Thugs-N-Harmony [Laughs].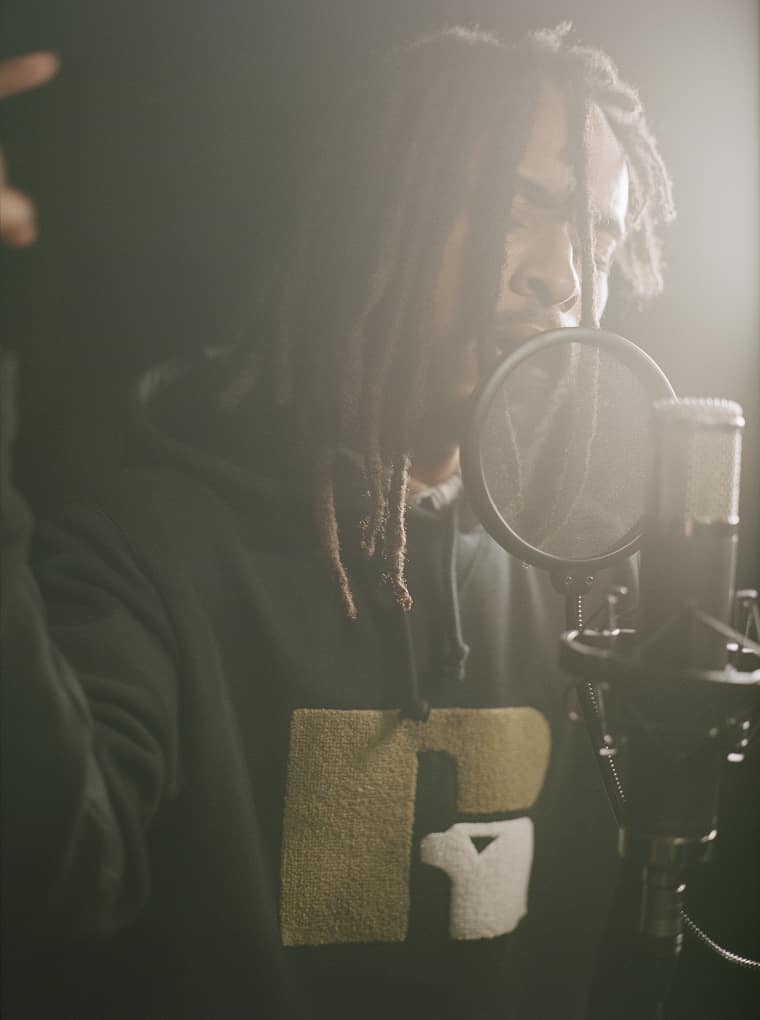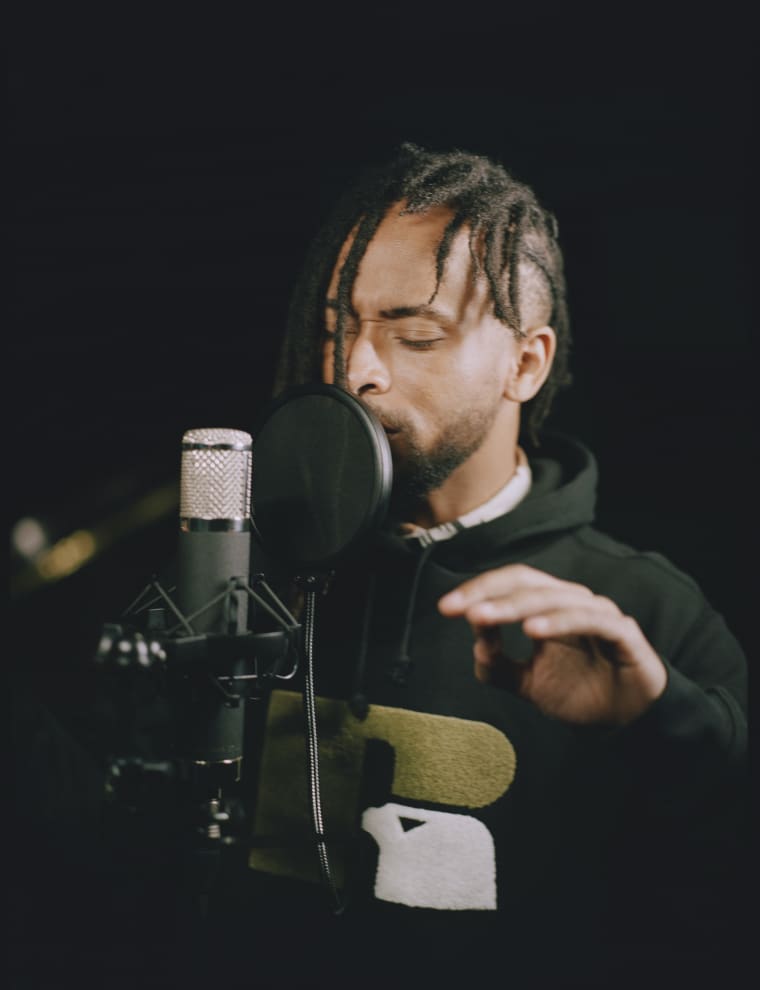 When did you realize that you wanted to do music?
My older brother rapped at the time, my friends started rapping, then they had a little fake rap battle going. I joined in one day and dissed my friend [Laughs], then I started recording myself. In ninth grade, I used to have a big fro, and in tenth grade I cut all my hair off. I was skateboarding at the time, so people started calling me Lupe [Fiasco]. I had no clue who that was, so I looked him up on MySpace and watched the "Daydream" video. That's when I was like, "Yo..." Lupe was probably the first moment where I was like, "This is something I could do. Who's this weird guy? You can rap about this kinda stuff?" He was rapping about anime. Nowadays, everybody does it and it's cool, but back then, if you were rapping about anime, you were not cool, dude.
Do you have any other musical influences that inspired you?
There's this Canadian rapper named K-OS — he was the big Canadian rapper before Drake, they actually did a song together eventually. He has this song called "Superstarr Part Zero," a breakbeat that they always play in the club sometimes, but never with his vocals on it. Kanye, at the time. I was just heavy into rap. I was at a movie theater job, and we had a CD store in the mall that I worked at. I'd spend my money buying CDs after work, doing research and studying older rappers.
What doors did Intern Aquarium open for you?
When I moved to New York, I interned for a PR company and FADER. Through that, I met a lot of the people I work with now. We shared interning stories. It's a frustrating time — internships in the music industry are usually unpaid. I'd just moved to New York, turned 21 the same month, and was working two part-time jobs. Two years before I started working on that project, I came up with the title and idea and just kind of lived it out. We dropped some singles, put it all together, dropped it, and it just took a life of its own.
There was this YouTuber named Luna who had 2 million subscribers, and he started using my songs as an outro. At that same time, I did a feature for this German rapper — it's probably not even one of my favorite songs I've ever done — that got millions of views, so a lot of those people were trickling back to me that time, SoundCloud was still popping, so the repost community really put me on too. That project just launched things in its own way. I couldn't have predicted any of it.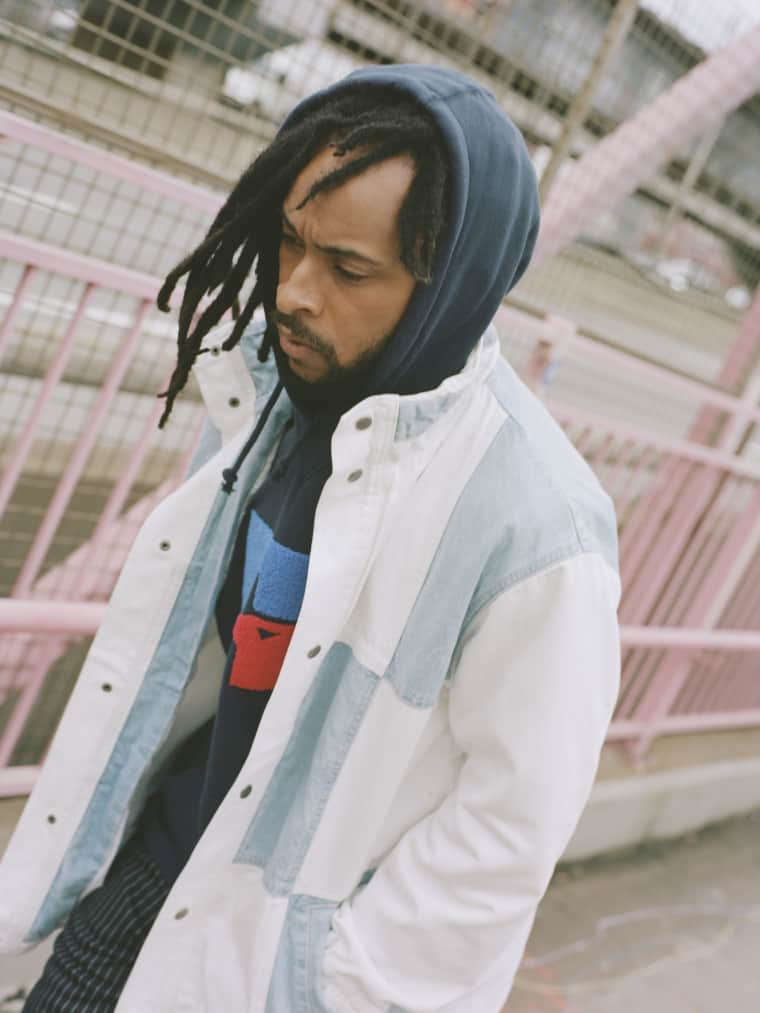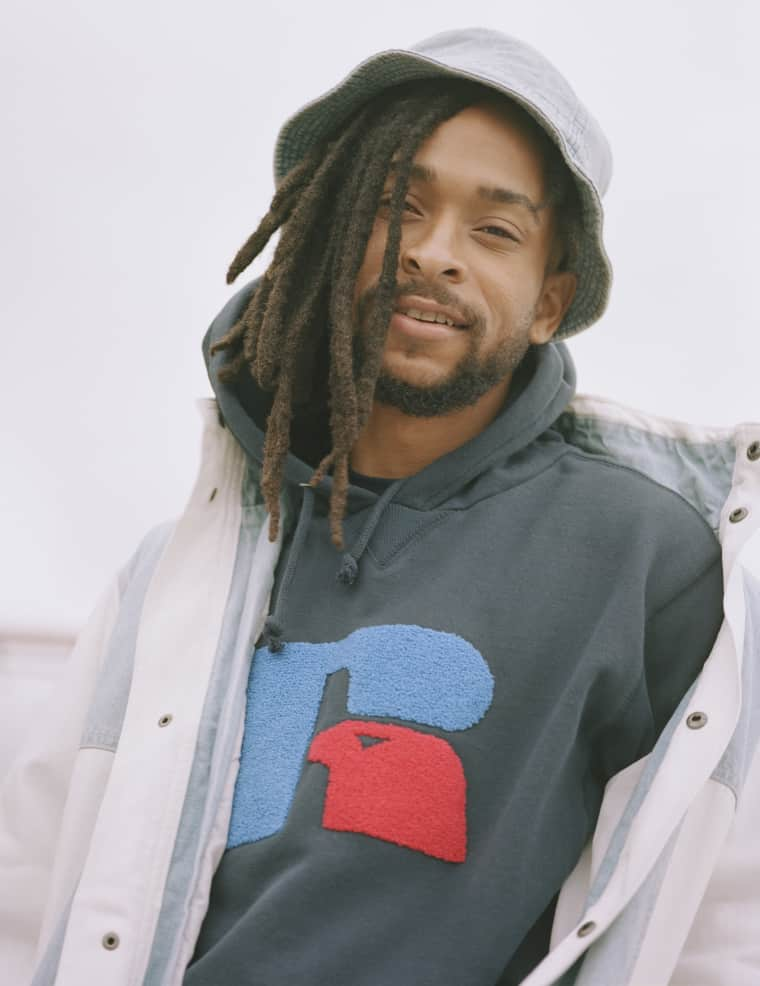 Being an intern is all about being dedicated and working the hardest in hopes that you'll land something. On a musical level, what drives you to reach your goals?
I just feel it. I wanna do more, I wanna be bigger, I wanna travel the world. I want the most out of the human experience that I could possibly have. I feel like being motivated, and being a hard worker is the only way to do that. The only way I'm gonna travel the world is through focus. The only way I'm gonna meet new people and have experiences that get me closer to myself is to stay busy. Not to say I don't love what I do, but a lot of it is for personal growth.
Would you call it therapy?
Yeah, as corny or cliché that is, it's like self-therapy, dude.[Laughs]
What are some influences that you've carried with you from your home and where you grew up?
That outsider perspective. I always had a different experience. Even when kids were applying to colleges, my mom worked at a college, I knew what college I was going to. I always have been different. People treated me different. Even when I was younger, my family would call me "Professor," like "He's gonna do something one day." Someone telling you that you're special is important in your development in life. A lot of those times, there were people looking out for me because they believed I could be something. During my childhood, I had teachers who I'd say to, "Yo, I didn't write that essay," but they'd say, "Did you work on music last night?" I'd say "Yeah," and they'd be like, "Alright, it's cool."
How does the Russell Athletic Heritage Collection resonate with your style?
The designs are pretty simple and clean and that's how I like to dress — by putting colors over simple shit. Especially in the city and when it gets cold out. The collection felt like city wear to me, something I'd throw on as soon as it hits that 60 degree range.
What are some things you've learned from living in an environment like New York City?
I was just clay [Laughs]. This city has a way of molding you, and pushing you in different situations. Sometimes you end up in jobs that you don't expect to have. I was working the guest list at a club — I'm not a club dude at all, but these are things I had to take on to survive. What New York gave me was the ability to figure out what myself is. Rhode Island was dope, but it was very close-minded. Dude, I have half my head shaved. [Laughs] That's pretty weird back where I'm from — granted, there's kids that are experimenting now, and a whole new scene there. It's beautiful. With New York, I could be a freak if I wanted to. I didn't go that far, and some people do, but just knowing I could go that far and not be judged for it...People see weirder things everyday than anything I could be. It gives me freedom to explore what I could be.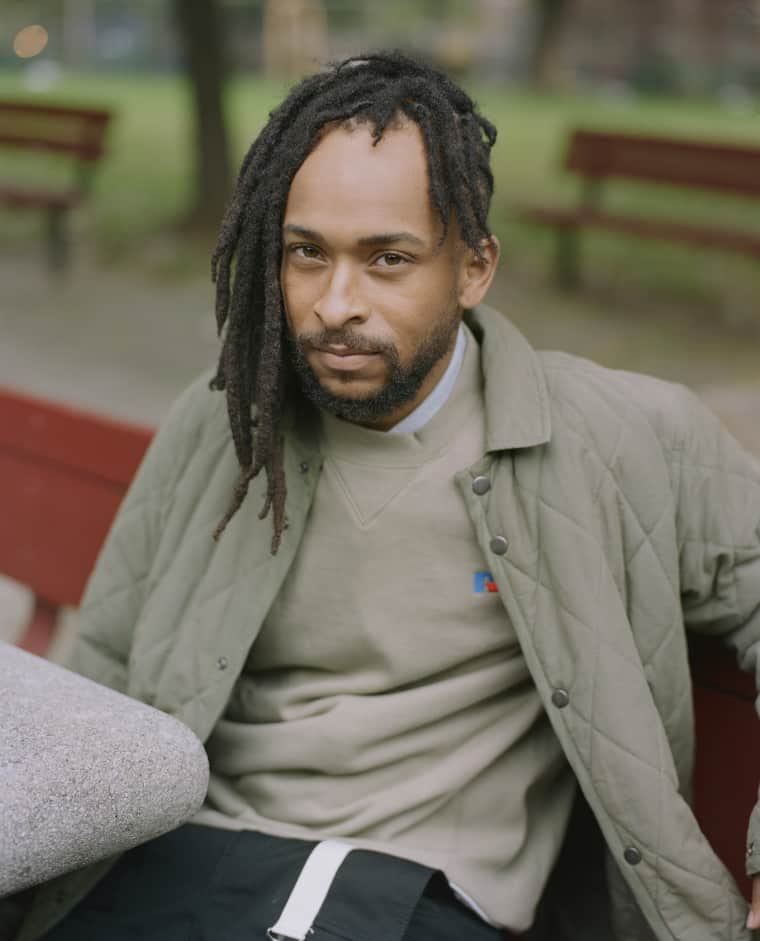 Captain sounds more emotional and open. What inspired the project?
When Intern came out, I was living what would become Captain. They're drastically different because I was going through drastically different feelings. For Captain, I wanted to get better musically, so there was a little more AutoTune and singing. The progression of songs is a lot different than Intern, which was a lot more straightforward raps, and humor. Intern was cool, but it was almost too funny. I felt like a lot of kids weren't taking me serious like I wanted. I wanted to make a project that was a lot more serious so that, going forward, I'm not just put in this box of funny and playful rap. I want to be taken more seriously. It was a dark time dealing with different women and drinking a lot. I was drinking every Friday and Saturday, working the guest list and getting free drinks even when I wasn't working.
Does your sense of style ever reflect the music you make?
I don't know if they affect each other, but when I was working on Captain, I was really into checkered patterns— like black and white — and the cover ended up being black and white. I don't know if those subconsciously connected, but I was really into putting black and white against color. When I was making Intern Aquarium, I used to wear this yellow raincoat all the time, and that ended up on the cover. When I used to intern and work events, I would wear a yellow raincoat all the time. It was my way of branding myself around the city. I would wear it religiously — when it was hot, when it was cold. If I was at the door, you'd be like, 'Yo it's the dude with the yellow raincoat."
You showcase a lot of traditional rap skills. Do you find it hard to blend that with the newer sound of hip-hop today?
It crosses my mind a lot. I go back and forth on this with myself, thinking about the music I want to make. I came up in a weird time in between the internet age. When I was 16, I was opening up for '90s rappers like Canibus and random rapper rappers. Around the time I was interning at FADER, Atlanta started popping off musically. I used to be this purist, like, Everything has to mean something. Being around FADER during that time loosened my views on how music should be. Since then I've been trying to find a middle ground on where those two things meet for me. The newer music I haven't released yet is a lot closer to that. I have songs that are heavy Auto-Tuned, I have songs that are barred-up. But I think that the better rappers are the ones who can combine the two. Rap is rap, at the end of the day. You notice everyone who's really at the top of rap, whether it's Drake, Kendrick, J. Cole — they all can actually rap.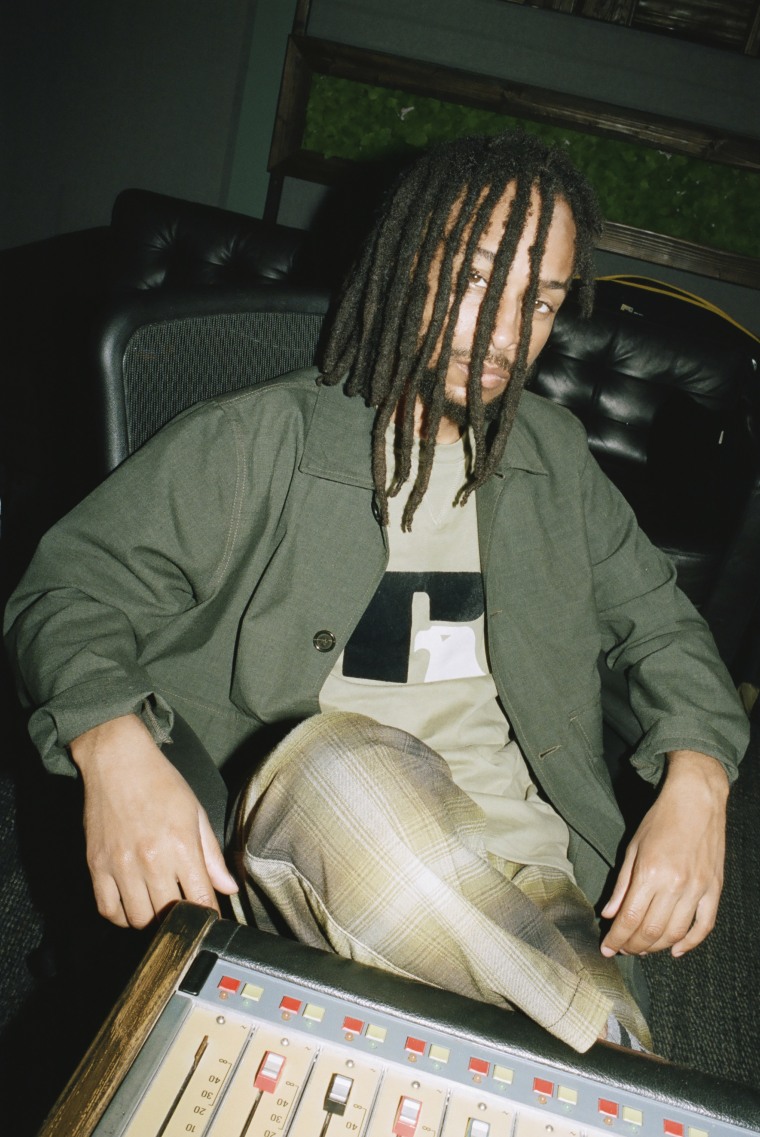 What does heritage mean to you?
I kind of view it as this data center. Heritage is the past, essentially — a collection of past thoughts, experiences, things that were passed down. I'm never too sold on something that has existed before. Whether it's culturally, as being African-American...I love my heritage, I love my culture, I love all things about it, but I want to add new things to it.I have this idea of having kids and giving them a different last name so they can start their own journey that doesn't follow everything that comes with being in my family.