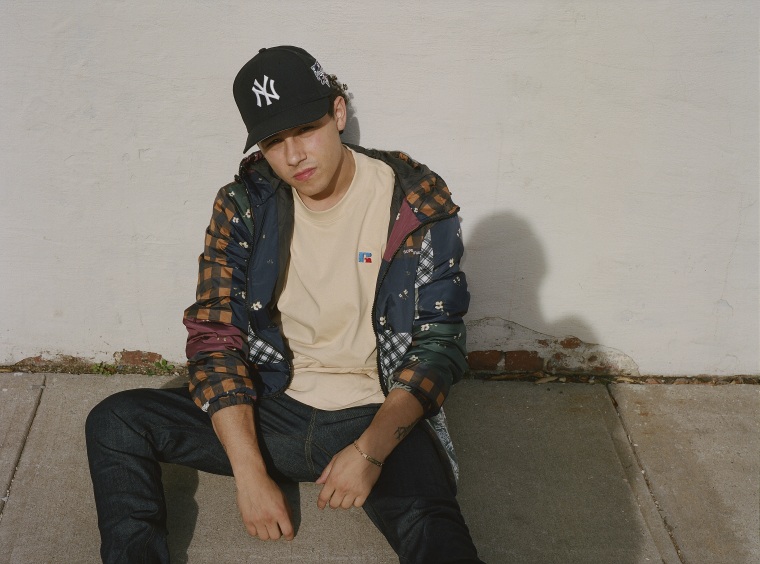 As we dart across the Williamsburg Bridge, nestled in a sleek black sprinter van, NYCK Caution sits in one of the back rows — his eyes fixed on the New York City skyline. The view must be a familiar site for the 24-year-old, whose stage name is literally an acronym for New York City Kid. "One day maybe I'll be New York City King," he says half-joking, half determined. The rapper exudes a fiery confidence, and speaks in a slick, low-toned New York City drawl. He doesn't seem tired for somebody who's been shooting all afternoon, after just coming off of a tour in support of booming fellow New Yorkers the Flatbush Zombies.
A native of Brooklyn, NYCK grew up in the peninsular neighborhood of Mill Basin, part of the borough's more suburban confines. His family is Italian and Jewish, but he says he developed his character by hanging around the local parks in his neighborhood with kids two or three years older than him. His dreams of rap began in the halls of Edmund R. Murrow High School in Midwood. Now an established member of Pro Era — New York rap's truest underground group — the story is rooted in those school hallways where he met and befriended future rap stars Joey Bada$$ and the late Capital Steez. Their shared passion of music led Pro Era to become what it is today, a titan among rap purists, and a link between rap's old roots and the youth of the internet age.
We arrive at a secluded school ground, secured by a high chain-link fence — sort of like an old pro-wrestling cage match. A bridge can be seen in the near distance, towering over the murky water of the Hudson. NYCK is here to shoot for Russell Athletic's new Heritage Collection, a bold, modern take on the brand's illustrious 115-year history. Russell takes its iconic eagle logo and athletic silhouette into today's eccentric fashion climate, while also backing its brand with the bold reputation of "inventing the sweatshirt."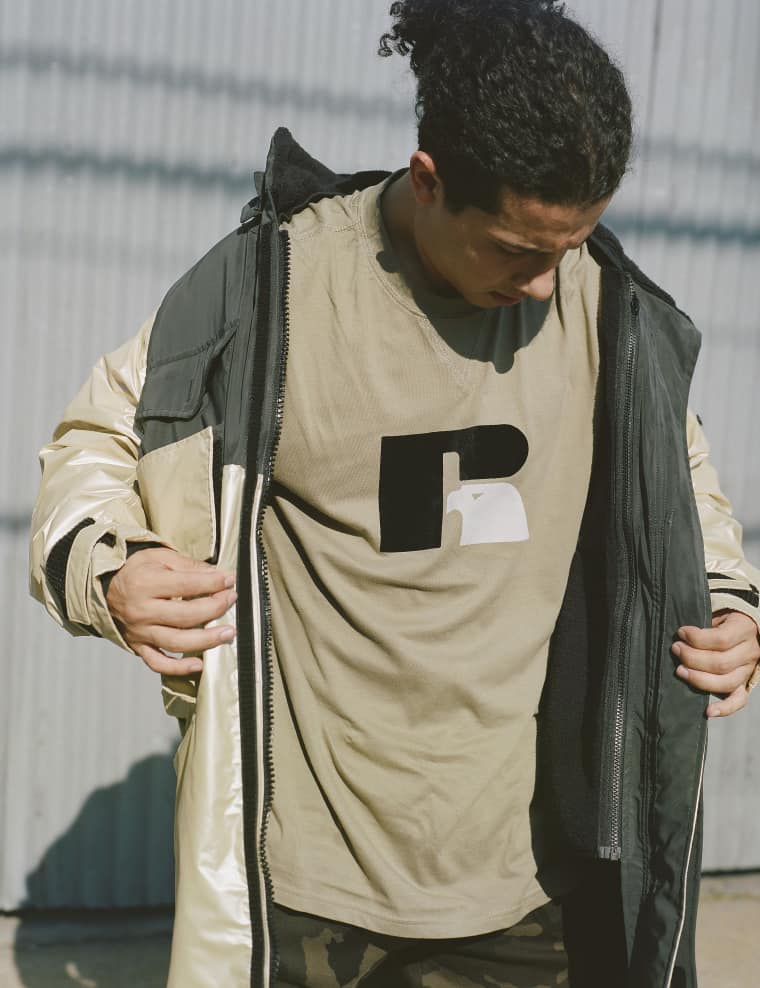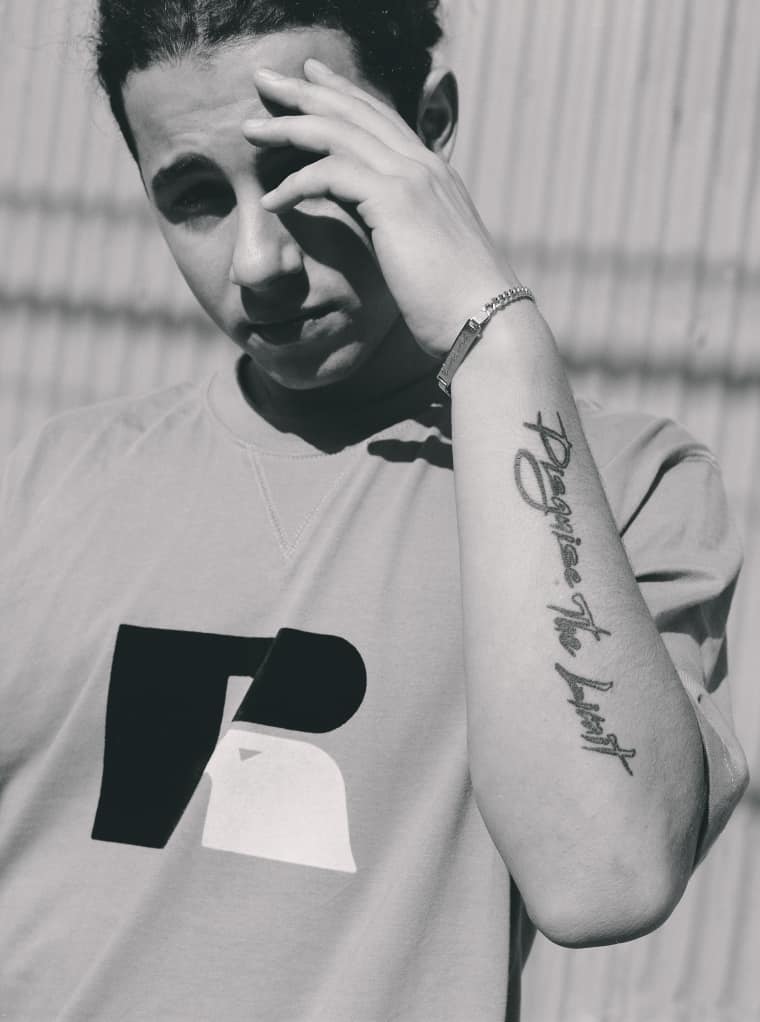 The Pro Era musician seems like a perfect match for the collab. During the shoot, as he swaps out a simple burgundy Russell tee for a bright hooded sweatshirt embossed with a fiery eagle logo, the pieces mesh seamlessly with NYCK's own dark beanie and sharp black cargo pants. I wouldn't ask twice if he told me he'd pulled the 'fit from his own closet. The Heritage Collection holds up well with NYCK's subtle, but confident sense of style, while also blending into New York's own juxtaposition of subtlety and ferocity.
His musical style also draws similarities to the Heritage Collection. After crashing onto the rap scene back in 2012, NYCK and Pro Era's sound has been likened to the golden-era greatness of the '90s. For a while, the young Brooklynites proudly wore that musical hat. Now at 24-years-old, NYCK has plans to blend the old, traditional hip-hop with the experimentalism of new-aged rap. "I don't want to be just a spitter, with just bars. I can make songs, and I have shit to talk about," he tells me. "The music industry is in an interesting place. You can do anything."
NYCK tells me that his last two projects — Disguise The Limit and NYCK @ Knight — were a mix of his talents. One leaned heavily towards his ability to carry the torch for hip-hop traditionalists, and one took a step into the new generation. He now looks toward his next body of work, which, like the Heritage Collection, will be a melting pot of old and new elements.
Read our conversation below.
Tell me about where you grew up.
I grew up in Brooklyn, this neighborhood called Mill Basin. It's right off of Flatbush Avenue. A lot of people don't know it. It's like a suburban-y kind of neighborhood, and there's like a very rich part, and a very regular part.
What are your earliest memories of wanting to make music?
Probably seeing 8 Mile. I mean it's cliché because I'm a white rapper but that was like the first thing that made me wanna do it. But also, I saw it but I never really thought I could do it until high school. That's when it became real.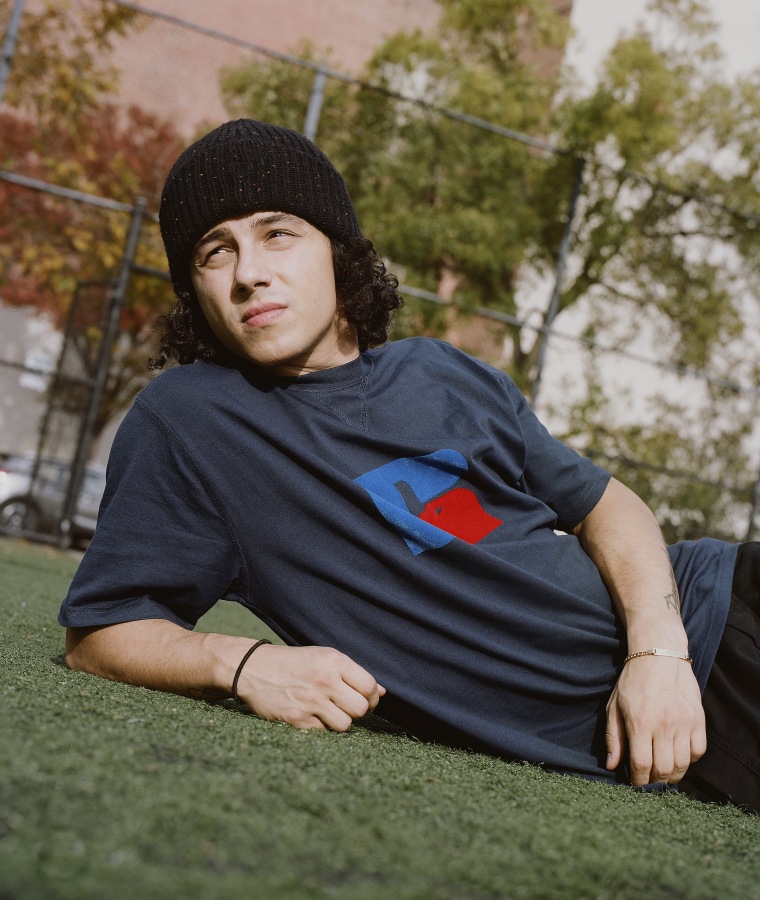 What about high school made you feel like you could do it?
Well I knew this kid Trevor from my neighborhood. We were casual — he's two years older than me. I started rapping and he got a mic, and so I started recording at his house. Then I got [Capital] Steez to come to Trevor's, and then we started rapping, then Joey started rapping, then one thing led to another and then Pro Era was made. I wasn't in it at first, but I was still rapping, but eventually I got thrown down with Pro Era and everything happened really fast.
What are some other inspirations aside from 8 Mile?
So my brother is like 5 years older than me, and he was just a big influence on whatever I did as a kid. I mean Eminem I found through him, but I also just found that he was popular. my brother put me on to 50 Cent before he was like really big, then I listened to Get Rich or Die Tryin'. That was the type of music I liked, like New York rap. I wasn't really into L.A. music. It didn't resonate with me as much when I was a kid.
Tell me about how you found your sound?
When I started out, I was really into Lil Wayne and Drake. Wayne was my favorite rapper for a while. I did "Ransom" and I did like, "Shook Ones." My shit was all over the place. It wasn't really conscious but I just wanted to rap.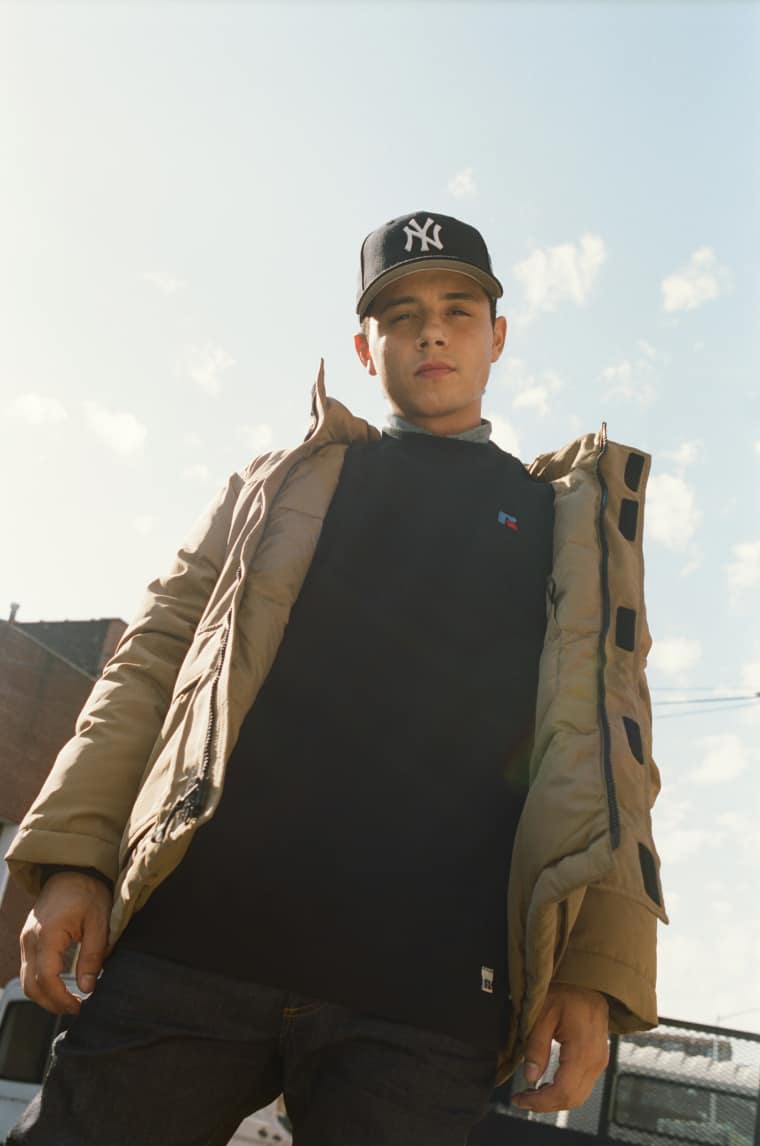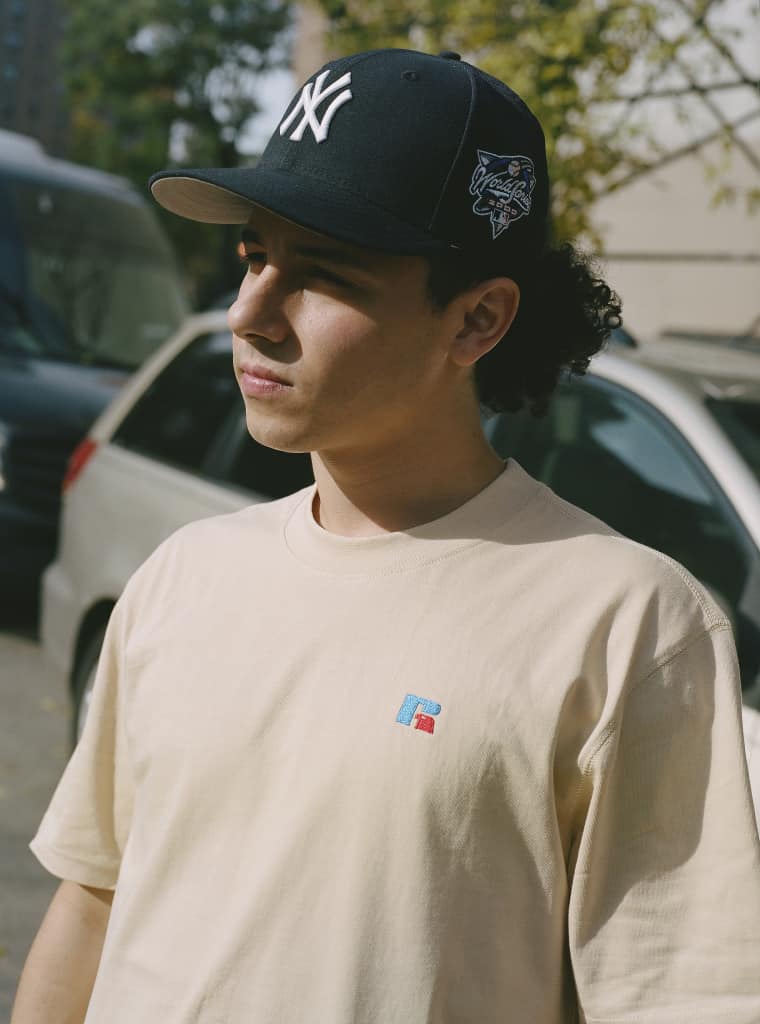 How did you connect with Pro Era?
I met Steez — R.I.P. — when I was a freshmen. He was a sophomore. Steez was in my class, he was just Jamal at the time. I didn't even know if he rapped. We were cool, I was like the annoying little kid. Then he started rapping with Dyme-A-Duzin, who was a big deal in [Edward R.] Murrow at the time. Steez had also seen me rap at a show, and he didn't even know I rapped. He came up to me the next day at school and was like, "Yo I didn't know you rapped." After that he came to my studio and that was that.
With Joey, we were both in Murrow for acting. So you had to take a theater movement class — which was basically dancing — and there was a dancing show at the end of the year. But instead of dancing, I did like a wrestling dance type skit. [Joey] was in my group and I had to basically choreograph and shit. That's how we met...It was a dance show and we opened it with like a wrestling match. All these parents are here to see their kids dance and we started things with a whole wrestling match, like on a mat. We had commentators...It was really good.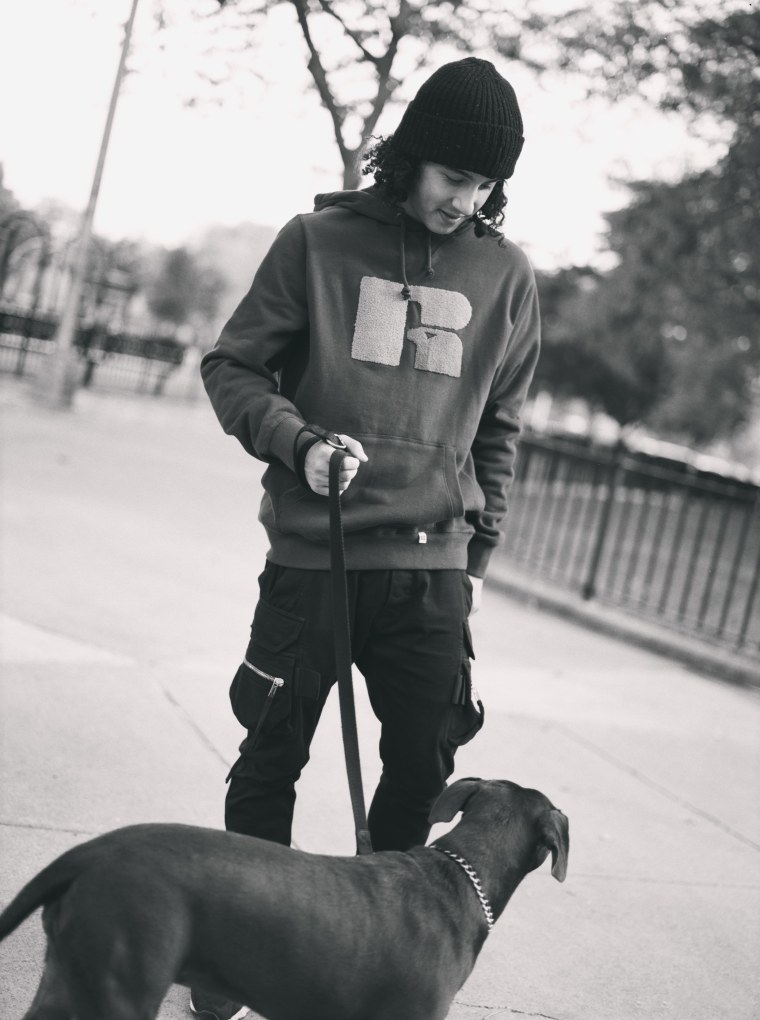 How do you combine old aspects with new elements in your music?
It's just about growing and adapting. I don't want to be just a spitter, with just bars. I can make songs, and I have shit to talk about. The music industry is in an interesting place. You can do anything. When we were first coming up, I feel like there was more of a box on us to be more '90s rappers or whatever they thought Pro Era was. But if you just have quality work, and it sounds good and it means something, I think it'll work.
What drives you to keep making music?
Competition drives me. I always compete in whatever it is — video games, basketball, rap. If I'm gonna do a feature or a song with someone, I wanna be prominent on it. And doing shows. I just opened up for the [Flatbush] Zombies. Seeing their crowd...That's inspiration. Just seeing the effect you can have on people.
Pro Era received a bunch of exposure early on when you guys were all very young. What were some good and bad things about that early success?
The good thing is that you get to tour the world, see things, and people are listening and they wanna know what you're about. But also...I was like 17-18...Same with Joey. They wanted us to be '90s rappers, this box they put us in, but we haven't even really found ourselves yet. You can't want us to do the same thing we were doing at 17-18. I was in high school. It's a completely different life. The fact that people have an image of you from that age, and then you get older and it's like, "Oh, we want the old stuff," but that's not me no more. That seems like a different world. You grow and you change. Music is obviously gonna change, but so does everything else.
How did y'all maintain focus? Was it hard at times?
It's still hard. But the focus is always there because everyone is into it. We want to do more. Even with the Pro Era shit, I want it to be more because we've done so much already but there's more that could be done. It's just about getting things done.
Do you ever feel pressure to go harder or prove people wrong being a white dude in rap?
Nah. I think that's one of the issues with certain white rappers. I don't even wanna call myself that but I'm not gonna hide away from it. It doesn't bother me. Some rappers feel like they have to prove something because they're the minority in hip-hop. I'd rather not even talk about it. In the early days, people didn't even know I was white because they didn't know what I looked like. They just heard my voice. I just don't even wanna talk about it as much in music. Some people do that too much, and we get it...You're a white rapper, we understand. I think about Mac Miller — R.I.P. — When I think about white rappers, he never really came up in my head because he didn't really classify as that. He transcended that, he became his own thing. He was a musician. And he fucked with so many respected people. That's how I feel. I have relationships with a lot of different people, but it's not off the strength of me being a white rapper. It's off the strength of my character. That's how I look at it.
Do you think your background and upbringing have an influence on that?
Yeah for sure. I'm from Brooklyn and I was in a rap group where I was the only white guy. Even in those days it wasn't really a white thing..It was a "Oh he can rap" thing.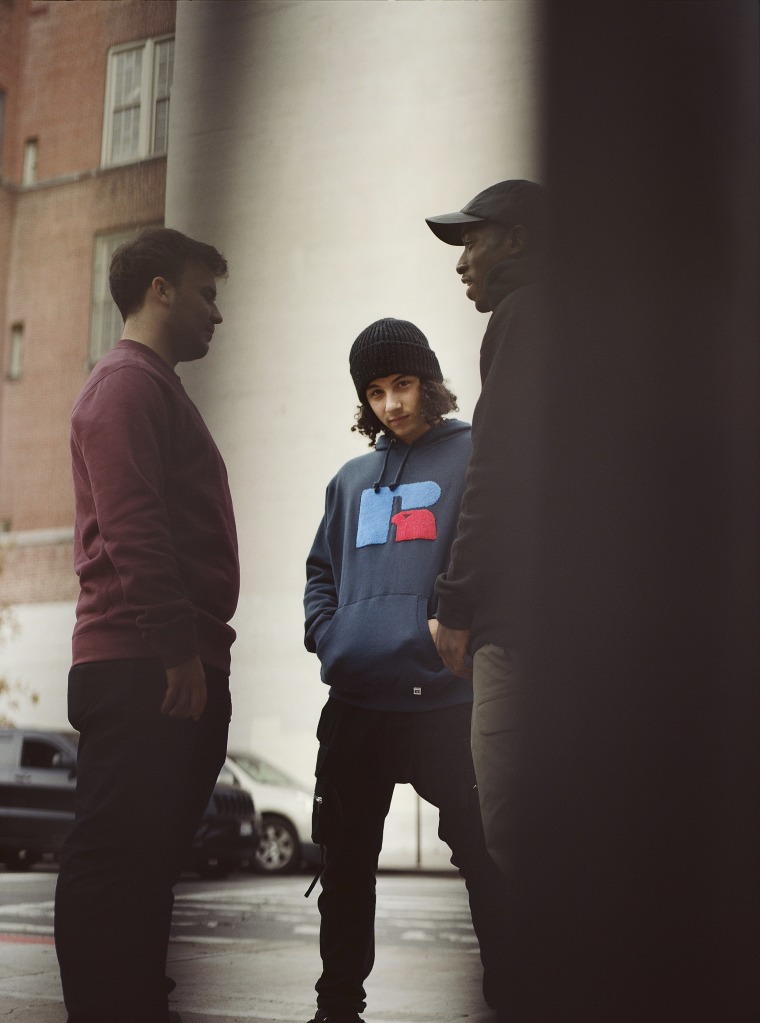 Outside of music, how has your background influence you personally?
As a kid I was in the park since like 12 years old. It's crazy because nobody is at the park anymore. I was like one of the last generations of kids in the park, so everyone was older than me and there weren't that many kids younger than me. I always kind of felt a little older than I was.
What role does your heritage play in your life?
Well I'm Italian, and my mom's side is jewish. Just because I was from an Italian kind of neighborhood, I resonated with the Italian side. I have family that I have Sunday dinner with. But the older I get, the more I'm doing my own thing. For me the heritage now is the music. Pro Era has been a thing for a while, so that's kind of my heritage right there. The music is a big thing, I'm always working on it and trying to figure it out.
What are some things you've learned from experiencing new environments by touring overseas?
That the world is way bigger than fucking Brooklyn, New York. It's funny, some people from New York...This is all they know. It's a big place but the world is way bigger. When you're selling out shows like in Copenhagen and Norway...It's crazy. People are different. It's humbling and amazing. I get to see the world off of music.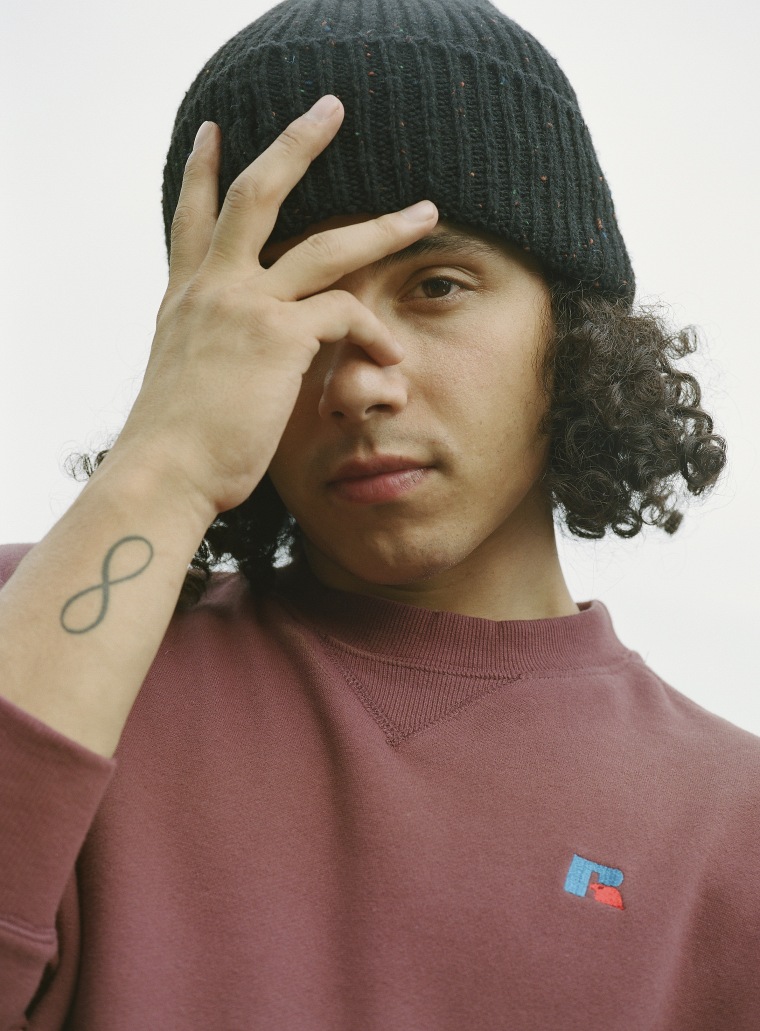 How'd you get the name NYCK Caution?
Being a kid, I never really had a nickname. I was at the park with my dad one day and there was caution tape on the bench, so I took the tape off and wrapped it around my head and he was calling me caution. It was a little nickname but that always stuck with me. I also had a journal that I would write in, and before I wrote raps, I would just make albums. Album titles, and names. When I had Caution, it just didn't fit my real name — Jesse Caution. I made NYCK from New York City. The K is for kid. New York City Kid. And one day maybe I'll be New York City King.