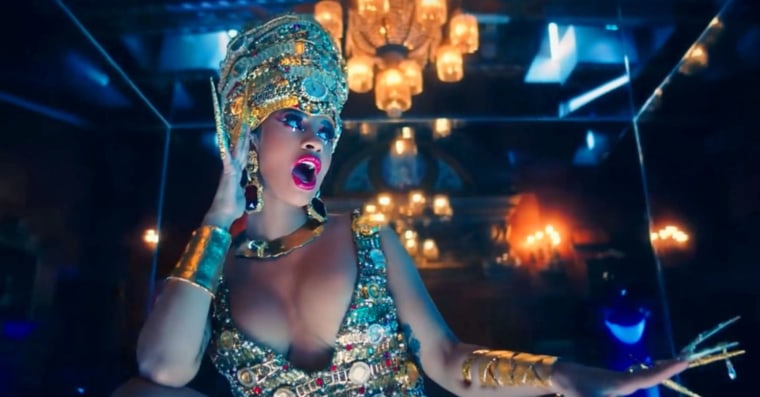 Since its premiere yesterday, it's hard to ignore the plethora of looks throughout Cardi B's "Money" video. The NSFW-but-worth-it clip finds Cardi in everything from a custom Christian Cowan bodysuit made up entirely of gold watches to an avant-garde, collared look from Gareth Pugh.
Shelby Christie, founder of The Girl with the Bamboo Earring podcast and self-professed fashion historian, took to Twitter to share a pretty comprehensive breakdown of some of the best fashion moments from the video, which pulled from current runways as well as iconic collections and moments from the 1990s.
Here's a thread of the lewks + references in MONEY.

First up is this 🔥 custom Bryan Hearns magenta suit. It's referencing Mugler Fall 1995 💕 pic.twitter.com/q3Z5DowNfY

— Shelby Ivey Christie (@bronze_bombSHEL) December 21, 2018
"There were definitely strong Thierry Mugler references throughout the visual," Christie told The FADER over email, noting the video's release happened to fall on the French designer's birthday. "The scenes where she's surrounded by women in black suiting with collars, garters and thigh high stockings is very reminiscent of Thierry Mugler's 1999 "Sex Couture" PLAYBOY shoot." Christie went on to explain that the custom Brandon Hearns magenta number Cardi dons in the video's second half also references another suit in the bright shade from Mugler's Fall 1995 collection.
"I think a fair amount of creative research would have to go into this project," Christie added. "There are layers, right? "I think it's a masterful display of referencing & inspiration done correctly. "
It's been pretty well-documented that Cardi's creative team, consisting of stylist Kollin Carter, hair stylist TokyoStylez and makeup artist Ericka La Pearl, very rarely miss - like, ever - and the crew has all had a hand in creating some iconic fashion moments of their own. Director Jora Frantzis, who has frequently served as director, photographer and creative director on many of Cardi's other projects from her album cover, "Be Careful" video, and even her maternity shoot, helmed the clip.
One of the most talked-about looks is a Laurel DeWitt-designed gold bikini and matching headpiece, with Cardi even taking to Instagram to share the photo that clearly inspired it. "I think Cardi was showcasing the decades of work that women who came before her in hip-hop have done to align the genre with luxury fashion," Christie added about the rapper's predecessors, who she has never been shy about paying homage to. "Foxy Brown was the face of Christian Dior and appeared in Calvin Klein ads in the 90s. Lil Kim and Missy Elliot constantly redefined the look & style of the female rapper."
Watch the video again below.
Thumbnail image via ANGELA WEISS/AFP/Getty Images.