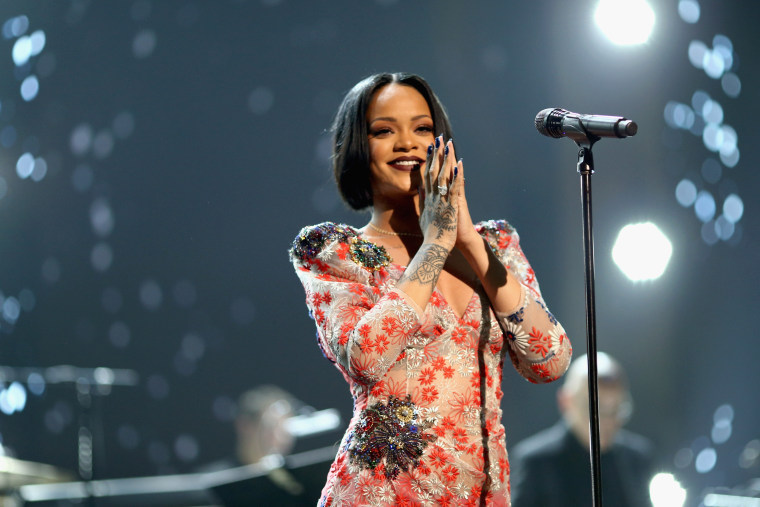 It's been three years since Rihanna's last musical output ANTI, and though she's never left the public eye thanks to multiple ventures in fashion, beauty, philanthropy, and film, it should come as no surprise that fans are hungry for her next project. There have been months of rumors, promises, and confirmations about her plans to release a reggae album as well as pop album, with some reports about songs already having been registered to ASCAP for the projects.
The Bajan superstar knows we're waiting, and switches between ignoring the thousands of comments and questions asking "where's the music, sis?" on her posts about her other endeavors and flat-out fucking with us, because she can. Last week, she finally hinted that her next album would be coming in 2019.
The singer hopped on Instagram on Friday night and before launching into an impromptu step-by-step cooking tutorial on her stories, she posted a video of her smiling nonchalantly and waving cash at the camera. "Where the album?" the caption read. "Me: sorry my connection poor." This isn't the first time she's turned herself into a meme while we wait a little while longer for her next album. A video from earlier this month sees the singer looks equal parts relaxed and unbothered as her response to the burning question, "where's the album?"
Of course, there's nothing we can do in the meantime but wait for her next album. With her finally confirming that we can look to sometime next year for a release date and that it "can't come soon enough" for her as well, she defintiely shares in our excitement; as impatient as it may grow.
Thumbnail image via Christopher Polk/Getty Images for NARAS.