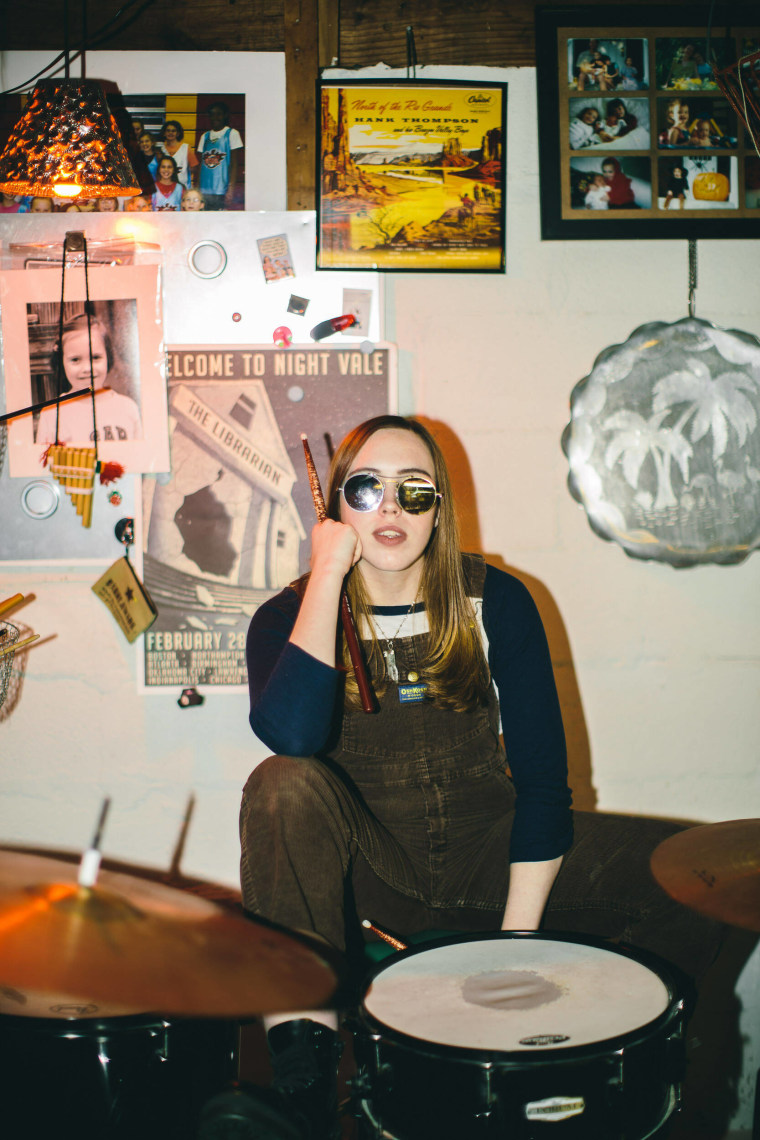 Sophie Allison is the Nashville singer/songwriter who makes passionate indie rock as Soccer Mommy. Her full-length debut Clean dropped last year, and today she's sharing an original demo of that album's "Blossom," plus a song called "Be Seeing You" which was previously exclusive to Bandcamp and physical 7". Check them both out below.
"'Blossom' was one of the first songs I wrote for Clean," Allison said in a press statement. "It was before I even realized Clean was going to exist. I was always happy with the demo - it got made in the basement of my dorm room when I was still in college. 'Be Seeing You' is an even older track. It was made as a single with the original recording of 'Last Girl' but it was never put on streaming. It's an old favorite of mine so I'm happy to see it get released everywhere."
Soccer Mommy is touring throughout 2019, with headline shows and support for Kasey Musgraves. Find her listed dates below following streams for "Blossom (Demo)" and "Be Seeing You."
Soccer Mommy tour dates
02/06 - Conway, AR @ Hendrix College *
02/07 - Dallas, TX @ Club Dada * %
02/08 - Austin, TX @ Mohawk * %
02/09 - Houston, TX @ White Oak Music Hall * %
02/10 - San Antonio, TX @ Paper Tiger *
02/12 - Tucson, AZ @ Club Congress %
02/13 - Phoenix, AZ @ The Van Buren # (SOLD OUT)
02/14 - Los Angeles, CA @ Theatre at Ace Hotel # (SOLD OUT)
02/15 - Los Angeles, CA @ Theatre at Ace Hotel # (SOLD OUT)
02/16 - San Francisco, CA @ The Masonic # (SOLD OUT)
02/18 - Portland, OR @ Arlene Schnitzer Concert Hall # (SOLD OUT)
02/19 - Seattle, WA @ Paramount Theatre # (SOLD OUT)
02/22 - Denver, CO @ Paramount Theatre # (SOLD OUT)
02/23 - Colorado Springs, CO @ Ivywild School * %
02/24 - Greeley, CO @ Moxi Theater * %
02/26 - Kansas City, MO @ recordBar *
02/27 - St. Louis, MO @ Off Broadway * %
02/28 - Columbia, MO @ True/False Film Fest
04/10 - Boulder, CO @ Fox Theatre
04/14 - Indio, CA @ Coachella
04/17 - San Francisco, CA @ Great American Music Hall
04/18 - San Francisco, CA @ Great American Music Hall
04/19 - Sacramento, CA @ Harlow's
04/21 - Indio, CA @ Coachella
04/22 - Phoenix, AZ @ Rebel Lounge
04/25 - Norman, OK @ Norman Music Festival
05/04 - Atlanta, GA @ Shaky Knees
05/30 - Barcelona, Spain @ Primavera Sound
06/02 - New York, NY @ Governors Ball
* with Hovvdy
% with motiongazer
# with Kacey Musgraves