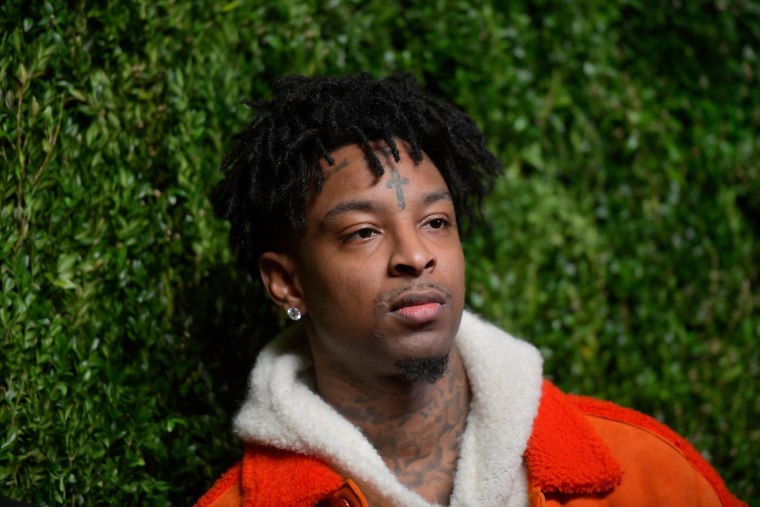 The 61st Grammy Awards took place on Sunday, and 21 Savage's co-manager Kei Henderson has shared tweets addressing the lack of acknowledgment of the rapper's plight by the show and its attending artists. Savage was arrested on February 3 by ICE, and was accused of overstaying his visa. He remains imprisoned, reportedly in a detention center notorious for human rights violations, and is subject to deportation.
Henderson claimed 21 Savage's team was hoping other artists would help bring awareness to the rapper's internment. "We reached out to several artists to perform Savage's verse and/or stand in solidarity on stage on his behalf," she wrote. While the artists are not named, Savage's collaborators Drake and Cardi B both won awards on Sunday evening.
Post Malone, nominated for two awards for the 21 Savage-featuring "Rockstar," performed the song at the ceremony as part of a three-song medley. Savage's presence was scarcely acknowledged, though: near the end of the "Rockstar"'s rendition, before Malone began performing "Dark Necessities" with the Red Hot Chili Peppers, 21 Savage's adlibs were played.
In a tweet, Henderson referenced a backstage picture of Malone wearing a shirt read "21 Savage" sent out by his label Epic Records, seen below. Henderson said she "appreciate[ed] the notion," but said she had attempted to get further "recognition for Savage during the performance of 'Rockstar.'"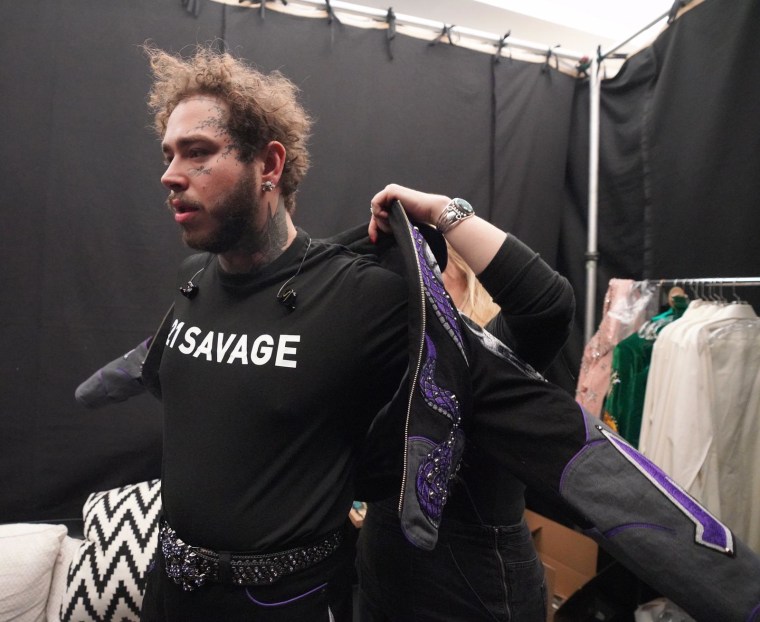 The most direct acknowledgment of 21 Savage's troubles came from Childish Gambino's producer Ludwig Göransson. As he accepted the award for Record Of The Year for "This Is America," Göransson thanked 21 Savage, saying he "should be here."
21 Savage's team have openly tweeted about about their experiences with the 2019 Grammys. Co-manager Justin "Meezy" Williams wrote on Sunday that the Recording Academy were refusing to release 21 Savage's invitations to the ceremony to his mother, Heather Carmillia Joseph. He later tweeted that the tickets were released, but said that "NOBODY from our camp attended the Grammys" as "we were given tickets last minute before the show when it no longer mattered."
Williams added on Monday that he held no ill will towards the Grammys or the artists for how they handled the entire situation. "NOBODY at the Grammys owe us shit," he wrote. "people do what they want to do & as they should... nothing matters until he is free ... the rest of this shit is water under the bridge."
The FADER has reached out to the Recording Academy for comment.