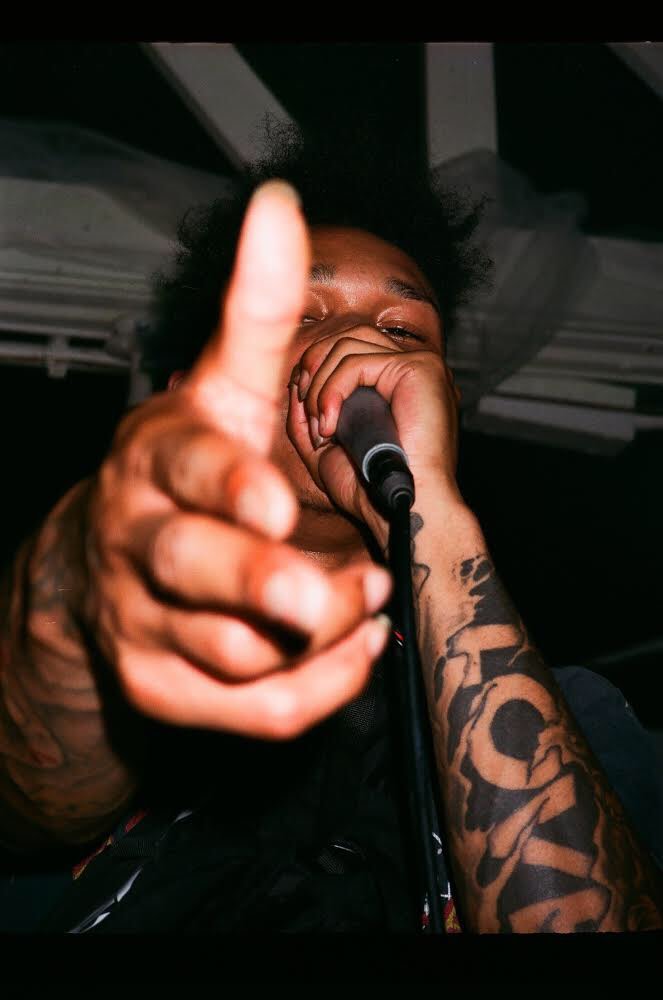 Standing outside a New York City art gallery in Chelsea where he's set to perform, Lil Xelly is wearing a black denim jacket, skinny black jeans, and shoes with literal jewels on them. It's the end of January and it's cold as shit, a fact that seems to bother the sprawling crowd of people still trying to get into the venue but not Xelly. He simply shakes his head when asked if he finds it chilly outside. The only time Xelly breaks from his relaxed, even-keeled demeanor is when asked about the collaboration he has with Oscar100. "Oh yeah I was just talking to bro the other day. We got more coming." he blurts out, excited. Eventually, the rest of his friends arrive at the venue and the crowd parts to let him inside.
The 19-year-old rapper seems to drown out everything unrelated to his ability to perform and make music. Xelly hails from Rockville, Maryland and began making music as early as 9 years old, writing raps in a journal. "I was on my Soulja Boy shit, just not like Soulja" he says with a laugh. Towards the end of 2017, he released a 105-song mixtape entitled More Xelly. While most rappers make their initial splash through a single that stands out, Xelly did so with over a 100 of them. There comes an obvious merit from releasing a Lil-B sized project that doesn't just pass through the ears and back into nothingness. Not only does More Xelly redefine the listenability of the 100-plus song mixtape, it would serve as the blueprint for how Xelly's sound would develop. From that point forward he would go on to release two projects a month starting in early 2018, surpassing that benchmark as the year went on and continuing into 2019.
Putting out material at an alarming rate doesn't guarantee a good product. By simply possessing a near mythical work ethic Xelly doesn't cement himself as a must-listen. He does this through a remarkable versatility for an artist so early into their career, crafting a unique sound with each producer he works with. From melodic crooning over BasedTJ production to frenzied hits with Noir Brent, Xelly covers the whole spectrum between melody and guttural distortion.
Listen to Xelly's xfiles100 pt. 4 project, which is premiering on The FADER, below and read on for an interview with the Rockville, Maryland rapper.

Growing up, what influences outside of music left an imprint on you?
My older brother. When I was young, writing music in a journal my brother was making music in the backyard with speakers and his friends. I was always around that shit, he was rapping at first and then started making beats but fell out of that. But yeah he was a big influence.
How did you first get started making music?
When I started, I was in middle school putting out tapes on Spinrilla back-to-back but no one was hearing me. Then I got on Soundcloud, started doing the same shit and it was a different outcome.
You've been releasing music at an absurd pace for the past year. Is there going to be a point where your output slows down?
Depends how it works out for me. I don't know, I got hella fans who want to hear hella shit by me. They want me to be consistent and it's inspiring people at the same time, so why not?
There seems to be some division in the SoundCloud community about paying for production when you're working independently — what are your thoughts on this?
With me I'm buying my sound, if I listen to a beat and hear myself on it, I'm paying for it. I'm still down to pay for beats, I paid BrentRambo for beats, like Delta? I paid for that, I paid for hella beats from BrentRambo but then I started getting them off the strength.
Most of your projects don't have any features. Do you just prefer making music alone?
I'm not making music to make music with people, I make music to get better myself.
How do you think your music evolved over the years?

I was ass at first but now I can go into the studio, freestyle, and make a hit. Or a couple songs that I like, and I can put them out.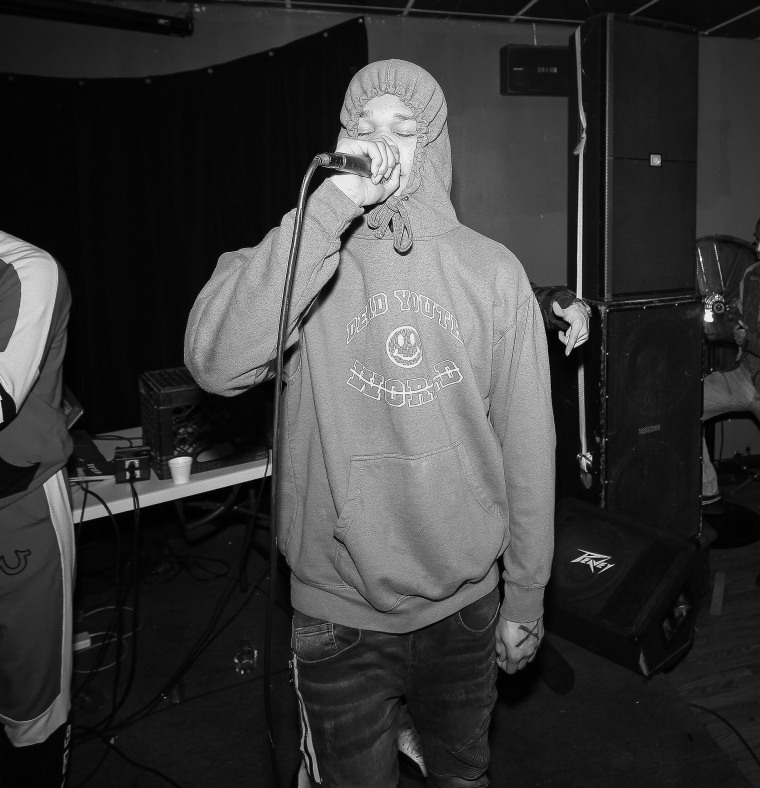 Is it more important for you to put out music that you like rather than try to release a "hit"?

Yeah, that's a hit to me. I guess all the hits to me are hits for everyone else. I write them too, like "43ver." I feel like that song is really slept on. It's cool though, that's on TJ's production
How do you go about picking beats and which producers to work with?

I be tweeting my email out so I definitely make songs with people who are lowkey and you make your best shit with the lowkey producers. There are some hungry producers out there but there's just like millions of them and they don't understand I'm human too. They think I'm about to work with everyone, and I do want to but there's a lot of yall motherfuckers.
What separates an artist who is confined to the "SoundCloud Rapper" label versus someone who manages to shed it?
I don't hear that Soundcloud rapper shit… that shits just the same platform as any other platform. If you can call people a SoundCloud rapper, I'ma start calling people a Spinrilla rapper, Spotify rapper, Apple Music rapper… some people are actually doing big things off this platform. Some people are making money off a repost button.
How did you stand out on a platform that's so crowded?

The first stuff I was putting on SoundCloud was a little wild. It was experimental; some of it got taken off and won't ever be put on again. But that's how you grow, you just make any type of music and know, Nah, that's not it, and that's how I feel it came with me. I knew what was what and what was not, what people would fuck with and what they wouldn't fuck with. A lot of trial and error, I went through a lot of shitty moments but it made a better me. Like I said, people want to make songs with other people, I just want to make a song myself. I just want to eat myself on the track, that's what separates me from everyone else. Period.