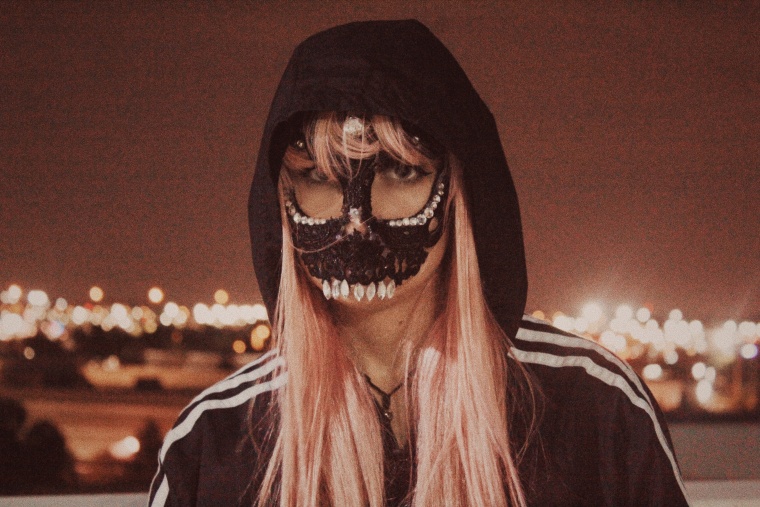 You've never heard of KIITA. The 16-year-old singer-songwriter and high school sophomore, born Sara Lewis, quietly put a few dozen songs up on Soundcloud last year, but they've been scrubbed from the internet already. As of this morning, nothing came up when I googled her name.
Her debut EP, Let's Commit a Robbery — out March 5 on Young Forever and premiering in full below — is about to change that. The five tracks here blend captivating and catchy melodies with lush, pop-trap production, all held together by Lewis's elegantly torrid vocal style. And despite the record's borderline nihilistic opening — "Fuck you / I get it, I'm too negative / I get it, I'm a sedative / I get it, I'm a medicine to people like you," she sings on "I Miss You" — she's an emotionally mature songwriter.
The EP is, Lewis explains over the phone from her home in Columbus, Ohio, about learning from loss. Heartbroken for the first time last year, she wrote a clutch of beat-up songs, wallowing in her misery, all of which made it onto the internet before she decided to change course. "I wanted to get more upbeat," she says. She points to "Robbery," the EP's incandescent second song, in which she equates emotional devastation to straightforward theft. "You want to get revenge on them but, at the same time, it's okay that they took something from you," she says. "Eventually you will learn from it. In time, you will gain what you lost."
That positivity comes through clearly as Let's Commit a Robbery moves forward, from the airy "Used to Pain" ("I don't want to hurt like you do / I don't want to cry like I used to") through the languid and radio-ready interlude of "Double Vision." By the time she hits the humid closer, "Funny Things," she's fully broken out of disaster mode: "You can tell all your friends / I mean it when I say it, you won't see me again."
Listen to Let's Commit a Robbery below and watch the new video for "I Miss You" at the foot of the page.