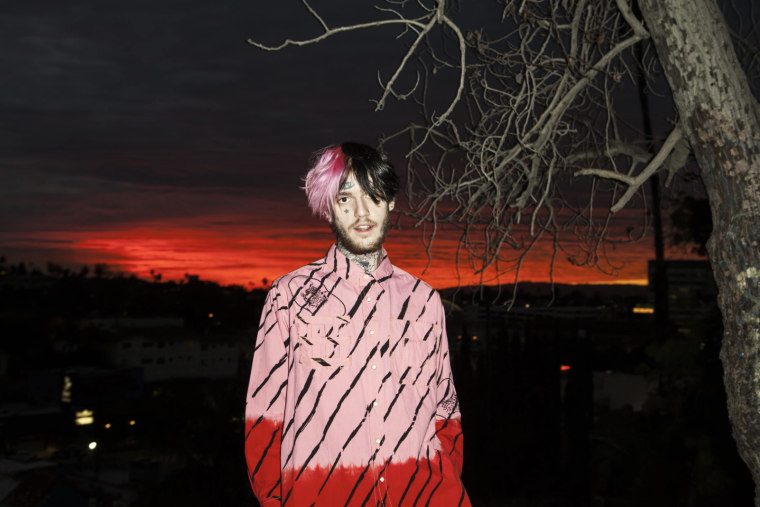 A potentially explosive Rolling Stone report, published this morning, covers the life and career of Lil Peep, with new information surrounding the death of the rapper, who overdosed in November 2017.
The piece, written by David Peisner, paints the picture of an ascendant rapper beset by anxiety and addiction in a complicated time with his inner circle. In text messages reviewed by Rolling Stone, Sarah Stennett, the CEO of First Access Entertainment — the company that signed Peep — allegedly offered Peep Xanax on August 16, writing "I have one 2m x and 4 x .25." Through an attorney, Stennett denied ever providing Peep with drugs, and told the magazine that she was telling Peep in the texts "what she thought he wanted to hear... [and] had no intention of giving him any medication."
Belinda Mercer, the manager on Peep's final tour, was also implicated in the report. Mackned, one of the tour's opening acts, claimed Mercer obtained ketamine for Peep "at least once" and that "she employed it at times as leverage to get people on tour to do what she needed." Text message correspondence between the two allegedly shows Peep asking Mercer to obtain drugs for him – Mercer denied all allegations through an attorney.
Peisner also interviewed Nick Dowd and Mariah Bons, two Peep associates who were with him in Tucson the day of his passing. Dowd claimed that Peep was happy. From Rolling Stone:
"He was in a very good mood," says Dowd. At one point, Peep looked out the bus window at the clear late-afternoon Arizona sky. "Today is a good day," he said. "Not every day is a good day, but today is. I feel good."
Less than 30 minutes later, he nodded off and never woke up again.