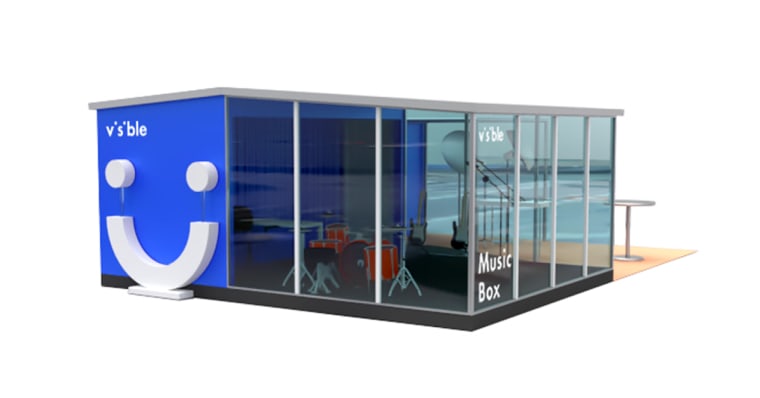 SXSW Conference and Festival in Austin, Texas is set for another enormous year.
Alongside the star-studded lineup of both emerging and established musical acts, as well as the many art showcases and panel discussions, SXSW has also partnered up with innovative digital-only phone service provider Visible to bring you the Visible Recharge Station, and the interactive Visible Music Box.
While SXSW Music is certainly an unforgettable experience, concerts and festivals can be quite draining without the proper resources. The Visible Recharge Station, packed with phone charging components, refreshments, and arcade games, will provide a space for attendees to re-energize.
Visitors will be able to use Visible's face-recognition kiosks (by COFFEE Labs) upon entering the tent. After a person's facial expression displays the correct emoticon, tokens will be dispensed that can be used to grab a slushie, play arcade games, or to take home a cool-ass enamel pin. The Recharge Station will also be quite easy to locate (look for half-clear domes embossed with white color and "Recharge Station") and can be found at the festival's outdoor stage near the concert grounds — off of 900 W Riverside Drive.
For festival-goers that want a musical experience away from the main stage, look no further than the Visible Music Box. Located near the corner of the festival's bustling 6th street and the east side of San Jacinto Boulevard, the Visible Music Box is an immersive and interactive music space packed into a plexiglass recording studio. Guests can pop into the transparent studio — which will have guitars, a drum-set, and a karaoke set up — and will be able to play and record their sessions. In the end, visitors will be given a USB with their recorded performance to cherish forever and ever. Also available in the Visible Music Box will be a photo booth that'll allow attendees to create their own unique album art cover, and more importantly, choose your own album title.

Swing by the Visible Recharge Station, which is open from 4 p.m. until 9:30 p.m. from March 14 - March 16 and The Music Box, which will be open at 12 p.m. - 7 p.m. from March 8 until March 16.