Every generation of music has its breakout stars - and when discussing Nigeria's new wave, a name that will unquestionably pop up is Odunsi the Engine. The 22-year-old artist is a front-runner in a burgeoning music scene that is ushering in a new era in Nigerian music.

Alté is a sub-culture led by savvy Nigerian millennials who stay ahead of the curve with their unique street-style and genre-bending music. In an Afrobeats-fueled scene, these kids dare to shift the landscape by molding their own sounds inspired by diverse genres and cultures.

Born Bowofoluwa Olufisayo Odunsi, he started making beats when he was 16 but only began taking music seriously in 2016 when he was 19. He dropped a 7-track EP titled "Time Of Our Lives" the same year and a joint R&B project with Nonso Amadi in 2017.
Last October he released his debut full-length album, rare., which solidified him as one of Africa's most exciting rising stars of 2018. The 14-track LP draws from '80s and '90s R&B, synth-pop, disco, funk and indie music.
He also cites artists such as Ralph Tresvant, Asa, Kris Okotie, Prince, King Sunny Ade and Sade as key influences of the project's musical direction. Singing about unrequited love in 'falling' or being kicked out of high school on 'outcast', this album is Odunsi's most compelling expression yet and proof of his progression as a vocalist and producer. He enlists fellow alté scenesters like Santi, Tay Iwar and Zamir on the album but also collaborates with household names like Runtown, Davido and Nasty C. The album culminates with "Alté Cruise," the catchy anthem that encapsulates the spirit of the movement.

His latest bop "Tipsy" was teased at the end of his 2017 music video for "In the Morning." His fans would be happy to hear the familiar chorus again but now seasoned by the sultry vocals of UK singer RAYE.
We caught up with Odunsi on the phone while he was in London wrapping up his UK tour to discuss his debut album, artistry and more.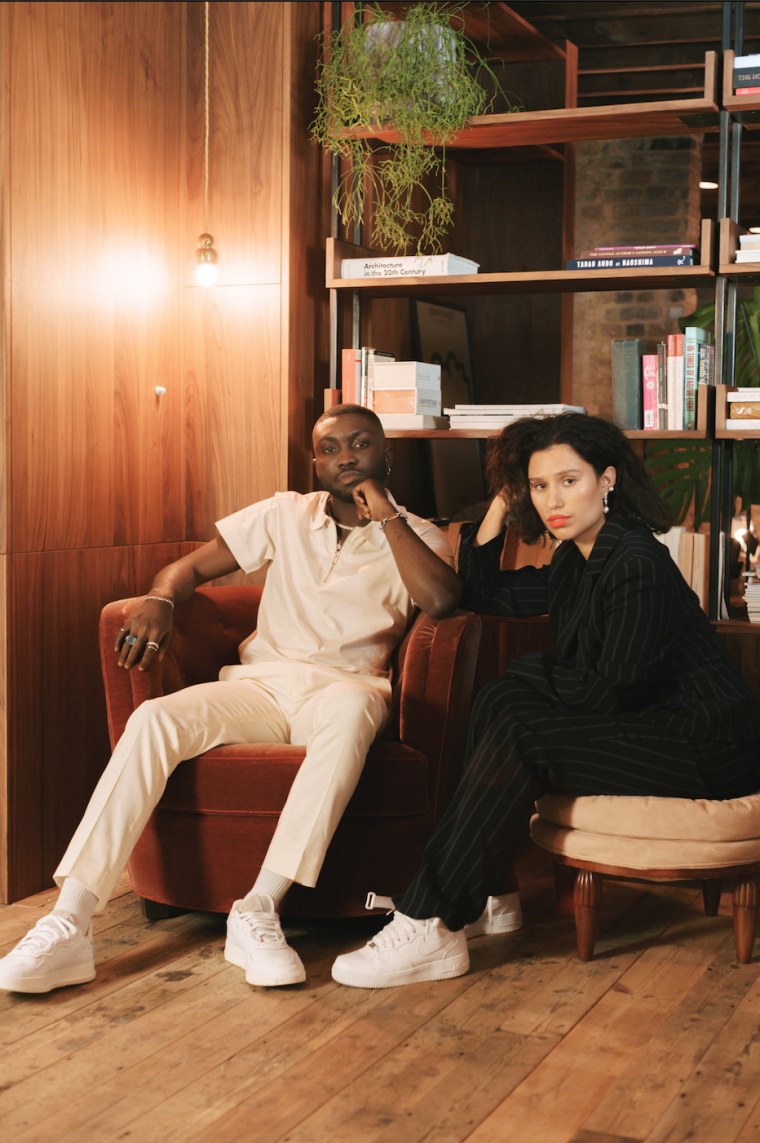 How did it feel to headline your first show in the UK?

It was great. It was exciting. It was a very big learning experience. My first tour, so I got to learn a lot about myself. I just got to see different people that listen to my music, and how they react to the music. Yeah, it was great.

How was that in comparison to your first headline gig in Lagos last December?

It was obviously a lot more hectic because it's in another country. The vibe was very similar in terms of energy. The energy at the shows, it's just a really, really good vibe…it kind of feels just like a kick-back. It's very good. It's like an 'anything goes' kind of energy. No one is complaining about anything. No one is mad about anything. Whatever happens during whatever set just flows well, good times.

How's been the response to the album so far?

It's been really good. It was way better than I expected. It's something that has inspired me to always push myself really hard because I felt like with the album, it was an 'against all odds' kind of decision. I was trying to do was something that was very risky. Everyone saw how much it meant to me and how much it meant to even us as a whole, as a growing culture, young Nigerians who are just trying to do things, do different things. Everyone just got behind it and organically pushed it.

Why did you go with the album title 'rare.'?

I've been saying the word for so long. I've been using that as a caption on my pictures, so if anyone paid close attention to me, they'll know how long I've been using the word. I always knew that was the name of my debut album, like for a while.

From the visuals to the artwork, 'rare.' has a unique look and feel, what inspired that aesthetic?

Basically, it was all the things that I had been listening to and watching during the time of my creation of the album. When I know I'm working on a project, I watch more things. I watch shows, videos, and just have a more open window for getting inspired. When I was making 'rare.', I connected with the '80s era since I had grown up with '80s music around stuff. I was reconnecting with a lot of videos, watching some shows, watching some modern shows that were also '80s themed. That also contributed. I was watching shows like The Get Down, Martin, Fresh Prince of Bel Air, stuff from the '90s, too. Just all these shows, because the music on those shows, the selection is always great, especially core selection.

What music did you listen to growing up?

Hip-hop, R&B, soul, pop, funk, disco; a lot of those songs were around me. I listened to some Nigerian music, very popular Nigerian music at that time. Highlife, I listened to some highlife, too, from my parents. The biggest influence is probably the R&B and soul because I heard more records like that around. They were always around me.

How do you think growing up in Lagos influenced you as an artist?

I feel like, just being from a middle-class home…you're not poor, but you're not rich. So it's like, you can see both worlds, you know what it's like to have and you also know what it's like not to have. So you're going through both circles, both experiences, regularly. It produces a very unique result. That's the perspective I came from and it helped me relate to people in a different way and to see situations in a different way. And also I was inspired by the music scene from Lagos and all the superstars that came out of the country like D'banj, Wizkid, Davido. Being able to witness people like that from where you're from kind of inspires you.

Speaking of Davido, how did the 'Divine' collaboration come out?

Working with Davido came out very randomly, very unplanned. He saw me somewhere; I think it was at Burna Boy's 'Outside' listening party last year. He [Davido] came in and then he sees me, and then he's just like, "Give me a hug. Yeah, I know you, I like what you do. I'm gonna give you a call sometime this week." And then he actually calls me during the week. Played him music from the album, he encouraged me, gave me some advice, then got somewhere for us to record the song. That's really how it happened.

Tell us more about what's going on in the Nigerian Alté scene and what it means for you as a trailblazer in that space right now.

Basically, everything for me is just like ... something has to be written in time for it to make an impact, I guess. There's been no movement that hasn't had it or had something to recognize it by. I feel like that's what happening right now. There have been several periods in the country where the music scene has transformed into a new space and new energy but it gets cut short because there probably isn't enough movement, power or press behind it. Unconventional methods, unconventional styles…people just propelling themselves independently to where they're trying to be and it's a very, very huge number as compared to the other eras. So, I think that's what this means. It just means there's a description that just makes it easier I guess. Culture is a way of life, so as people do things more consistently, people see something more consistent, and it becomes something. I don't think any man can control culture or status without the people around moving or reacting to it, and ultimately, making it a reality. For me, it's an honor to be part of something that gets to bring in a lot of change, something that's going to obviously mean a lot in the future and inspire people to see how far they could go.

It must be a lot of pressure as well.

Yeah, definitely. It's mild pressure. It's mild pressure because you get everything in full. As harmless as you try to be, basically, because of everything ... if anything goes bad or happens, it's all on you.