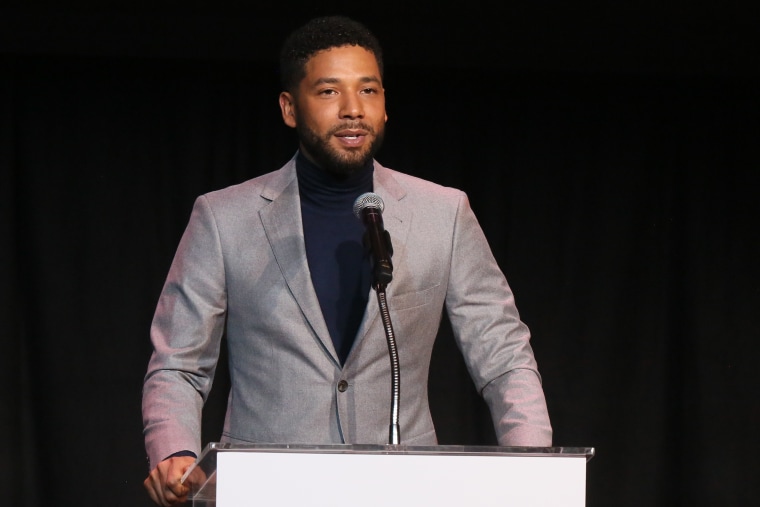 The state of Illinois has dropped its 16 felony charges against Empire actor Jussie Smollett, CBS Chicago reports. Smollett was accused by Chicago police of falsifying a police report after claiming to have been the victim of a hate crime in January. Smollett had pled not guilty to each of the 16 felony counts.
Charlie De Mar, a reporter with CBS Chicago, says the judge granted a motion to seal the case. A spokesperson for Smollett also reportedly told De Mar that the actor's record "will be fully expunged."
TMZ is reporting that Smollett's case, in which he alleged that two white men in MAGA hats attacked him in Chicago, is now closed.
Smollett and his attorneys will address the new developments in a press conference at 11;$5 a.m. EST. Read a statement from Smollett's lawyers below via TMZ:
Today, all criminal charges against Jussie Smollett were dropped and his record has been wiped clean of the filing of this tragic complaint against him. Jussie was attacked by 2 people he was unable to identify on January 29th. He was a victim who was vilified and made to appear as a perpetrator as a result of false and inappropriate remarks made to the public, causing an inappropriate rush to judgment."
Jussie and many others were hurt by these unfair and unwarranted actions. This entire situation is a reminder that there should never be an attempt to prove a case in the court of public opinion. That is wrong. It is a reminder that a victim, in this case Jussie, deserves dignity and respect. Dismissal of charges against the victim in this case was the only just result.
State District Attorney Kim Foxx also issued a statement: "After reviewing all of the facts and circumstances of the case, including Mr. Smollett's volunteer service in the community and agreement to forfeit his bond to the City of Chicago, we believe this outcome is a just disposition and appropriate resolution to this case."
Smollett's family celebrated the news in a statement of their own. FRom TMZ: This morning truth has prevailed and [Jussie] has been vindicated. While many were quick to rush to judgment before hearing the actual truth, we are grateful that the truth about Jussie has come to light. We look forward to bringing the real perpetrators to justice."