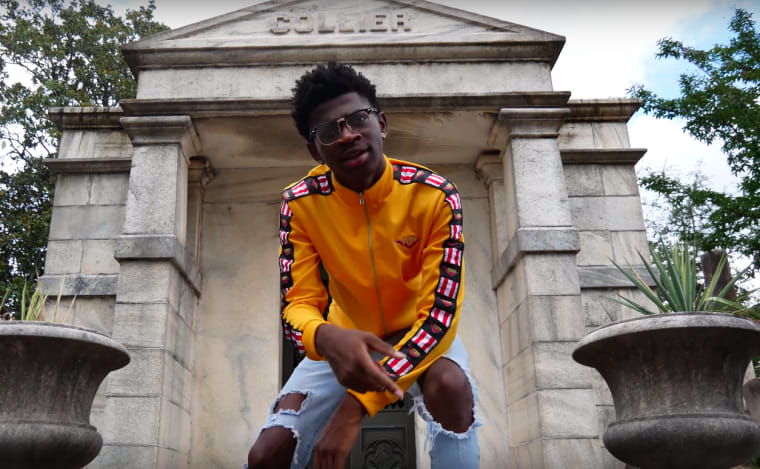 Five years ago, bro-country pioneers Florida Georgia Line released "This Is How We Roll," a brazen, almost exploitatively catchy single that strung banjo twangs over cringe-inducing rap bars and stole the darkest corner of my heart before vaulting to the top of Billboard's Hot Country Song charts. You can watch the video for it now and see the frat-house aesthetic of modern country radio coming to life in real-time — the girls giggling in belt-length cut-offs, the dirt bikes careening off into the void, the mirrored aviators shining a chrome-plated 18-wheeler back into the camera. Country radio had bro'd down before, but it wouldn't be a stretch to think of "This Is How We Roll" as an urtext. Forget the wholesome Luke Bryan interlude at the end — we live in a world that started with Tyler Hubbard singing, "The mixtape's got a little Hank, a little Drake / A little something bumping, thump-thumping on the wheel ride."
Florida Georgia Line are still on the Hot Country Song charts today. They appear on Bebe Rexha's "Meant to Be," a pop piano ballad underpinned with trap beats. It peaked at the top of the charts before falling to third spot this week. And for a brief, brilliant moment, it shared some top-20 space with "Old Town Road," a country-adjacent hip-hop mish-mash from 19-year-old Atlanta artist Lil Nas X that opens with a truly FGL-esque salvo: "My life is a movie / Bull ridin' and boobies / Cowboy hat from Gucci / Wrangler on my booty."
No longer, sadly. Billboard scrubbed the track from the Hot Country Song charts on Wednesday, and they released a statement explaining that decision. "Upon further review, it was determined that 'Old Town Road' by Lil Nas X does not currently merit inclusion on Billboard's country charts," it read before veering off and tripping over its own vagaries. "When determining genres, a few factors are examined, but first and foremost is musical composition. While 'Old Town Road' incorporates references to country and cowboy imagery, it does not embrace enough elements of today's country music to chart in its current version."
It's a curious statement. "Old Town Road" has nothing to do with country's old school — it won't be confused for a Merle Haggard cover — but it's tough to pinpoint where, exactly, it deviates from "today's country music." I hear banjos; I see cowboys; I consider "bull ridin' and boobies," for better or worse, to be a more honest admission of modern country radio's obsessions than anything Dan + Shay can come up with. As FGL and dozens of imitators have shown, "today's country music" is clearly — sometimes embarrassingly — trying to embrace hip-hop. So, how does Lil Nas X differ from the rest of the artists on the country charts? "Billboard's decision to take the song off of the country chart had absolutely nothing to do with the race of the artist," they wrote in a follow-up statement to Genius.
Let's give Billboard the benefit of the doubt here — maybe they were put off by the lo-fi beat and the industrial metal sample. "I feel like we can talk about the country charts being weird without acting like the Lil Nas X song qualifies," Vulture's Craig Jenkins wrote yesterday on Twitter. "You gotta do a little more than loop up Nine Inch Nails and sing in a twang to Red Dead footage. 'Meant to Be' played the game cutting a version with extra pedal steel."
There's a problem here though, one that Jenkins acknowledged a few minutes later: "The thing is, if Billboard is gonna push the point, they gotta keep the energy for everyone else making music that's barely country, like the Thomas Rhett single cooling on the same chart right now." That Thomas Rhett single is "Look What God Gave Her," a straight-up, middle-of-the-road, radio-pop song that has precisely nothing to do with "today's country music" beyond a patronizing take on womanhood and a hammed-up adherence to Christianity.
It's all a matter of where Billboard chooses to draw the line. People have argued that Lil Tracy's "Like a Farmer" is a country song — I figure it's more of a parody than an homage. But what about Young Thug's "Family Don't Matter" with its delicate guitar and its ecstatic "yee-haw" and, let's never ever forget, his nonchalant snarl that "Country Billy made a couple milly."? It feels every bit as country as, say, Maren Morris's "The Bones," which currently sits at #31 on the Hot Country Songs chart.
That raises some interesting questions about genre and its gatekeepers. But, eventually, splitting songs and artists off like this gets exhausting. Hip-hop musicians are increasingly pulling from country tropes while country tries to pilfer what it can from rap's mainstream; the lines between rock, pop, and hip-hop are, refreshingly, blurrier than they've ever been. There's a generation of kids out there, which includes Lil Nas X, making music that pokes at the rigid leftovers of a genre-obsessed industry — and for some reason our instinct is to make sure we redraw and shore up the boundaries all over again.
That's wildly counter-intuitive. Rather than wondering whether or not Lil Nas X's "Old Town Road" has "enough elements of today's country music to chart in its current version," we should be ignoring Billboard's genre charts completely, treating them as the relics that they are. Let the boundaries bleed into each other; spin the mixtape with a little Hank and a little Drake; wear some Wrangler on your booty.