How Show Me The Body and Corpus built the new New York underground
The band's new album, Dog Whistle, is a call to arms. It's also rooted in Corpus, the sprawling community of New York underground artists that have coalesced around SMTB.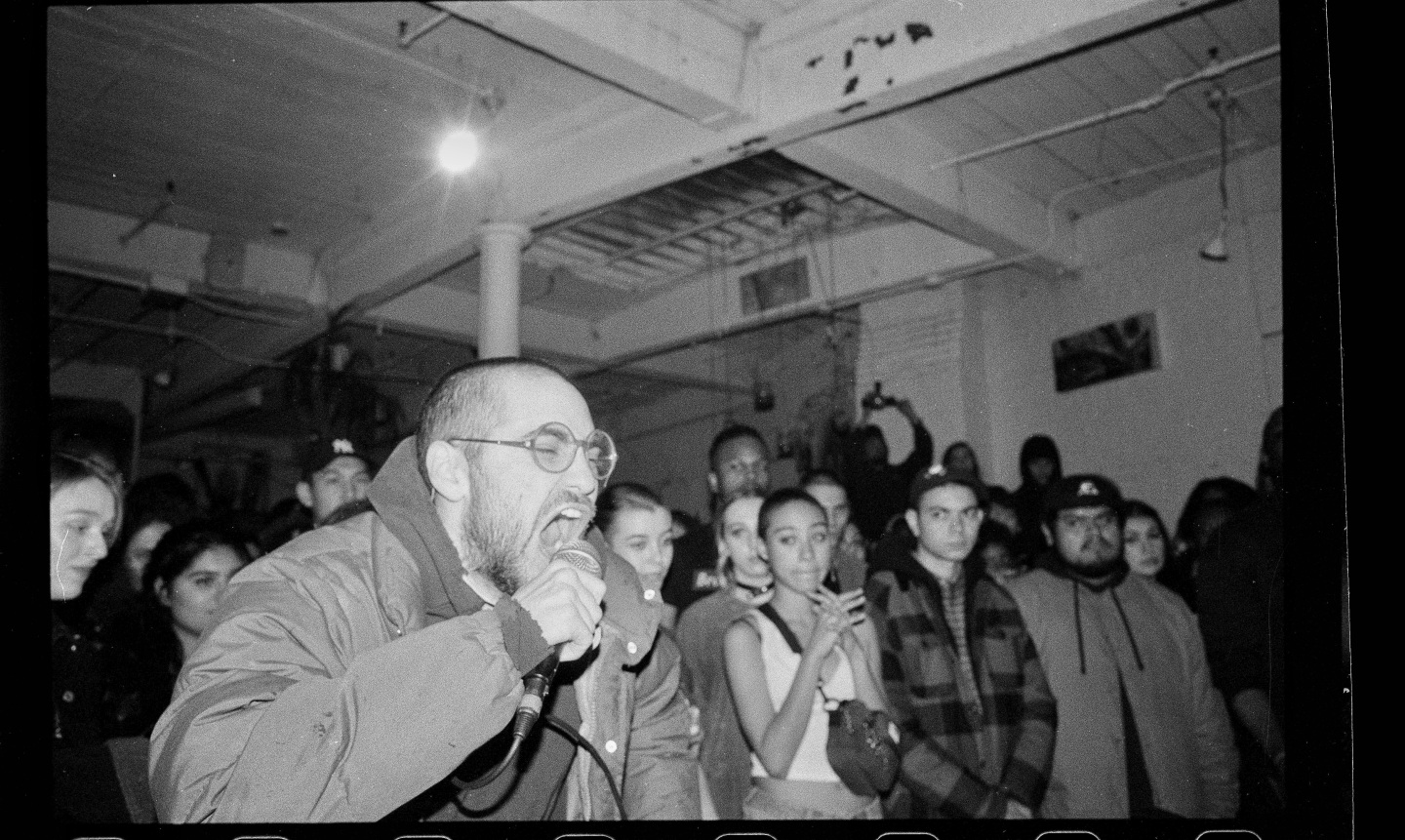 Music can be a respite from the alienation of everyday life, but it can also be a source of alienation. As a teenage girl going to hardcore punk shows in New Zealand, I regularly found myself in spaces dominated by cis white men. I knew I wasn't the only one who felt out of place and often unwelcome.
At a recent show organized by New York hardcore community Corpus, the vibe was quite different from that experience. The upstairs room at Brooklyn Bazaar was packed with people of every color, gender, and orientation — on and off stage — as the pit teemed to Twisted Thing's sharp-tongued punk, Dreamcrusher's industrial noise, TrippJones and Slim Poppins' hardcore hip-hop, and eclectic dance music by DJs Noble Spell and br0nz3_g0dd3ss. By the time headliners Show Me The Body walked onstage around 1 a.m., the crowd was unified by sweat and excitement.
The last time I'd been part of such an ecstatic and diverse audience was also the last time I saw Show Me The Body play at South Street Seaport Pier 17 for Red Bull Music Festival in spring 2018. Julian Cashwan Pratt, Harlan Steed, and Noah Cohen-Corbett have a remarkable ability to corral a diverse crowd wherever they go — partly because they exist in one of the world's most multicultural cities, but also because they prioritize inclusion in everything they do through Corpus.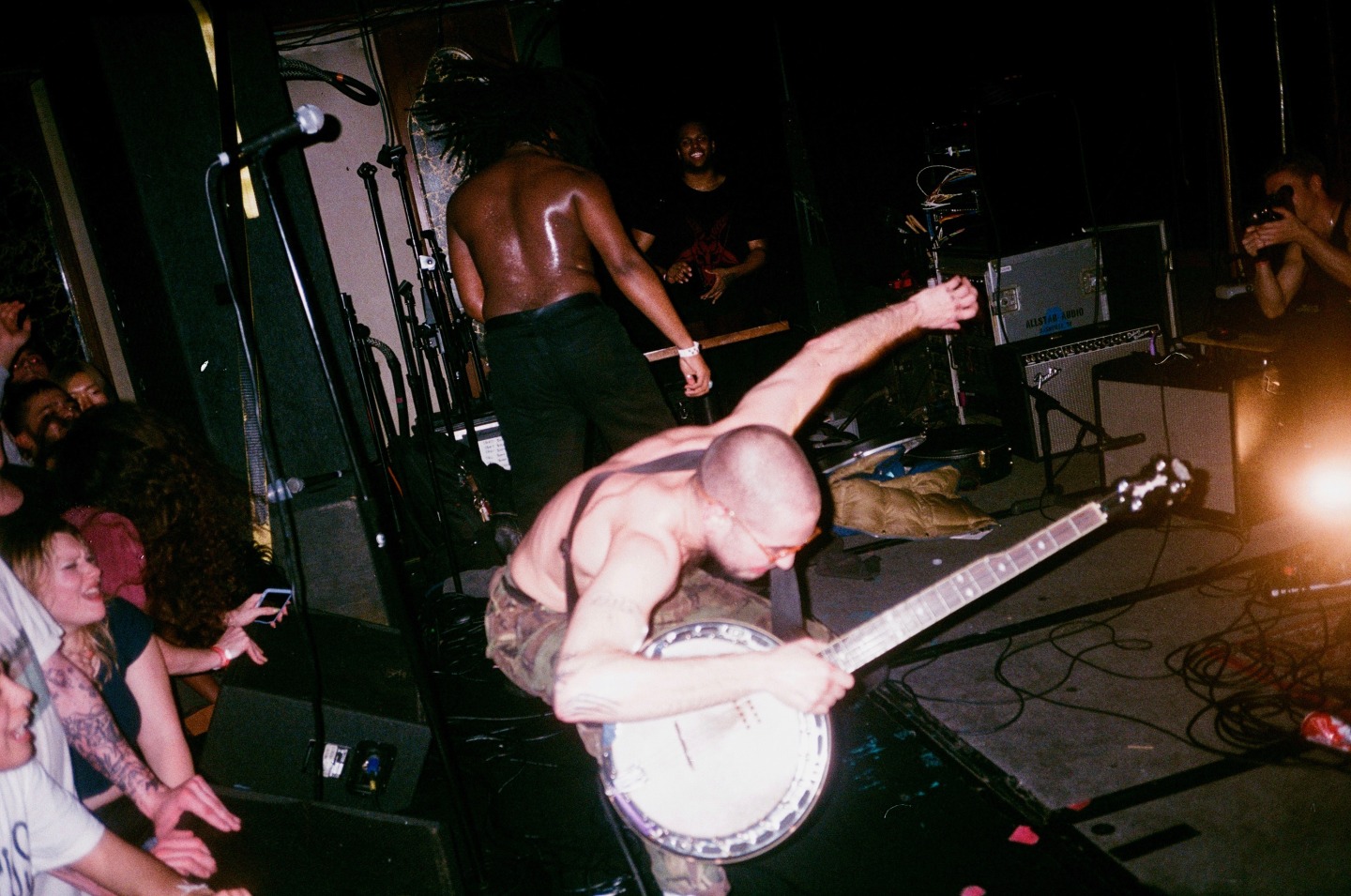 The birth of Corpus
Corpus came together around three years ago with the release of Corpus I, a sprawling, eclectic album put out under SMTB's name but made in collaboration with more than a dozen artists from their extended friend circles. "We wanted to collaborate musically with our community in a meaningful way that was more than hopping on tracks or something like that," Pratt says over a bowl of chicken noodle soup at Delight Diner in Ridgewood, a few weeks after the Corpus show. "When we made that project, we were acting as producers," Harlan continues, across the table. "Essentially we were trying to brainstorm how to collaborate with people — to put our instruments down, use our ears, lend ourselves to these people, and help them carry out their visions."
Corpus I featured chameleonic hip-hop/emo artist Princess Nokia, trippy rapper/producer Cities Aviv, punk poet Moor Mother, romantic electronic artist Eartheater, and woozy hip-hop rebel Negashi Armada, among others, and is considered the birth of this ever-expanding community and their intent. In a manifesto that advocates for community building, mutual respect, direct action, and solidarity, Corpus is summarized as "empowerment and becoming free."
This community has become so integral to SMTB that when they announced their new album, Dog Whistle (out today, March 29, via Loma Vista Recordings), they said that "it is for our community and anyone who may find shelter within it." And five years of exploring noisy prog-rock, spare dub, sludgy doom and hip-hop-inflected hardcore with their community have led SMTB to their most focused sound yet. Pratt says, "I feel like how we sound on this record is how I've wanted Show Me The Body to always sound. This was always the goal."
There's a symbiotic relationship between SMTB and Corpus; one wouldn't exist without the other. "This album is about our friends and for our friends, and Corpus was created for that same reason," Pratt says. "We needed a way to feel empowered, and our friends wanted to feel empowered. It was something that came out of necessity, rather than creative intention."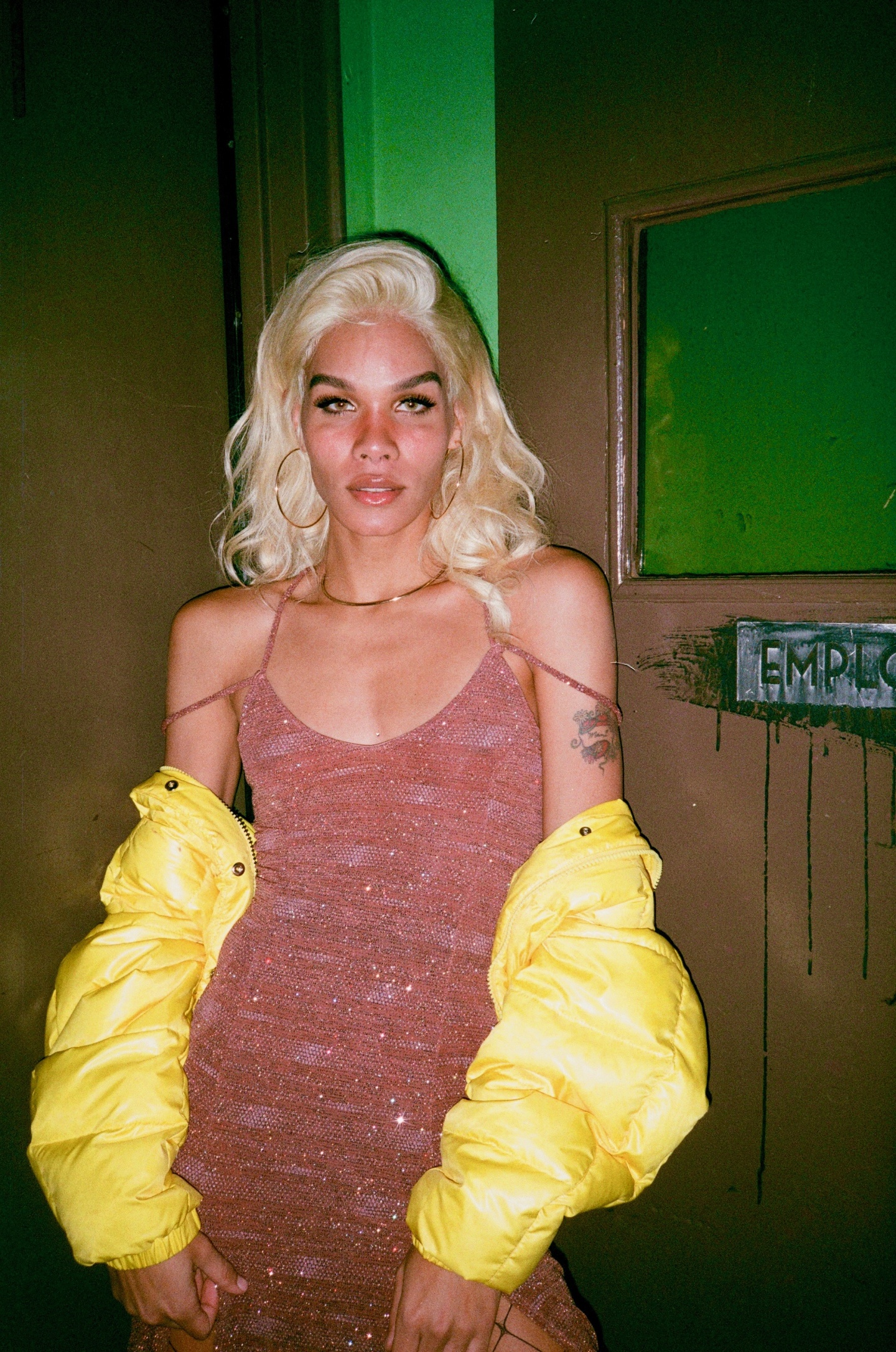 Ready to fight
"In the midst of losing friends we strive to create a stronger community, dedicated to fight, survive and thrive in their memory and spirit," reads the opening statement in the announcement for Dog Whistle. There's an urgency in the sound of the album, beginning with opening song "Camp Orchestra" and its sinister bassline loping around an increasingly frenetic banjo melody.
Over the years SMTB have rallied their community with dogged determination. On their 2017 single "K-9" Pratt spit the words, "I'm in the city and I'm ready to fight/ canine, ready to bite." Like its title suggests, Dog Whistle is a call-to-arms directed at the community, its sonic urgency reflecting the mounting challenges of surviving in the city. But they acknowledge that the threat of displacement isn't new for native New Yorkers, nor is it relegated to just their city.
"We've spent the last nine years telling our story of New York, our experience of being in this city, of feeling little in this city, and now we're starting to extend the message abroad," says Pratt, who, along with Steed, was born and raised in New York. "It took us growing up to realize that mad people feel like this in other places, and obviously there are different nuances to every city's struggle, but it's generally the fucking same, which is the people that are from there are being pushed out and disenfranchised. There's not shit for you."
It'd be easy to say Dog Whistle is a punk record for the times, but the band rejects that notion. "Shit gets said when it needs to get said," says Pratt. "That has nothing to do with who's on the television."
"If there's any political nature to it, it's about the local," says Steed. "It's about the political nature of your community, and wanting to inspire people to think about that. That's what we're spending all of our time doing."
Having come up in Letter Racer, a diverse community which centered around hip-hop group RATKING, SMTB experienced first-hand the effect a galvanized community could have, and were subsequently inspired to adopt a community-minded approach themselves. "That was a special era, when RATKING was playing shows," says Pratt. "That really gave a lot of people hope for the future of the youth community, of what was possible. And it was also the first time that we'd seen young kids from the city being looked at and spoken to with respect. That gave us all a fire, energy. It was like, let's all get this. Let's do it."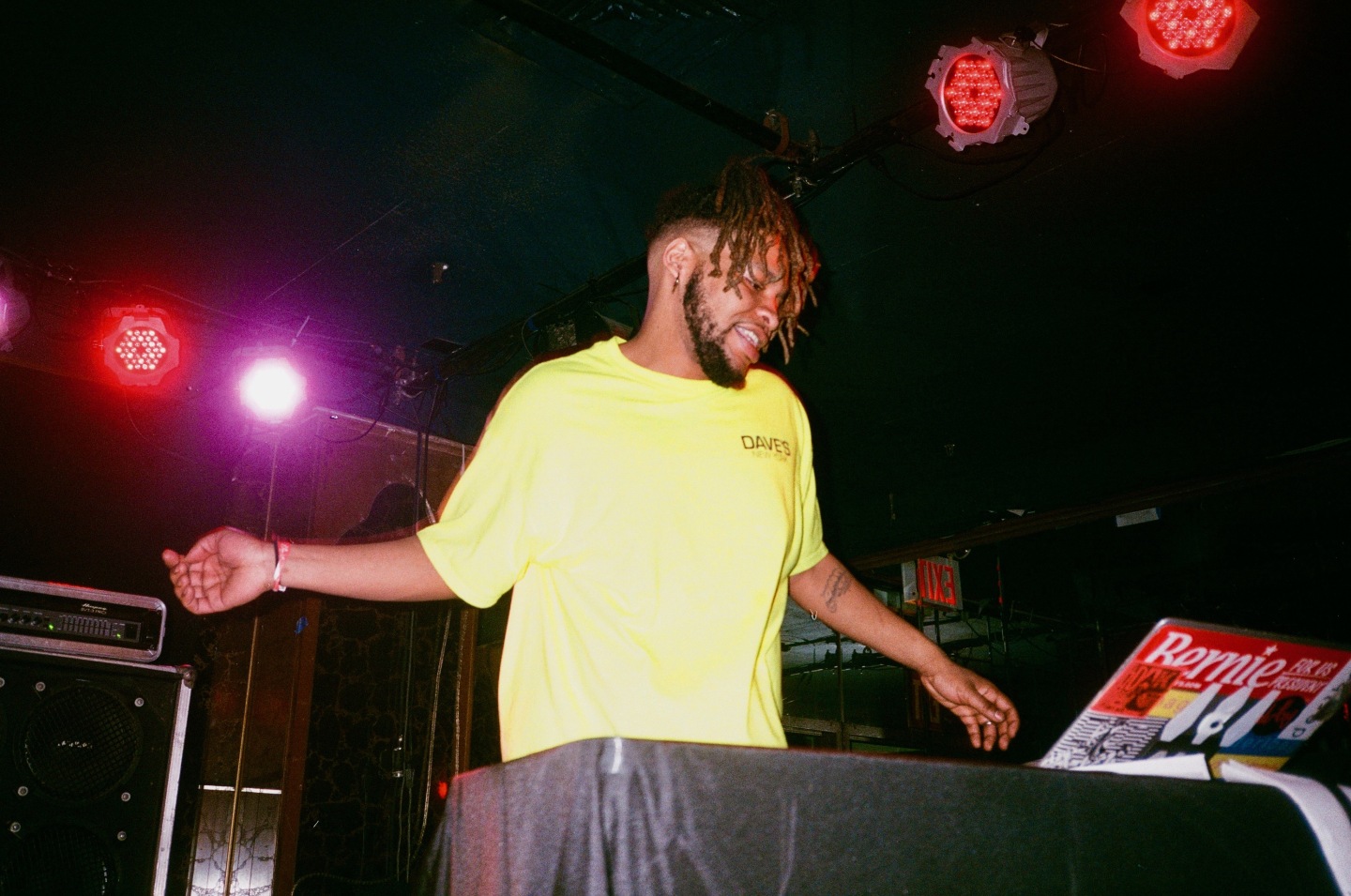 Power in numbers
Though it's centralized in New York, Corpus has attracted people from far-away cities. Steed says, "It's not meant to be just a New York thing. It's supposed to be something that galvanizes people to work on their own communities. And it started to work in other cities, too." He says the last Corpus show in Los Angeles was "pretty much a mirror experience of the one in Brooklyn," and this is rendered literally true in their latest music video for "Madonna Rocket," which shows the two concerts side by side.
Industrial noise artist Dreamcrusher joined the collective after moving to New York from "a red state in the bible-belt." collaborating with SMTB on the lurching industrial noise-punk song "Hungry" on Corpus I, and Corpus released Dreamcrusher's most recent album, Grudge 2. They say that being part of the collective empowered them to continue making their "nihilist queer revolt music" when they felt defeated.
"When I moved here, I saw young people so motivated to not only create their own spaces for each other, but to work with people from their community, as so many different kinds of people come together in this powerful harmony," they say. "You rarely get to see that anywhere else, especially in other DIY communities in New York. And Corpus is definitely up there in terms of all that energy. That shit is so powerful, gurl! Bitch lemme tell you, I was about to stop making music and become a full-time graphic designer, livin' in one of these dinky-ass 2500 studio apartments, not doin' shit, lookin' like an L.L. Bean ad out this bitch if I hadn't been introduced to what we do now."
Lower East Side rapper TrippJones encountered Corpus while playing a house show with SMTB in Richmond, Virginia three years ago. "Corpus gave me a sense of hope at one of the lowest moments of my life," he says. "The first time I met SMTB at that house show was also the last night I ever got to see one of my friends and biggest supporters, Lance AKA HomeBodi – he passed away shortly after that show. I don't think that sequence of events is a coincidence. Corpus gave me a new outlook on my purpose as a musician at a very dark time, which enabled me to find hope through tragedy."
Since then TrippJones has released two albums through Corpus, and the Slim Poppins song he collaborated on, "Vamonos," appeared in a Fenty Beauty commercial. He says the support he's gotten from Corpus has inspired him to help other artists in return. "The community Corpus has built over the years is one that feels like a breath of fresh air in a time of extreme pollution. The most important aspect of this community is how it brings together all walks of life and gives people the opportunity to not only learn more about themselves, but about the people around them too. I want to give back to the community and help people who feel hopeless or who have been missguided. Corpus has built one of the most open-minded platforms that the world can gain tremendous knowledge from, if they dig deep."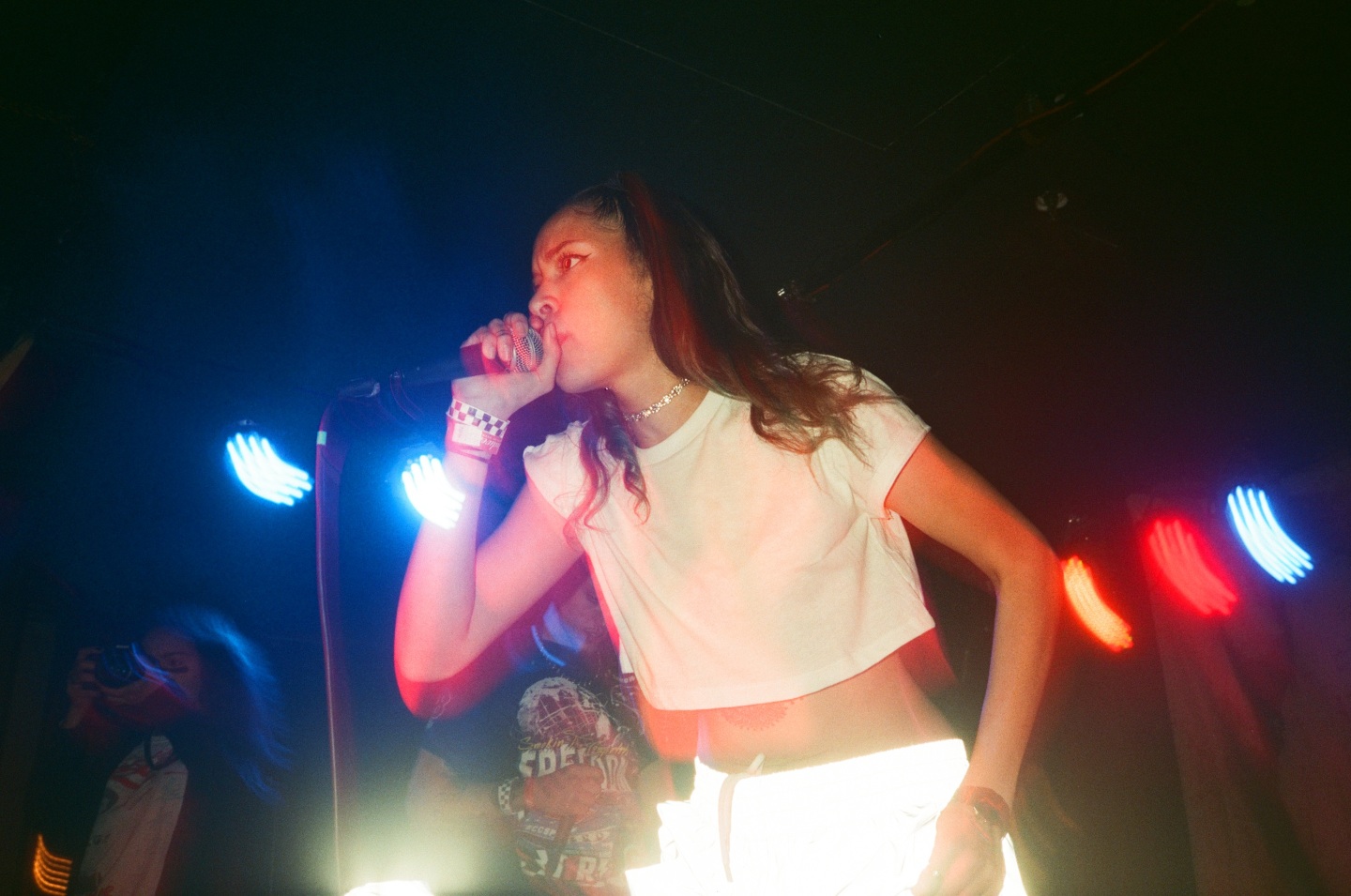 Reclaiming space
SMTB credit the diversity in the Corpus community to being based in New York, but it's also a mindset they've consciously cultivated. "There was always an intersection for us, between gay shit and punk shit," Pratt says. "A lot of communities don't get that. Most of the country, especially hardcore scenes, consider themselves different from all the rave kids and stuff like that. And they are, but it doesn't serve you to build a wall.
"Just being in New York gives you so much access to rave culture, party culture, that is inherently not straight, and not white," Pratt continues. "If you allow yourself to enjoy that, it completely complicates your idea of what punk and hardcore is. It can open up your entire reality."
In the same way SMTB have opened up their sound by collaborating with others, they open up physical space (practice space, recording space, show space) whenever they have it, to those that need it. "We are speaking to kids who are endemically from here, and going through struggles while they're living here," says Pratt. "We always make it a point to extend the space that we have the benefit of, to our community, 'cause no one ever extended space when we didn't have shit, when we were kids. There's so much privatized space in this city. We're trying to make a precedent about space: if you have it, open it up."
The Dog Whistle cover, showing a Brooklyn rooftop painted with SMTB's logo of three black coffins, could be a literal interpretation of this message. Asha Efia, who took the photo and has been a partner in Corpus since producing SMTB's events and music videos with her company CENO, says reclaiming space is key. "I just want to continue to see a space that has been predominantly run by white men become a space for everyone to feel empowered, specifically women, people of color, and LGBTQIA people, without that having to be screamed in our mission statement — it just goes without saying. I love walking into a Corpus event because I feel represented, and I want other people to feel that too."
Dog Whistle is a pertinent reminder to the Corpus community and anyone who needs it that they can and should fight for their place. As TrippJones and Dreamcrusher showed us, all it takes is finding the right support system. "Animal in a Dream," a spoken-word interlude on Dog Whistle, sums it up: "how do I wanna die? How do I wanna fight? How do I wanna live?"