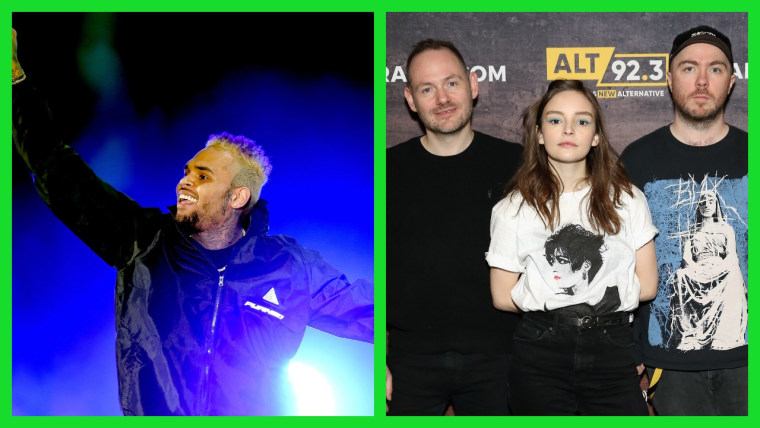 Chris Brown recently hit back against criticism from Scottish band Chvrches, calling them "a bunch of losers" and "the type of people I wish walked in front of a speeding bus" on Instagram.
After recent collaborator Marshmello worked with Brown and Tyga on the single "Light It Up", Chvrches released a statement sharing their confusion and disappointment over the decision. "That is not something we can or will stand behind," the band wrote. Chvrches and Marshmello collaborated earlier this year for the song "Here With Me".
Brown would later take to the band's Instagram account, commenting on one of their posts. "BUNCH OF LOSERS. these are the type of people I wish walked in front of a speeding bus full of mental patients," he wrote. "Keep groveling over you own insecurities and hatred." Later, he posted a photo of the band to his Instagram stories, also tagging Marshmello. "Don't worry about these ignorant unforgiving simple minded peasants," he wrote in a caption.
Chris Brown responds to Chvrches after saying they are disappointed of Marshmello choice for working with both Chris & Tyga 👀 (Via: IG) pic.twitter.com/EpDnafbLx9

— CB Live 🎈 (@CBLIVEHQ) April 27, 2019
Tyga also responded to Chvrches, simply stating that "everyone makes mistakes" and urging them to "keep the energy positive."
At press time, the band has not yet responded to either Brown's or Tyga's comment, but lead singer Lauren Mayberry shared screenshots of abusive direct messages she's received since releasing the statement on Instagram. "Angry men on the internet can call me all the names they want. I still think domestic abuse is wrong," she said in one post's caption.
Chris Brown was charged in 2009 for assaulting then-girlfriend Rihanna, pleading guilty to one count of felony assault. He was also at the center of a civil lawsuit after a woman claimed she was sexually assaulted in the singer's home. Tyga has been heavily criticized for his former relationship with Kylie Jenner, who was allegedly under the legal age of consent when they started dating.
Thumbnail image via Monica Schipper & Kevin Winter for Getty Images.