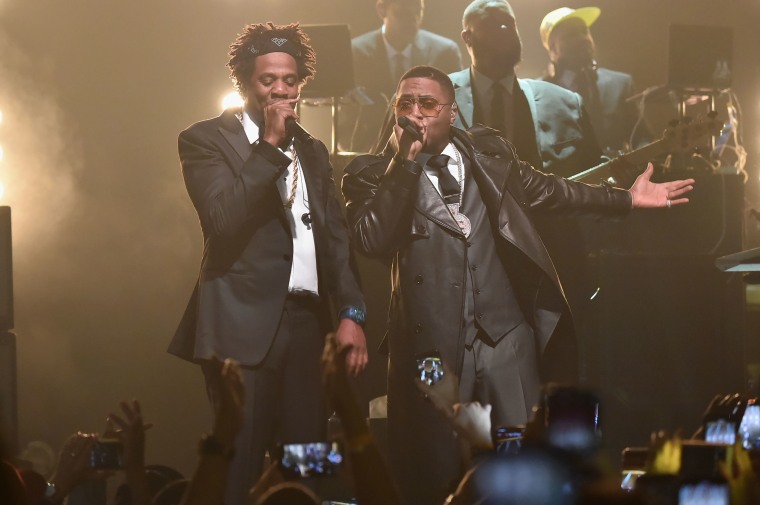 Friday night marked the second time around for JAY-Z's B-Sides show, (and the first show since the iconic New York City venue's reopening after its multi-million dollar renovation) and for hardcore Hov fans, it was a chance to see a slew of not oft-performed songs from the rapper's catalog. To mark the occasion, he brought out a few surprise guests along the way, including Nas, Cam'ron and Jim Jones.
Though it's not the first time he's shared the stage with Nas since ending their feud back in 2004, it always conjures a sense of unity between the two legendary rappers. The duo went on to perform a medley of their hits and collabs including "The World Is Yours" and "Dead Presidents".
Jay would later bring out two more artists he once shared a war of words with in the early aughts: Cam'ron and Jim Jones, performing "Welcome to New York City" before the trio launched into the Dipset classic, "I Really Mean It."
"We should have been doing shit like this a long time ago. They're not my enemies, they're my brothers," Jay reportedly said on stage.
The night would also see Jay pay tribute to rapper Nipsey Hussle, who was tragically killed last month, in a freestyle championing community activism. "Gentrify your own hoods, before these people do it/Claim eminent domain and have your people move in/That's a small glimpse into what Nipsey was doing," he rapped.
Jay Z performed a new freestyle at the B-Sides show.

"Gentrify your own hood before these people do it.
Claim eminent domain and have your people move in.
That's a small glimpse into what Nipsey was doing.
For anybody still confused as to what he was doing."
- Jay Z pic.twitter.com/d20cEEYSD2

— Nigel D. (@NigelDPresents) April 27, 2019