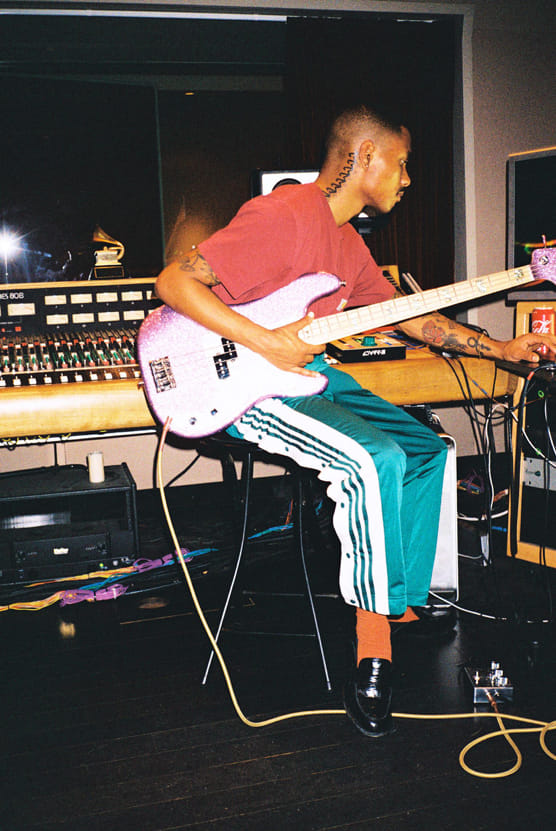 Steve Lacy of The Internet has spoken about his debut solo album for the first time. The record, which doesn't have a release date but is expected imminently, is Lacy's first major release since 2017 project Steve Lacy's Demo.
In a new interview with i-D, 20-year-old Lacy says he recorded the album at home in his sister's bedroom after she left to go to college. Lead single "N Side" was released last month, while the magazine feature goes in depth on the second track, a reported nine-minute epic broken down into three segments.
"It was kinda like a middle finger to the people who were like, you can't make this song longer than three minutes and I was like alright I'll give you nine minutes, how's that?" Lacy says of the song. "It's basically my journey, my sexuality. But in a very fun and witty way, it's not really that serious, it's not super sad. I think it's my journey, it's an expression of how I feel right now."
Lacy, who is credited on Solange's When I Get Home and recently appeared on Vampire Weekend's "Sunflower," opened up about being bisexual in the interview, saying he's "not really that bothered by it honestly. I think, who we're fucking, shouldn't matter in the world. It's kind of silly to me. But I'm also speaking from my Los Angeles bubble, I always have to be cautious of that."
Last month Lacy provided vocals on his Internet bandmate Matt Martians's new solo album Knock Knock. He appears on "Pony Fly," co-produced by Mac DeMarco.