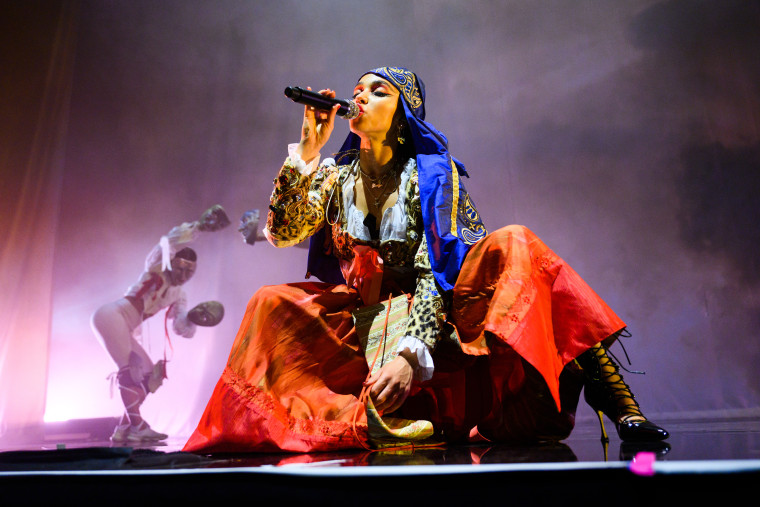 It's been nearly five years since FKA twigs released her debut album LP1. If the time since she's shared new music has felt at all slow, it's a testament to how monumental her initial arrival really was. The past few years have been anything but dormant for twigs, who's taught dance classes, released a digital magazine, undergone a major medical procedure and a public breakup, learned how to pole dance, filmed a movie with Shia LaBeouf, and still found time to respond to insatiable fans asking for new music. But most importantly, twigs has been practicing. Her latest tour, behind a show called "Magdalene" that was announced just weeks ahead of its first date, is the result.
This past weekend, twigs brought the show to the Park Avenue Armory in New York for a two-night stint as part of the 2019 Red Bull Music Festival. The venue had the ornate, antiquated atmosphere of a haunted mansion and the vacuous expanse of an aircraft hangar — there was perhaps no space better equipped for the colossal intimacy of one of twigs' first shows in three years. Following a half-hour delay, an a capella incantation detailing "a woman's work" came from the PA and filled the dimly lit room — a nod to Kate Bush's "This Woman's Work," released 30 years ago. Bush's song, written from a man's perspective, is a desperate plea: "I know you've got a little life in you yet / I know you've got a lot of strength left." It's a sentiment twigs would roll with as she emerged from beneath the curtain and into the garish spotlight wearing what looked like a shredded Nike tuxedo. Before offering her voice, she performed a brief but commanding tap dance, a neo-Vaudeville gesture that this wouldn't just be a concert, but rather total theater.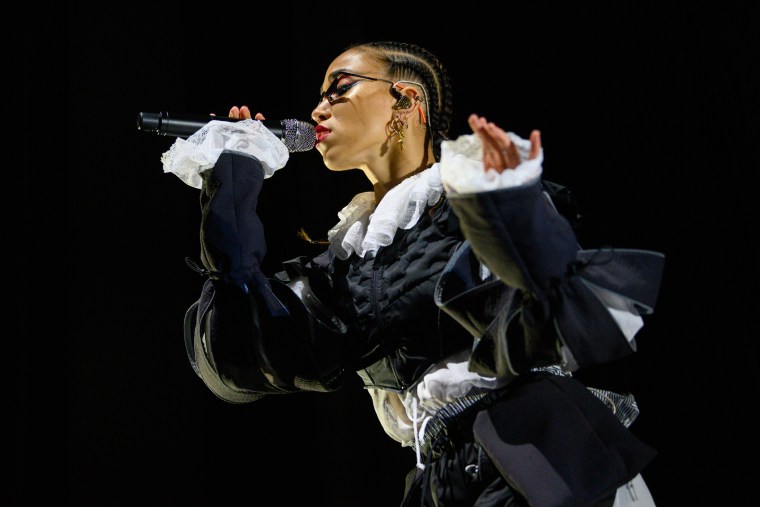 The last time twigs performed in New York was in 2016, on a tour that seemed to signal that her forthcoming music would lean in a dancier direction. During those shows, she tested a heavy smattering of new tracks reckoning with ancestral obedience and wasted youth over sledgehammer beats. While there's no word on whether that material has been scrapped, it was nowhere to be found during "Magdalene." There was plenty of new music in its stead: nearly half of the 17-song setlist (and the bulk of its theatricality) was reserved for previously unheard, emotionally-wrought material. Most of twigs' catalog to date has refracted chamber pop through a futuristic lens, but for "Magdalene," she seems to be pulling it back to biblical times.
Highlights of the new material included the thunderous, skittering "Sad Day" and operatic torch ballad "Home With You," performed with elaborately masked dancers that lifted twigs in the air. The singing of "a woman's work" heard during the introduction was later revealed to be a part of a song titled "Mary Magdalene," which served as a thesis of sorts for the show. During its performance, twigs embodied the historically misrepresented disciple, walking to the barrier and wrapping an audience member in a tender embrace.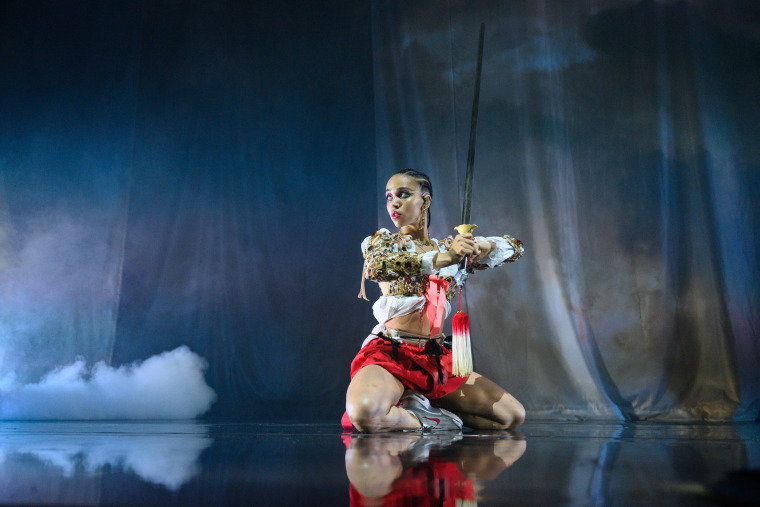 Of course, her older catalog held up stunningly as well. Tracks like "Papi Pacify," "Figure 8," and "Video Girl" brought moments of stark contrast to the balladry of the new songs. FKA twigs' dexterous precision as a dancer was on full display, particularly when evoking a ballroom attitude. During one interlude, she wielded a katana, swashing the billowing backdrop to reveal that her full band was behind it the entire time. Later, ahead of her final costume change, she offered an immaculate pole dance routine to LP1 standout "Lights On."
But for a show so heavy on ornamentation, its most striking moments were also its most spare. She ended the night where she began, in front of the hulking black curtain to perform her most recent single "Cellophane." On record, the song reads as an aching grasp at equilibrium in a waning partnership. But as a finale, it took on a different perspective. As twigs asked, "didn't I do it for you?" the sentiment pointed directly toward her attentive audience, faces enraptured by years of practice condensed into one nights performance. FKA twigs belongs to a rare tier of artists putting absolutely everything they have into sharpening their craft. The very least we can give back is patience.