If you didn't have the guts to see Hereditary last year, I'm honestly so sorry for you. Sure, it's fucking terrifying, but beneath the initial fright exists one of the most gripping cinematic portraits of inherited family trauma in years. As the feature-length directorial debut of Ari Aster, it's also a tremendously exciting tease for whatever he's got planned next.
Gratefully, we won't have to wait too long. This July, Aster will release his follow-up, a film titled Midsommar starring Florence Pugh, Jack Reynor, Will Poulter, and William Jackson Harper. Details regarding the project have been kept tightly guarded, but today, A24 released the movie's first full trailer. The loose plot we're given in the preview is that Christian (Reynor) begrudgingly invites his girlfriend Dani (Pugh) on a guys' trip to Sweden after something terrible happens to her. Upon arriving to a pastoral celebration in a remote village, things start to turn downright sinister.
The trailer doesn't give enough away to patch together the true intent of the mysterious festival, but given how Aster loaded each scene in Hereditary with such precise intention, at least a few of Midsommar's secrets must be teased out in the 2:39 clip. Here's what stood out to me:
Things are definitely on the rocks for our leading couple, and that's echoed by two glaring prints in the background: some kind of dinosaurs eating other creatures, and what appears to be a dismayed politician.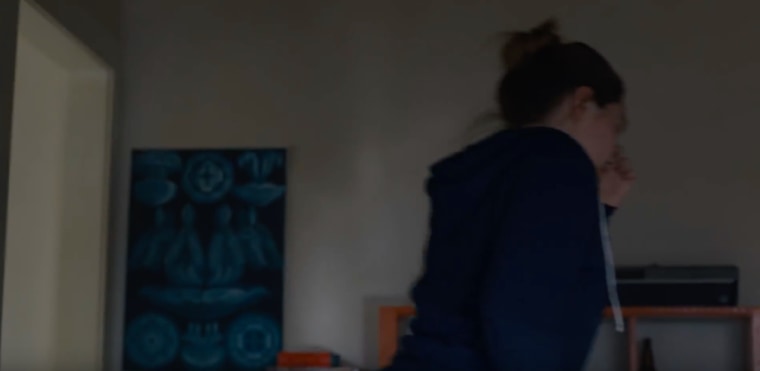 Christian's friend Pelle, played by Vilhelm Blomgren, seems to be the driving force behind getting everyone to Sweden. There's also a poster on the wall with a number of cryptic shapes... could they align to the sacred symbols at play during the titular festival?
We learn two things here: first, the festival is gonna take place in the central Swedish province of Hälsingland. I don't know how to read Swedish, but Google translate says "stoppa massinvandringen till Hälsingland...rosta pa fritt nor i host" means something along the lines of "stop mass immigration to Hälsingland...roast freely in the host," meaning there's definitely some major xenophobia at play.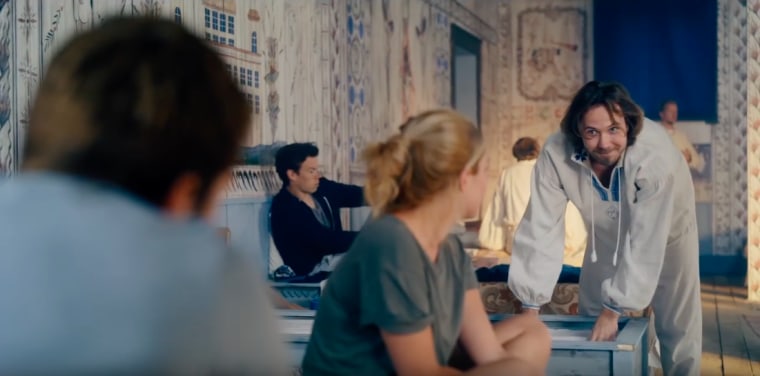 Speaking of Pelle... look at how smug he is!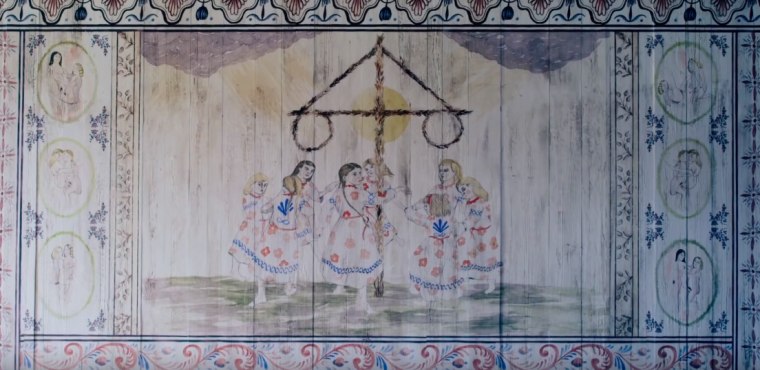 This cross is obviously a prominent part of the film, but what is its point? And are those some freaky sex positions on the wall?
None of the friends in the trailer (except for the extremely sus Pelle) are wearing white. Also, everyone else at the festival is...very, very white.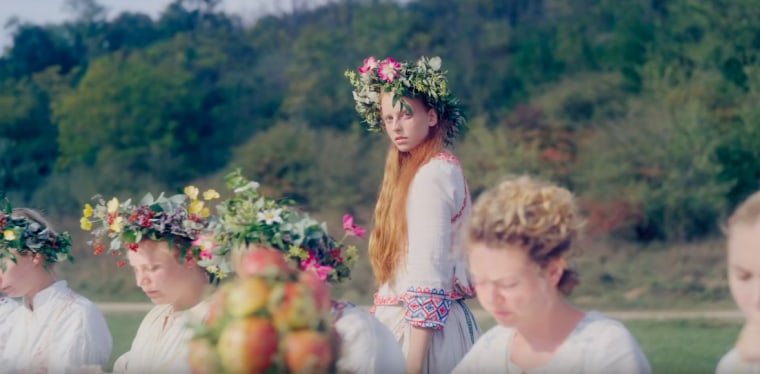 Whoever this girl is, I don't trust her! Why does she kick Christian's butt? Also, why is everyone breathing so strangely in this trailer?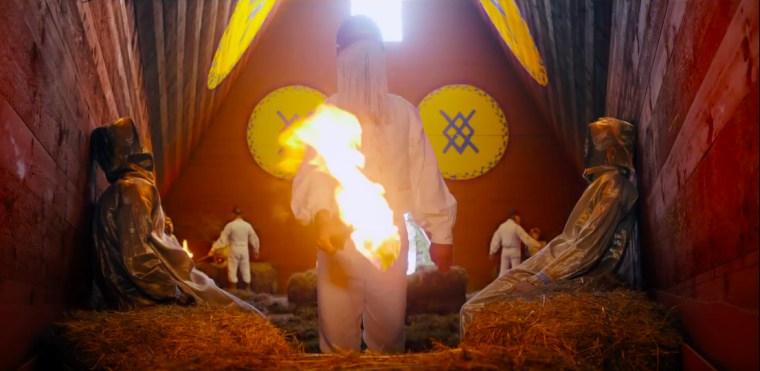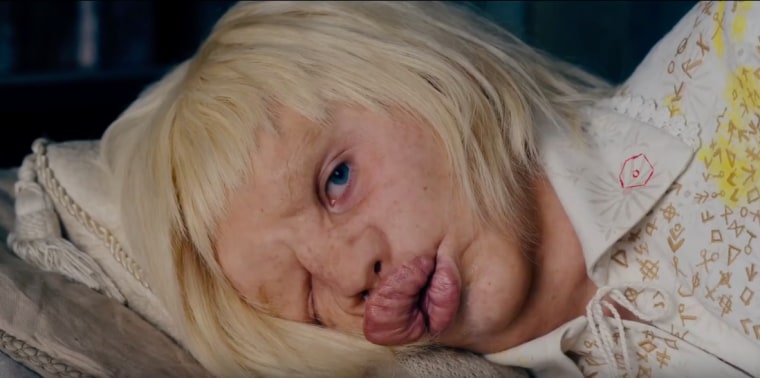 All I can say about this is that I hope Christian and Dani remembered to pack some Benadryl.