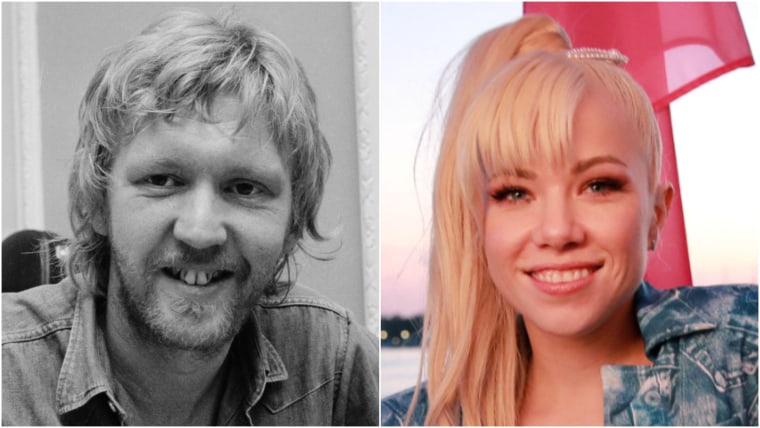 The late Harry Nilsson is having an unlikely renaissance this year. In February, his song "Gotta Get Up" was featured repeatedly in the Netflix show Russian Doll, which helped introduce his music to younger generations and prompted a 2,466 percent surge in streams and downloads. Still, nobody expected the departed pop genius to receive a writing credit on Carly Rae Jepsen's new album, Dedicated — least of all Nilsson's own family.
It is perhaps the most unexpected credit on a top-tier pop album since Animal Collective showed up in the liner notes of Beyoncé's Lemonade. On "Everything He Needs," a cut from her new album, Jepsen has interpolated the early-'80s Nilsson-penned gem "He Needs Me." The presence of a swooning Nilsson hook is immediately apparent to anybody with a fondness for the artist himself — or a childhood spent watching the Robert Altman-directed 1980 Popeye film.
Jepsen, it seems, fits into both categories — admirer of Nilsson, lover of Popeye. The pop queen's tastes run eclectic — in a recent interview, she described being raised by a mother who had her analyzing Leonard Cohen lyrics as an eight-year-old. While working on Dedicated, she and her collaborators apparently found themselves discussing the musical virtues of the Popeye film, which features a glorious score written by Nilsson towards the end of his career. (The songs were subsequently sung by the film's stars, mainly Robin Williams and Shelley Duvall.)
According to a recent Guardian profile of Jepsen, this conversation prompted a highly unusual idea: "They liked the idea of adapting Olive's song 'He Needs Me.' What if they 'funked it out,' wrote a pre-chorus around the concept, and changed it into a sexy song about the great spinach eater?"
Nilsson's family is impressed. "We thought the song is fun," Harry's daughter, Annie Nilsson, told me via Twitter message Friday morning, upon hearing Jepsen's song for the first time. "We always like hearing what the younger generation of pop stars is doing with our dad's music."
The original song, "He Needs Me" — written by Nilsson and sung in a sweet, airy voice by Duvall — has become a minor classic over the years. Nearly a decade after Nilsson's death, Paul Thomas Anderson plopped it right in the middle of the Palme d'Or-nominated Punch-Drunk Love, so a certain subset of Gen X has already been exposed to it. And real heads know about the demo version of the song, in which you can actually hear Nilsson teaching Duvall to sing it.
The resulting Jepsenification of the tune is wondrous. I heard it for the first time this morning. I have listened to it six times since then. It is a radical upending of Nilsson's chorus melody, though despite the new verses, the lyrics really are still about Popeye. While the Nilsson version used a woozy, swaying rhythm to evoke a sense of romantic stupor, Jepsen's track is an uptempo electro-funk groove. She transforms the hook into an insistent staccato chant: louder, bolder, maybe hornier. I'm especially enamored with the little chipmunk-voiced vocal snippets scattered throughout, which remind me of Michael Jackson's "P.Y.T." but might remind you of Passion Pit or some shit.
Jepsen reportedly had to go to absurd lengths to license the track from Disney, which owns the rights to the Popeye material. The Guardian piece includes this wild anecdote:
Her people told her that Disney would never license the track. So she drove to Disneyland with a fake contract for Mickey Mouse, got the mouse to sign it, then sent a photo to her record label who got onto Disney and pushed it through.

Jepsen and her team never reached out to Nilsson's estate, because it doesn't own the rights. (I've reached out to Jepsen's representatives for comment on all this and while update if I hear back.) But on Friday, the official Nilsson Twitter account (run by his children) hinted at its approval with an exploding head emoji and a clapping emoji.
🤯! 👏! https://t.co/fCQapF5MTB

— Harry Nilsson (@OfficialNilsson) May 17, 2019
On the surface, Nilsson and Jepsen have little in common. He sang bawdy and perverse songs like "You're Breakin' My Heart" and "I'd Rather Be Dead"; she sang "Call Me Maybe." He largely retired from music circa 1981—four years before Jepsen was born. But despite differences in genre and generation, the two artists do have parallels. Both achieved great commercial success early on and were unfairly dismissed by skeptics as one-hit wonders — only to prove the skeptics wrong with adventurous and satisfying full-length albums. Both had their early careers boosted by extremely famous admirers (The Beatles for Nilsson, Justin Bieber for Jepsen). Both had major No. 1 singles that remain iconic today ("Without You" for Nilsson, "Call Me Maybe" for Jepsen). Both are still sometimes underestimated by people who've only heard those singles.
Nilsson's legacy, though, is thriving 25 years after his death—with help from both Jepsen and Russian Doll.
"I feel like our dad's music is just so strong that it transcends generations and will likely continue to have resurgences like this as more people discover him," Annie Nilsson told me. "There's a timelessness that keeps it from being stuck in a certain era."
As for the Jepsen take on Nilsson? "His songs can and should lend themselves to discovery and interpretation by younger artists, just as he loved experimenting with interpretations of other people's music," Annie said. "Of course, to me his versions will always be unimpeachable. I've yet to hear one that doesn't make me want to listen to the original."