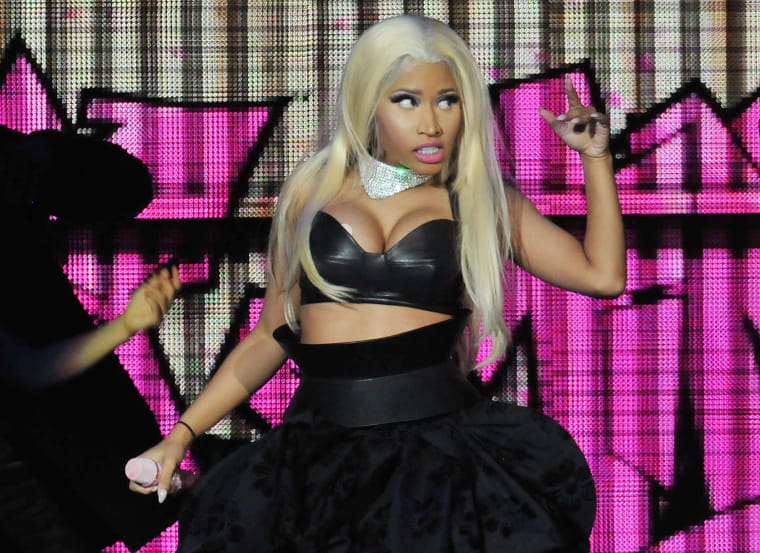 It's the year 2019 and Nicki Minaj is currently the top selling solo female rapper on the iTunes hip hop chart. It's not for Queen, or rather anything she's released in the past five years. Instead, it's the opening track to her 2012 album Pink Friday ... Roman Reloaded that's suddenly vaulted up the chart. If by chance you don't remember what "Roman Holiday" sounds like, you're about to: the song is currently soundtracking what may be Twitter's most chaotic meme right now.
Back in 2012, all eyes were on Nicki as she plotted the follow-up to her debut album Pink Friday. She planned to premiere its first single at the Grammys, making history as the first female rapper to ever take the prestigious stage for a solo performance. Nicki styled the entire night as a pseudo-religious awakening of sorts, arriving to the red carpet with a Pope-like figure in tow.
Opening the performance from a confessional booth, Nicki yowled an unsettling rendition of "I Feel Pretty" from West Side Story before launching into the new single as her alter ego, Roman Zolanski. She'd been developing the character of Zolanski in a few songs by this point, detailed as a volatile gay man just barely placated by his mother, Martha Zolanski. Both were performed with cartoonish faux British accents.
The song "Roman Holiday" tells the loose story of Roman's gay conversion therapy, punctuated by an extremely wonky hook where Martha tells Roman to "take his medication." If that premise sounds at all distasteful, it's because it definitely is. But nobody could possibly take "Roman Holiday" seriously enough to be offended by it; most were just baffled. For its erratic debut performance, Nicki staged a full exorcism. She was just short of frothing at the mouth.
It was an unequivocal disaster, with publications questioning whether the performance marked the end of Nicki's career, and Grammy producer Ken Ehlrich dismissing her in the press. "I'm not going to absolve us of any responsibility, but it just wasn't good," Ehlrich said in a 2015 interview. "If it had been controversial and good, I think I would have been proud of it. But we probably let out the string a little too much on that one."
Days after the Grammys, Nicki released the saccharine radio-friendly "Starships" as the lead single from Pink Friday: Roman Reloaded. Footage of the performance was almost entirely scrubbed from the internet, and "Roman Holiday" seemed to be well on its way to being forgotten in the grander deluge of Nicki's career. But here's the thing: gay Twitter never forgets.
Seemingly out of nowhere, "Roman Holiday" has suddenly now become the de-facto soundtrack to unadulterated stan Twitter chaos, from James Charles losing subscribers to Lady Gaga arriving at the Met Gala. It's unclear when exactly the trend started, or how long it'll last, but something about the song's manic energy feels much more suited to the hellscape of 2019 than it must have in 2012.
In a strange way, the resurgence of "Roman Holiday" also feels like a redemption of sorts. It's no secret that Nicki's faced a number of career misfires recently that have overshadowed her newest music, including a cancelled tour and a lawsuit with Tracy Chapman. As unhinged as "Roman Holiday" is, it's also a wildly daring track that still manages to confuse and excite seven years down the line. Even as a meme, it's a reminder of the ferocity Nicki used to bring to the studio. Maybe that's not always palatable, but it's sure as hell memorable.
I guess what I'm trying to say here is *extreme Martha Zolanski voice* take a little break, Nicki, you'll be okay.