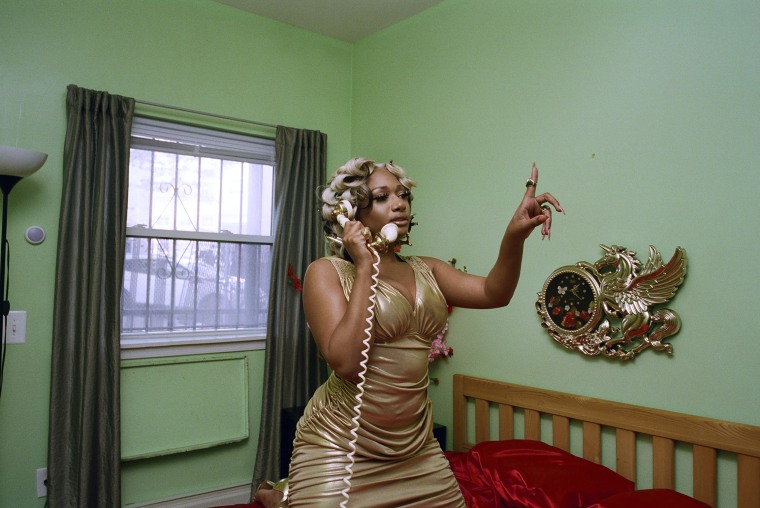 It goes without saying that Megan Thee Stallion, the audacious and undeniable first lady of 300 Entertainment, is sexy. The Houston native — also known as Young Tina Snow, Hot Girl Meg, the H-Town Hottie, Money Makin' Meg, and Megan Pete, the studious daughter of the late Holly-Wood — is rap's latest and most well-equipped femme fatale. Hailing from the city's South Park neighbourhood (also home to legends Lil' Keke and much of the Screw movement), Thee Stallion puts on. And in her first offering since joining the 300 family, the highly-anticipated 14-track Fever is a confident bid for album of the summer. Tight and energetic, the rapper's formal introduction into the wider mainstream (as opposed to the smaller, self-contained circles where she initially gained virality) has been dreamy, to say the least. When she flirtatiously sing-raps "You ain't never been with a chick this bad / I ain't worried 'bout them other chicks that you had," on "Best You Ever Had," Thee Stallion states a fact that's hard to dispute as she comes into her own as a powerful artist.
Seemingly unconcerned with proving herself in any capacity — as a Black woman equal parts sensual, smart, and long-sighted, and as a hometown-loving-and-repping spitter — Thee Stallion is free from the limitations projected onto her by way of gender, region, or anything else. Sonically, Fever is refreshingly diverse. Spanning tongue-out-ass-bouncing instructional tracks ("Simon Says", "Dance," "Shake That") and slick-mouthed reminders of who she is at her essence ("Realer", "Money Good") to forays into more melodic territory (the "Sippin' On Some Syrup"-sampling "Big Drank"), Thee Stallion is in command of her own vision, executing it with precision and a knowing charm. Even cuts that lean into her now-established Hot Girl archetype feel newly refined, both in mantra and production quality ("Pimpin", "Sex Talk," the DaBaby-assisted "Cash Shit"). What Fever does, ultimately, is confirm what dedicated listeners, affectionately dubbed The Hotties, already knew: it's Megan's season.
Perhaps what's most interesting about Thee Stallion's rise is how seamless each progression between personas, sounds, and flows is. (It can be said that her invocation of the many personalities that make up Thee Stallion is another avenue through which she pays her respects; animated, cinematic maximalism is a mainstay in Southern rap stylings.) Boasting looks and praise from Southern legends like Dade County's baddest bitch Trina and Memphian veteran Juicy J, Thee Stallion has perfectly fallen in line within a rich tradition of Southern rap, referencing cultural and sonic cues of its late '90s to early '00s golden era and national breakthrough. The influence of Three 6 Mafia, for example, is prevalent throughout the runtime of Fever — obviously through a verse and multiple production credits from Juicy J himself, as well as through the inspiration pulled from the La Chat and Project Pat-featuring "Weak Azz Bitch," released by the group in 2000. Fever's samples additionally pay homage to DJ Zirk's "Azz Out" ("Pimpin") and DJ Paul's "Looking For Tha Chewin" ("Simon Says").
But Thee Stallion is not relying on simple mimicry or engaging in a cultural, albeit city-specific, form of navel-gazing. Instead, she balances nostalgic nods while reworking her own sleeker, modern take. Often clad in a cowboy hat and chaps, Thee Stallion is, above all, an entertainer. And while her surroundings influence her visual presentation on and off stage, her performance as an artist extends beyond any particular geography. Her strongest skill lies in her ability to make an invite-only, utopian environment of her own, — a Hot Girl fever pitch — impenetrable to anything that could blow the euphoric high of a bad bitch link-up. This is especially true when taking into account the trials that Megan Pete's privately faced as Megan Thee Stallion's career finally began to bloom. ("I rock shows by myself / Ain't no backup, ain't no help / Ain't no nigga put me on / Ho, I earned all my respect / When you hear my fucking name / Know they speaking on a champ / Everything that I done been through made me who I am right now," she expertly raps on "Pimpin.")
There are a few departures from that endless cognac-heavy party, though. Before venturing into luxe money talk and romantic flippancy, Thee Stallion is straight to the point on "Realer," the album's fiery opener, with a plain assertion: "Say, nigga! / I'on wanna talk!" But it's on "W.A.B.," the Project Pat- and Supah Mario-produced track, where Thee Stallion truly talks her shit. Following a tongue-in-cheek call-and-response chant alongside Juicy J, she delivers a handful of warnings. "I don't wanna hear no more shit talkin' out of none of you bitches for the rest of the motherfuckin' year," she says between verses. "Now I addressed it; now let me see who gon' test me." Much of the track asserts common Stallionisms: she doesn't want your man, she doesn't care about the chatter, and most forcefully, she's about that action if need be. But where previous tracks may have echoed some of the same sentiments (Tina Snow's "Tina Montana," for one), "W.A.B.," expanding into "Weak Azz Bitch," possesses the riotous energy of early crunk a la the Three 6 Mafia's classic, "Tear Da Club Up '97." (In an Instagram live session following the release of Fever, Thee Stallion likens the energy it elicits on stage to that of the seminal "Knuck If You Buck" by Crime Mob.)
Interestingly, Fever does not particularly mark an evolution of Megan Thee Stallion, but it is the best she's sounded thus far. Since 2016's Rich Ratchet, her sound has been consistent in terms of focus, references, and demeanor. (For instance, "Pull up Late" off of the 2017 EP Make It Hot samples Project Pat's classic "Chickenhead.") What Fever does offer, however, is a new, pristine sort of quality — Thee Stallion is giving listeners the crème de la crème, proof of what's possible with a little time and investment.
What's clear throughout Thee Stallion's catalogue is her code. She's a hustler, known for her ability to go and get it by any means. While prudes may shy away from her more risqué lyrics and attitude, listening reveals her true motivations. More than a lack of inhibition or a critique of a moral measure of integrity, Megan's trying to put you on game. In her world, Thee Stallion argues that men, in hetero-romantic love pursuits, should be peripheral, only called upon for pleasure or utility, then discarded when they no longer adequately serve their role. That deprioritization of male attention — despite her music serving as a rallying call for people like Meg to unashamedly seek (read: demand) pleasure on their own terms and by their own whims — is central to Thee Stallion's narrative and artistic core. "Damn, I want some head but I chose the dough instead / I could never ever let a nigga fuck me out my bread / Ain't no dick alive that could make me lose my mind / Every nigga that done tried still be cryin' on my line," she casually recites on "Pimpin." For all the desire that colors Thee Stallion's repertoire, her message is solidly fixated on maintaining her agency and power, staying one step ahead at all times — what she insists is key to embodying what she describes as "Real Hot Girl Shit."
Fever is a first-hand experience of admission into the most exclusive extravaganza. Clips from Thee Stallion's touring Hottie Party feature rap's finest (a majority of whom are ultra-femme Black women) from city to city across America, all excitedly pleading to "drive the boat," its humorous unofficial tagline. (On "Realer," she shouts out Miami's own JT of the City Girls, currently incarcerated and noticeably missing from the festivities.) Donning a captain's cap, Thee Stallion finds herself at the center of the crowd each time, a multitude of camera flashes recording her gettin' it, as much participant as she is conductor. That's the magic of her appeal, and the magic of Fever: listening to Thee Stallion feels like listening to the advice of your most entertaining girlfriend, lovingly scolding you to both get your shit together and fuck it up for a real one. Self-possessed and unbothered, Megan's spiritedness is contagious. Like she said: she don't wanna talk. Fever speaks for itself. Self-made and incontestable, Thee Stallion is hard not to love and even harder to bet against.