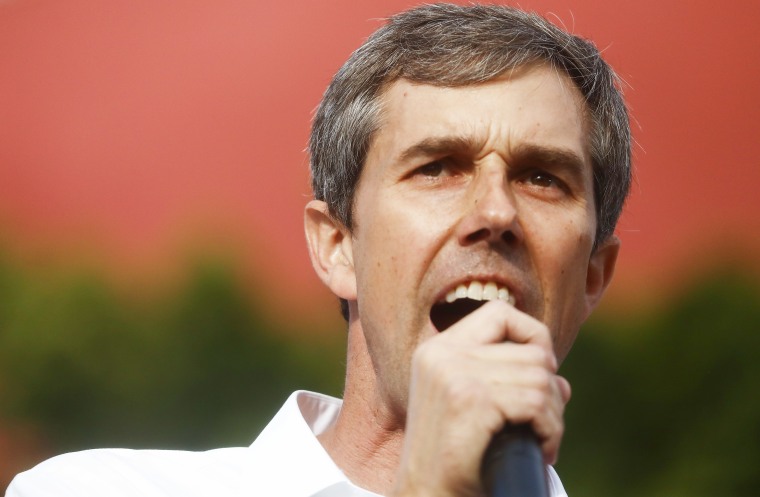 Picture former congressman and current presidential candidate Beto O'Rourke. He's alone in his dressing room as he waits to take the stage for his CNN town hall. His polls are down — a longshot Senate campaign against Ted Cruz made him a golden child, but the luster has faded. There's a knock on the door, and a rushed P.A. enters. "Ten minutes, Mr. O'Rourke." Slam. Beto smirks. Ten minutes is more than enough to get his mind right. AirPods in, he pulls up Spotify, starts his favorite playlist, and closes his eyes. A voice comes to his ears: "Lyft on a bitch, finna walk when they sniffin' a brick / I fucked that bitch in the back with the Burberry on..."
Folks, this almost certainly didn't happen and never would. But the fact remains that a Spotify account reportedly belonging to Beto O'Rourke has a number of playlists, including one called "PUMP UP SONGS." It is three songs long with the tracks "1400 / 999 Freestyle by Juice WRLD and Trippie Redd, "Drip Too Hard" from Lil Baby and Gunna, and Lil Mosey's "Kamikaze." See below.

There are other playlists, too. "Betolist" puts Khalid's "Location" between The Clash and Calexico, and "aaa playlist" opens with three Smokey Robinson songs before segueing into Sonic Youth, Joan Jett, and Beyonce and JAY-Z. Khalid's "Location" is on this list as well.
Even though O'Rourke's original punk playlist is still up, it's obvious that the account has been commandeered by someone. Perhaps one of his kids, or some hacker. Yes, even though it's common for punk guys to get into rap, I think O'Rourke has too much on his plate right now to be Shazam-ing A Love Letter To You 3. Then again, maybe Travis Scott pointed Beto in the right direction during that campaign stop in October.