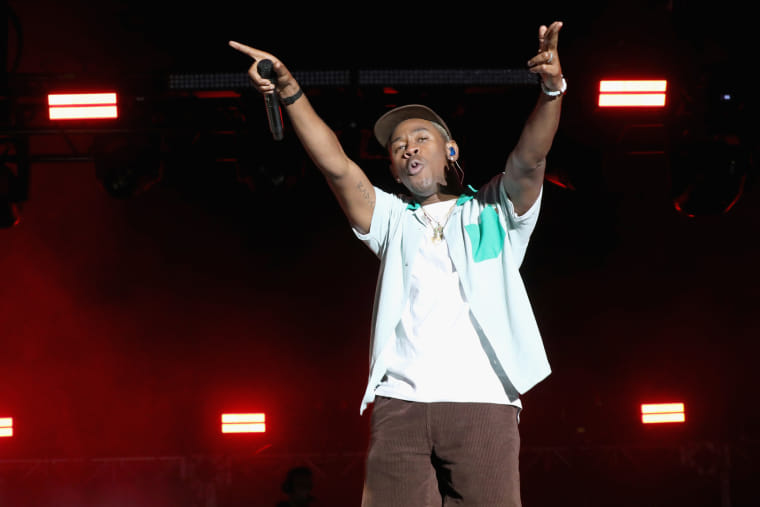 Tyler, the Creator performed his new album IGOR in its entirety last night for a special gig live-streamed on Apple Music. Between songs, Tyler revealed tidbits about the recording of the project, his mindset, and how hot it was on the stage.
Just before getting into the album's second track "EARFQUAKE," Tyler revealed that he initially wrote the song for Justin Bieber. After he was rejected, Tyler asked Rihanna to perform the song's hook, but that didn't pan out either. Tyler didn't stay solo on the song, though: "EARFQUAKE" features an appearance from Playboi Carti.
Read his anecdote in full below:
"I made ["EARFQUAKE"] like May of 2017 and I wrote it for Bieber. He didn't take it, so I hit Rihanna people up. I was like 'Hey, I have this song, I would love for her to sing the hook, I think it will be big.' I just wanna write pop songs, honestly. I didn't hear back from them, so I left my [reference] vocals in."
The next song, "I THINK," was prefaced by a monologue about the song's inspiration, and how it led to a trip to Italy with Frank Ocean and Solange.

"So my dad's Nigerian, supposedly, and Nigerian music, it's good. You have Sade, you have so much Nigerian rock... in the '70s they made a lot of funk, a lot of dance-disco... they used to take photos of all the young kids who would go to these disco parties and dance and dress up and shit. And I wanted to live in that moment for a day... So me, Solange, and Frank [Ocean], we flew to Lake Como, Italy... I wanted to check out a lot of the dance clubs out there and shit, but I didn't."