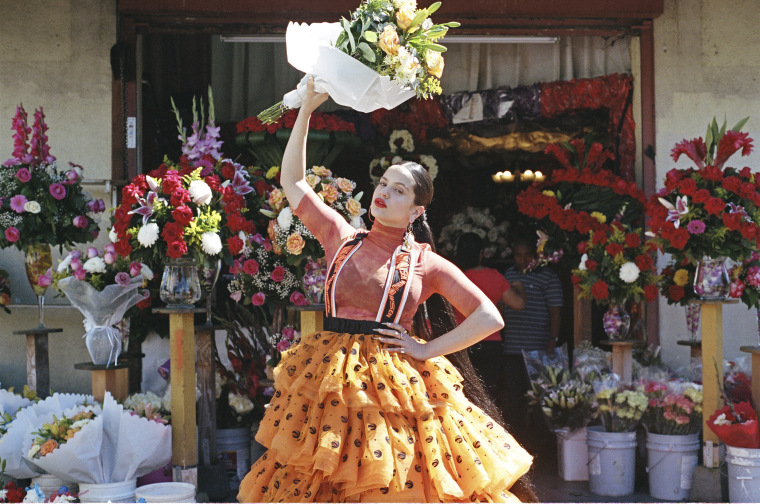 "I understand that a lot of people can connect with my music, because it's a radical proposal and a personal proposal," Rosalía tells The FADER in our latest cover story. "There will be people who can connect with it, and many who can't. I understand the risk I take in making these decisions with my music."
Two years after releasing her debut album Los ángeles, and a year out from her sprawling flamenco-pop hybrid LP El mal querer, 25-year-old Catalunya-born Rosalia Vila Tobella has cemented herself as one of the most engrossing pop stars in the world. Her remarkable voice, striking aesthetic, and confounding versatility have made her a fucking superstar already, and her rise seems destined to continue.

But where do you begin with Rosalía's music? Before you dive into the latest issue 117 cover, here are seven songs to get you started.

"Aunque es de noche"
This cover of the late flamenco star Enrique Morente's 1983 single thrives on its changing colors. Released in advance of Los ángeles, Rosalia's "Aunque es de noche" leans fully into the tension of Morente's verses, but pulls all the way back as the song begins to flirt with a major key. And then there's the staggering final third, its agony-shot howl and patter of hand-claps over a now-loosely strummed guitar, pushing Morente's faith to its dramatic limits. With this song — and its striking video directed by Gucci collaborator Ignacio Monreal — Rosalía became impossible to ignore. — Alex Robert Ross
"Malamente"
Before anything on El mal querer, we hear "Malamente," which translates, easily enough, as "badly." The El Guincho-produced heater arrives loaded with contradictions: of tradition and modernity, of doom, and the liberation that comes with accepting it. There's plenty to read into about "Malamente," but even without analysis, it remains innately potent. Bad just sounds so good. Tra tra. — Salvatore Maicki
"Brillo (Letra)"
El mal querer is a masterpiece of theatricality; part of its appeal lies in the way Rosalía can so swiftly transpose modern themes of toxic relationships to the story of a 13th Century romantic tragedy. She's not always in that dark-toned mode, though, and when she steps into the sunlight, it can be marvelous. Take, for example, "Brillo," the singer's duet with J Balvin from last year's Vibras, a track where the stakes are less life and death than they are sex or celibacy. Over a sly, fluttering beat, Rosalía flaunts her beauty to the boy of her affection — she prays that he's seen her shimmering highlighter, that he'll watch all fifteen of her Instagram stories — before reeling off a laundry list of everything he has to do if he wants to be her man: love her, bring her breakfast, keep her hydrated, take her out, and so on. Balvin plays the hapless, gooey-eyed boy trying to keep up with her by trying to woo her with offers of Netflix and chill. Effortless code-switching is key to being a successful pop star, and the way "Brillo"'s flirty come-ons contrast with El mal querer's high drama, is proof Rosalía is up there with the best. — Shaad D'Souza

"Pienso en tu mirá"
Each track on El mal querer is tied to a chapter of the Occitan romance Flamenca, and the third chapter tackles jealousy, a sensation that "Pienso En Tu Mira" describes as a bullet lodged in the chest. The song hits and sticks in a similar way, unfolding like something that's been scrawled in a centuries old storybook that's commanding you to shake your ass. — SM
"Con Altura"
Rosalia's legacy won't be built on songs like this chart-ready collaboration with reggaeton sensation J Balvin. But the fact that she's recognizably herself on "Con Altura" — that she can find sultry drama across maybe four notes in the verse over the minimalistic thud — is a testament to her invincible style. Besides, it's a solid-as-hell reggaeton-pop song with a dazzling, airborne video. This might be as straightforward as Rosalia gets, which, for a fucking superstar, is remarkable. — ARR
"A Ningún Hombre"
The last song on her latest album, El mal querer, is a declaration of freedom. "A Ningún Hombre"'s fiery message is clear: no man can imprison me, no man can sway me, no man can judge me. Sólo dios puede juzgarme. The only being with permission to judge her, is her God. — Juliana Pache
"I See a Darkness"
It is almost impossible to capture the naked bleakness of Will Oldham's original "I See a Darkness." First released as the centerpiece to Bonnie 'Prince' Billy's 1999 LP of the same name, it is defiant in the face of depression, but coupled with caveats — "Did you know how much I love you?" — all barely loud enough to make it past the speakers. Even Johnny Cash, months away from the final darkness, couldn't quite find its depths. Rosalia's interpretation, the last song on the acoustic Los ángeles, is mostly delivered in a whisper, entirely alone, and it makes for a terrifying conclusion. At the end of a record on which she's snapped from delicacy to ferocious power at no notice, "I See a Darkness" can't escape the thick fog. — ARR