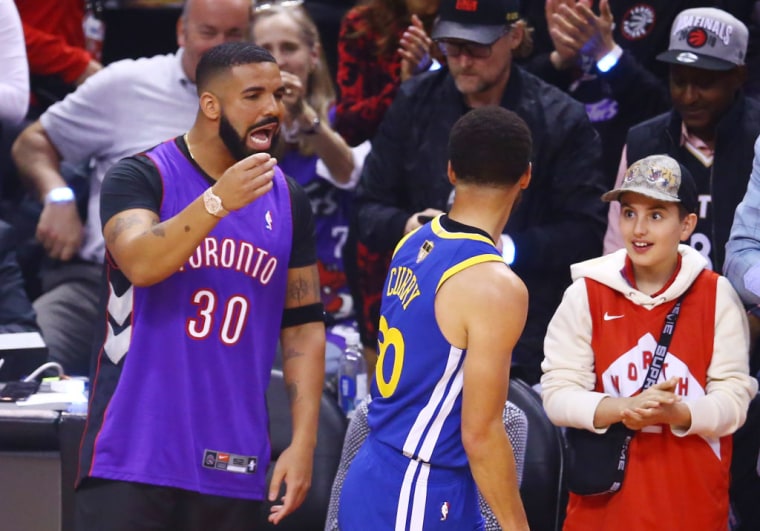 It doesn't seem like Drake heeded his warning. Last night was Game 1 of the NBA Finals and he was all over the court, enjoying run-ins with both Steph Curry and Draymond Green of the Golden State Warriors.
First up was Steph who Drake trolled by wearing a Dell Curry jersey. Later on, when Steph approached him at the side of the court, he picked some fluff out of his hair. That bit of stray lint was put on Drake's Instagram with a note saying that he was selling it on eBay under the "username: DraymondShouldntWear23." Drake and Draymond had also clashed earlier in the night while the latter was making his way off the court.
A second look at the Drake-Draymond exchange 👀 pic.twitter.com/Py3C9nFKlr

— NBA on ESPN (@ESPNNBA) May 31, 2019

However, things didn't go entirely Drake's way. Eagle-eyed fans were quick to point out that he was sporting a black band on his left arm. The potential reason for that? Drake has the jersey numbers of Steph Curry and Kevin Durant tattooed on his bicep.
Drake is wearing the armband to cover up those KD and Steph tattoos. 💀#NBAFinals pic.twitter.com/I9ZSJ6aK2C

— Complex Sports (@ComplexSports) May 31, 2019
Toronto Raptors were the winners of Game 1 and the two teams meet again on Monday, June 3. Expect this one to run and run.